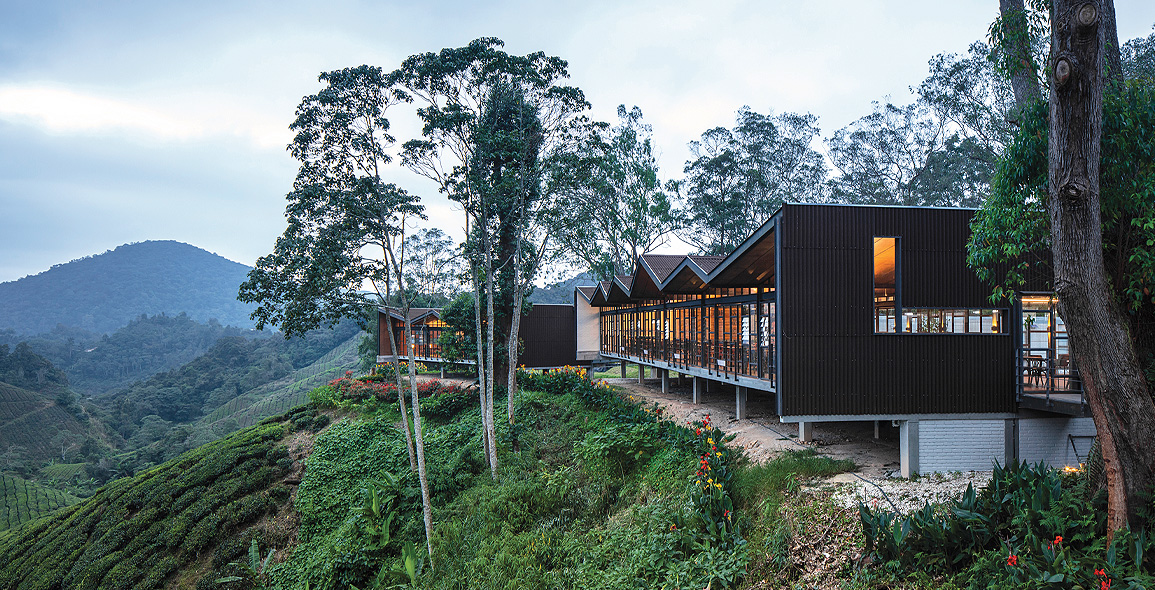 Overlooking the verdant Sungei Palas valley, the BOH Tea Centre has, for well over a decade, been a favourite attraction in Cameron Highlands.
Drawing visitors and tea lovers near and far, the acclaimed 145m-by-9m-long building of concrete, steel, glass and timbre remains to this day a delicately-balanced architecture of unapologetic materiality and considered flourishes.
The Centre's design has since been revisited, expanded to meet new requirements. Where a legacy vocabulary could have been persistent, there was an opportunity for a trajectory shift.
And seize it, the architects did.
THE CHALLENGE OF SUCCESS
Both the award-winning Phase 1 building and its Phase 2 extension were designed by renowned local practice ZLG Design.
"It's a very linear building, based on a simple concept of sustainability, no cut-and-fill, and elevated," describes Susanne Zeidler, Partner at ZLG, of their original piece.
"It was very site-specific, (we knew) where we wanted to have the views, where we wanted to have the main cafeteria, all connected back to the existing offices."
The request to enlarge the centre would come 10 years later, finally completing in 2018.
But adding to such a successful and much-lauded icon posed its own concern; the possibility of marring the outlook of the existing building was a real consequence.
"It was a big challenge, you know. Because you build something (like that), so on its own, so present and strong, and now you're supposed to do an extension. How do you respond?" says Zeidler.
Additionally, the programmatic requirements of VIP areas, a bigger cafeteria and an admin building had to fit into the scheme.
The architects' response was therefore to fashion an envelope that departs from the original; springing perpendicular are two extension blocks that hug the contour of the hill, each featuring an asymmetric concertina roof that folds down to frame a clear glass façade.
Says Zeidler, "As an architect, you change, hopefully. Of course, it's not going to be a duplication of the existing. The idea for those roofs come from the surroundings.
"You have the contours of hills, slopes, different formations. So I thought it was a nice answer to have the roofs in irregular pitches, a poetic response."
Click here to read the rest of the story in the complimentary online edition of Issue 116: June/July 2020.
Photography:
Lawrence Choo Jun Shing, Pixelaw Photography