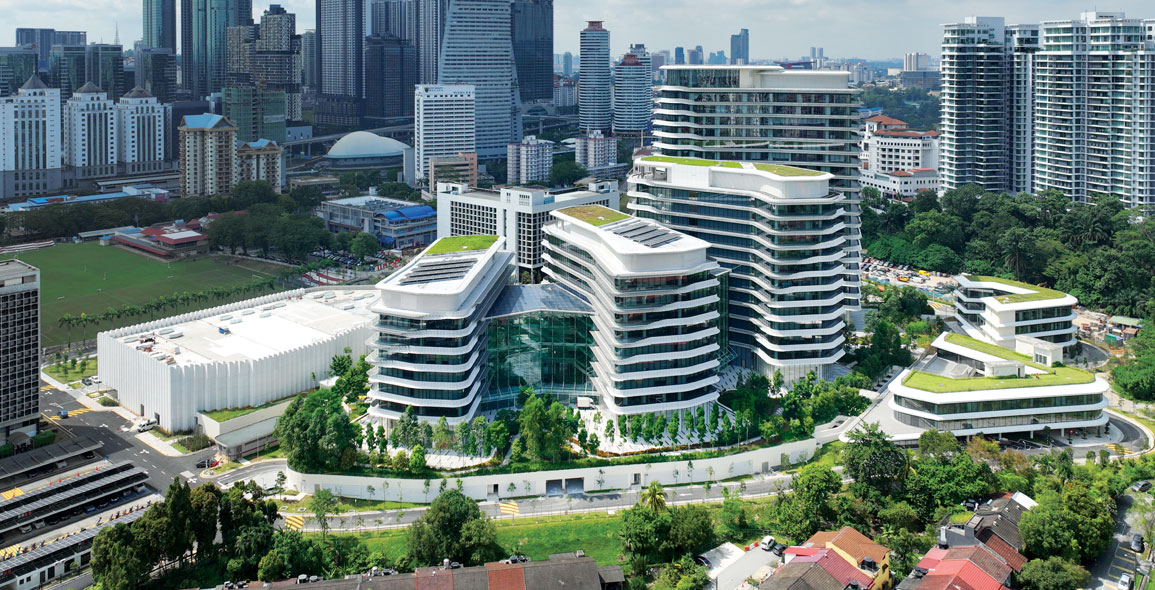 The inception of a new HQ building in 2014 for Tenaga Nasional Berhad (TNB), Malaysia's largest electric utility company, came with ambition and expectations. Envisioned as a sprawling campus, it was to be a next-gen future-ready workplace, and certified to the highest green-building rating in the country.
Eight years on, with GBI Platinum certification achieved and the moniker in part adopted, TNB augurs a paradigm shift in its workplace culture and workforce development mediated through sustainable architecture.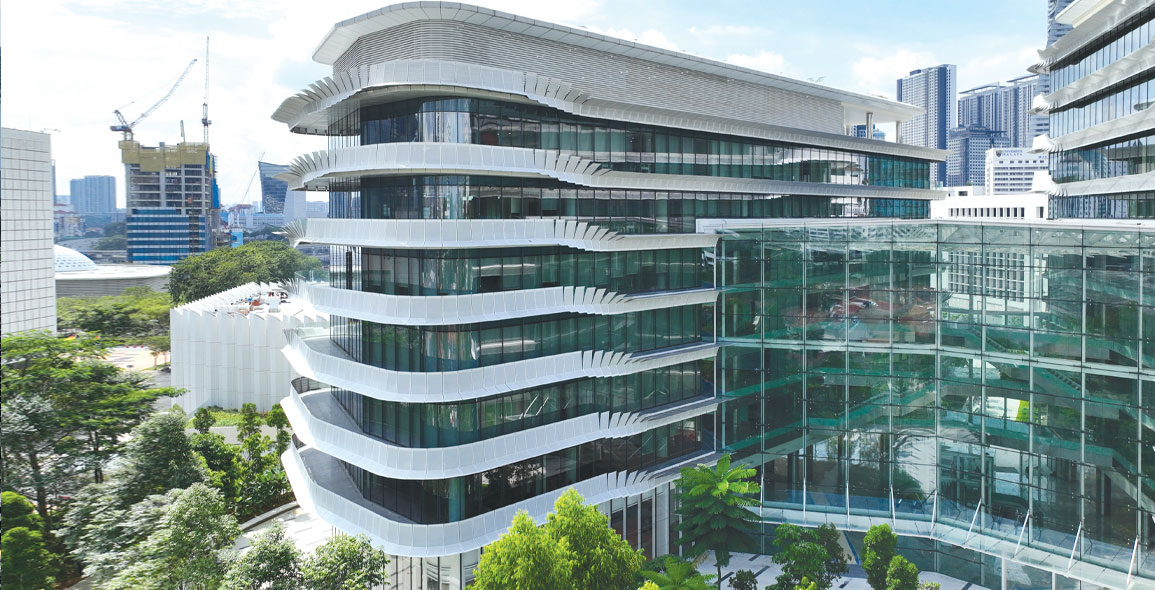 A Responsible Design
The recently completed 166,000 sqm TNB Platinum informs a masterplan that connects the various entities within the company's brownfield grounds. The development's central plaza – an arcing forecourt of generous landscaping and foliage – consolidates this connectivity as a hub to its four cascading office blocks, convention centre and ancillary buildings.
The cascade – at its peak, a 19-storey office, that steps down to the two-level convention centre – is more intentional than leitmotif; the desegregated forms comporting to an immediacy of multistorey hospital and low-lying residential suburb.
They unquestionably communicate the incepted campus zeitgeist, reflecting a competition-winning concept design by global architecture practice Woods Bagot in partnership with established Malaysian practice Neuformation Architects.
"We didn't want a wall that fronted our surroundings. As such, the cascade's hierarchy was planned so that its lowest point was in respectful proximity to the residential area," elaborates Amna A Emir, director of Neuformation, on the concept design. She adds, "With the project rising in a matured neighbourhood, we had to be strategic in our approach. And this was a corporate campus of a global standard, befitting TNB's position as an industry leader both in Malaysia and the region. What was needed was a responsible design, understated yet still rigorous and articulate. And that meant finding the right balance in the architectural expression."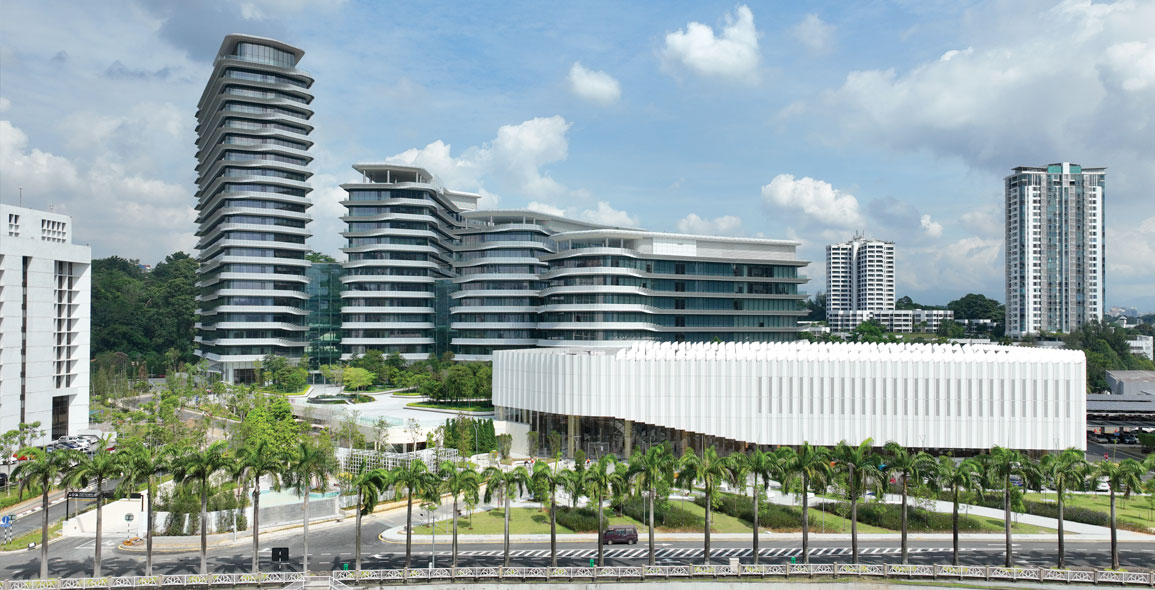 The cascading forms of office blocks and convention centre inform a low-lying campus design both contextual and reciprocal to its brownfield surroundings.
Form And Shade
The buildings' forms reveal that articulation at a macro level. The array of individually-designed blocks varies in height and footprint – one short, another long, yet another skewed – with floor-to-ceiling glass and rounded corners that uniquely characterise the development.
And there is more than aesthetics at work. Platinum certification qualifies the project's passive design gestures: green-roofed buildings oriented to sun path to reduce solar insolation; low-E double-glazed façades to mitigate heat and sound while harvesting natural daylight; deep overhangs that shade and improve thermal comfort.
Personifying articulation and function are the project's signature brise soleil; a Woods Bagot design of V-shaped perforated aluminium panels that line each overhang and extend shading capacity. "Beyond the functional, we're looking at what added value we could bring," reveals Amna. "Because the buildings were oriented in an arc, the harshest glare on their façades would differ based on the sun path. That gave us the opportunity to angle the panels relative to the sun's position – which from a performance perspective was great – while giving each building its own distinctive geometry."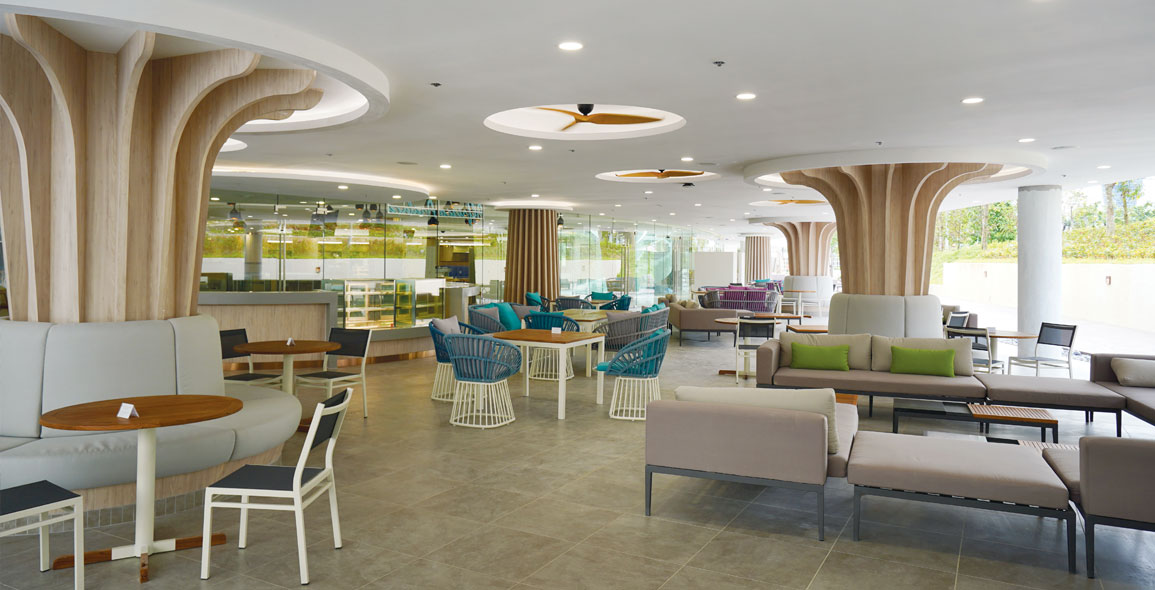 Animated al fresco areas of tree-like pillars and earthen finishing and furnishings mediate between structured architectural expression and natural peripheral greenery.
Inclusive Space
In the interstices between blocks, high-ceilinged atria express a horizontal tower contiguous to an uninterrupted ground plane, reinforcing the connectivity intrinsic to the scheme. Link bridges, stairs and collaborative spaces striate the horizontal tower's lower levels, emphasising its communal functions and qualities separate from the more specific departmental requirements above.
To Amna, this spatial device was invaluable. "The nature and programme of the office buildings were independent, so these had to be expressed vertically. The horizontal tower however links all four offices and the convention centre, and opens up the whole development to the rest of the brownfield sites," she emphasises. "It gives you a unified inclusive space, where all staff – and even their families – can gather irrespective of background or position. It's an important instrument that serves to bring closer the TNB community within this development and at large."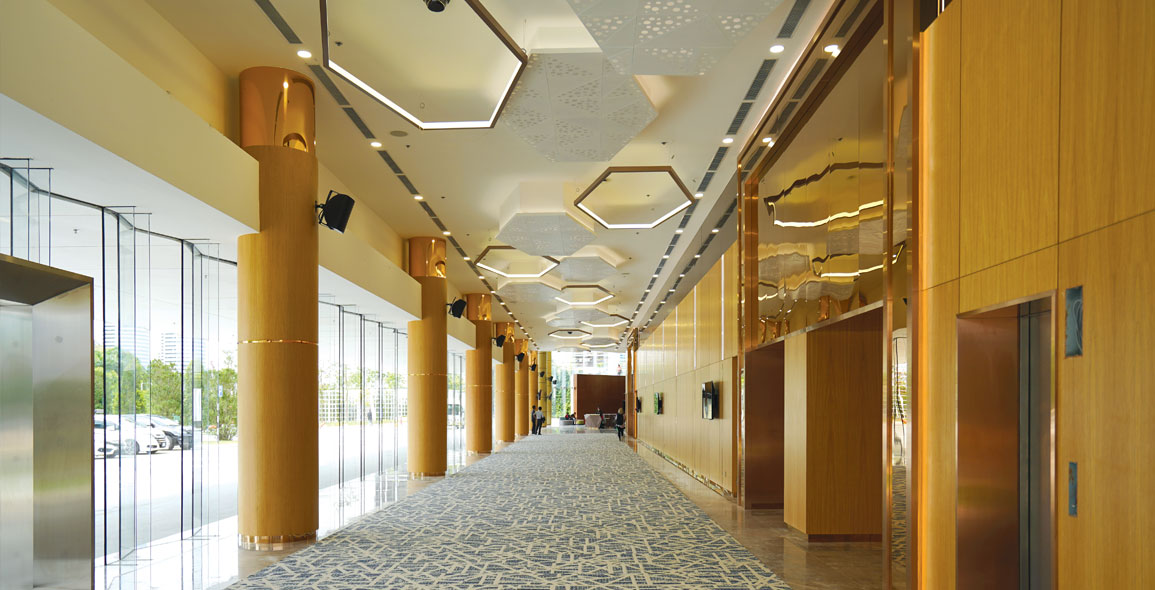 Textural plays of carpet, ceiling and wall panelling inject colour and movement into conference centre and office interiors.
Close Collaboration
Realising TNB Platinum has relied on close collaboration on all fronts. In the architectural partnership, Woods Bagot's campus architecture expertise combined with Neuformation's experience and knowledge of TNB culture addressed the myriad complexities attached to such a large-scale development. Project team and stakeholders likewise worked hand in hand to ensure the buildings' completion, with the added challenge of attaining Platinum certification.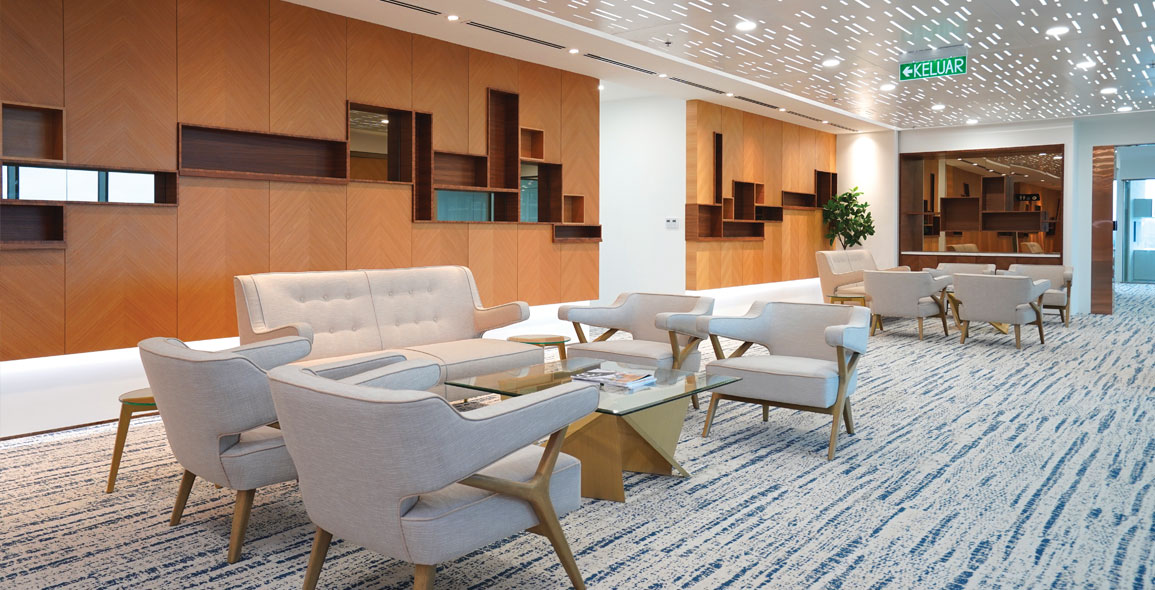 The pandemic, invariably, posed the biggest hurdle as Noorleza Abd Jalil, head of Property Services Department under TNB Global Business Solutions, recalls. "Constructing the buildings during COVID was difficult, and delays to what was originally planned were inevitable. There were also the 3,000 staff we had to migrate into the development, which was a point of consternation."
Noorleza is quick to point out that despite the setbacks, the end result could not have been better. "It is a different environment, a new way of working here at TNB Platinum. It engenders pride among our staff, and I am personally grateful to the company in creating these facilities where we together can grow and develop for the future. This isn't just an office, it's our new home, and a true people's project."
Photos:
Time Lapse Productions