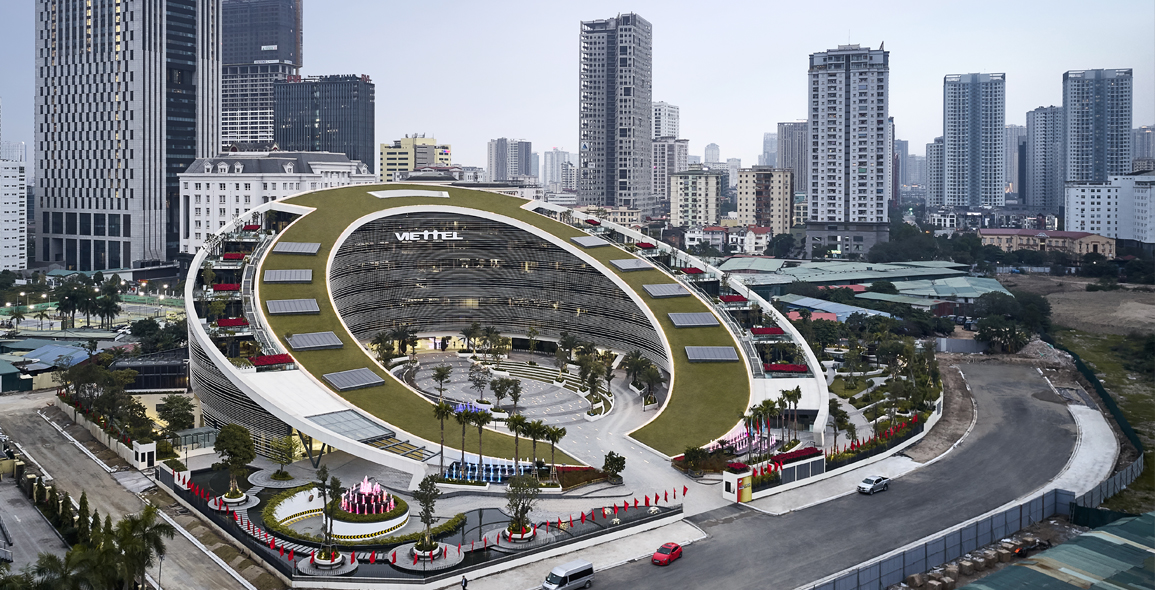 Gensler Singapore has completed the headquarters of the Viettel Group – Vietnam's largest telecommunication provider – in Hanoi.
The state-owned Viettel Group had originally wanted a high-rise tower that would be visible across the city, but the site restrictions did not allow for a lofty edifice, so Gensler came up with a more innovative alternative.
"The planning criteria for the project is based on regulation that defines the site coverage at 30 to 40 percent. The plot ratio is established at 1.3, which translates to a maximum gross floor area of 30,745m2 and a maximum height of 38 metre-tonne-second," explains Gensler's Design Director Carlos Gerhard.
To overcome this limitation, Gerhard and his team created the office building as an oval structure with a green roof that symbolises Vietnam's environmentally conscious attitude.
Instant Icon
The distinctive roof – which includes a rainwater harvesting system – lowers the cooling load and affects the building's micro-climate positively. It also serves as a visual extension of the adjacent park and lake.
The eight-storey project has a design guided by three principles: Creating a connection to nature, improving energy efficiency and fostering a sense of community.
The architecture was conceived in three parts ­– a Green Ring lightweight roof system that provides a continuous landscape loop and vertical landscape connectivity between levels; a Green Cascade – a series of terraces that connect directly to the Green Ring, providing outdoor work and relaxation areas; and a Green Foundation – a ground level space with functional spaces such as vegetated swales and ponds for water treatment.
The programme includes an arrival plaza, a ceremonial plaza for events, two drop-off areas – one for VIPs under the building at the end of the ceremonial plaza, and one for visitors near the arrival plaza – a reception lobby, co-working space, open office areas, open terraces, library, employee gym, canteen, 800-seat auditorium, offices on the seventh floor for department directors, and VIP floor on the eight level, which includes a museum honouring Vietnam's beloved former president Ho Chi Minh.
"The project gravitates around a central communal space that was a key element to the brief – a place that would respond to the attributes of a ceremonial plaza for company events. This space is an open and public area that interacts with most of the public areas within the building, such drop-offs, lobbies, the canteen and multi-function rooms," says Gerhard.
To read the rest of the story, purchase and download a digital copy of Issue 124: June 2022.
Story:
Michele Koh Morollo