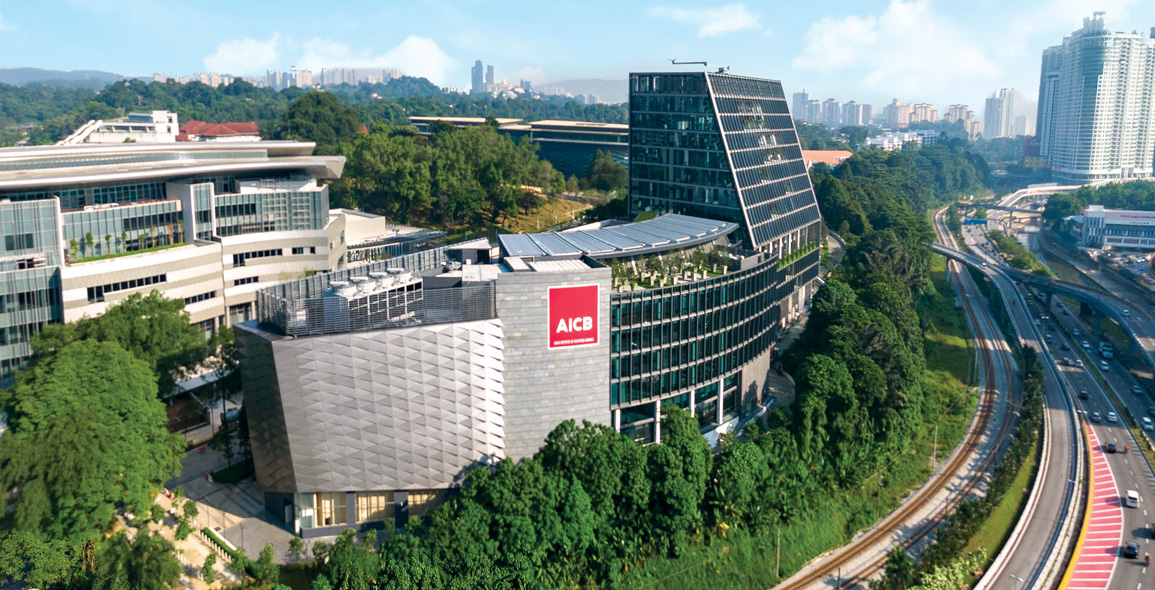 The Asian Institute of Chartered Bankers (AICB) Building sits a stone's throw west of downtown Kuala Lumpur, buffered against the quotidian drone of Jalan Kuching traffic and trundling train carriages by a band of dense foliage.
Those trees, coupled with elevation, have made this half-a-million-square-feet of GFA surprisingly easy to miss by commuters plying those routes.
Keener eyes, however, will have little difficulty spotting the distinguishing features of this low-key/high-value piece of city architecture.
COLLECTIVE THINKING
The training centre lies within a financial education enclave that includes notable buildings such as Sasana Kijang, and the recently completed Asia School of Business campus and its residences.
The enclave, a secluded hill belted by green reserve, makes for an exceptional quasi-urban setting that GDP Architects, one of Malaysia's premier practices, would embrace in their AICB scheme.
"Of course, our first instinct is to be explorative (in design). At the same time, we're factoring in client expectations, and the surroundings," says Shah Iskandar Siow, partner at GDP, on balancing architectural expression and appropriateness.
"So our collective thinking was that we could have this exploration internally, while creating on the outside a sense of formality and order that befits a banking institution."
The scheme's morphology, a hierarchy of 13-storey tower, seven-storey podium and 240-person auditorium, conveys that sensibility on the 3.16-acre site.
Its resolute colonnade, soaring columns, natural stone cladding and sheer double-glazed curtain walls all comport to this syntax, if only as elements to a bigger assemblage.
In fact, it is this elemental approach to building that has allowed the architects to inflect specific areas to great effect, without compromising the established decorum.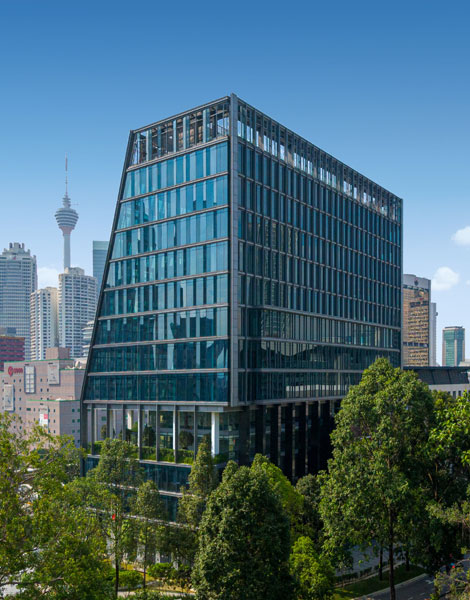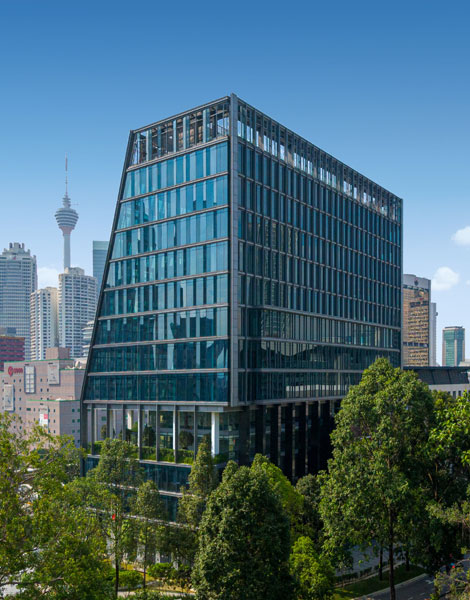 INFLECTIVE/REFLECTIVE
The building's auditorium façade is one such modulation; bristling with composite aluminium polygons, the open-jointed cladding intuits a shifting movement through skews and overlaps.
"We wanted something that reflected the immediate built environment, like the Kementerian Kerja Raya (Ministry of Works) Tower nearby and the Asia School of Business directly opposite," shares Shah Iskandar, referencing the faceted façades of those buildings.
The overtures of the tower envelope are more subtle.
Above the entrance, striating bronze louvres produce a songket-like bas-relief – the colour a nod to the iconic Malaysian penny, the diamond weave a part of national heritage – while higher up, bands of unitised glass panels break conformity through simple concatenation.
The asymmetricity carries over to the adjacent north and south façades, a series of floor-to-floor shallow concertina-style glazing that prismatically reflects sky and scenery.
The tower is similarly a prism, sheared on its western face by a 70-degree multi-storey cut that reveals pockets of internal garden.
Shah Iskandar elaborates, "On one hand, this is the most transparent façade with its office views to the city centre. On the other, you have below the highway and railway tracks.
"Our intuition was to pull (the façade) back, which proved to be the right call in terms of noise reduction."
The trapezoidal orientation inevitably came with the challenge of afternoon sun, requiring extensive use of low-E double glazing, and internal light shelves to shade perimeters and help reflect daylight into the floor plate.
Constructing the raking incline too required the precision control and set-out of structure in order to achieve a uniform and virtually flat installation.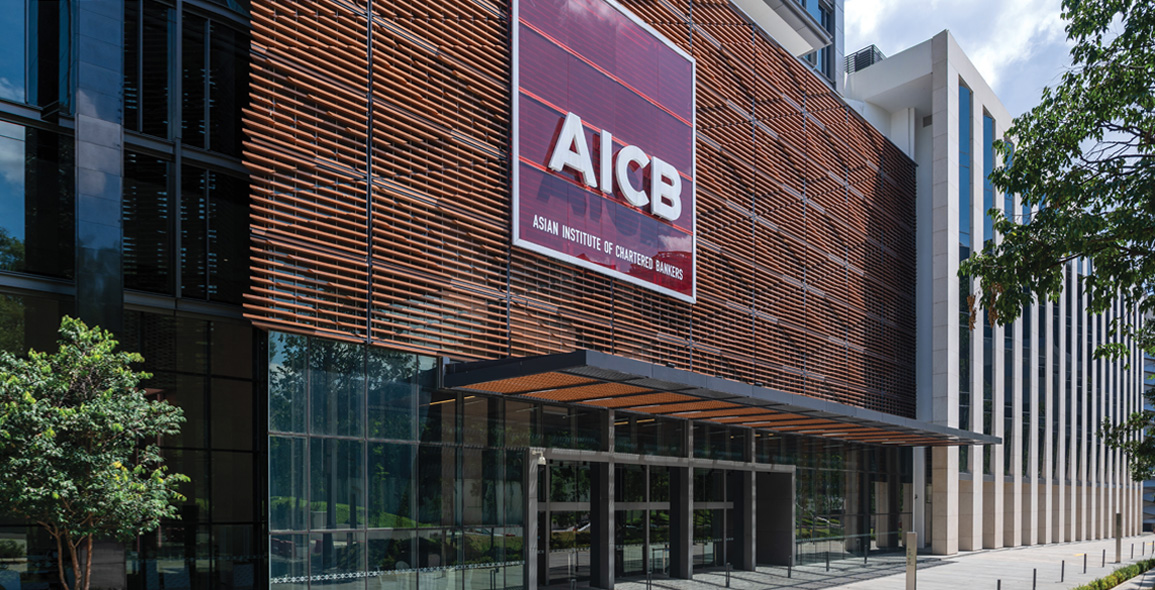 Photography:
Adaptus Design System