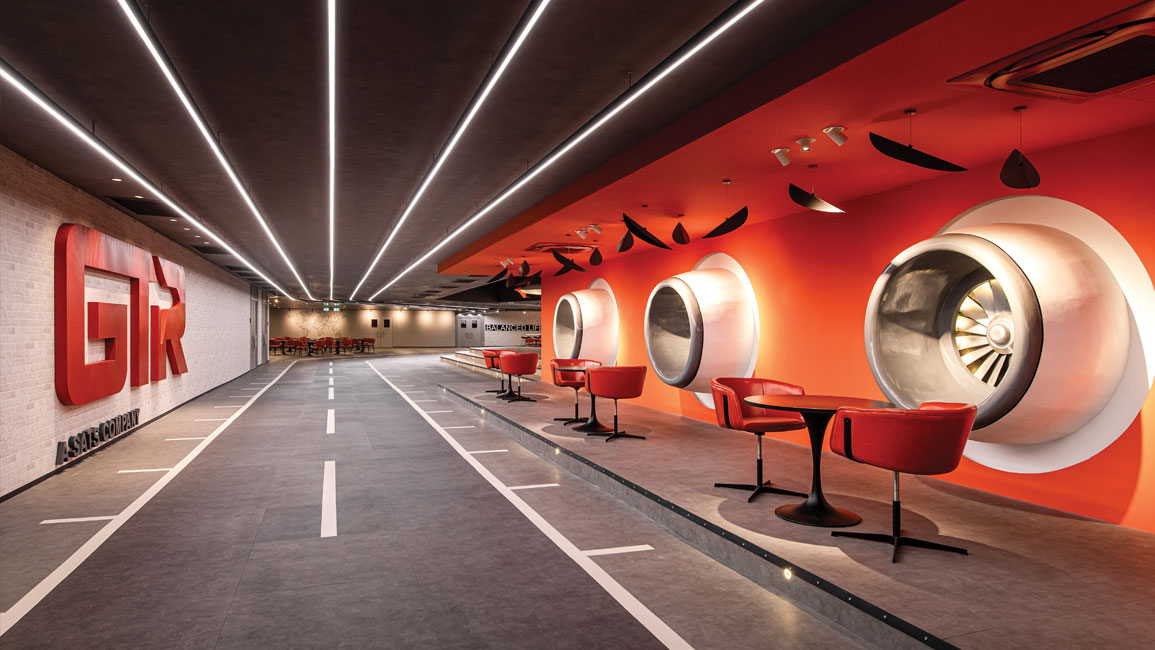 Located in the now defunct Low-Cost Terminal or LCCT, the co-working space for Ground Team Red (GTR) and Teleport was designed to serve the individual needs of these two entities while encouraging synergy between them.
GTR is a joint venture between SATS Ltd, Asia's leading provider of gateway services and food solutions, and Air Asia – the region's leading low-cost carrier. Their company philosophy is to connect their customers through technology, connect passengers to excellent service and connect their people to opportunities.
Meanwhile, Teleport, the cargo and logistics platform for Air Asia, creates commerce, connects opportunities, and births entrepreneurs and enterprises by opening up infrastructure to make it easy for the single merchant and the most prominent companies to transport things quickly.
Both entities share a mother company, Air Asia, whose work culture is dynamic, youth-skewed and bold. So, when ELTO Consulting, a firm design and project management firm with a presence in Kuala Lumpur, Singapore, Shanghai, London and Jakarta, was commissioned to take on this project, top of mind was creating an office that connected people with their ambition and imagination at work.
Aviation was another (more literal) inspiration for the design, evident from the shared entrance where a large window frames the reception. This large window was retained from the previous structure as it offers a panoramic view of planes taking off and landing in the distance at the new airport. This extraordinary scene sets the tone for the office and is a subtle way to reinforce the coming together of two different companies with an aviation pedigree under one roof.
Multiple layers of panels were stacked from the entrance to form a tunnel-like architrave that leads into GTV and Teleport's separate offices. Beyond these separate entrances, common facilities such as breakout areas are shared within a massive open space.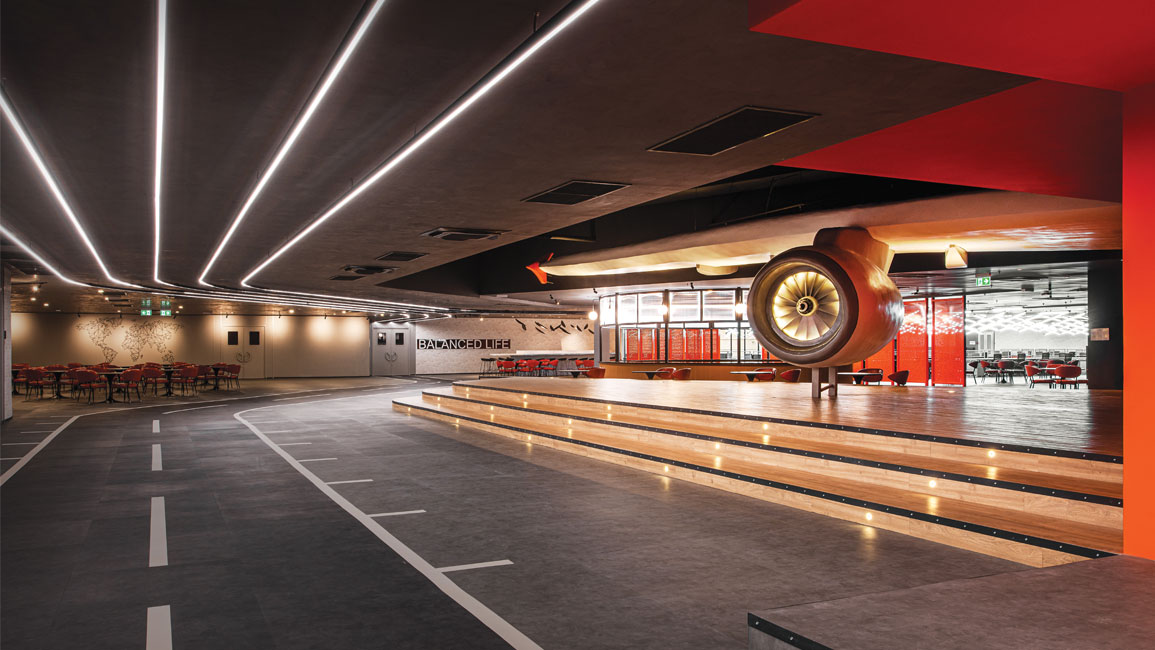 While GTV's logo is a feisty chilli red and Teleport's is a cool white, the designers chose an industrial look as a neutral base. To mitigate the potentially sombre effect, the designers played with lighting and vibrant orange to "raise the spirits in the design". Additionally, the industrial style is reinforced with iron plates, rivets, concrete paint, and concrete flooring throughout.
The aviation inspiration can be seen again when walking around the space on the "runway", lit up with light strips above. Apart from being a guide of sorts for guests, the designers' intention for the kinetic design flourishes was to encourage the GTV and Teleport team to move forward as if a plane is taking off and gather momentum with higher efficiency.
The office area (Teleport and GTV have separate working areas) is demarcated with a row of perforated panels. These perforated panels were
specifically chosen to ensure the space retained an open feel yet gave a sense of privacy to the team when they were at their desks.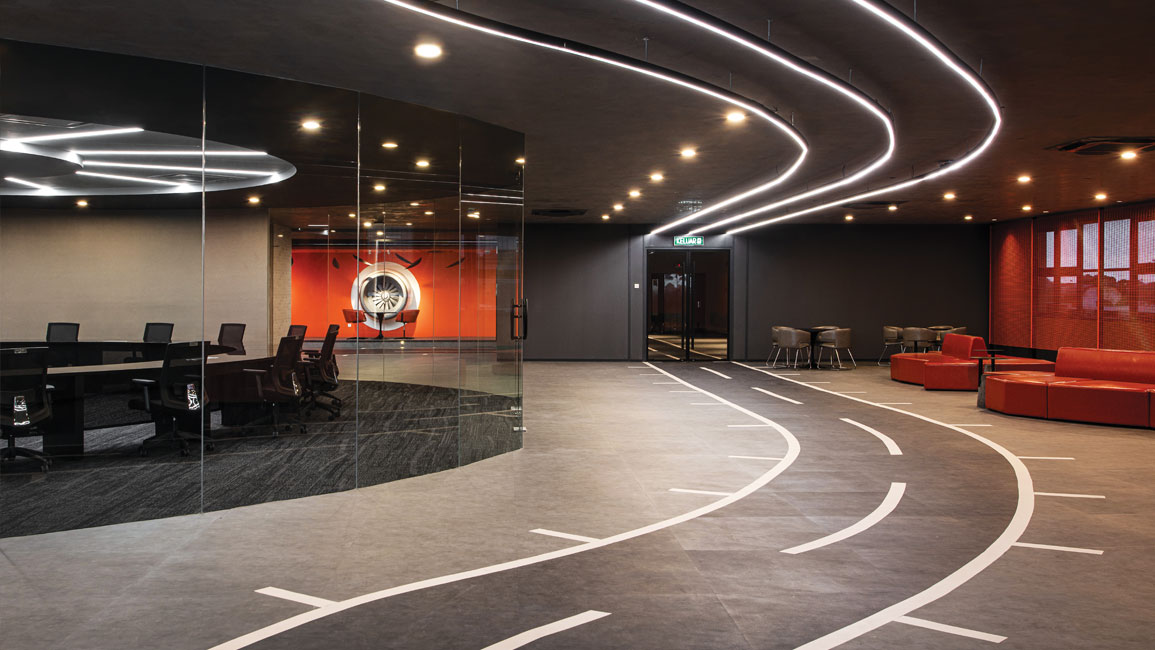 More aviation references come in the form of lifesize aeroplane turbines installed in a zingy orange wall that works as the backdrop of a lounge in the waiting area. A sleek wingshaped bar can also be found in a separate space used for drinks and meals for the team.
A large platform in the middle of the recreation area serves multiple functions. Not only is it a place for the team to have casual gatherings and hang out, but its stepped structure also provides a stage for media conference events. In addition, this open space is dominated by an art installation of an aeroplane wing perched on top of the platform, which has also become a signature landmark of the office.
While most of the office has an open plan, some areas are reserved for private meetings, but even those have glass walls which look out to the central atrium. So although Teleport and GTV have designated meeting rooms, they share a common boardroom that looks like it could be plucked out of the command centre of a sci-fi movie with its massive ring-shaped table, reflective surfaces and dramatic lighting.
The designer sums up the design intent of their office of GTV and Teleport as a space where the teams may socialise freely and stimulate wild and big thinking. Indeed, the expansive and unique office was designed to fulfil the young team's needs for an exciting and imaginative workspace while also creating an efficient environment that helps them to be productive and enough places to de-stress – all clearly underlined with the aviation spirit.
These connections between dream and reality, light and shadow, dimensional paintings, and the sense of speed – all of these are part of ELTO's design philosophy for this office and executed well enough to garnera Gold award at the A'Design Awards 2021.