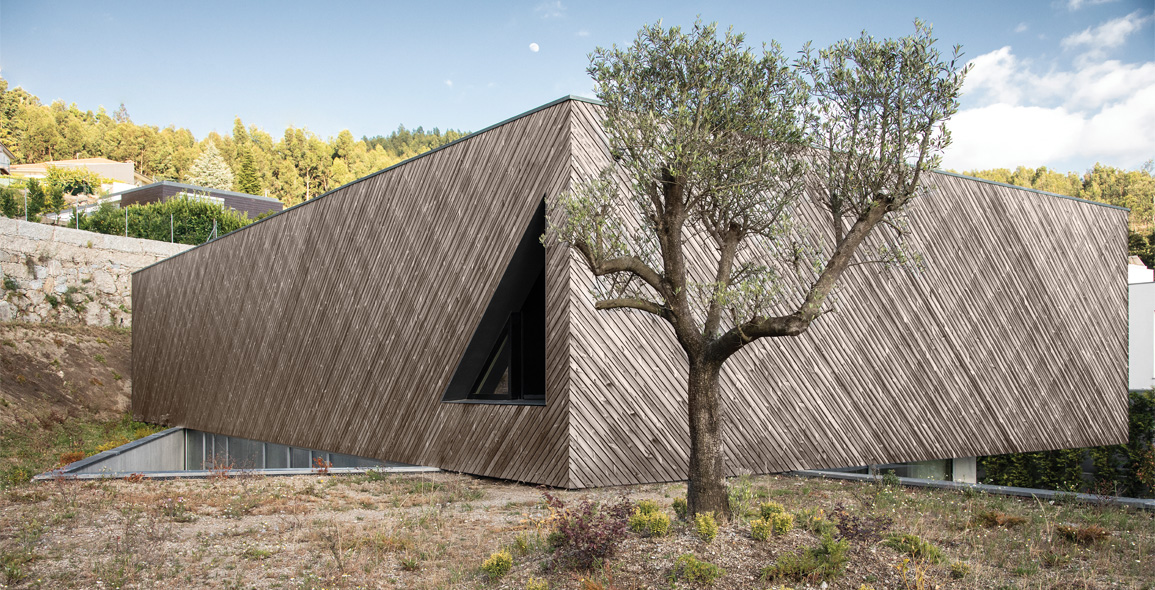 Distinguished as the ArchDaily Building of the Year in 2020 in the category of Best Applied Products, Casa A is a striking contemporary home on the outskirts of the historic city of Guimarães, north of Portugal.
Driven by the client's request for privacy, REM'A Arquitectos reinterpreted the urban rules of the neighbourhood with a two-storey design, composed of a transparent social area set on the ground level and a sealed-up, nest-like upper massing with three bedrooms.
"The main idea comes from the intention to create a massive volume, closed as a nest, that shows indifference to the relations with the surrounding areas," explains Romeu Ribeiro and José Pedro Marques, co-founders of REM'A Arquitectos.
"The nest on the upper floor defines and shapes the project."
Harmoniously integrated within a densely-built neighbourhood, the monolith is clad with wooden battens of sustainable Lunawood Thermowood that shelter the private spaces of the residence.
A concrete base was chosen as a technical, formal and visual solution for the structure, while the dominant upper volume is sheathed in silver-grey timber panels in a diagonal pattern, which has a subtle woven quality, much like a nest.
"We look for materials that can give us another dimension, a sensorial experience," says Ribeiro and Marques.
Building Around Voids
To negotiate the sloping topography of the 1300m² site, a flat plane was carved into the hillside and demarcated by a concrete shear wall that extends along two sides of the recessed ground floor, from the buried garage, past the kitchen and living areas to the end of the poolside patio.
From an aerial perspective, the house appears to have been rotated from its intended axis. The rectangular structure intersects the retaining wall at a 45-degree angle, resulting in deep triangular voids integrated into the landscape.
These private, open-air retreats encourage the owners to relish the outdoor spaces and sunny Portuguese climate, while remaining concealed from neighbouring buildings.
To read the rest of the story, purchase and download a digital copy of d+a's Issue 117: August-October 2020 from Magzter.