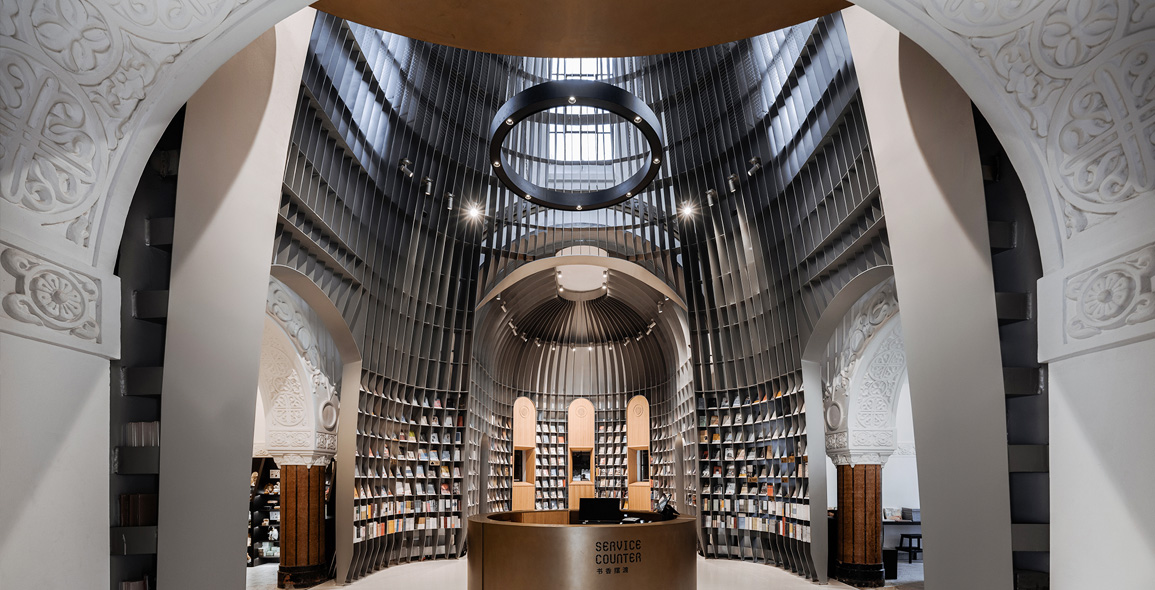 Chinese practice Wutopia Lab has renovated the interiors of a former Russian orthodox church.
Set on a thoroughfare in Shanghai, China known for its well-preserved, European-style historical architecture, it turned the landmark building into a poetry bookshop named Sinan Books.
St. Nicholas Russian Orthodox Church at No. 16 Gaolan Road was built in 1932 in the typical Russian orthodox style with onion dome spires.
One of the more outstanding historical buildings in Shanghai, it has, over the last few decades, been used as an office, factory, warehouse, canteen, private residence, a club, then restaurant, before it was abandoned.
"The first time I entered the church, I felt like I was standing in the middle of the ruins of a maze," says Wutopia's lead architect Yu Ting.
"But after my eyes adjusted to the darkness, I could see the remnant details of the different architectural styles along the walls and ceilings.
"Additions and ornamentations from different eras in Shanghai's history had been integrated into the interiors of this old church."
Commissioned by Chinese publishing group Shanghai Century Cloud Culture Development, this adaptive reuse project had to adhere to the regulations of the Shanghai Historic Building Protection Affairs Center.
This meant that no alterations could be made to the building's existing façade, structural system, basic floor plan or the interior details on the walls and ceilings.
To meet these regulations, Yu and his team used an archaeological technique to distinguish the different architectural elements within the building, so they could retain and restore those with historical value.
"After peeling off layers of paints, the textures and vicissitudes of the original 1932 church were finally revealed," says Yu who removed recently-added structures – such as a steel-framed interlayer that was built in the 1990s – that were not historically significant.
He and his team cleaned up the interiors to reveal the original height of the main hall and shortened a more recent addition on the eastern side of the building, so it was aligned with the original parts of the church.
CHURCH WITHIN A CHURCH
The floor plan includes a main hall in the centre of the building, flanked by two smaller side halls.
To showcase the books, Yu and his team built a steel bookcase structure that followed the outline of the interior walls and ceiling in the main hall.
This was set 50cm apart from the walls of the main hall so it looks like the "bones" of the church.
Additional book display areas were created within the two side halls – one for children's books and the other for cultural and creative books.
Click here to read the rest of the story in the complimentary online edition of Issue 116: June/July 2020.
Photography:
CreatAR Images