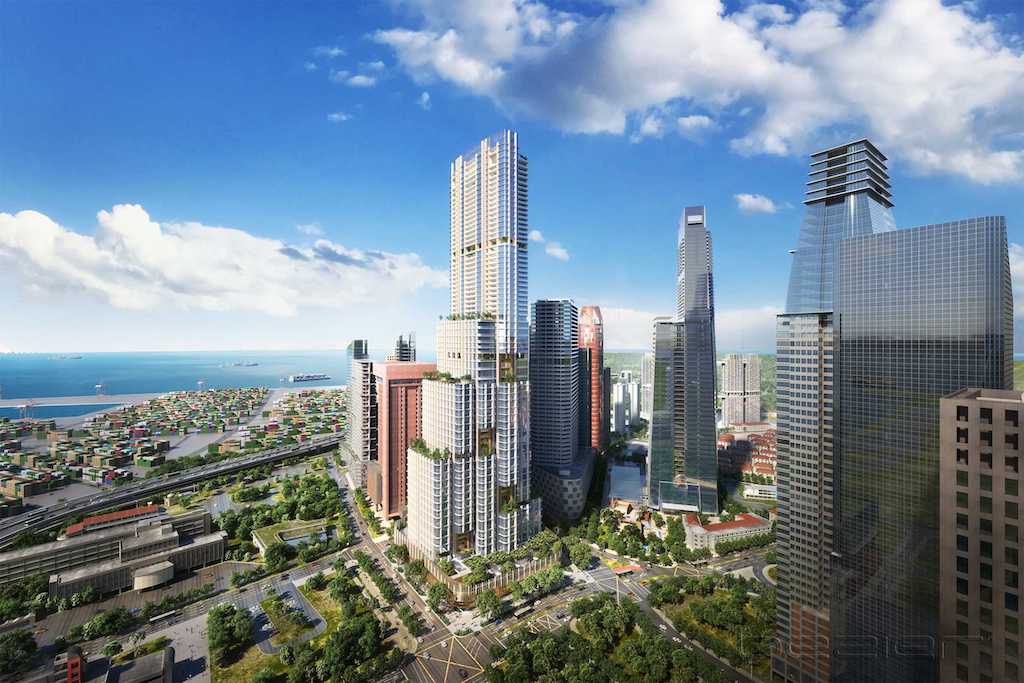 In 2028, the Singapore skyline will welcome a new addition: 8 Shenton Way, a 63-storey, mixed-use downtown development featuring public spaces, offices, retail businesses, a hotel and luxury residences.
Conceptualised by architectural, urban planning and engineering firm Skidmore, Owings & Merrill (SOM), the 305m-high skyscraper will be Singapore's tallest and one of the city's most identifiable landmarks, anchoring the intersection of the Central Business District and Marina Bay, the historic Tanjong Pagar neighbourhood, and the emerging Greater Southern Waterfront.
Inspired By Bamboo Stalks
According to SOM Partner Mustafa Abadan, the design approach to a highly mixed-used building can take two paths. The first is to visually express all functions in the building to expose its complexity, and the second is to devise an approach where the diverse functions coalesce into a unified expression.
However, because the plan was to make 8 Shenton Way the tallest building in Singapore, the SOM team chose to integrate all functions into a singular architectural vocabulary – one that responds to the verdant aesthetic for which Singapore is known, he explains.
"Nature is a major driving force. To find that unifying expression, we were inspired by the verticality of natural bamboo groves and their resistance to bending when bundled in stalks. Bamboo stalks became an appropriate metaphor for a super tall building."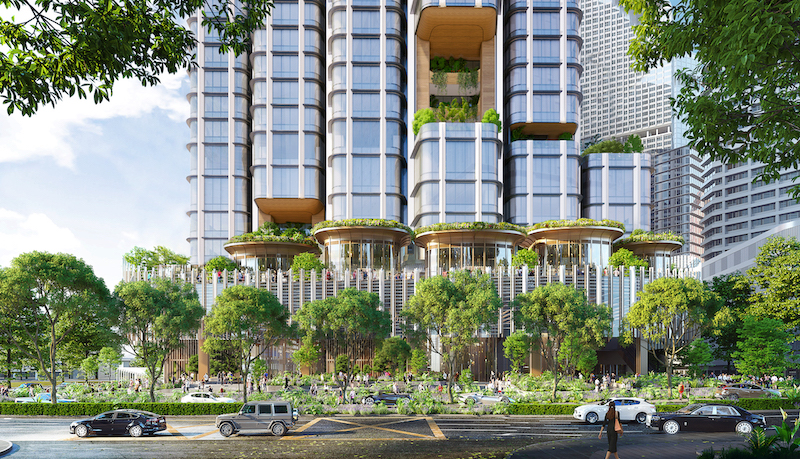 The Connection Between Nature And Sustainability
At the same time, one of Abadan's primary goals was to achieve BCA (Building and Construction Authority of Singapore) Green Mark Platinum certification, which is awarded to exemplary green projects that effectively demonstrate 30% energy and water savings, as well as environmentally sustainable building practices and innovative green features.
Nature and sustainability go hand-in-hand. This project is inspired by bamboo forests and echoes the vertical direction in which bamboo naturally grows. To this end, the SOM team chose materials that would minimise both embodied and operational carbon, from terracotta – which is a durable, natural material manufactured in a zero-waste process – to the use of engineered bamboo, which is a regenerative material.
"Embodied carbon accounts for all the emissions generated from a building's construction, and we're applying a variety of strategies to minimise this," Abadan notes.
"In addition to terracotta and bamboo, we're using recyclable aggregates for the building's concrete structural system, which will also be manufactured through a low-carbon process, while segregating waste and using Singapore Green Building Council certified materials where available. We're also reusing 100% of the existing foundation – six pillars – and part of the site's existing infrastructure."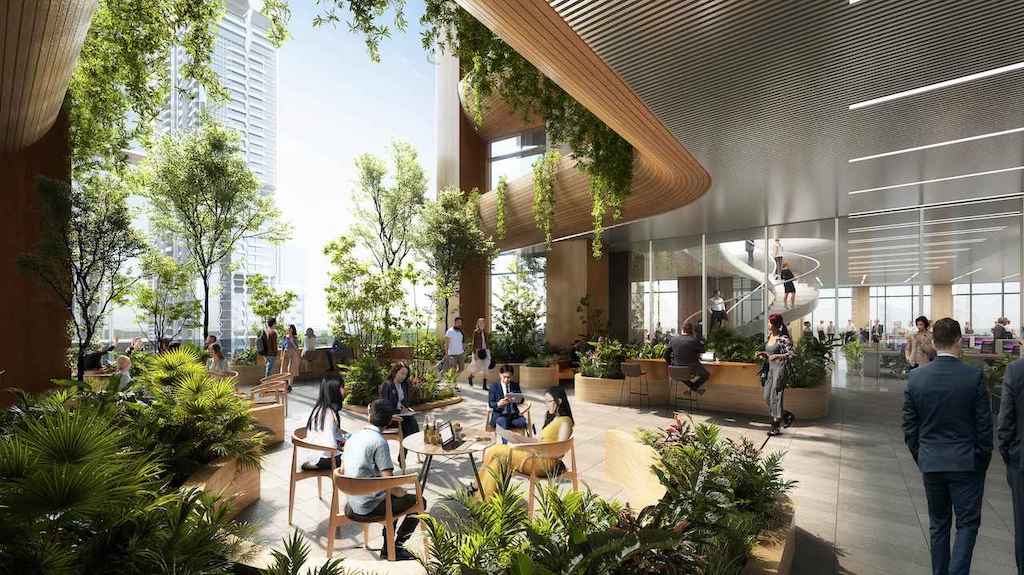 It takes a lot of energy to keep a space cool, especially in a climate like Singapore's. To minimise operational carbon, the team designed a series of features to help the building use energy efficiently and also enhance the local environment.
These features include: energy-efficient glazing on the façade to reduce solar heat gain while still allowing plenty of natural light in; landscaped gardens throughout the tower that offer an outdoor escape; and seven terraces, all of which bring in light and air and encourage natural ventilation to keep the spaces cool.
"The building will be oriented so that these spaces are shaded from the sun, and all the landscaping has been specifically selected to attract birds and butterflies, to improve the biodiversity within the site," adds SOM Design Principal Nic Medrano. To encourage more sustainable modes of transit, the tower will also include bicycle and electric vehicle parking and will connect to Singapore's subterranean pedestrian network – including direct underground connectivity to Tanjong Pagar Mass Rapid Transit (MRT) station, and, in the future, Maxwell and Prince Edward MRT stations.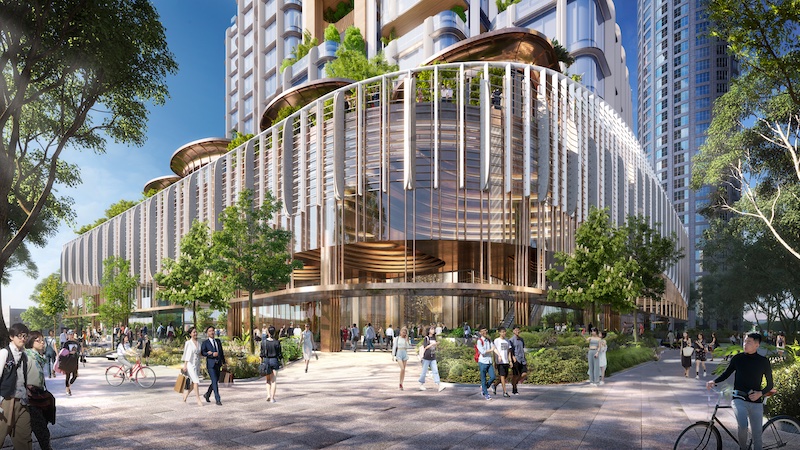 Post-pandemic Design Features
As the design for 8 Shenton Way was developed during the pandemic, the SOM team made it a point to design a space that prioritised the physical and mental wellbeing of occupants and visitors.
The building will have advanced filtration systems and feature anti-microbial coatings, where possible, to stop the growth of disease causing microbes. Turnstiles, elevator buttons and other areas will also utilise contactless technology to minimise human contact with commonly used surfaces. And calming, green and open-air spaces will provide a place for relaxation as well as enhance natural airflow and air filtration in these areas.
Dealing With Challenges
As construction progresses, there may be a couple of challenges along the way, Medrano points out. "Achieving Green Mark Platinum certification is particularly difficult when designing a large building. This is why we're using terracotta and engineered bamboo. The manufacture of terracotta is a zero-waste process, and bamboo is a regenerative material."
He says, "Additionally, the site is surrounded by major streets on all sides, meaning that construction will be carefully choreographed to minimise impact on traffic and for pedestrians. This is a common challenge for the design team, who frequently work with sites in dense urban areas such as New York, Hong Kong, and Tokyo."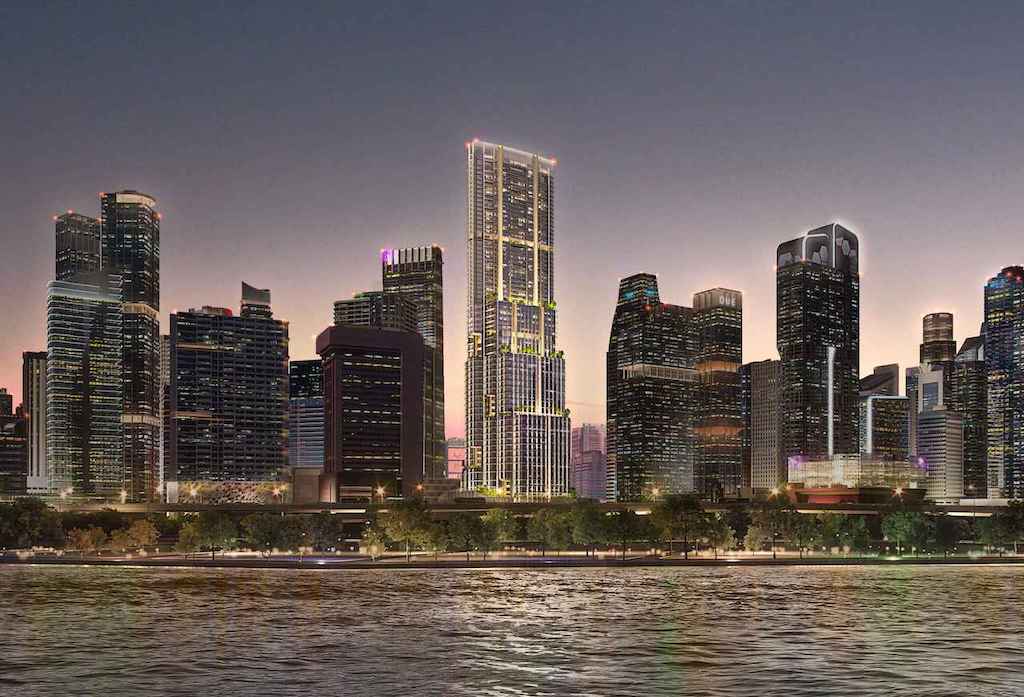 Enhancing An Already Iconic Skyline
With its retail and office spaces, hotel, SOHO units and luxury residences, 8 Shenton Way will be a 24/7 "mini city" and a unique attraction in a newly developing district. As it will be the city's first supertall skyscraper, it will shift the gravity of the city further southwest, expanding the Singapore skyline towards the Greater Southern Waterfront.
"While the building is slender at the top, giving it a slim and aerodynamic character, the base widens to offer larger floor plates and gardens for the office space," Abadan notes.
"This stepped massing, along with the use of warm façade materials like terracotta, will set the building apart from the surrounding glass buildings in the Central Business District. The massing will also incorporate multiple sky gardens, full of trees and plants native to Singapore. These sky gardens will glow at night, highlighting the building's unique aesthetic and offering mesmerising panoramic views of the South China Sea, Marina Bay and Tanjong Pagar, for all those who will use those terraces."
Images:
SOM/Bezier, Lucas Blair Simpson/SOM and Vivien Liu/Studio UNIT