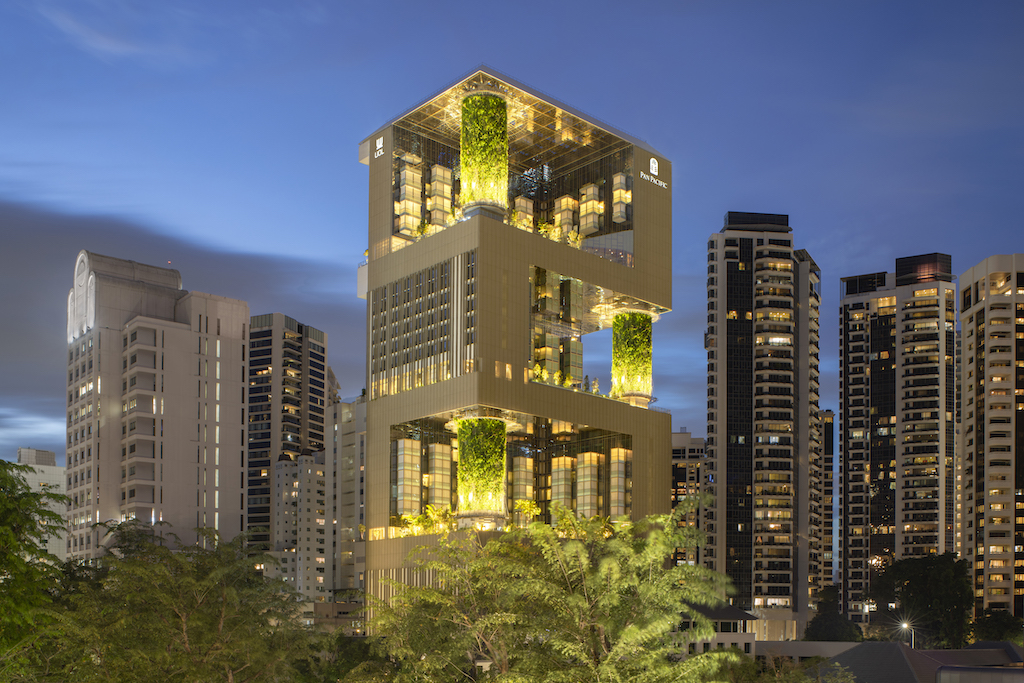 Singapore's iconic Orchard district is set to welcome a new hotel. Located within the serene Claymore enclave, Pan Pacific Orchard begins hosting guests from 1 June. Standing 23 stories high, and with 347 luxurious, residential-style rooms, the hotel was designed to be a tranquil sanctuary, surrounded by greenery and offering spectacular views of the famed Orchard Road shopping belt and beyond.
Like three boutique hotels in one building
Singapore-based WOHA Architects was tasked with envisioning a new prototype for high-rise tropical hospitality, and the result is nothing short of impressive.
What makes Pan Pacific Orchard different from other hotels in the area is that it gives guests the opportunity to discover Singapore's tropical, innovative and sustainable urban environment in one building.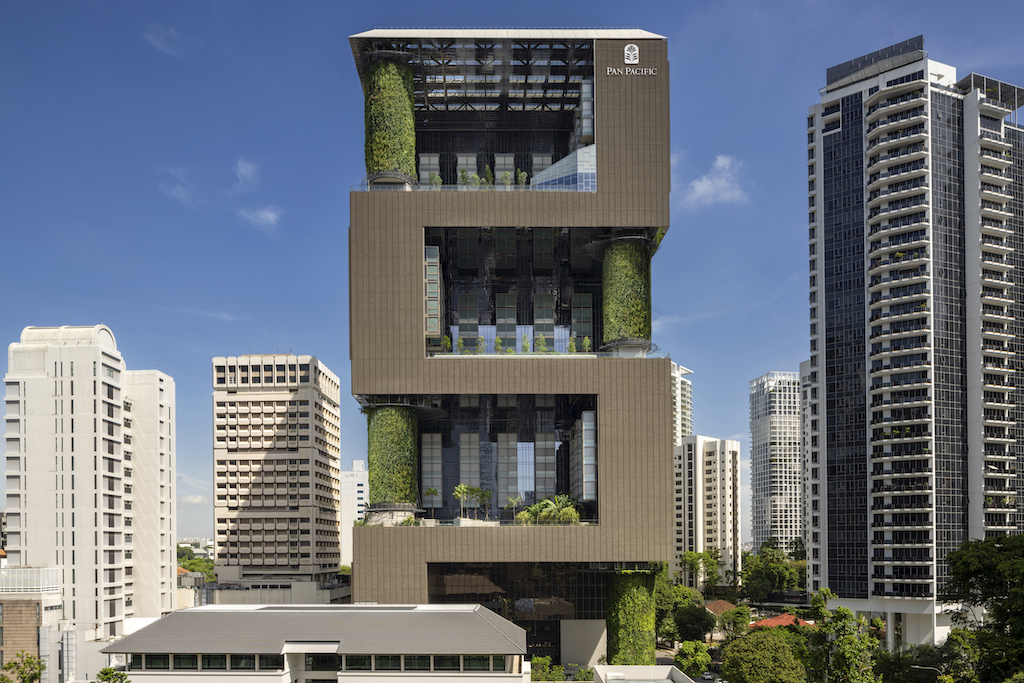 WOHA's co-founding director, Wong Mun Summ says that their main focus was to create a new hospitality experience as part of the Urban Redevelopment Authority's push to remake and revitalise Orchard Road. "Orchard Road…used to be lined by actual orchards, and we are 'bringing back the orchards' through the integrated gardens and landscaping of the hotel."
To bring this vision to life, the WOHA team designed the hotel as four seamlessly connected "stacks" or strata – Forest, Beach, Garden and Cloud, each providing exceptional experiences across unique environments.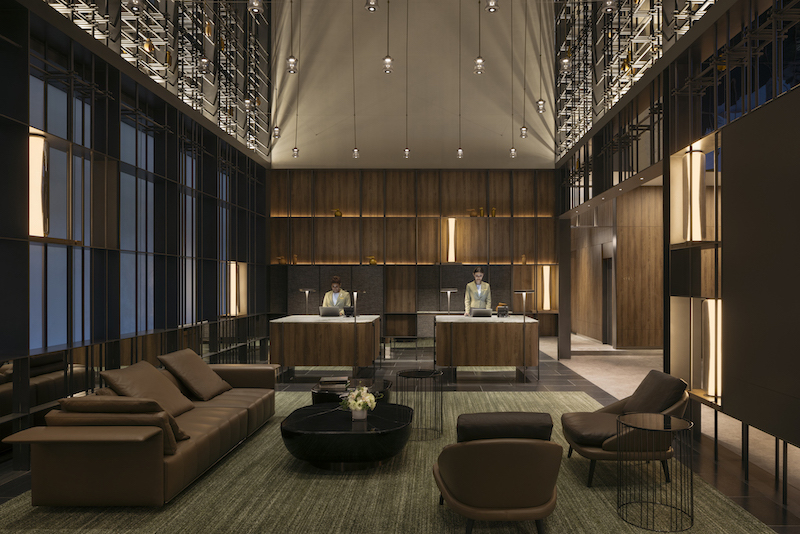 The first, the Forest Terrace, straddles Claymore Road and Claymore Drive with a water plaza and cascades, and is edged by forest trees, creating a dramatic entrance and an urban connection.
The second stratum was conceived as a Beach Terrace, offering guests a tropical oasis of a meandering sandy beachfront, palm groves, and a lagoon with emerald green waters.
The third was set up as a Garden Terrace, orientated towards the quiet residential estate of Claymore Hill. Flanked by Florette, a champagne and oyster bar and Pacific Club Lounge, the Terrace showcases a manicured garden, complete with veranda, event lawn and fountains.
The fourth stratum was envisaged as a Cloud Terrace, comprising a 420-seat ballroom and event plaza, surrounded by mirror pools and filigree planting, and shaded by the PV canopy above.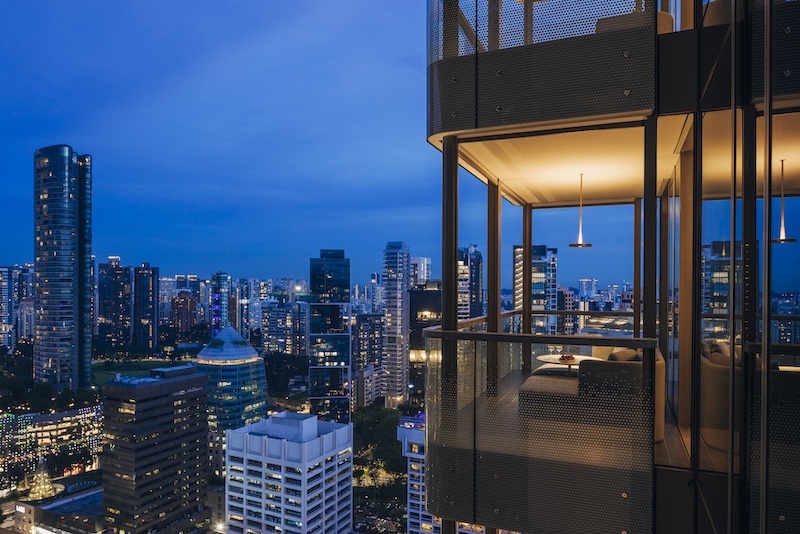 Wong says, "By creating the sky terraces, the site area is effectively tripled – vertically. This strategy creates elevated ground levels where amenities that are usually hidden inside buildings are 'unpacked' in a garden, beach, forest or cloud environment. These spaces add extra value to the way guests can experience the hotel."
"Beyond the guest experience, the design of the hotel allows the city to embrace the building as a vertical garden, which not only gives a densely built-up district much-needed respite from the concrete jungle, but is also a strong reminder that the built environment can and must co-exist with nature," he adds.
"Green" In More Ways Than One
The landscaped atriums serve another purpose: to vertically extend the greenery of Orchard Road up into the sky.
Wong explains that two 120m-tall green columns with creepers visually connect the four strata, juxtaposing against the stacked massing and giving the urban hotel a resort feel.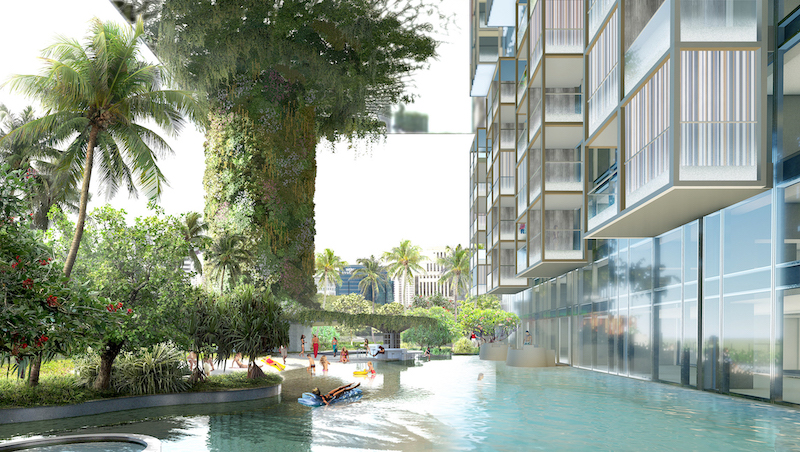 The Pan Pacific Orchard incorporates a total of 14,000 sqm of greenery and water gardens – four times that of the site area. And a variety of plant species was selected to create a lush tropical setting that is attractive not just to people but also to insects and birds, thus encouraging biophilia and biodiversity in the city.
The property also boasts environmentally friendly features and has obtained the Green Mark Platinum rating, the highest accolade awarded by Singapore's Building & Construction Authority. Wong explains that it achieved this rating by incorporating active systems and passive design strategies that reduce energy and water usage and needs.
For instance, the hotel's energy, water and waste building systems are integrated with one another: photovoltaic panels on the roof generate clean energy that powers the common areas; rainwater is harvested to irrigate the greenery; and food waste is processed with water and the compost used for the gardens.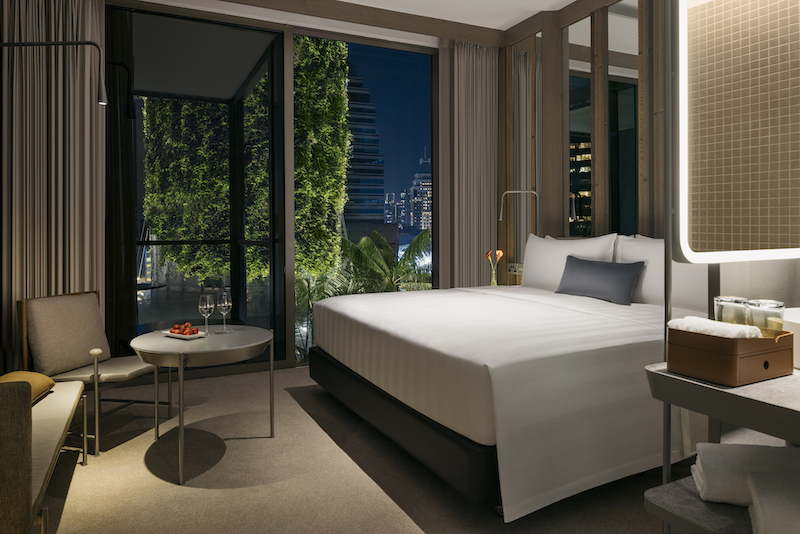 Additionally, the building massing is self-shading, with each terrace shading the atrium below from the hot sun. The terraces are open-sided to allow for natural cross-ventilation and daylighting, providing a comfortable, enjoyable environment, aided by low-energy dry-mist fans in strategic areas that reduce the need for air-conditioning and artificial lighting.
Finally, the greenery and water bodies create environmental buffers and surfaces that lower the temperature and help combat the urban heat island effect. The plants provide further valuable ecosystem services like regulating the air quality and sequestering carbon dioxide.
A Space For Enjoyment And Relaxation
More than just somewhere to lay their head, it is hoped that the Pan Pacific Orchard will be a place where guests can experience the natural beauty of the tropics and enjoy some of the finer things in life, like art.
Among the artworks that will be on display in the hotel is a monumental 20-panel calligraphic piece by the late Chua Ek Kay (1947-2008). "The Untitled (Calligraphy, Selection of Tang Poems) work by the 1999 Cultural Medallion recipient features poems from the Tang Dynasty (618–907 CE), with renowned poets that include Li Bai, Du Fu, Li He and Wang Wei," shares Marcel NA Holman, General Manager of Pan Pacific Orchard and Vice President of Operations for China, Japan and Indonesia, Pan Pacific Hotels Group. "Their poetry is masterfully captured by Chua in an uninterrupted stream of expressive calligraphic script, suggesting the flow and interconnectedness of all aspects of life," he adds.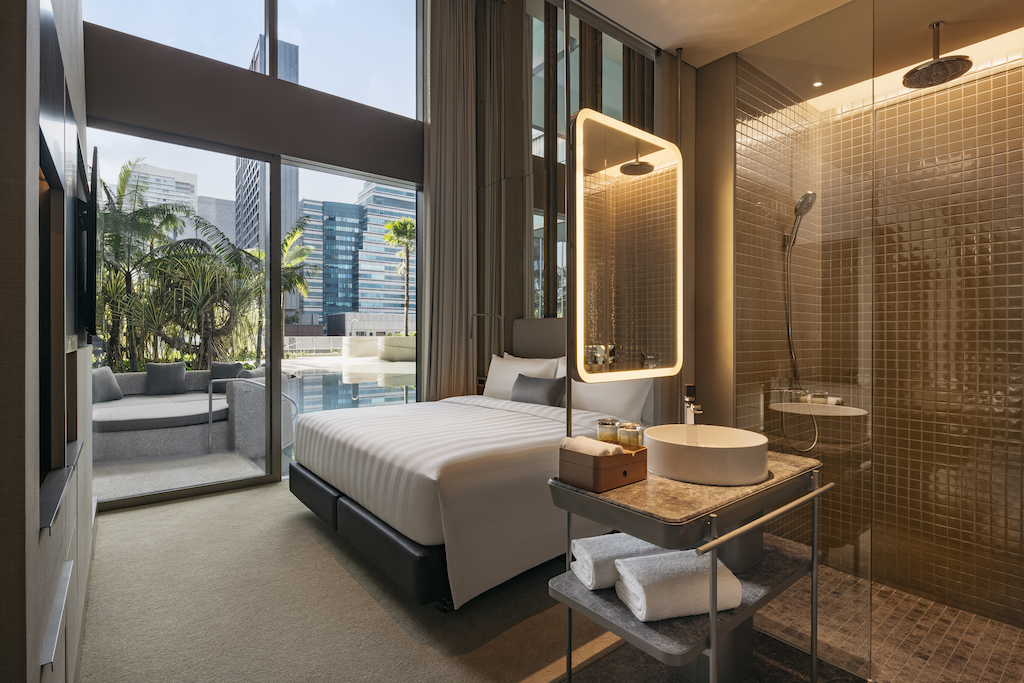 The residential-style rooms are designed to match the hotel's distinct environments – Beach, Garden or Cloud – so that guests can enjoy a unique stay each time they make a return stay at the hotel. Each room comes with premium bedding, hot and cold-water filters to encourage the use of refillable water bottles, and generously sized windows that open out onto the calming green. A number of rooms also include a private balcony – a rare find in Singapore's city hotels – with a plush sofa lounge, making for the ultimate indoor-outdoor experience; allowing guests to take in the views in luxurious comfort.
There will be many biophilic zones throughout the property. Wong describes these as lush spaces where guests can get close to nature, restore their inner calm, and find relief from the bustle and stresses of city life.
He adds that these days, people expect more from their hotels and that many are after a stay with a difference. "When designing a hospitality destination, we are very aware of the fact that guests now look to the hotel to provide a sophisticated, differentiated experience, rather than just a place to spend the night. Travellers want to enjoy and be in a space that provides diversity, connectivity and comfort."