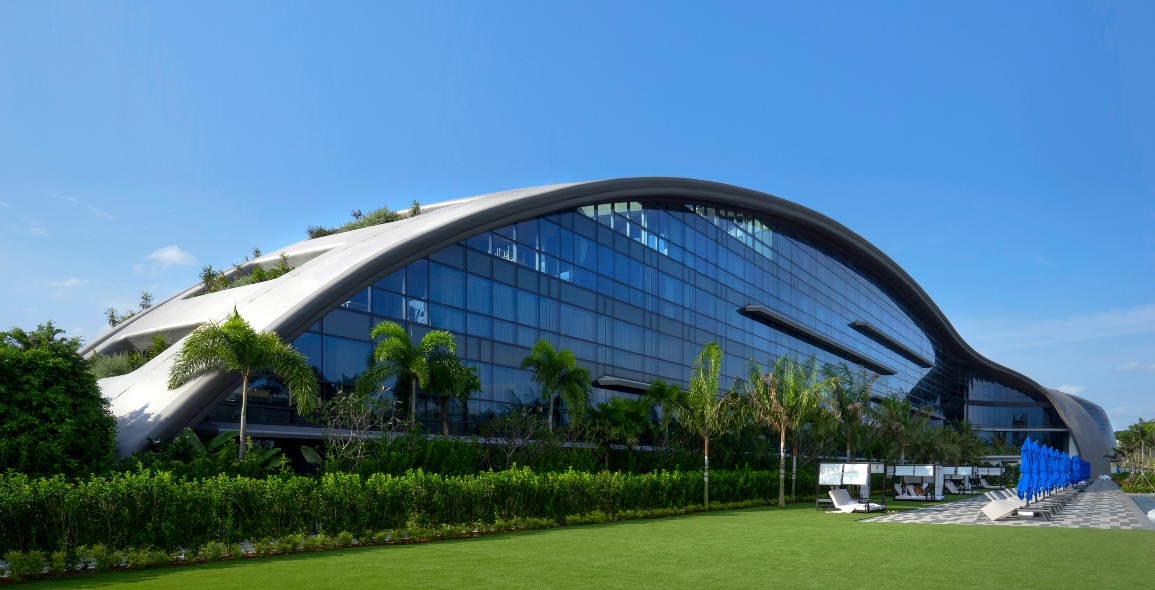 In the eastern end of Singapore, some five kilometres away from Changi Airport, rises a new building that stands out yet blends in.
This remarkable piece of architecture has been likened by a leading travel magazine to something Norman Foster or Zaha Hadid would have done.
In fact, it is by a boutique-scale Italian studio, Mercurio Design Lab (MDL).
Dusit Thani Laguna Singapore, formerly known as the Laguna Golf and Country Club, is sited within a golf course with no less than four lakes, greens with undulations that resemble a moonscape and clusters of sculpted sand bunkers.
It was this charged image that inspired MDL to design the project, which contains a hotel and new clubhouse.
The most unique feature is no doubt its roof, which reflects the silhouette of its surrounds, giving it that all-important contextuality that is so often missing in architecture projects.
"Its story can be told with a single pencil stroke, serving as a simple yet powerful image for the building," says Massimo Mercurio, MDL's CEO and managing director.
"It thrusts up out of the landscape itself, sweeping up from the ground to create a shelter for the hotel, before surging on to cover the existing clubhouse."
The roof doubles up as the body of the building, giving it an edgy and contemporary architecture that MDL is becoming increasingly known for.
"It is also designed to minimise the violence on the gorgeous natural landscape that the golf course provides," adds Mercurio.
To achieve this look, MDL had the roof made from a special cementitious fibre board and a marine-grade membrane.
It has a uniform, seamless surface, with no visible joints, adding to its distinctive aesthetic character from whatever angle it is viewed.
This is precisely what makes the building stand out, even as it sits comfortably in the site, exemplifying the true essence of architecture.
Read more about Dusit Thani Laguna Singapore in Issue 120: June 2021.
Photography:
Gareth Seah, Veronica Ang and Patrick Bowers