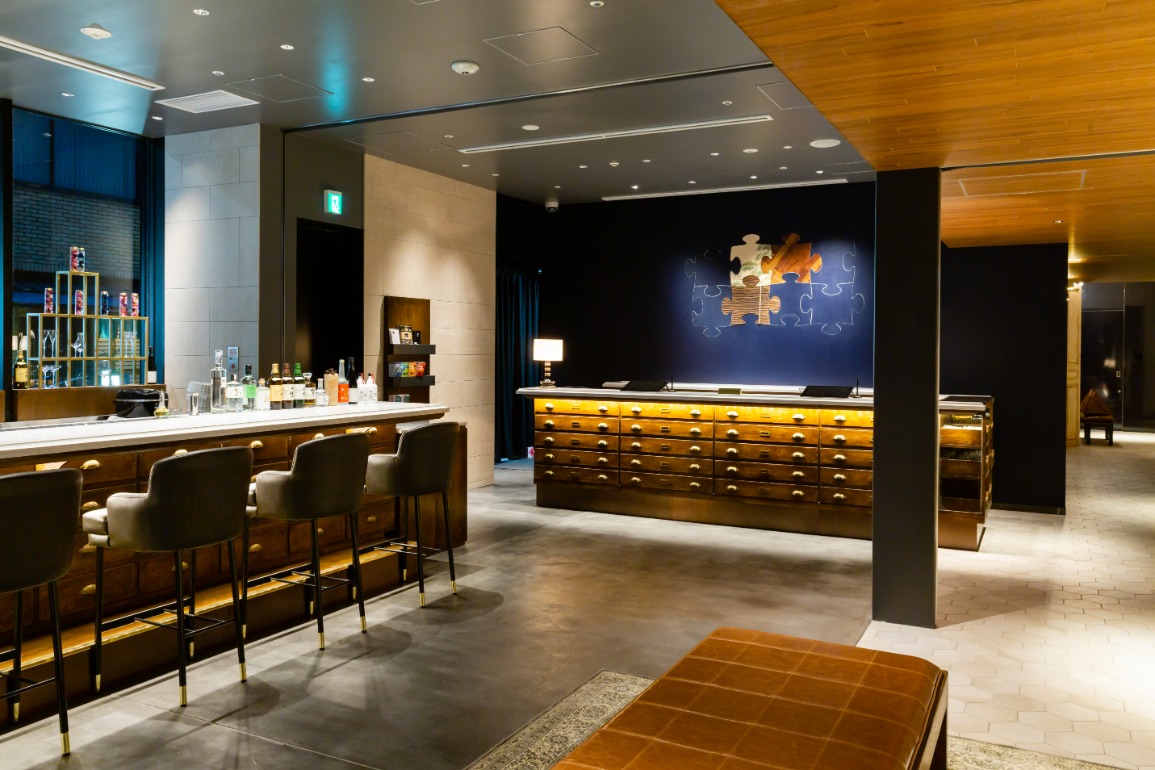 Vintage meets contemporary at The Royal Park Canvas – Ginza 8, a new hotel designed by GARDE. Located in Tokyo, Japan, it takes its cue from the neighbourhood it is located in, known for its edgy yet traditional personality.
Responsible for conceptualising the public spaces of the property, GARDE chose to make them interactive yet infused with elements of vintage, modernity and timelessness. The result is an aesthetic that balances tradition and innovation, old and new, much like Ginza itself.
This is manifested through the generous use of Mid-Century vintage furniture, complemented by contemporary art works that can be enjoyed with the senses of sight and sound.
Enter the hotel with its narrow frontage and be greeted by a reception desk designed like a chest of drawers. Behind it is a feature wall with a jigsaw puzzle artwork by artist group Chim ↑ Pom named It's the wall world.
In front of the reception is a 10m-long bar counter that makes up a café doubling as a tea salon. The counter has the same treatment as the reception desk, except it has wider "drawers" in proportion to its length.
Beside it is a flight of floating stairs leading up to the Flavor & Sound Culture Lounge. Here, GARDE had artist Yagi Lyota install a sound shower mimicking a waterfall. Records line the walls and a personal record player is available for rent.
Beyond this is the Canvas Lounge. Distressed leather couches sit comfortably beside Mid-Century-style armchairs and tables, conducive for lounging and long conversations.
Take the lift up to the 14th floor where the restaurant is located. GARDE gave this a timeless modern treatment. Flanked by a bar and outdoor terrace, it has banquette and booth seating, as well as the usual standalone table-and-chair option.
As designers of the first and flagship property of the Canvas brand by Royal Park Hotels, GARDE has set the tone by infusing its public spaces with nostalgia, comfort and a dash of romance.
Given how the hotel rooms in Tokyo are notorious for being small, this direction is a wonderful alternative for guests, offering them additional, well-designed real estate outside of their rooms they can enjoy during their stay.