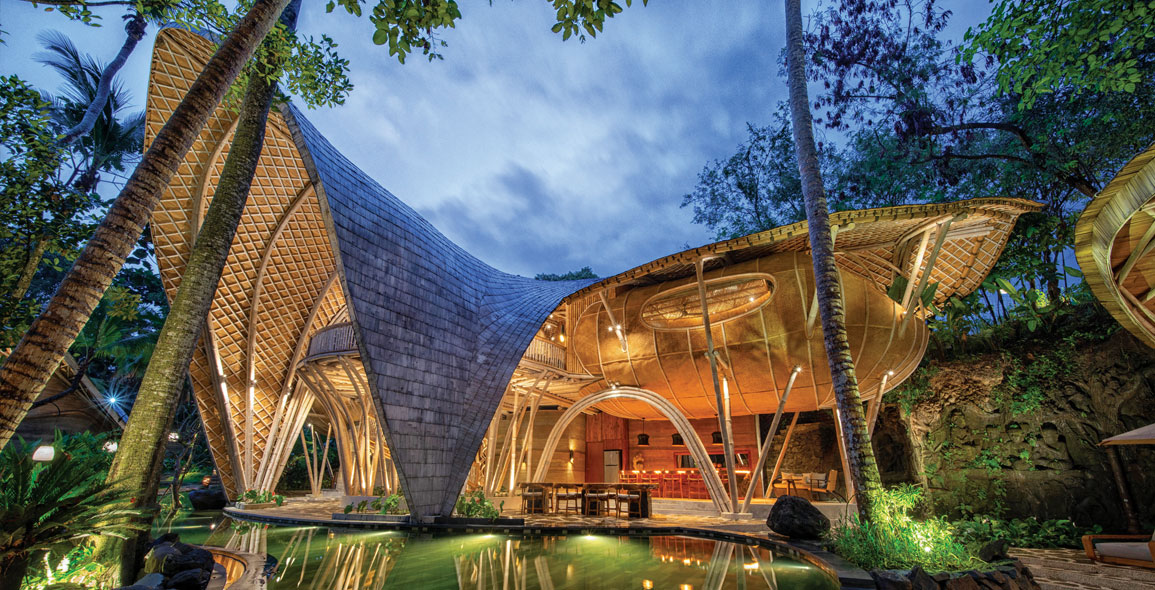 Its dramatic, sweeping curves instantly command your attention. You step a little closer and notice that these unique structures have been crafted entirely from bamboo.
Indeed, a sense of wonderment suffuses Ulaman Eco Luxury Resort at Kaba-Kaba, Bali, Indonesia. Here, bamboo roofs curve organically into shapes resembling blooming lotuses and cocoons. Some of the villas are perched directly above a lake, perfect for a refreshing morning dip or to be lulled to sleep by the sound of gently trickling water.
Peeking out amidst a lush, tropical jungle, the property's awe-inspiring structures envelop guests in an experience dotted with discreet touches of luxury. Being one with its natural environment has always been the anchoring ethos of Ulaman. The property was originally conceived as a residential project (before 2020), with the owner wanting to create a home that fit right into its natural surroundings.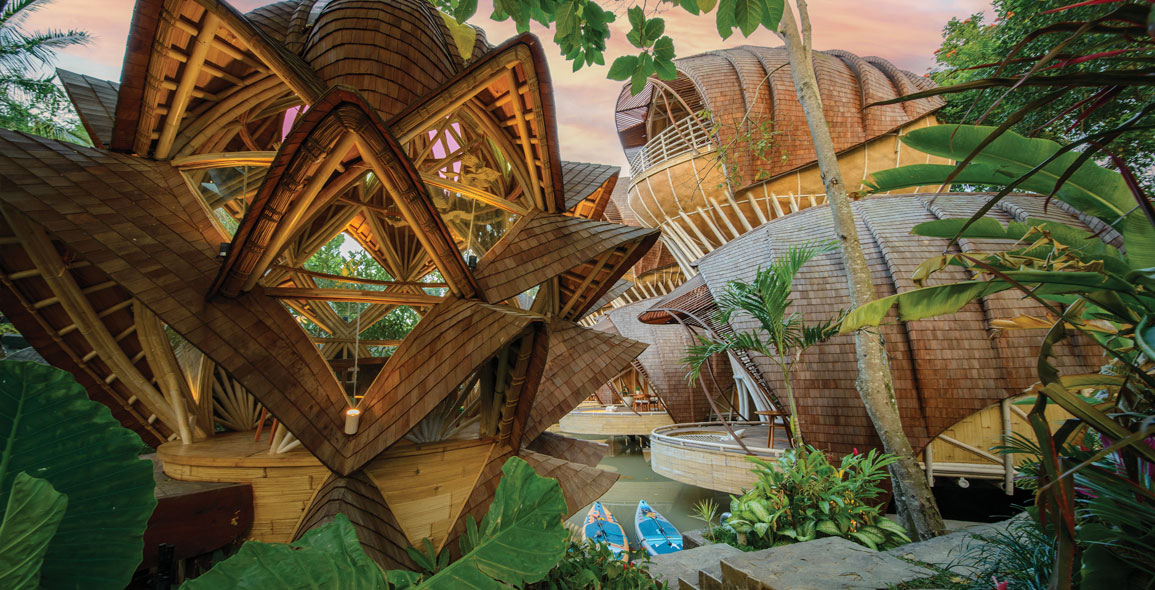 Founder and Director of Inspiral Architecture and Design Studios, Charlie Hearn, who is also the project's lead architect, envisioned responding to the site's abundance of nature.
"The flowing streams of the riverside, the varying canopies of vegetation, and the transition of flora and fauna within this area all provided a language that we wanted to translate into architecture," Hearn notes. "We looked into developing a story, with each space evoking a sense of wonderment and dynamic connection to the elements. At the same time, we wanted the rooms to feel luxurious and secure," Hearn adds.
The result was a uniquely defining and dynamic design that brought together rammed earth and bamboo, a combination that had never been done before in Indonesia. Enamoured by the design Hearn and his team had dreamt up, the property's owner decided to add six more guest houses to the project, turning the residential property into a luxury eco retreat instead in 2020 (part of phase 1).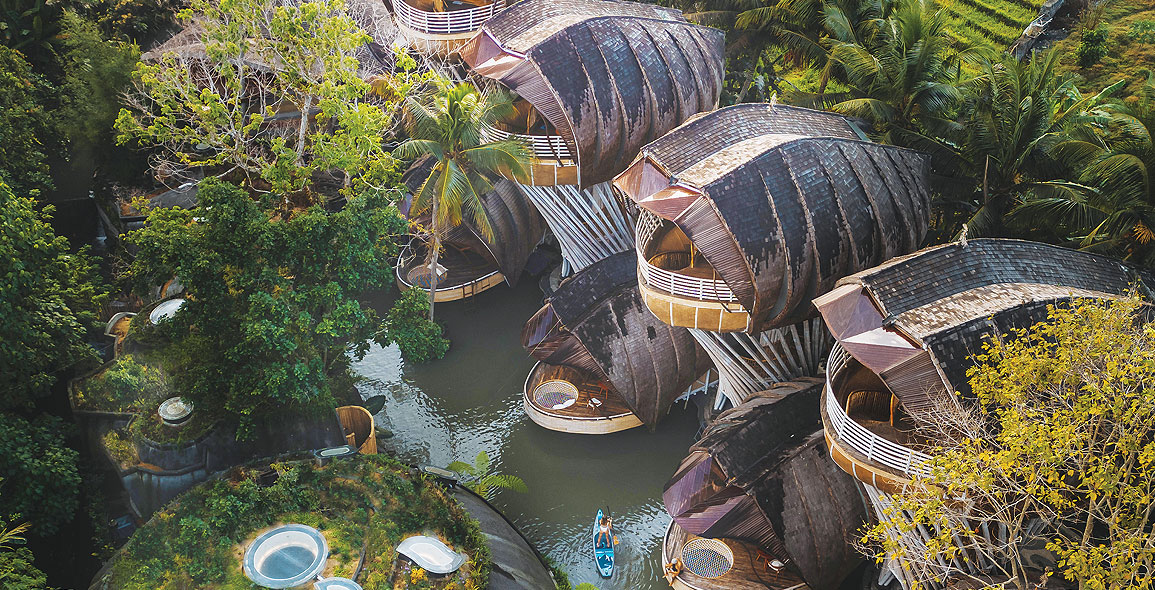 True Nature
Ulaman's eco credentials are nothing short of impressive. For one, Hearn and his team decided to keep as many existing trees as possible. Instead of cutting down trees, the team built around the flora, which is why guests can find living tree trunks sprouting through certain buildings.
To fully integrate Ulaman into its natural surroundings, the team at Inspiral also decided to reintroduce a lake back into the site. This lake had previously been blocked off and had turned into a swamp, resulting in severe flooding at the site during the rainy season.
Through a series of trial and errors, the team tested the flow and direction of every channel and stream, all while introducing new ones to get the river flowing again.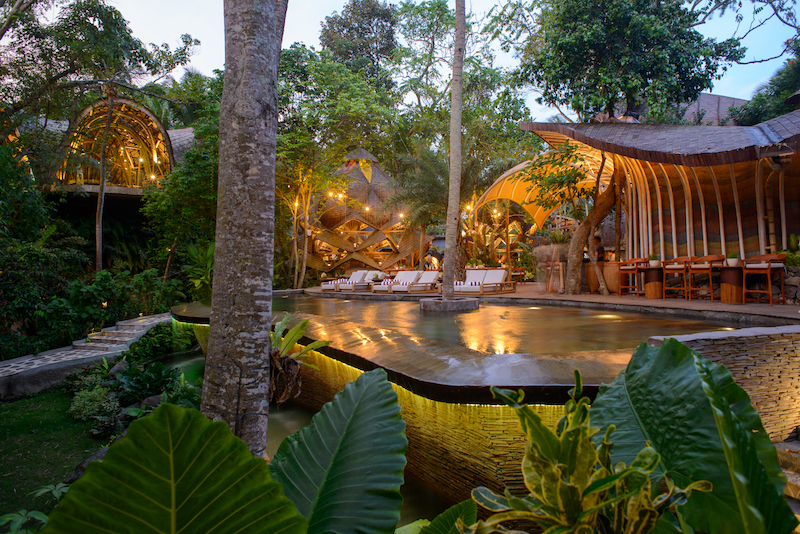 "We did not have the benefit of a specialist to design and manage this, so we had to work it out in a step-by-step process manually, constantly adjusting levels and working out new strategies all along the way," Hearn states.
As a result of their efforts, Ulaman now taps on the river to power a hydroelectric generator that meets the energy needs of the complex. This is one of the initiatives that has enabled the property to become fully carbon zero.
Core to the property's carbon-friendly credentials was also its choice of construction materials like rammed earth and bamboo.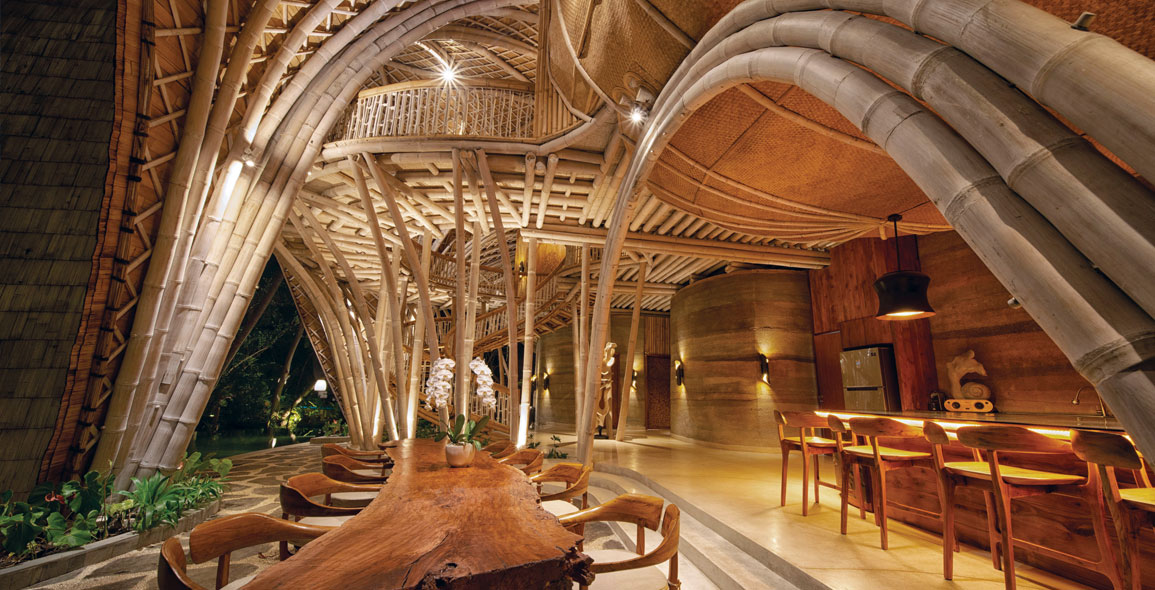 An ancient construction method dating back to the Neolithic period, rammed earth is a highly durable and sustainable building material. As compared to the likes of concrete, the making of rammed earth creates a far lower carbon footprint in terms of the energy and transportation of materials required. The naturally excellent insulation properties of rammed earth also keep the property naturally cool sans the need for excessive air conditioning, an important factor in a tropical climate like Bali's.
"We are proud that [Ulaman] is Indonesia's largest rammed earth project," says Hearn. To create the rammed earth for Ulaman, the firm worked closely with local villagers to create the structural form, produce the mix using earth dug up straight from the site, and carry out the ramming. Having undergone such training with the firm, these villagers are now able to offer this skillset to other firms or projects, thereby having a new source of livelihood. Other locally sourced materials include the use of recycled timber, stone sourced from Indonesia, and bamboo harvested from the site and nearby villages.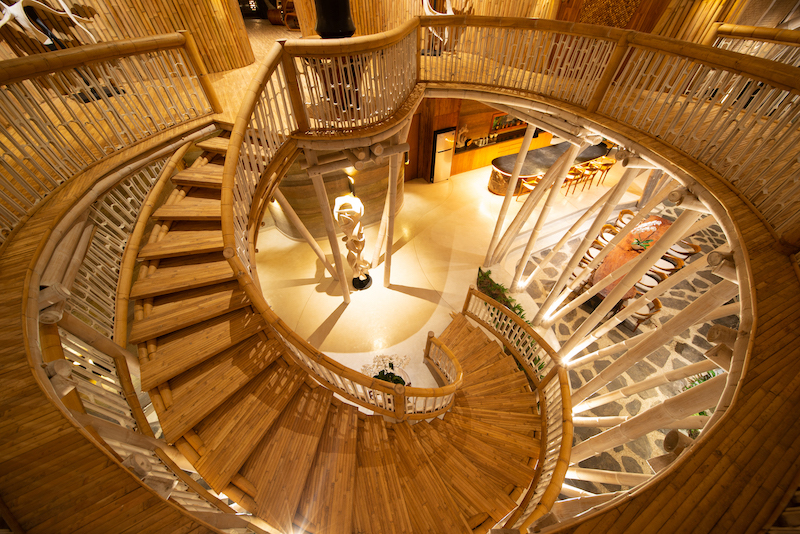 Further elevating Ulaman's sustainability measures was the use of prefabricated materials. "[It was our first time] using prefabrication [to create] recycled expanded polystyrene composite panels that were paired with polymer earth renders. [The panels are] super lightweight and have an incredibly low carbon footprint... and seeing it go up so quickly was a joy," Hearn points out.
A Living Work Of Art
Hearn and his team have managed to transform these materials into stunning shapes and forms that intrigue the imagination. For one, there is the resort's ethereal yoga studio which literally seems to float from the cliff's edge.
Key to making this form possible was a cantilevered structure supporting a parabolic bamboo pavilion. "[As] there was minimal land available [at the cliff], getting the foundations right to allow for this was most challenging. Some steel members combined with bamboo was the only way to achieve this. The parabolic form could be seen like a flower [crowning] the complex," Hearn shares about their approach to the yoga studio.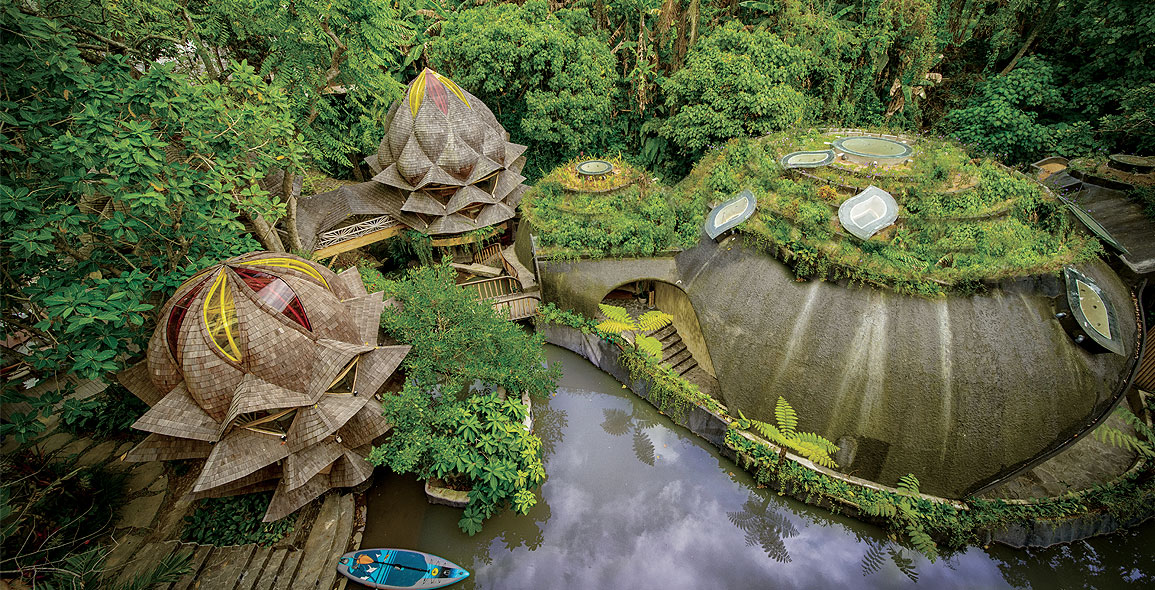 "At this site where nature is at the forefront, we strove to make our buildings feel immersive," he explains of Inspiral's decision to adopt unique structural forms at Ulaman. "Flowing, organic forms create both subtle and direct communications between our experience of [the] space," he adds.
Adding to the property's inimitable sense of calm is a soothing palette of organically occurring colours from the natural materials. To avoid an overbearing rusticity, bamboo was also intentionally whitewashed to lend a sense of freshness, all while highlighting much of the playful geometry found within the structures.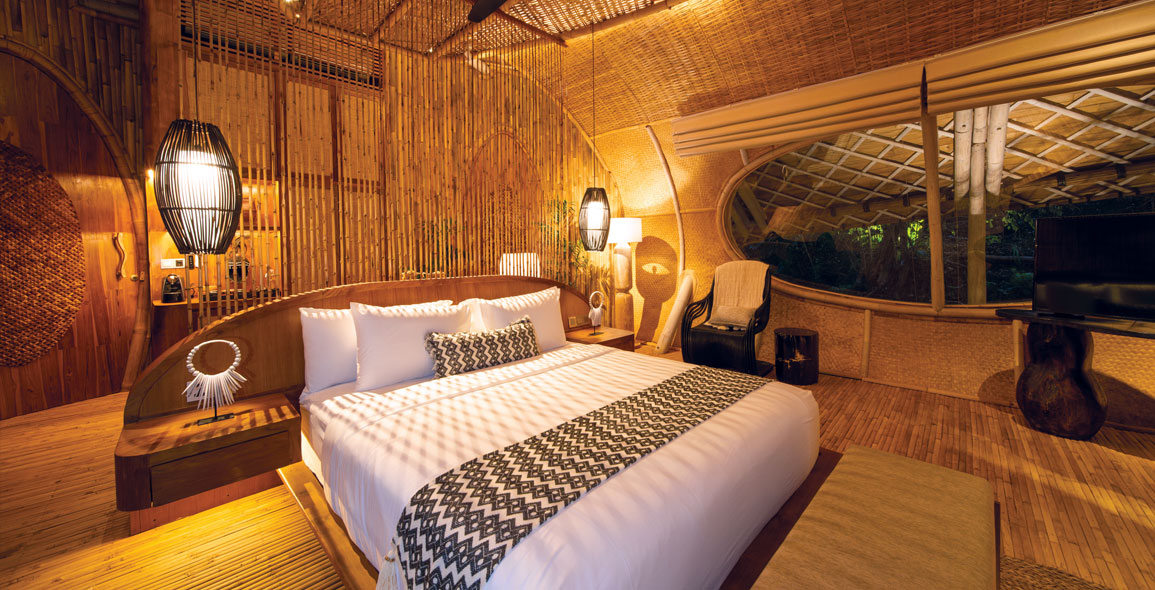 For their groundbreaking work, Hearn and his 30-strong team comprising architects, interior designers, structural engineers, and MEPs, were awarded the UNESCO Prix Versailles Award in 2021. This prestigious award recognises contemporary architectural projects that carefully consider their ecological, social, and cultural impacts, and in a way that celebrates beauty and creativity.
Inspiral was the first Indonesian company to be awarded this prize. "It's a major coup for the Indonesian architectural community," says Hearn.
With firms like Inspiral leading the way, it's certainly exciting to see what the next era of biophilic architecture in a nature-blessed place like Indonesia will hold.
Photography:
Kevin Mirc, Bianca Blajovan, Nora Brown, Maximiliano Allendes