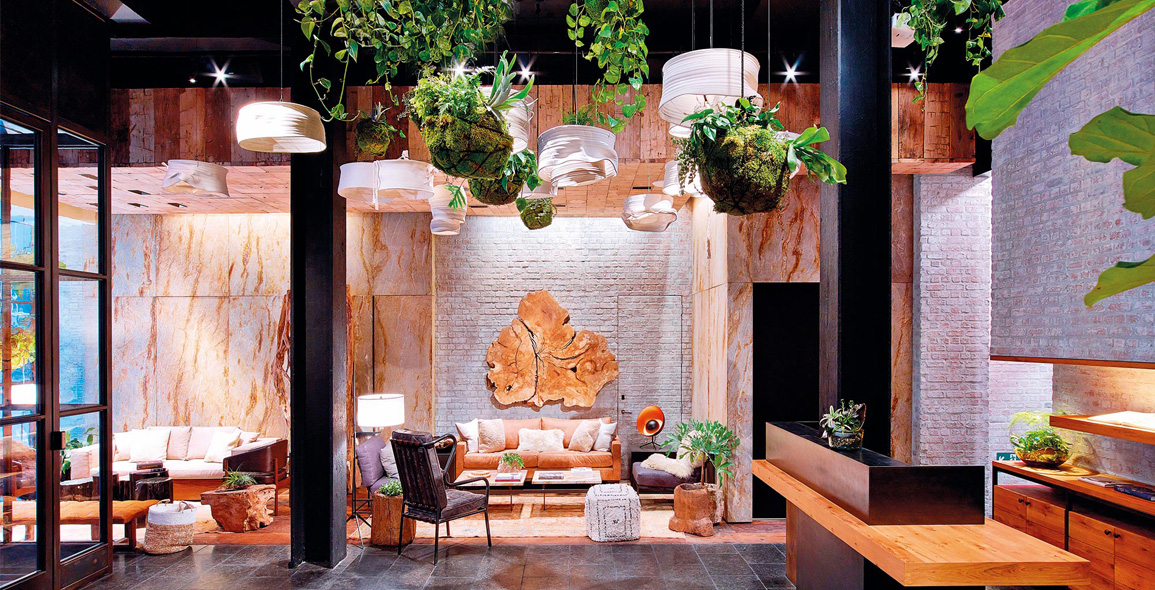 What sets the 1 Hotel brand apart is the finesse and dedication in execution. Rather than implementing sustainability as merely a theme, green consciousness is ingrained in every part of the hotel experience – from décor to operations to guest usability – without compromising on quality and comfort, resulting in a refreshing and authentic new hotel experience.
The first iteration of this concept was established in South Beach, Miami, offering a sustainable holiday experience by the coast. The second of these establishments is in a totally different setting, but suitably just minutes away from New York's green oasis – Central Park. Anchoring a busy avenue, a lush wall of green plants rise up neatly three stories to clothe a façade of blackened steel opening profiles and timber panels. This ample lushness is an anomaly in the concrete jungle. It is visually and texturally refreshing and makes a distinctive reference to its locale.
'In all cases, the guest experience has to do with context and connectivity. This will be true with all the 1 Hotel establishments. For the Central Park location, we interpreted the concept of environment in a more complex way than simply as "nature". We took environment to be the context both natural and cultural. This led us to a lot of meaningful design decisions, and also inspired a world of experience-related programming like the interpretative guides to Central Park – the very immediate and real natural environment that is part of the hotel experience,' says Philip Pond, design director at architecture and design firm AvroKO and the project's lead architect.
Senior Vice President of Design, Starwood Capital Group, Kemper Hyers echoes. 'Central Park is our namesake and our inspiration. Our brand is all about bringing nature inside, and creating a seamless indoor-outdoor environment.' This begins from the moment guests see the hotel.
'From the living façade of English Ivy, to the mini forest of native park plants at the main door, to the kokedama hanging sculpture (suspended assemblies of moss and other plants) produced by Brooklyn-based landscape designer Sprout Home in the lobby's ceiling, which is ultimately framed by a commissioned video piece of stop-action photography where individual leaves dance in geometric patterns, we have created a path of nature but in many guises,' he elaborates.
The backdrop to these artful features comprises a rich material composition of exposed terracotta block walls, blackened steel columns and door and window frames, and reclaimed timber floor and ceiling elements. These are juxtaposed with vertical surfaces of warm-toned, large-format Nacarado Quartzite stone, their fissures and veins accentuated by a process of water-jet finish that grants them much character. Meanwhile, an assortment of Persian carpets and an eclectic range of furniture in coordinated clusters provide the domestic touch. Some of these materials, such as the terracotta block walls, continue into Jams, the hotel's in-house restaurant next to the lobby, which serves organic produce. The wistful tonal imperfections of these walls make them subtle yet beautiful features, offering a nuance of authenticity in line with the 1 Hotel philosophy.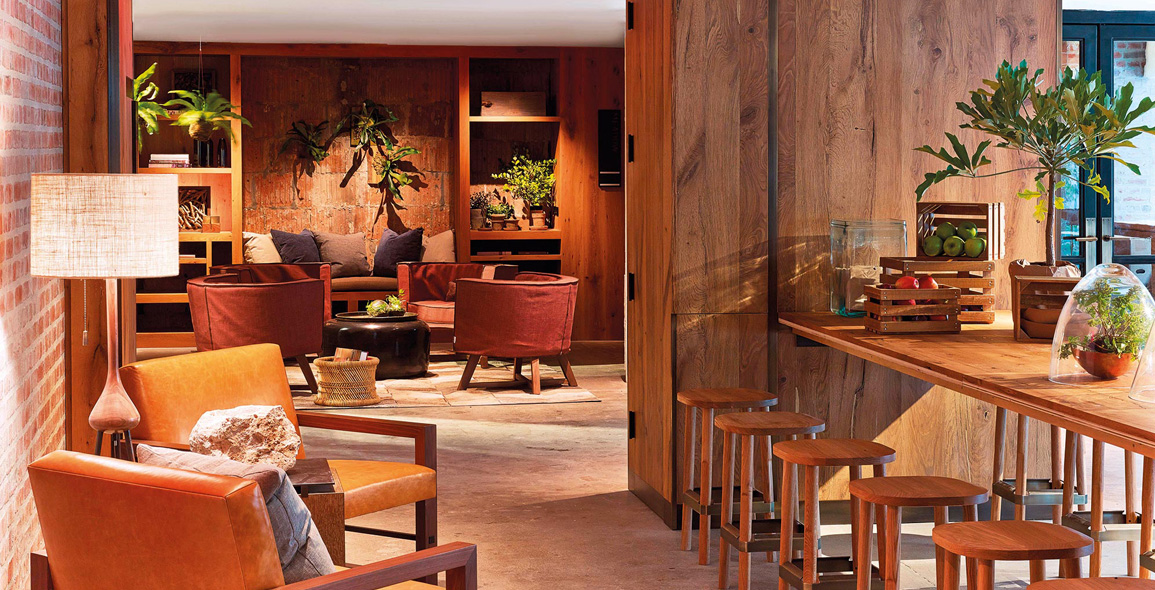 'We were keen to avoid the typical tropes of the idea of eco-friendly, where recycled materials or energy-saving measures make a grand visual statement. With the choice to allow materials to speak for themselves, we were forced to select sources of a high quality, and preferably ones with real provenance. The notions of luxury are tied to the beauty of luxurious, natural materials, and also from the story of their sources,' says William Harris, partner at AvroKO.
Keeping It Real
In many of the public spaces, the natural materials are used in refreshing and creative ways. For example, at the gym, the repetitive motifs on the walls are actually circles of cork; corridor signage is created using reclaimed materials such as nails, lending a rustic touch; in the elevators, glass panels with a smoky finish complement timber walls etched with deep grooves that show off their inherent textures and begs to be touched; outside each guestroom, a panel of moss notched into a slim-profiled vertical steel casing reminds the guest yet again of nature.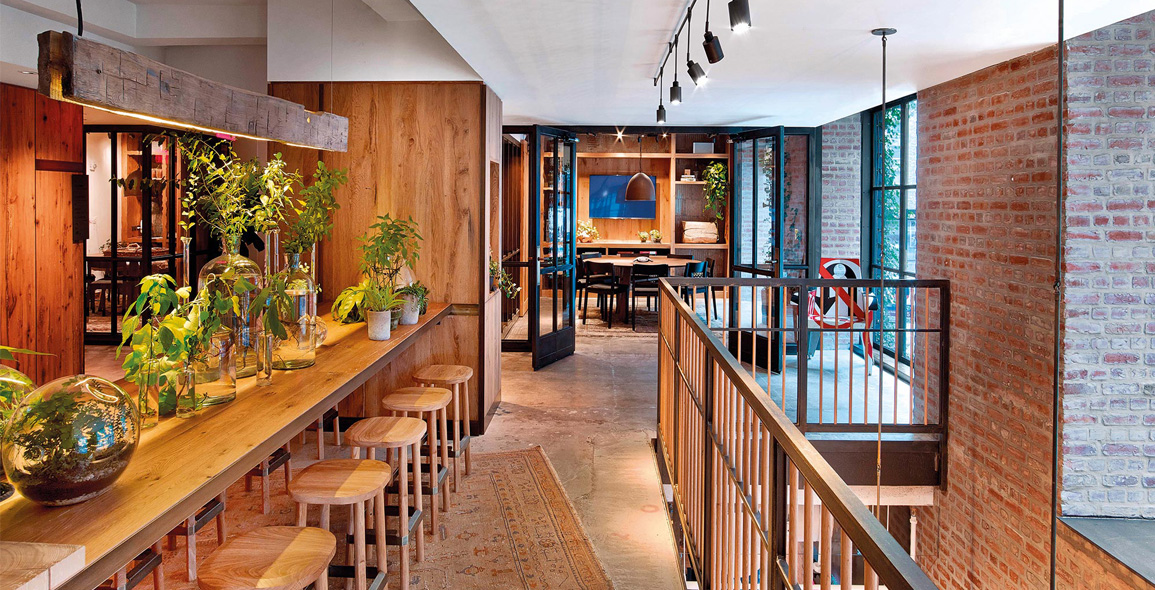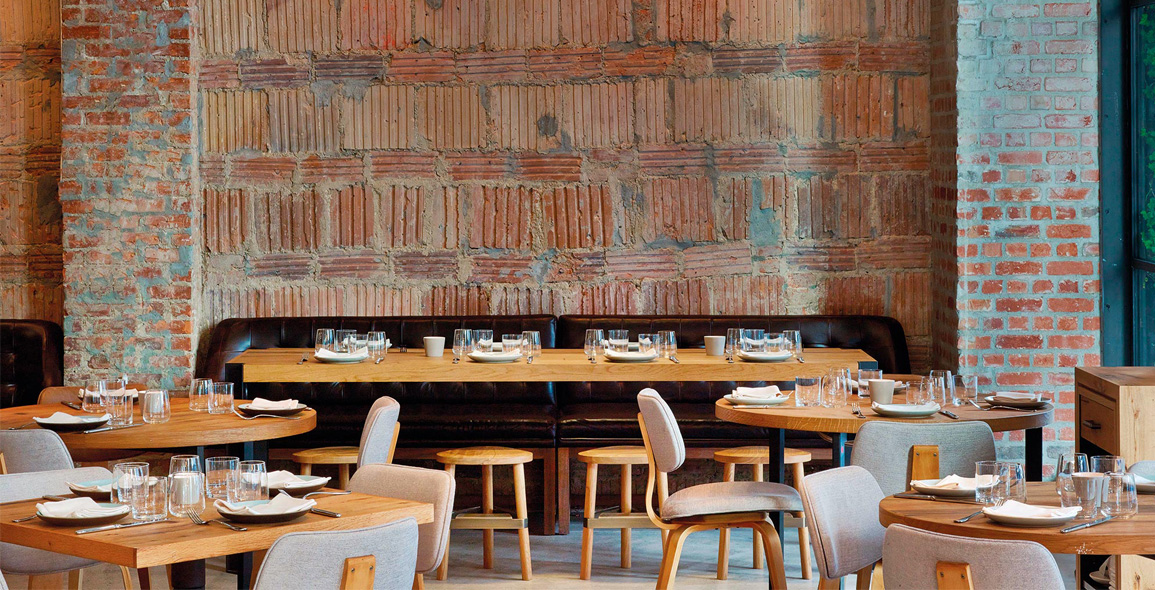 Inside the guestrooms, the key material palette from the hotel's public spaces continues in. Instead of fully carpeted flooring, the timber underfoot lends a tactile experience, while reclaimed barn timber boards above and Pennsylvania-reclaimed white oak bed boards evoke a feeling of cosiness. Most of the guestrooms have the privilege of having two bay windows: one with a band of plants to bring nature indoors – a real rarity in hotel guestrooms – and another with doublewide cushions, throw pillows and a wool blanket. These, together with the choice of glass walls separating the bathroom from the rest of the guestroom brings injects a brightness that makes the modest space feel more spacious than its actual square footage. Additionally, within the bathroom, the choice of understated Italian Breccia Capraia marble in the shower and white butcher wall tiles are in keeping with the cosy feel of the rest of the room.
1 Hotel Central Park is not only about seeing and feeling green, but ecological operative measures are also considered on many levels. For example, efficient technology based solutions such as a Nexus smart phone with a 1 Hotels '1 Guide' app are employed to access processes from reservations and housekeeping to room entertainment. On the other hand, there is a sense of going back to basics on the most simple and guest-focused level, Pond highlights. For example, the hotel eschews disposable water bottles and encourages guests to fill up the glassware in the guestrooms with triple-filtered water from the taps anytime they want.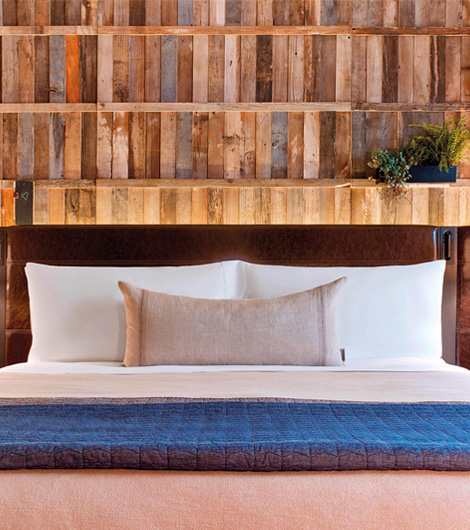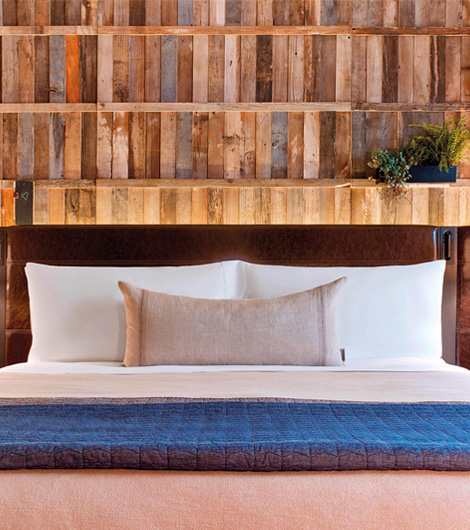 In a way, this novel hotel experience is also educational. Aside from the more obvious, such as the imprint of the wood sources on the different timber elements, it also introduces guests to the large variety of items and processes they can re-consider in daily living in a bid to be environmentally friendly – all without compromising on technology, style and comfort.
A print version of this article was originally published in d+a issue 89.