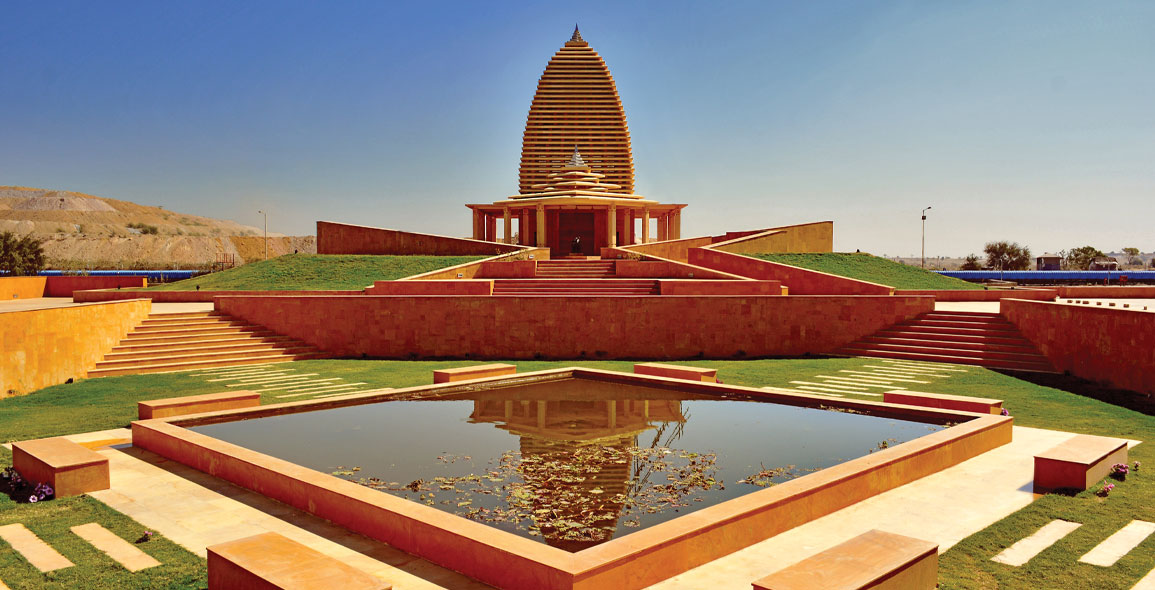 The brief was an interesting one – to design a Hindu temple within the premises of a power plant located in the village of Bhadresh, in the desert state of Rajasthan, India.
The temple would serve the large community of employees and villagers, and, because of towering industrial structures surrounding the site, the client requested that the temple be given a design that was contemporary, yet still complementary of the humble rural landscape.
Three years later, the Temple in Stone and Light was realised.
Dedicated to Lord Shiva, the Hindu god of paradoxes, the building combines the heavy materiality of stone with the lightness of form.
The solid-looking exterior seems to dissolve after dusk, and, with the help of discreetly placed LED lighting that comes on at night, transforms into a glittering lantern in the dunes.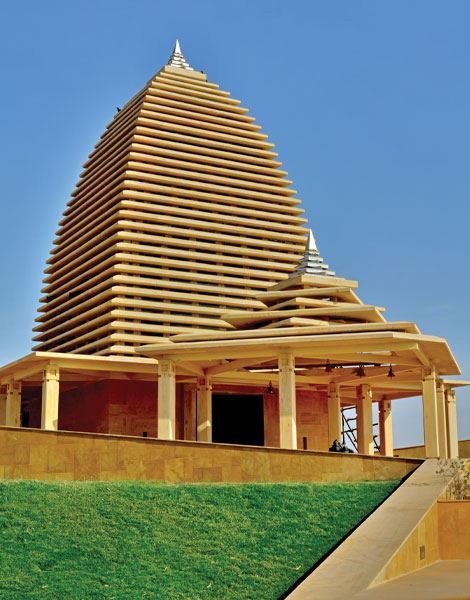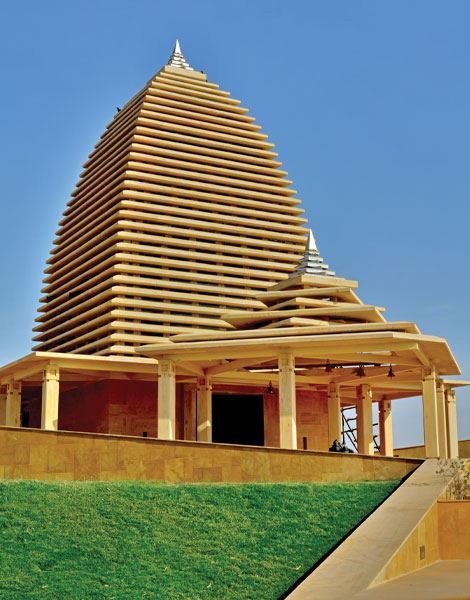 The significance of stone
Traditionally, Indian temples are associated with stone – a testament to the material's beauty, strength and timelessness.
But that is not the only reason why lead architect Amritha Ballal chose it for this project.
"Rajasthan is also famous for its quality stone and stone craftsmanship. We selected locally-available, yellow Jaisalmer sandstone as the primary building material because we wanted the effect of the temple rising out from the sand dunes," she explains.
But building with the material is a dying skill, since contemporary architecture incorporates stone mainly as a finishing material.
To get around this, Ballal and her team decided to exploit the structural and masonry properties of stone.
"Stone holds stone together in the case of this temple," says Ballal, who is a founding partner of SpaceMatters, the New Delhi-based company that oversaw the project, and who worked with its co-founders Moulshree Joshi and Suditya Sinha to design the building.
"Other than the foundation and vedika (the peak atop the golden stone), no steel, cement or concrete was used in the construction process. Marble was utilised for a more refined finish and to add detail to the landscaping wall cladding and flooring separate from the masonry structure."
The team also drew inspiration from Fatehpur Sikri, an ancient town in Uttar Pradesh that epitomises classic Indian architecture and was mostly built with red sandstone.
"Instead of hiding away the construction details, we chose to celebrate them and make them an integral part of the temple architecture," Ballal adds.
"This radically new way of using stone as a structural material yielded a beautiful effect."
To read the rest of the story, purchase and download a digital copy of d+a's Issue 114: February/March 2020 from Magzter.
Photography:
Akash Kumar Das, Copyright – SpaceMatters