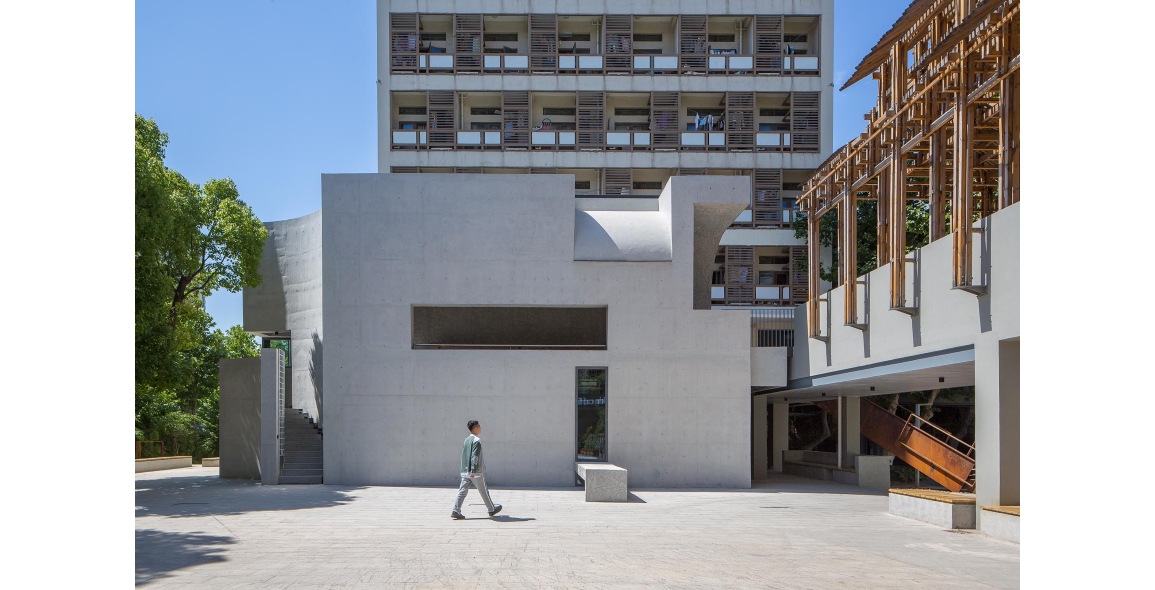 Although relatively small in terms of area, Art Gallery Extension at the Nanjing University of the Arts nonetheless ranks high on impact.
Designed by the Shanghai-based Atelier Diameter, it involved the renovation and expansion of a two-story art exhibition hall set before a towering student dormitory.
Yet, in spite of the height disparity, the resultant fair-faced concrete structure sits contentedly on the site that is part of the city's Creative Street District.
On its east side is a main road, Hu Ju North, and on the west is a stone-paved pedestrian street filled with cafes, book bars and craft shops.
"When constructing a building in an art school and building it in a lively dormitory area, maintaining and strengthening the sense of community in the area became the original intention of the design," says Zhang Nan, the project's lead architect and founder of Atelier Diameter.
"The key point of the renovation and extension is not technical breakthroughs and the increase in area, but the continuation of the campus' rich artistic life atmosphere and attracting students' spontaneous gatherings and activities through the characteristics of the place."
Concealed within the angular massing is the first highlight: a pair of spaces designed with vaulted ceilings on the second floor, divided by a void topped with a skylight.
One is enclosed to host ancient oil paintings and the other is kept open like a veranda, serving to attract those who are walking on the adjoining bridge to come over and take a closer look.
The latter even has a rectangular cut-out running part of its length to help frame the views of the small square in front of the building.
Zhang further reveals that the inspiration was the Wuliang Hall of the Linggu Temple in Nanjing.
Covering the walls and ceiling is a special texture that is a metaphor for the brushstrokes of oil paintings and fragments of ancient ceramics – the two major exhibits in the gallery.
Come nightfall, the warm light that floods this space offers a gentle sense of security to anyone standing within.
Another highlight is in the eastern corner where rather than a right-angle edge, it was designed as a curve with a flight of stairs inserted into it.
The intention was both to provide breathing space to the camphor tree in that part of the square, and give the building a lively vigour.
Respectful of the context yet nuanced enough to be interesting, Art Gallery Extension is as creative as the neighbourhood it stands in and could easily become a source of inspiration for the students that live in its presence.
Photography:
Aurelien Chen