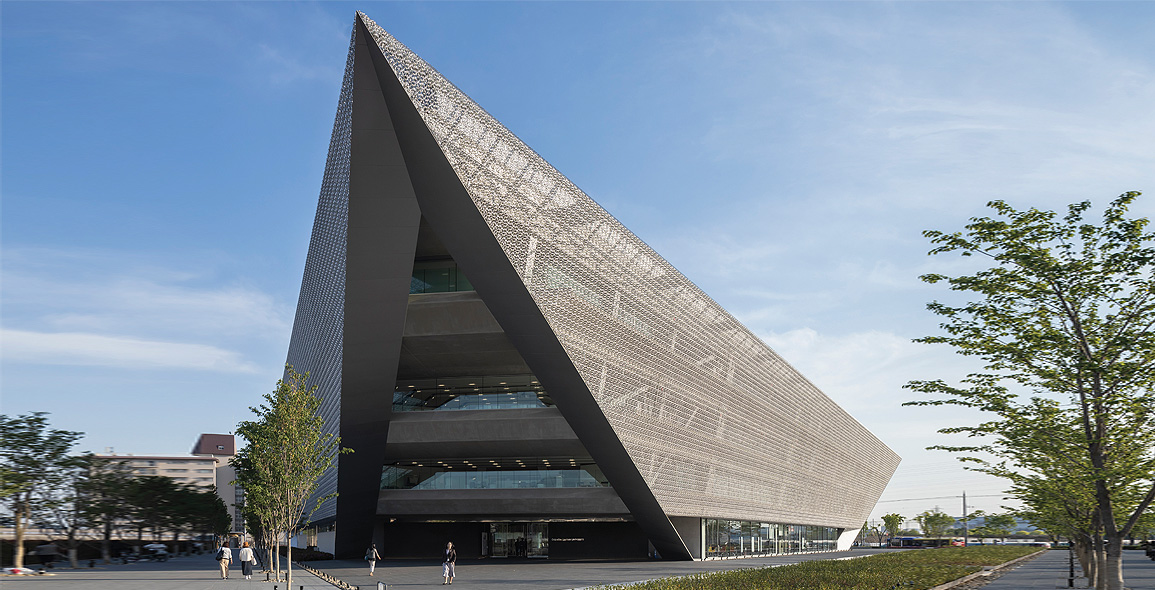 Ibaraki City's Otemon Gakuin University is not just a campus for higher learning, it was also designed to become a neighbourhood landmark and community gathering area for residents who live near the university.
Conceptualised by Tokyo-headquartered service architectural firm Mitsubishi Jisho Sekkei, the project was led by Yasuhiro Sube and his colleague Keisuke Aneha.
"Our task was to convince stakeholders that the campus could serve the community at all times, and as architects, we also had to think about how to design a learning site that would inspire students to make that trip to campus," says Sube.
"Since ancient times, Japan's shrines and temples have drawn pilgrims from all corners of the country, so these sacred sites turn into lively gathering places. This was the concept that informed our vision for the new campus,"
Named Academic-Ark, the campus has a total floor area of 20,409m2, and contains classrooms, a library, cultural hall, studio and cafeteria that can accommodate approximately 3,600 students.
Though the results are remarkable, the project was quite a challenge for the architects.
They had just 29 months to see the project through from the design to construction phases, which is about two-thirds the duration allocated as a timeline for such a large project.
Their construction budget was also about two-thirds of what was typical.
In addition, conservation regulations required that the building site be excavated prior to construction to search for historical artifacts, as there are many ancient ruins buried around the site.
TRIANGULAR FOOTPRINT
"We came up with the idea of minimising the area that had to be excavated by using a triangular shape, and by cantilevering each corner of the triangle, which made the footprint smaller. This significantly reduced construction time and cost," reveals Sube.
The triangular footprint was also effective in encouraging all the excitement and energy of the university's academic activities to converge within a single space.
By angling the building's corners steeply inward, the architects created inviting "gates" that serve as entrances for the building's users.
"A large town was located on this site around the fifth century AD, and nearby, the ancient tombs of emperors still stand to this day.
"Archaeological research suggests that it was a lively, thriving area. Academic-Ark is our homage to the Japanese haniwa clay figurine of an ancient house that was discovered within the ancient tombs.
"The design is intended to harmonise with the surrounding residential architecture while incorporating elements of the roofs of houses that stood here a long time ago," says Sube.
The exterior of the building is clad in environmentally sustainable, reflective aluminum sheets with an embossed mirror finish that illuminates the atrium so it looks like a giant chandelier.
To read the rest of the story, purchase and download a digital copy of Issue 118: November 2020.
Photography:
Shinkenchiku-sha, Hisao Suzuki, Naoomi Kurozumi, YAMAGIWA