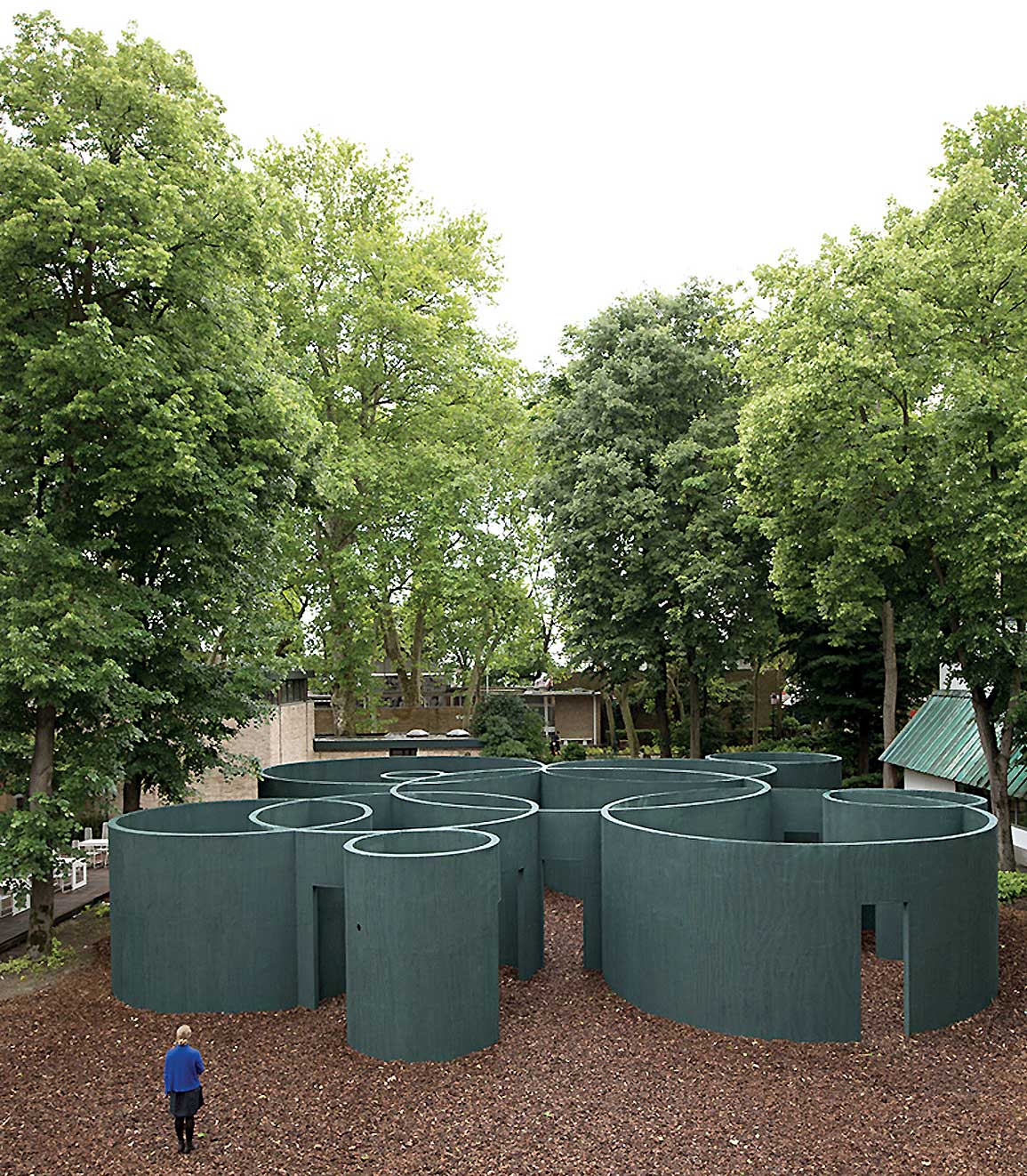 At the Giardini in the Venice Architectural Biennale 2016 is the 'Vara Pavilion' composing of 10 intersecting cylinders, created by Chilean architects Mauricio Pezo and Sofia von Ellrichshausen.
Each cylinder intersects or touches at least one other, creating a complex network of open spaces. Describing the project as 'the series of exteriors in the other exteriors', Pezo explained, 'This is very conceptual and intellectual and, simultaneously, sensory and material. You're trying to understand everything you see, but at the same time you're feeling and smelling, having an experience you can't avoid.' The structure provides visitors with a labyrinth to get lost in, creating a poetic journey that 'animates an open space' by being both artistic installation and landscape architecture.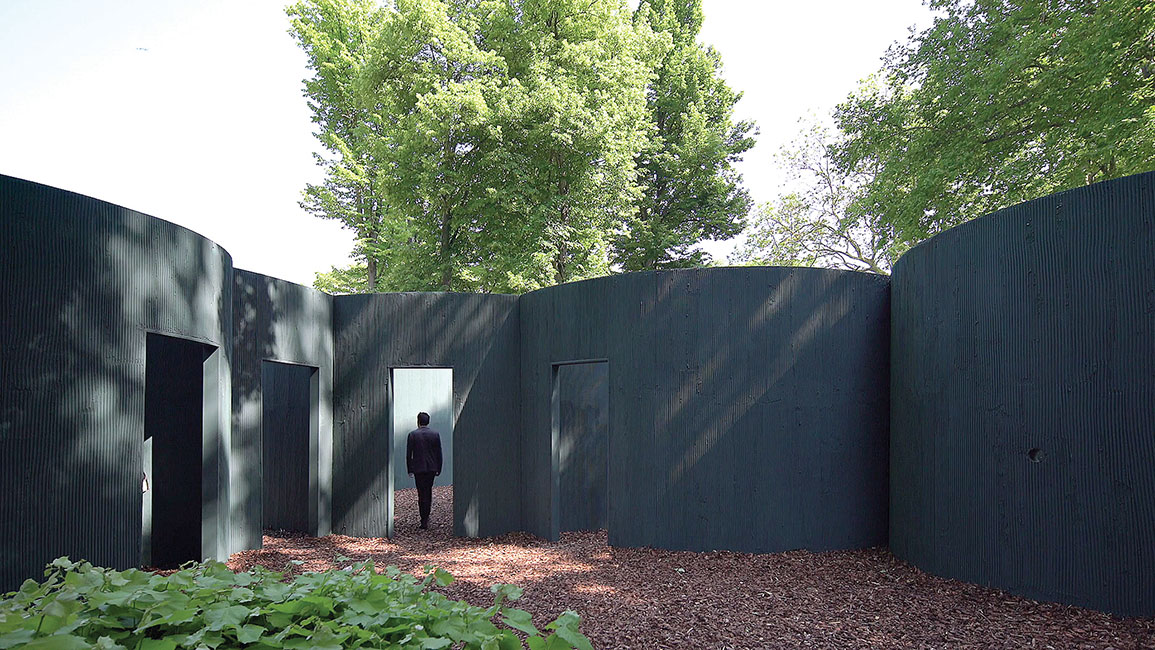 Each cylinder is different from another in radius, a reference to the ancient unit of linear measure called 'vara'. Vara was used by the Spaniards during the colonial migration to America, and it was known as one of the most imprecise measuring tool. 'It varied from 64cm to 94cm, so when you count a block in some cities it is 90 metres, while some others are 120 meters.' Each of the cylinders forms a diameter of this inexact unit, ranging from two to 11.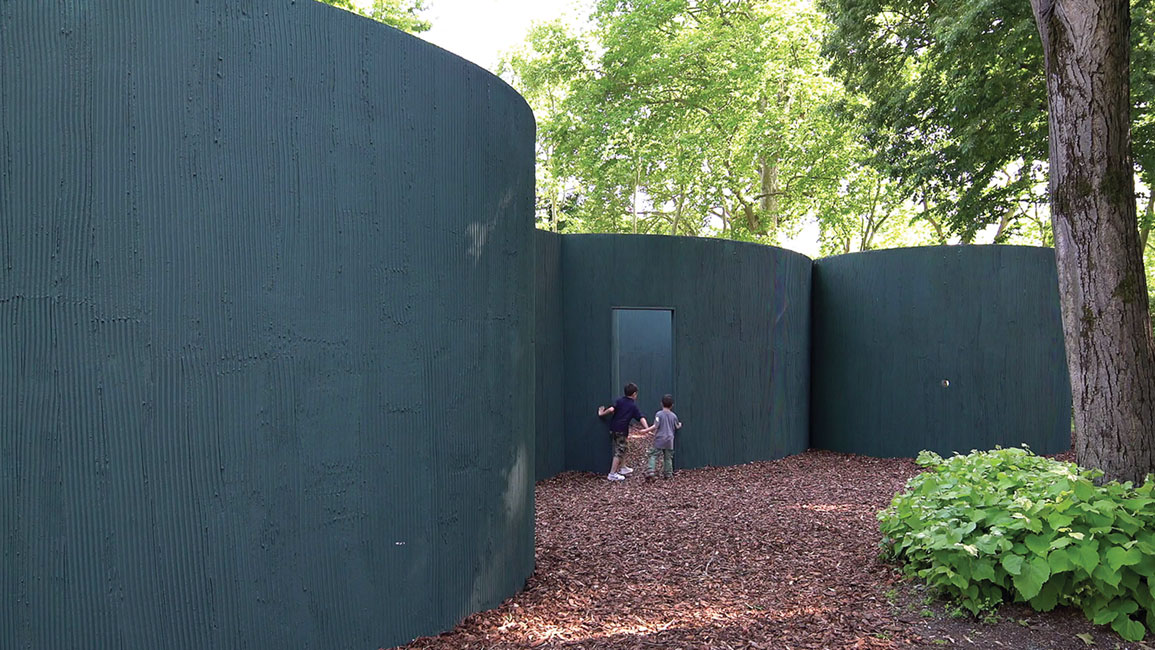 All the steel-framed surfaces are coated in plaster and bear the marks of tools, painted over in a rich shade of teal. Constructed from steel and cement, the green pavilion seeks to expand the notion of domesticity and public space, a theme in many projects at the 15th International Architecture Exhibition.
Covering an area of 325m2, the multi-circular structure stands open to the elements, an architectural gesture that choreographs a play of light and shadow within each differently proportioned zone. Immersed in the Giardini's natural setting, the colour of the pavilion shifts in shade according to the light.
A print version of this article was originally published in d+a issue 93.
Images:
Pezo von Ellrichshausen