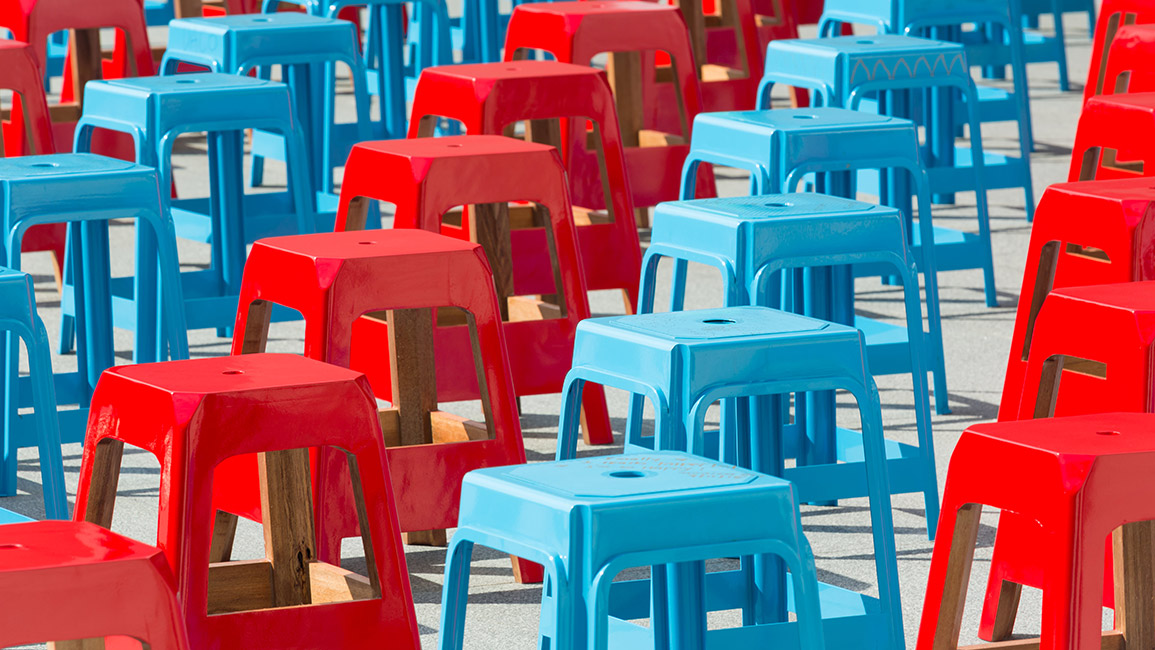 The implosion of '–ennials': biennials, triennials, quadrennials and yes, there is such a thing as quinquennials, has boomed in the last twenty years or so. Beginning from the Godfather of Biennales, La Biennale di Venezia founded in 1895, biennales are now an integral part of the art world.
In its fifth installment, The Singapore Biennale's theme this year, 'An Atlas of Mirrors' is entwined through nine theoretical precincts:
An Everywhere of Mirrorings
An Endlessness of Beginnings
A Presence of Pasts
A Culture of Nature
A Share of Borders
A Breath of Wills
A Flow of Identities
A Somewhere of Elsewheres
A Past of Absences
The titling reads paradoxical, and the works within each precinct were meticulously picked; this biennale contains within her, some particularly stand-out works.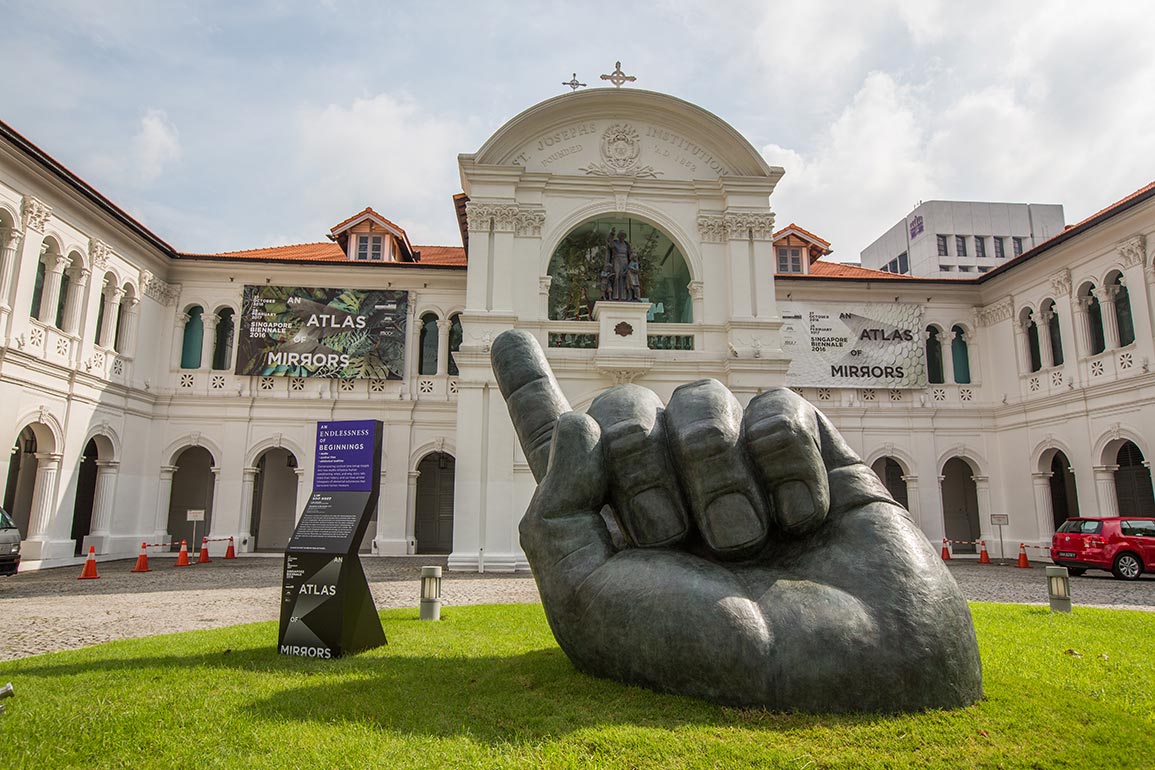 Lim Soo Ngee
Inscription of the Island (copper alloys with patina treatment, 250x500x300 cm, 2016)
This sculpture first greets you as you enter the Singapore Art Museum's compound; a massive cast bronze replica of a left hand – a version perhaps, of Philistine warrior Goliath's surviving limb. The rest of him is presumably buried deep deep underground. Singaporean Lim So Ngee embraces an attitude to sculpture that is acutely personal and with a view to re-engage and fuse traditional hand skills with life involvements. In this fecund work, the artist observes, "Legends talk of a colossal statue standing on the edge of an island reaching for the heavens. It acts as a guide for ships out at sea, a beacon for wanderers. He falls one day, and with this demise, took all light with him. To bury him fully was an impossible task, and after a thousand years, only a hand remained visible." Lim implores us to lengthen our sense of the past further than what was written in historical texts.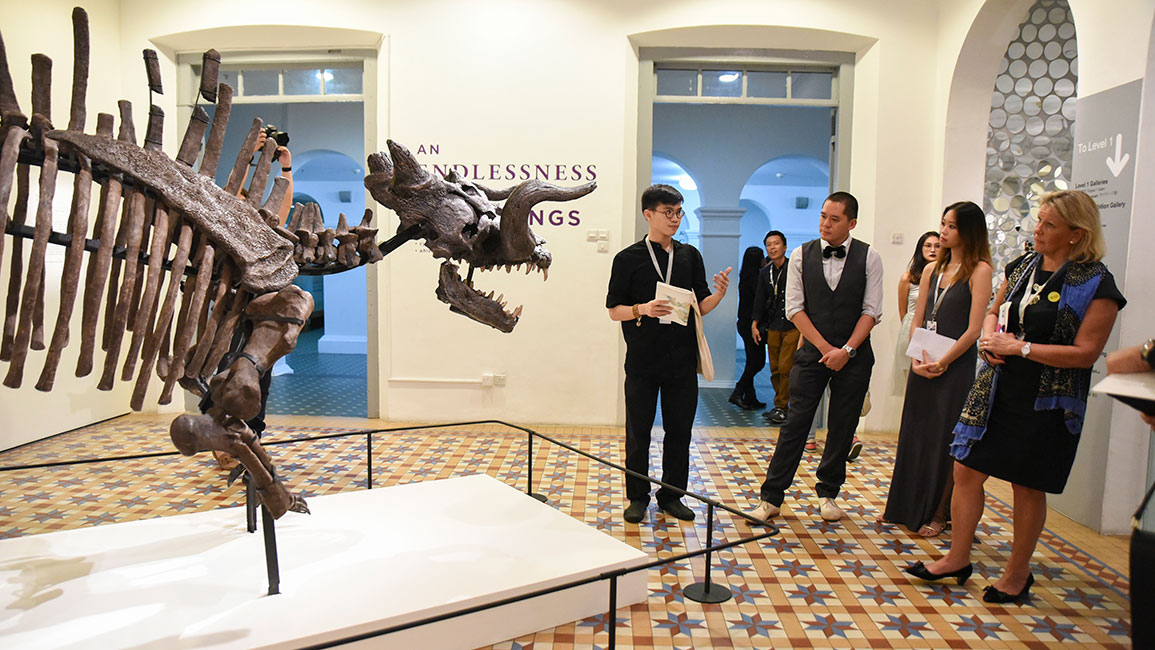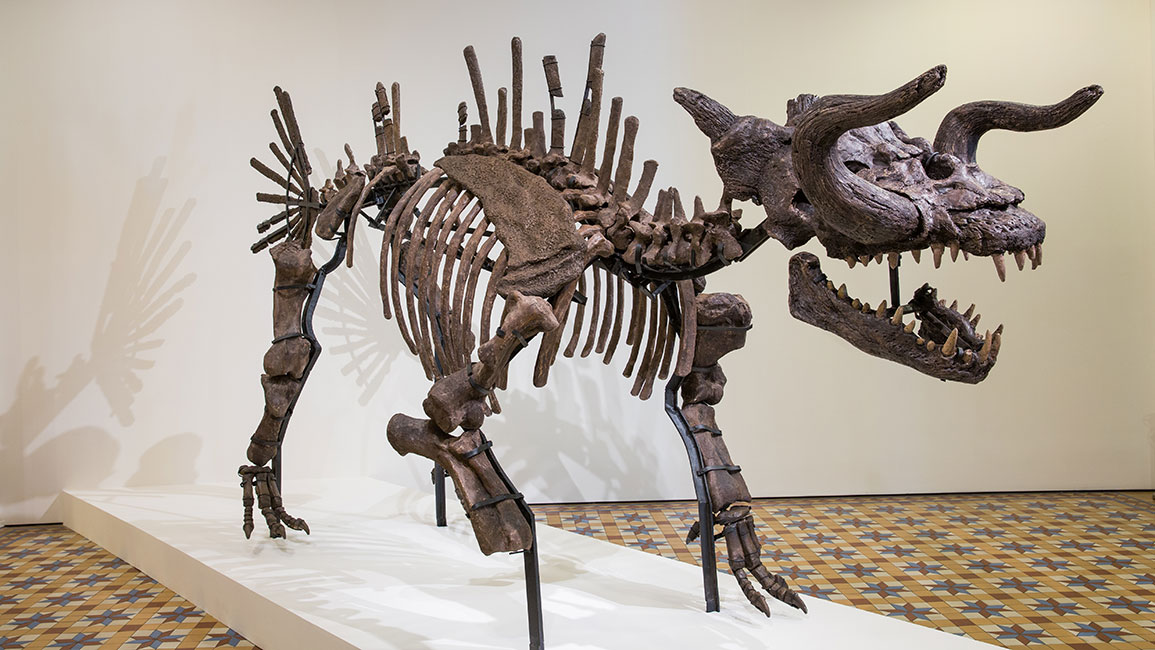 Tan Zi Hao
The Skeleton of Makara (The Myth of a Myth, fiberglass and metal, 220x425x115 cm, 2016)
Malaysian Tan Zi Hao simply mesmerises with this installation. Mythologies have become so entrenched and knotted within the life and shared cognizance of society that at times, it is hard to separate between what is real and unreal – a primary focus addressed in this particular work. The Makara, rendered in fiberglass, is re-created as a skeleton, to make this beast appear factual. By giving us a scientific-like imprint of a prevalent and universal myth, the artist tries to turn something illusory into genuineness, to reveal how the fabled can be absurdly made more tangible by a further departure into the fantastic.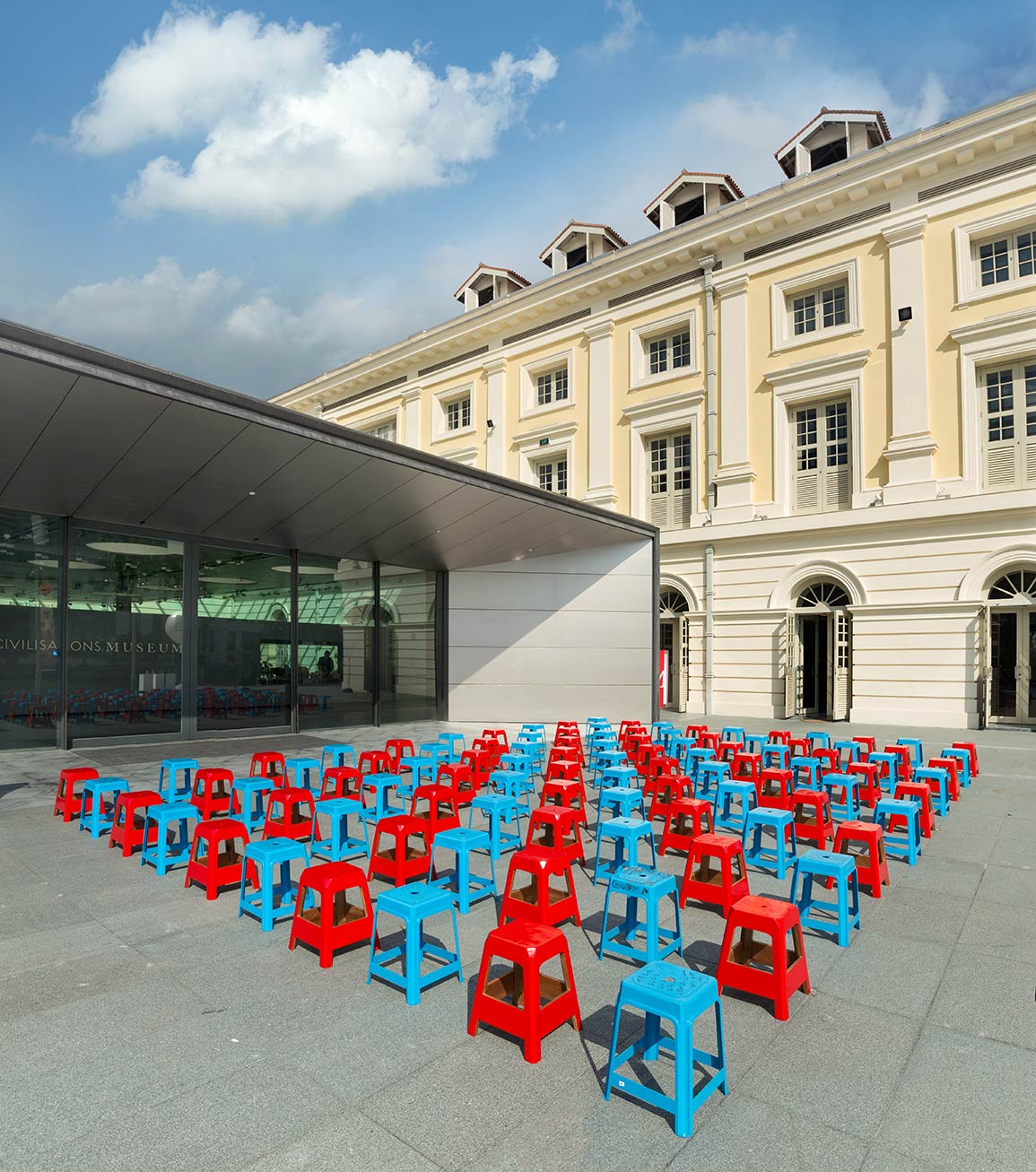 Jiao Xingtao
The Unity of N Monuments (cypress wood and copper, 100 pieces, 45x34x34 each, 2016)
Stool chairs…a hundred positioned in rows. We must ask: what is this? On its own, these plastic backless chairs seem insignificant; you find them everywhere. When placed together however, it becomes entirely something else. They become an intimidating visual métier, carrying political magnitude, a sense of ritual and largeness. In China, this sitting apparatus is frequently utilised, a daily requirement. This work is a makeover between the everyday article, the convenient and sculpture. The artist examines fresh ways to demonstrate what is real and what is perceived and comprehended.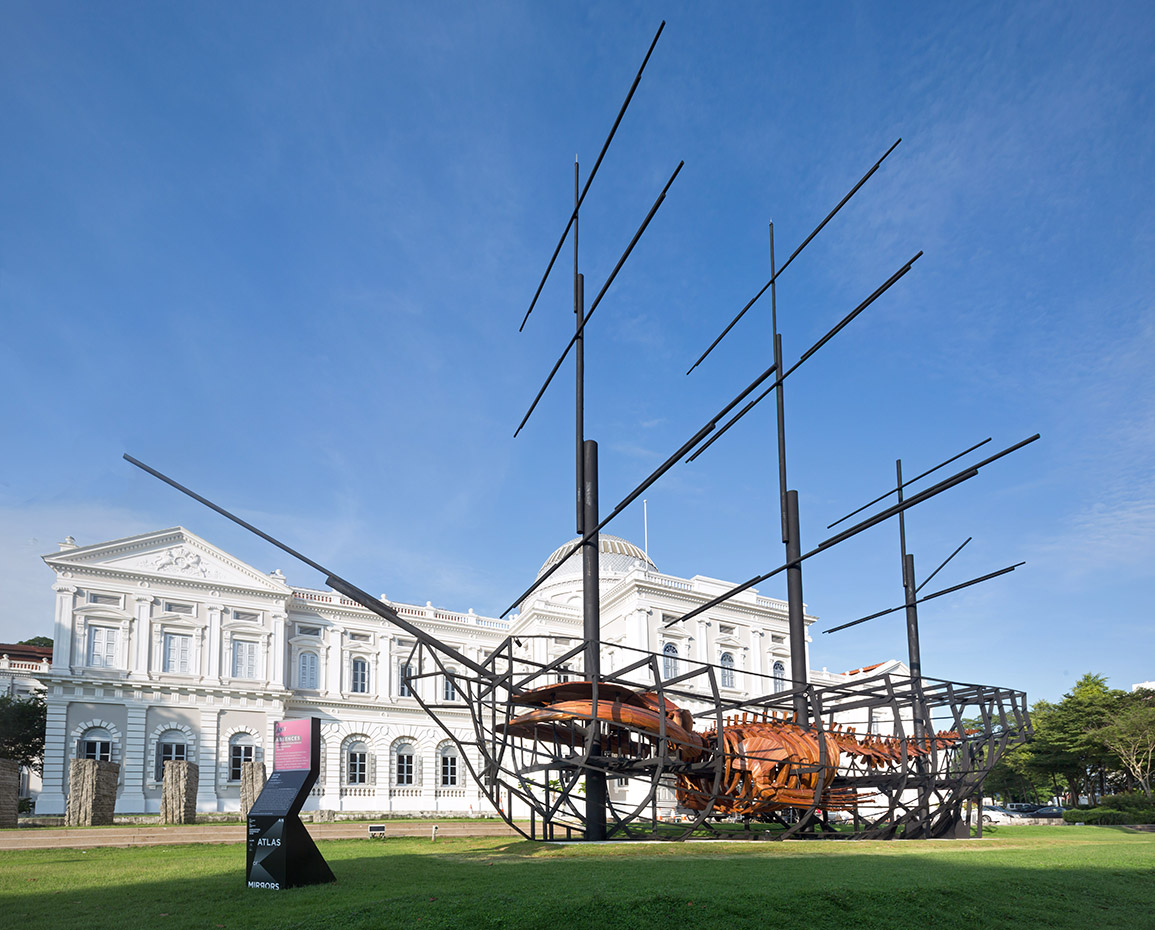 David Chan
The Great East Indiaman (wood, welded steel and concrete, 2400x500x1800 cm, 2016)
Sir Thomas Stamford Raffles set foot in Singapore in 1819. That we know. But in an alternate reality, David Chan imagines him arriving in a whale. The story: locals came upon a fantastic beast which resembles a ship, but possesses the internal mechanisms of a whale. Scientists are baffled, and could only piece clues from a folk tale describing a legendary species of whale known as the East Indiaman – splendid mammals tamed for the purposes of transportation. This story verges on the bizarre, but rooted in laborious historical study. David Chan's ghosts of the past haunt.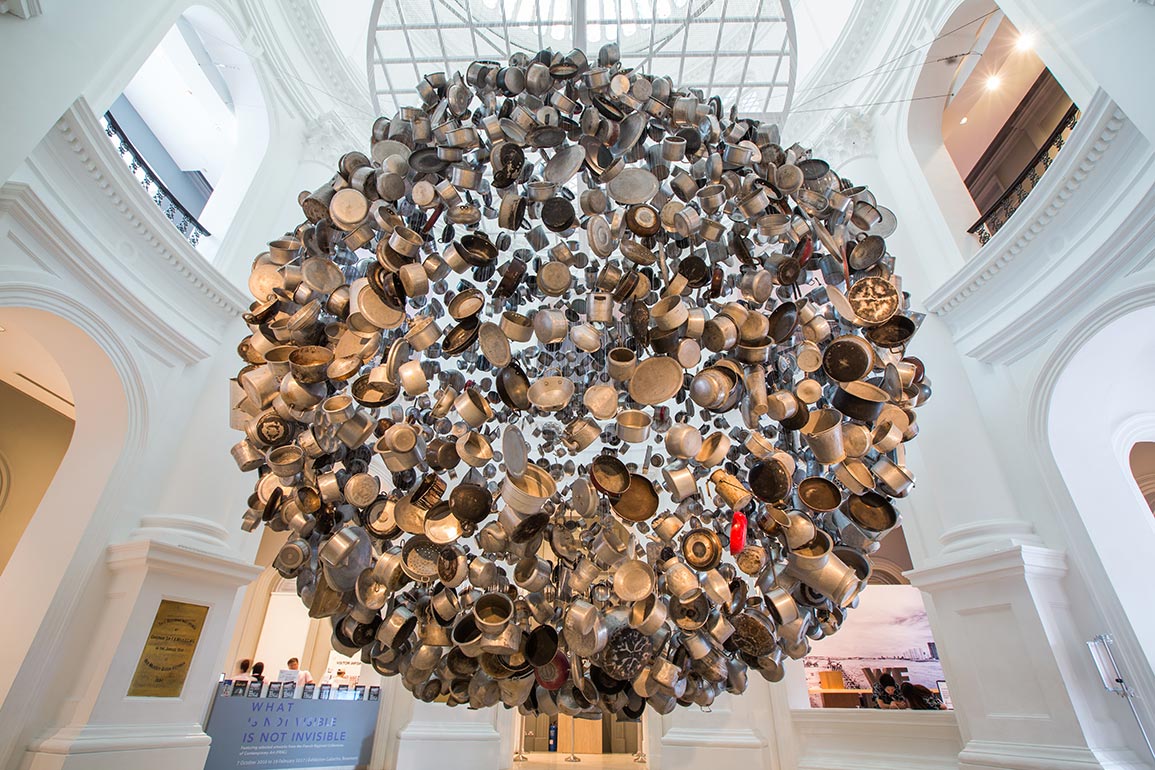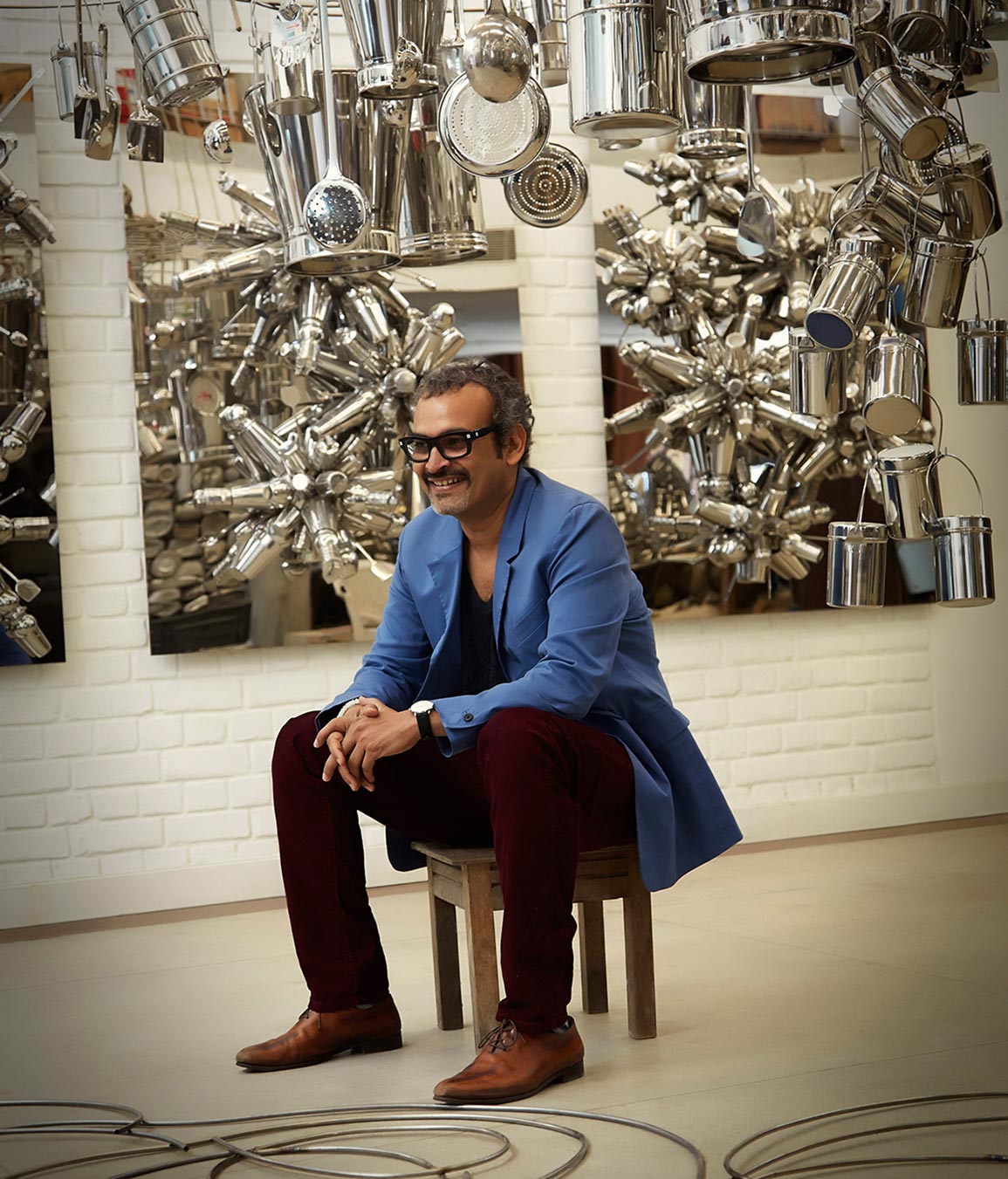 Subodh Gupta
Cooking the World (found aluminium utensils, monofilament line, steel, 600 cm (diameter) 2016)
The rhythms in these arrangements are flawless, cold and simultaneously austere. It's like listening to Berlioz on repeat. It's stern perfection. Subodh Gupta's avalanche of used pots, pans, cups and pails suspended in a meteoric ball of 'fire' each has its own story. Each piece is personal. It is a regimented world, of excess and wealth, of scarcity and dispossession. The artist collects utensils that have been used, and re-assembles the world of the kitchen into the dominion of art. And we couldn't be happier.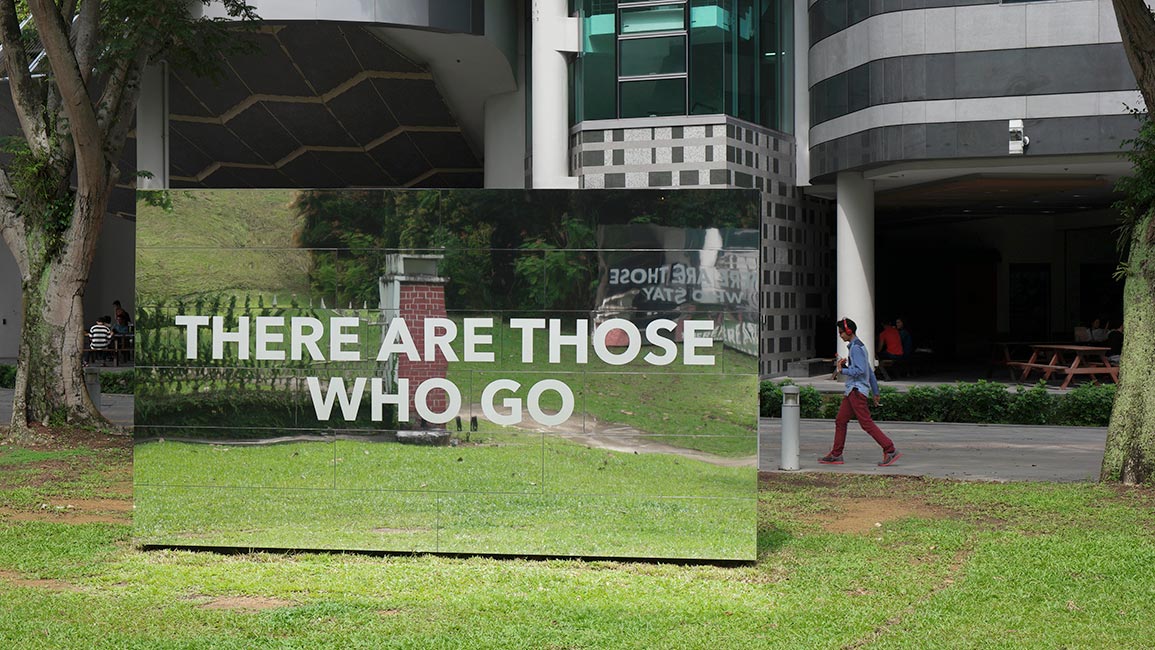 Perception3
There are those who stay/There are those who go (installation with text on aluminium composite panels (set of 2) 250x420x60 cm (each) 2016)
From Singapore duo, artist/writer Regina De Rozario and design practitioner Seah Sze Yunn, Perception3 brings us, 'There are those who stay/There are those who go', a two panel mirror-walls sculpture opposite one another at the open space which formerly housed the national Library. Inspired by painter Umberto Boccioni 1911 'States of Mind' series, the fabulous duo reinterprets Boccioni's works into terse avowals, imposing but brimming with many elucidations. That is after all, what is both infuriating and wonderful about art: the impossible interpretations. The two panels somberly face each other, separated by the ruins of the former library. Viewed from certain angles, the walls turn into a kind of phantasm which melds with the surroundings. It makes us question and reflect about our connection with the vast space. At times we feel like intruders coming between these two expressions. It becomes palpable yet dreamlike. It reads nostalgic, even melancholic, but Perception3 wants us to understand that parting and hurt is inescapable, and though harrowing, could be understood through philosophical analysis, through negotiation, and through dogged conflict.
2016's Biennale certainly beguiles, and greedy as we are, we anticipate more in her next installation. As Michelangelo Buonarotti quietly observed, "I saw the angel in the marble and carved until I set him free."
Ancora Imparo.
A print version of this article was originally published in d+a issue 96.
Images:
Singapore Art Museum