Space Invader(s) was his first solo held in July last year in Kuala Lumpur. I had first written about it for a local newspaper, and over the course of months, wanted to expand on this particular show. Some things are worth a second, and even third look.
This is one of them.
In his writings in Island, Aldous Huxley observed that armaments, universal debt, and planned desuetude are the three masts of Western opulence, and should war, waste, and moneylenders be obliterated, everything would fall apart. And while people are over-consuming, the rest of the world descends more and more deeply into lingering catastrophe.
Space Invader(s) is the artist's brilliant inquiries into consumer culture, his personal thoughts and feelings translated into two sets of works. In his catalogue essay, written by Zena Khan, "What can be inferred from Space Invader(s) is perhaps the fact that a growing world economy and free trade cannot inaugurate a universal culture. With this body of works, Azad comments on the need to strike a balance between achieving modernisation with a renewing of individual cultural traditions, as opposed to mimicking the ideas of an overarching Western identity. These ideas connect to his previous inquiries into consumer and popular culture, and subtly propose increased investigations into the rituals of daily life in twenty first century Malaysia, in the search for a contemporary identity that can successfully invoke the complexities of mixing heritage and development."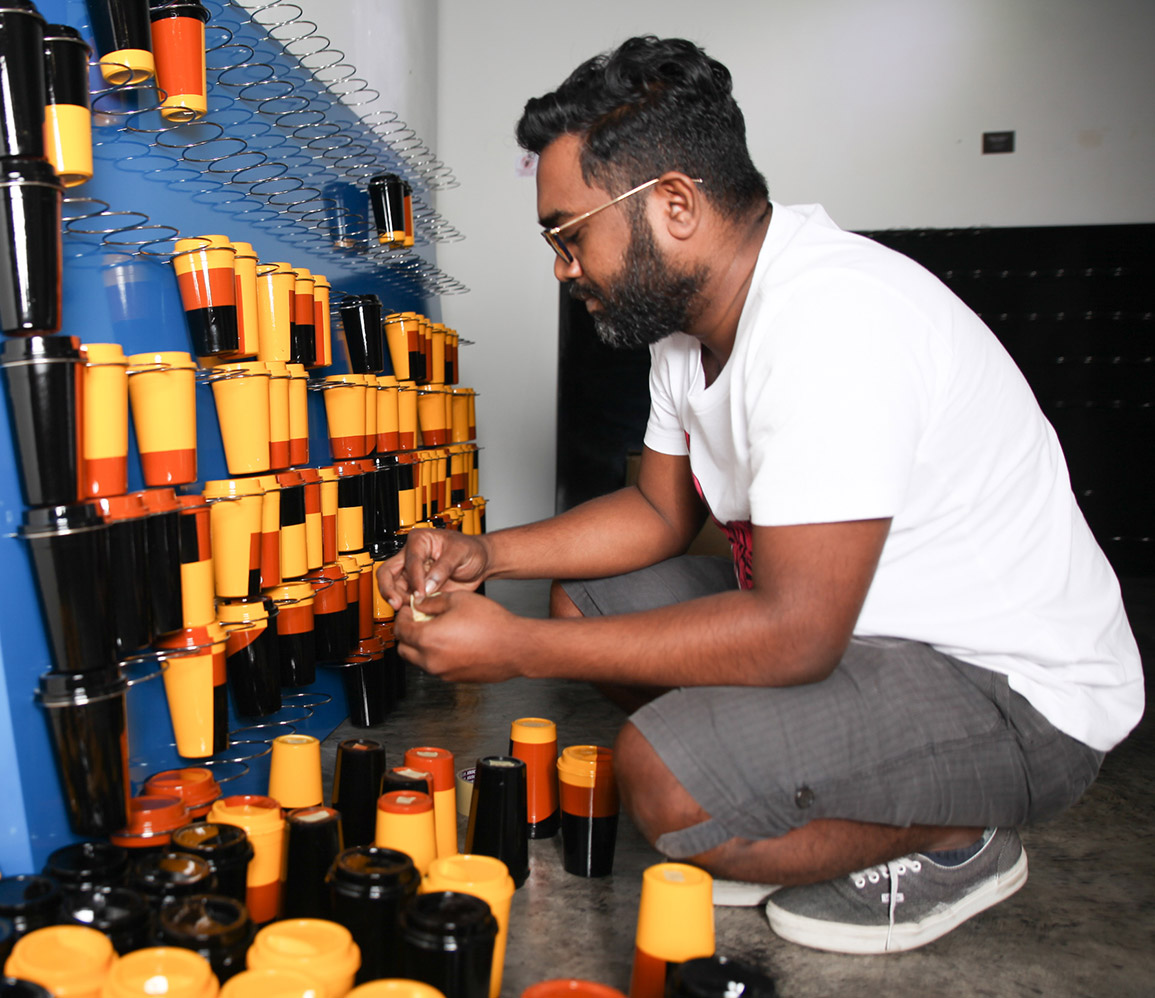 Azad was born in 1982 in Kedah, Malaysia, and graduated with a Diploma in Multimedia from Massey University in Wellington, New Zealand, in 2003. He went on to obtain a Diploma in Visual & Digital Arts, from the Limkokwing University, Malaysia, in 2008.
He is a full-time Malaysian contemporary artist, and has been showing his works in various exhibitions locally and abroad. Azad has been garnering notice for his portfolio of distinctive super-glossy artworks that extend the precincts of painting as a genre. Predisposed to popular culture, and philosophies of appropriation, he decodes everyday objects such as iPhones and doughnuts into clever, provocative artworks.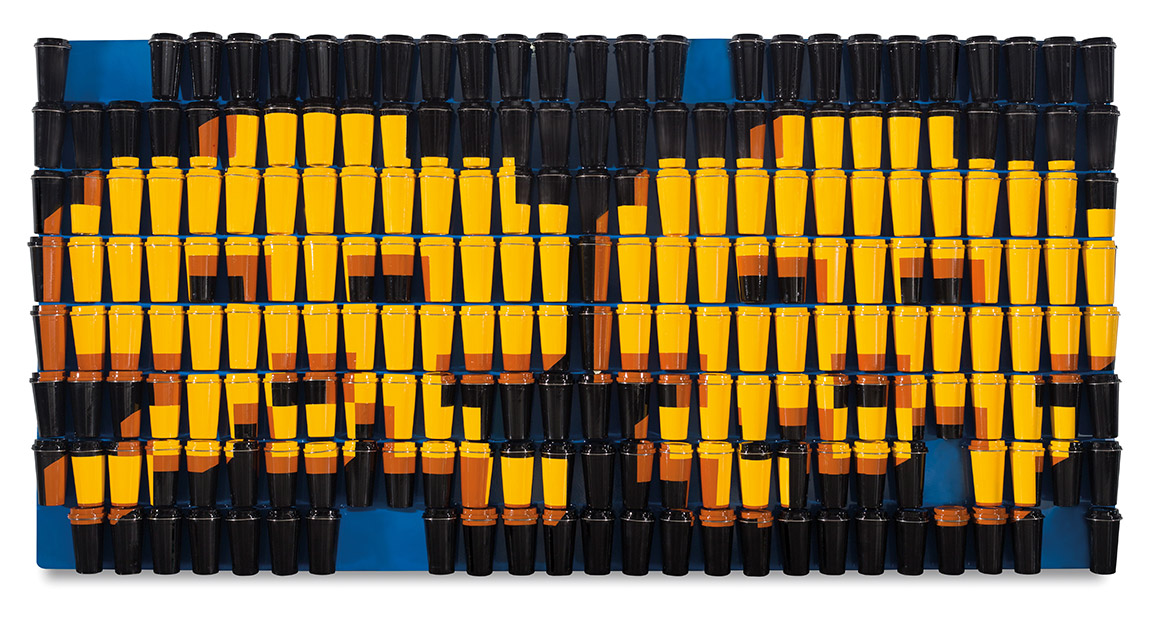 It is an interesting approach how he 'attacks' in Space Invader(s), one which is obviously thorough and took big chunks out of his soul. The works are broken into two spheres: one, a series on glossed-to-hell super-flat works, and the other, Starbucks grande cups punctiliously welded against MDF (medium-density fibreboard) boards.
What is a MDF board? Excellent question. They are a kind of contrived wood product created by the breaking down of hard/soft wood threads and shaped into planks when combined with a mixture of wax and resin binder. The series is analogous to an unshakable graph, armoured as an autonomous train of thought through the exploitation of unembellished dark streaks, which bond the pieces into this crazy trek across the gallery walls.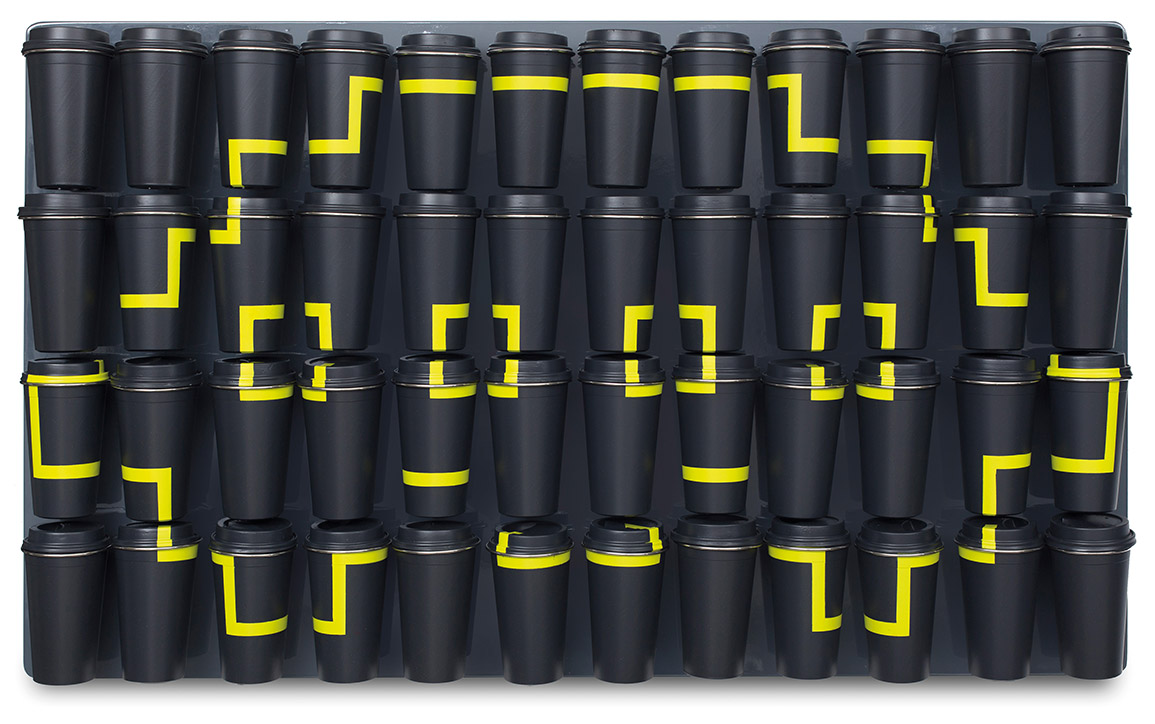 Space Invader(s) is dispiritingly, yet overwhelmingly effective in describing the current consumer culture as "you slave to money then you die". The show forces us, literally, to look at society's iniquities. It is jarring works, and makes you wonder if an equitable end exists. Maybe there isn't, but that has not stopped many from climbing those evil stairs of social upward mobility.
Is he mad? Gloriously so. Speaking with the artist is a revelation. It humbles you. It makes you stare at your 14,000 dollar designer bag and feeling strangely mortified and hollow.
And that is exactly what art is for; to rattle the senses and shout from rooftops that we are alive, and breathing. It is privilege of rage.
A print version of this article was originally published in d+a issue 97.