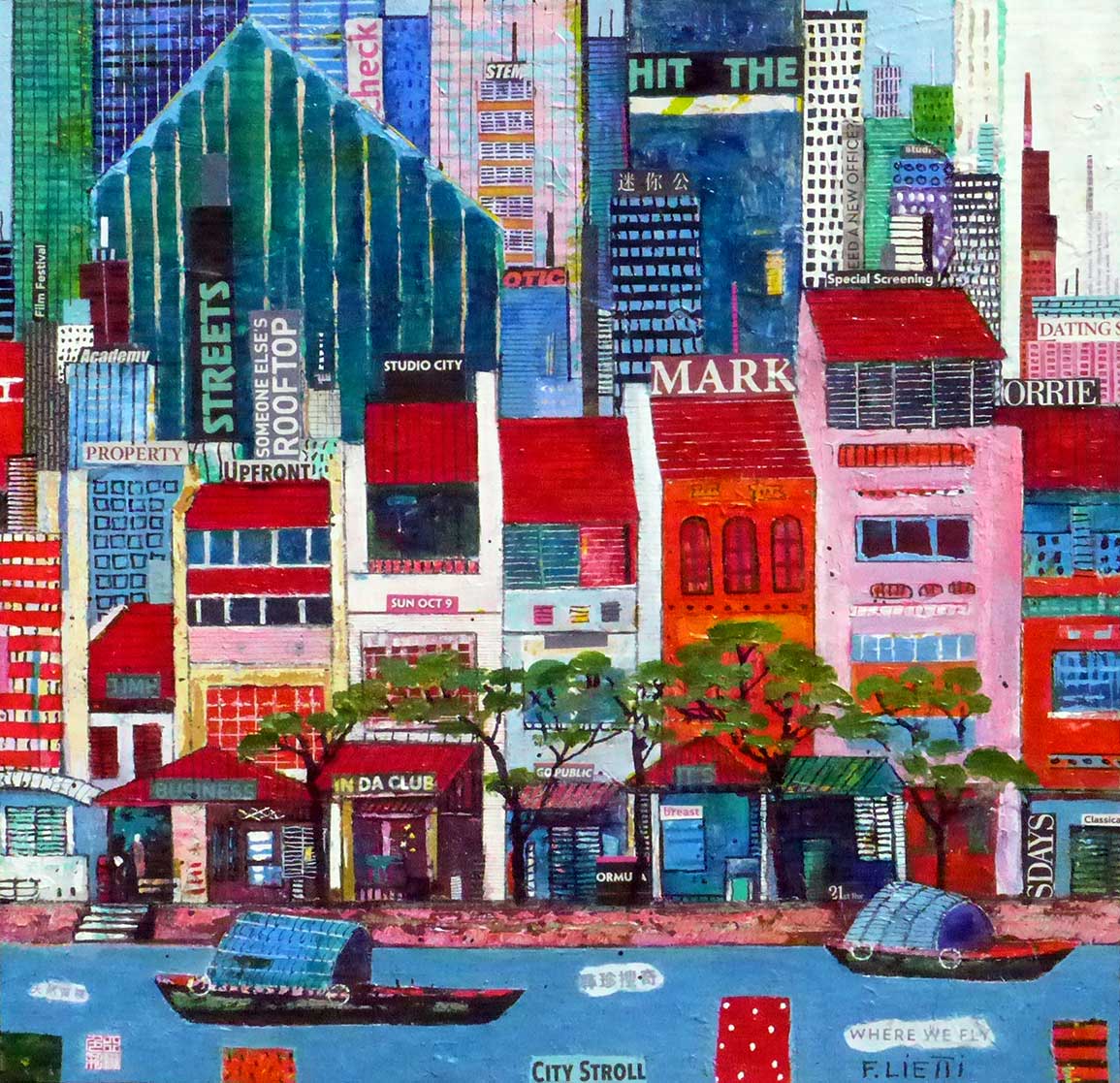 In Franceso Lietti's compositions, buildings appear as build-up. Crowded and congregated, they occupy most of the picture plane—often filling it edge to edge, expressing (urban) density. The sky and sea depicted in these landscapes offer a measure of relief, but junks, vessels, and abstractions of all shapes and tones, float, water- or air-borne, in these spaces. In the midst of these, there is also the inclusion of words, in the form of cut-outs from tickets, brochures, fold-maps. These add voice, reminding one of snatches of conversations, perhaps, or a kind of stream of consciousness. Every detail is vivid in colour. A coat of resin over the canvas flattens and sets the painting as an interior layer, giving the finished work a gloss and a unique dimensionality. Lietti's scenes are a curious, teeming polyphony.
"I like the idea of painting a feeling," Lietti says. "It's my feeling of a place. I don't want to be accurate. I want to depict my thoughts, feelings, and memories. I try to paint in a very basic feel-based, feel-driven way. One decision I made was the take out the perspective, and decided to paint flat like it was a kid's painting."
"What I'm trying to do is to give depth to a piece without [offering] perspective. [It is a] flat view but deep at the same time," Lietti says. The 'depth' of his work is informed by messages on city planning and urban living he wishes to communicate in these paintings too.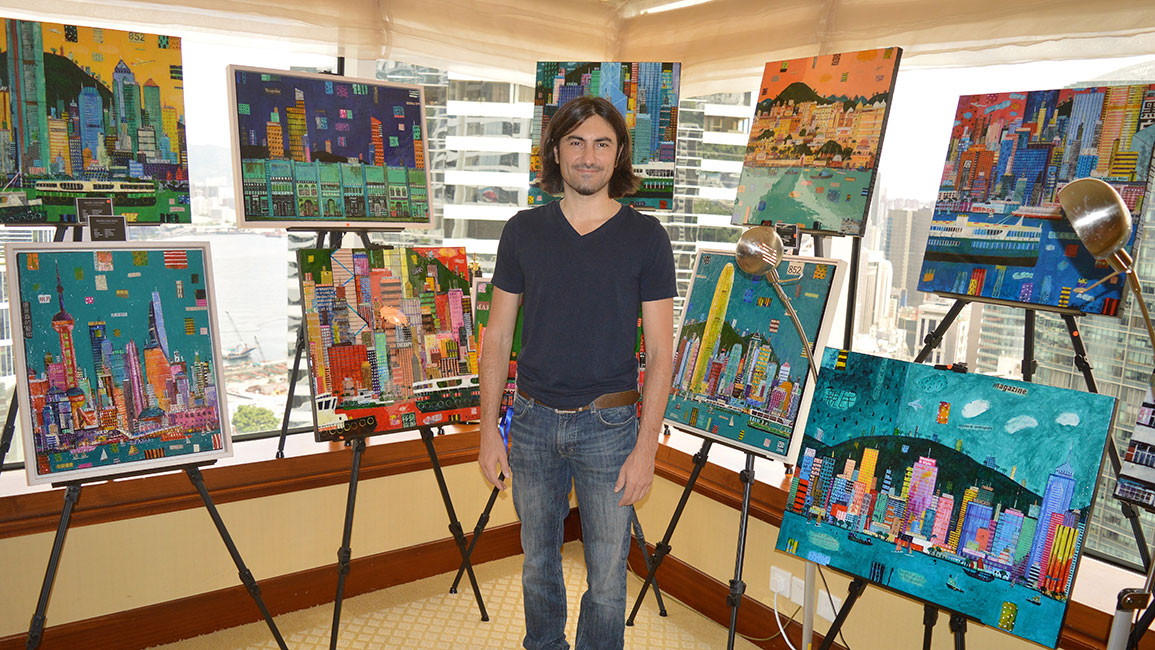 Lietti was born in Lecco, in Lombardy, northern Italy. He studied architecture at the Politecnico Di Milano and the Ecole des Beaux Arts Paris La Seine. In 2006, after seven years spent working and living in London, Lietti moved to Hong Kong and has been based there since. He works as an architectural designer at Aedas today.
On his website, Lietti provides an account of how he came to Hong Kong, and the sighting that had him decide to stay. He writes, "Immediately after arriving in Hong Kong, I put up at a dodgy guest house in Tsim Tsa Tsui and, too excited to stand still, I started aimlessly walking the busy streets, until I naturally drifted towards the harbour front, at sunset. And then I saw that bloody view. It was like if natural perfection had met the perfect human touch."
Of course, it had to be sunset—the blaze and turn of light that must have deep-dyed Lietti's artistic imagination.
Scenes of Hong Kong form approximately two-thirds of Lietti's artistic production. "I don't seem to get tired of celebrating our beautiful skyline," he muses.
It is the tension (and the idealised harmony) between nature and the man-made, and between the old and the new (so evident in a place like Hong Kong) that interests Lietti.
He shares, "Being an architect, I like modern buildings. I appreciate a place like Singapore or Hong Kong. Being Italian, I also like older stuff. I like how to see how the two work together. The beauty of the city is to find a mix that clicks. Hong Kong has that mix right now; it has older residential buildings, a bit crumbling down, and then you have that glass tower at the back. I think when it's monotonous it gets a bit boring."
"Rome is a fantastic city because it's so old, but it's so old that people don't want to touch anything. People are scared of modern gestures. Modern gestures are very little there. There is recently a Zaha Hadid museum, but it can be more," suggests Lietti.
In Hong Kong, where the cost of the land is high, Lietti observes with concern the drive to knock down things. "There is a bit of risk if you delete or cancel the history and the character of the place. You need to find the balance. I understand the economic drive and all these things, so I think in the future, I will try to do something in the paintings as a message. You need to try to preserve the perfect balance," he opines apprehensively.
He adds, "Okay, we want the beautiful glass tower by Foster, but you still want to maybe refurbish the 50 year old warehouse and make it into a studio apartment too. There are a few examples in Hong Kong (of conservation projects) but there should be more. I think the government and people of Hong Kong should be a little bit more aware of the importance of this balance; sometimes it's too weighted towards [what is] cheaper."
A lover of the city, Lietti observes Hong Kong's land developments keenly. He cites the example of Quarry Bay, where his office is sited. "They built a few glass towers in this area for offices because Central is too expensive, and Kowloon is too expensive. So many offices and many architects move there. They used to have these warehouses. In London these would be a fantastic space for an architect, tall floors with character. I think the glass towers with these warehouses would be the perfect mix."
"They are making all these economic-based decisions, but I think there should be a bit more feelings as well. Economics is important, heart and passion are also important. You cannot just base everything on numbers, cost, and economy," he concludes.
A print version of this article was originally published in d+a issue 97.