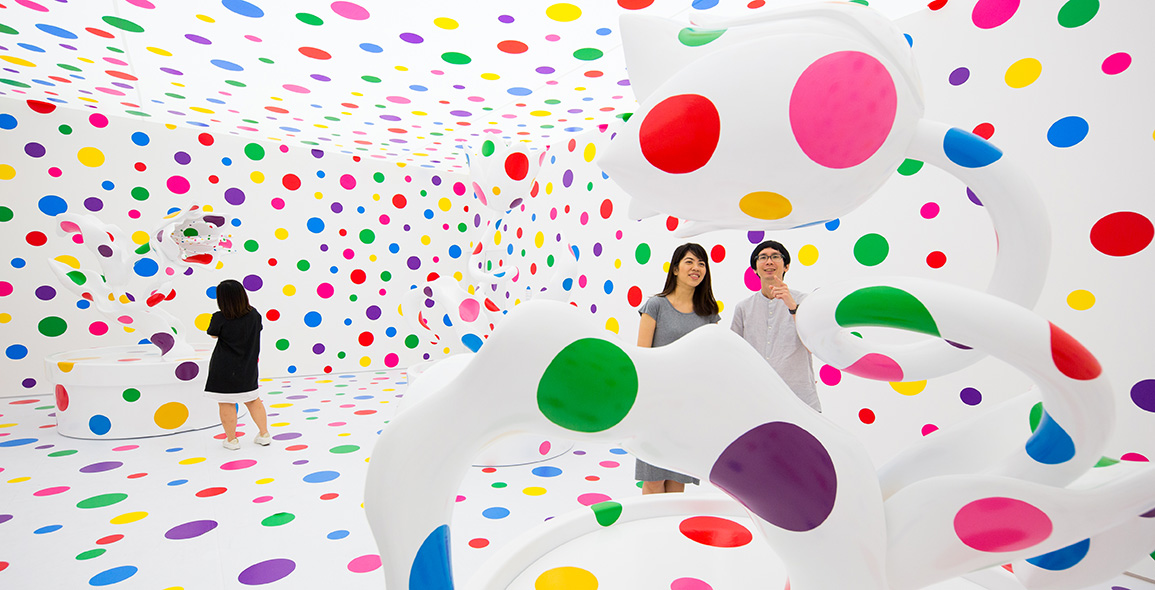 This is internationally-acclaimed artist Yayoi Kusama's first major survey in Southeast Asia. Titled YAYOI KUSAMA: Life is the Heart of a Rainbow, the exhibition will feature over 120 works, including new, never-before-seen pieces. It offers an unprecedented opportunity to explore the creative journey of one of the world's most widely recognised artists.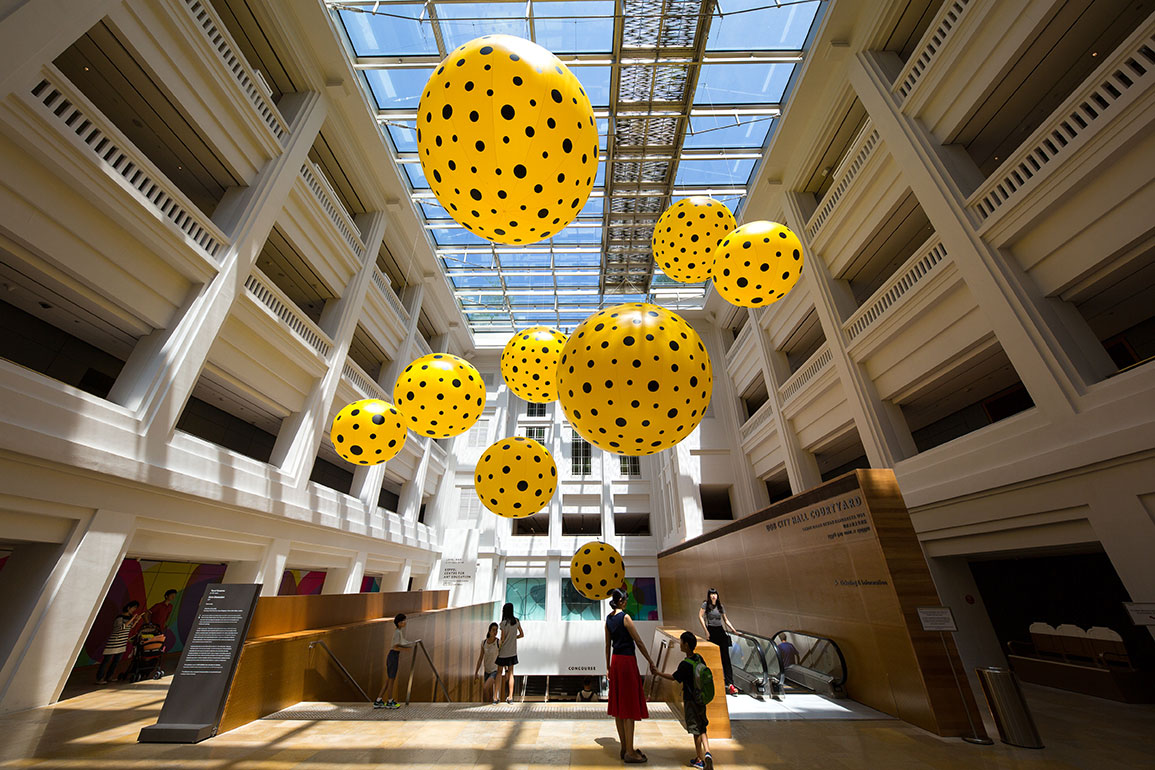 The National Gallery Singapore's highly anticipated exhibition follows well-received Yayoi Kusama shows in both Washington D.C. and Tokyo, and will include signature pieces, such as her infinity net paintings and infinity mirror rooms. Her most recent works – a cluster of soft sculptures and several paintings from her 'My Eternal Soul' series (2009–ongoing), including the exhibition's titular painting Life is the Heart of a Rainbow – will also be on display for the first time. In addition, Kusama's mirrored peep room, I WANT TO LOVE ON THE FESTIVAL NIGHT, which has been specially created for the Gallery, will be featured alongside rarely seen works from private and public collections.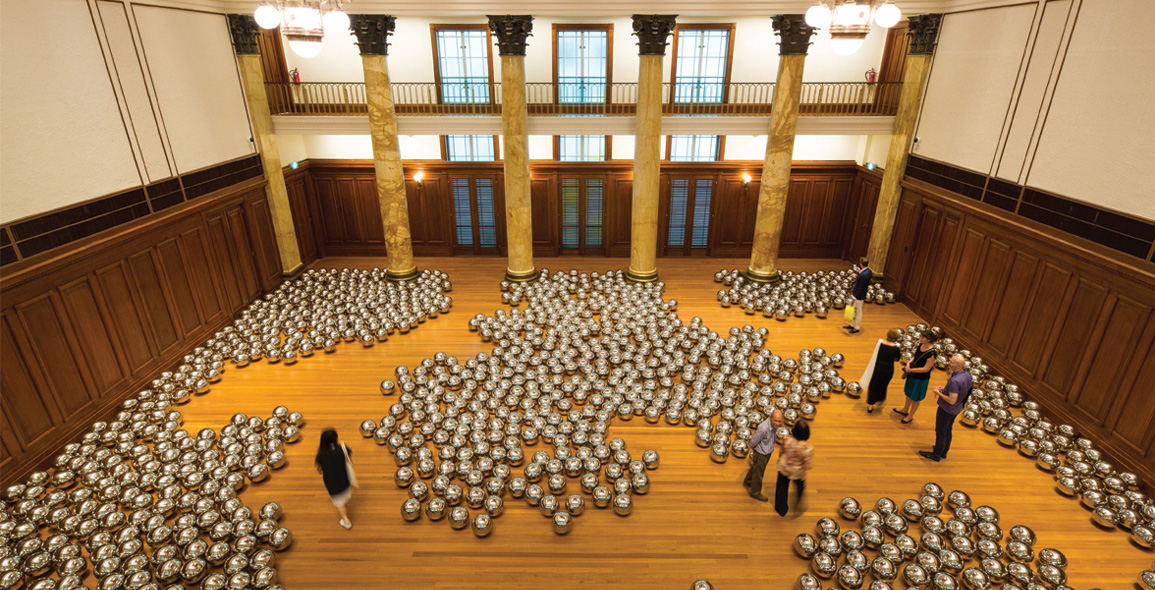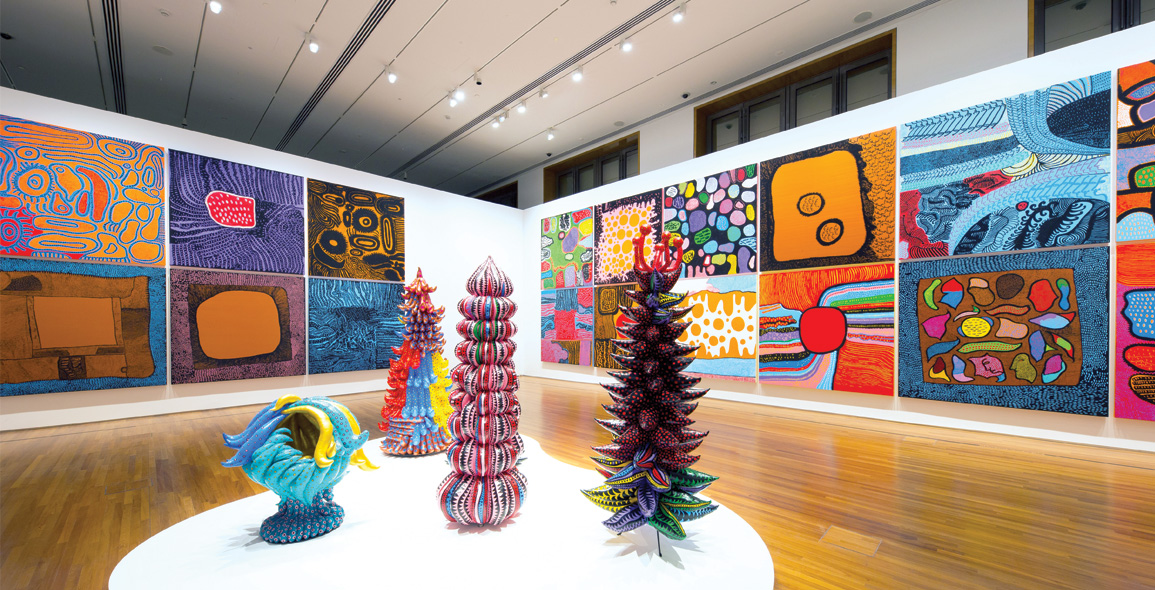 YAYOI KUSAMA: Life is the Heart of a Rainbow takes a specific perspective on Kusama's vast body of work, where visitors can discover the development of her iconic themes and trace their formal and conceptual interconnections through her seven-decade long career. Works on display range across different media from paintings, sculptures, collages and video to large-scale installations.
"Kusama's world is complex: full of colour and powerful symbolism. In each of her works you are transported into a universe that is deeply intimate as well as potentially boundless. We hope that the exhibition will draw visitors to the visual impact and virtuosity of Kusama's works as well as convey the development of her style and motifs, and their personal, artistic and social context." said Russell Storer, Deputy Director, Curatorial & Collections, National Gallery Singapore.
The exhibition culminates in a series of spectacular installations in the Gallery's public spaces, such as the historical City Hall Chamber, extending the experience beyond the exhibition galleries.
Divided into three sections, Gallery A looks at Kusama's use of dots, nets and pumpkins through painting, sculpture and installation from the 1950s to the present.
Gallery B considers Kusama's engagement with the human body through installation, performance, sculpture and painting.
In Gallery C, the show focuses on Kusama's major recent canvas series 'Love Forever' and 'My Eternal Soul', along with large-scale installations that demonstrate her activation of space and deployment of spectacle.
The exhibition is a collaboration between National Gallery Singapore and Queensland Art Gallery | Gallery of Modern Art (QAGOMA), Brisbane, Australia. The exhibition is co-curated by Russell Storer and Adele Tan of the Gallery and Reuben Keehan of QAGOMA. The show will travel to QAGOMA in November 2017 after its presentation in Singapore. YAYOI KUSAMA: Life is the Heart of a Rainbow runs from 9 June to 3 September 2017 at the Singtel Special Exhibition Gallery and City Hall Chamber, Level 3, City Hall Wing.
Images:
National Gallery Singapore