A culmination of creative disciplines collaborated for yet another successful run of SingaPlural, the annual celebration of design and collaboration. Held from 4 to 17 March at the National Design Centre, the 2019 edition, Unnatural Phenomena, was organised by the Singapore Furniture Industries Council, curated by architect Formwerkz and design-centric agency Bravo, and supported by the DesignSingapore Council.
For the 11-day long affair, two curatorial works and eight exhibits were set up by partnerships between brand and creatives. Notable names include parametric design company Anticad, surface designers Admira, furniture brand Ipse Ipsa Ipsum and local design form Studio DAM – here's a closer look at what was on display.
Formwerkz: Tilt-Shift
Located at the very entrance of the exhibition, this installation was rooted in the idea of tilt-shift lenses commonly found in photography, which moves the lens against the image plane in various ways. This was meant to personify the title of 2019's SingaPlural, Unnatural Phenomena, by making works intriguing enough to pique someone's interest. For example, some parts of the exhibit can only be seen on the street side, and the "waves" were made to pull visitors in.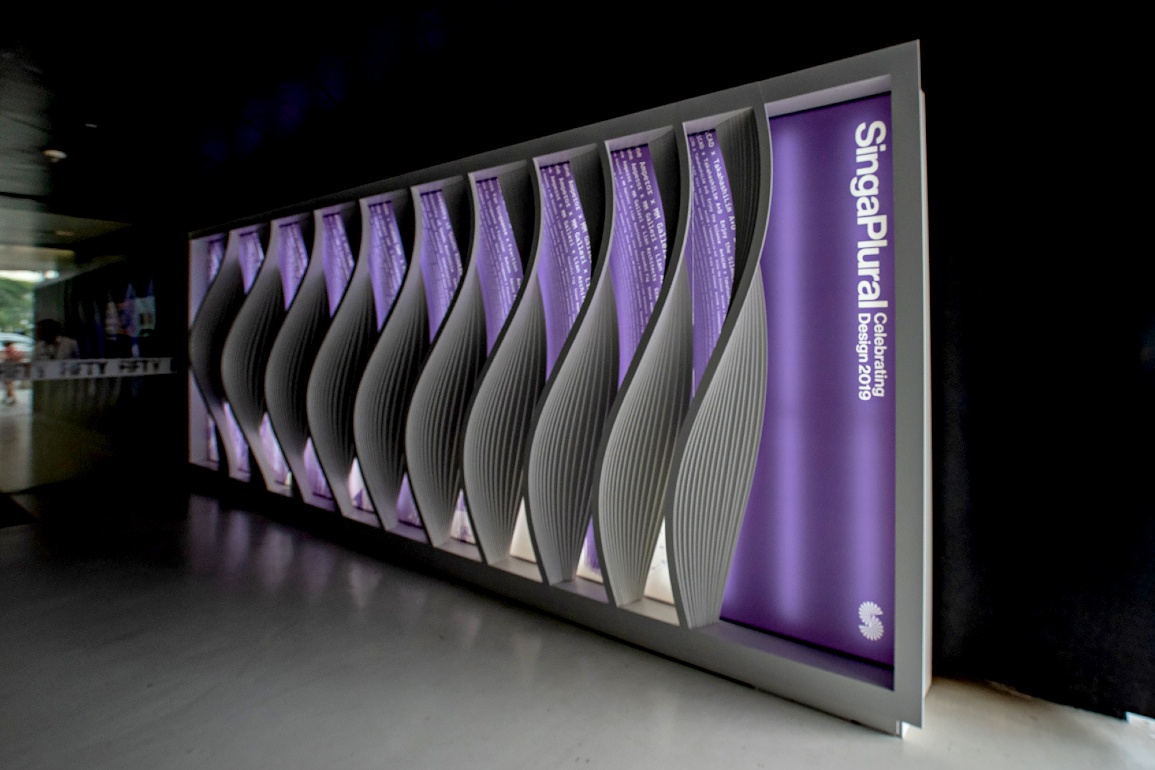 Admira x Studio DAM: A Portraiture of Facets
Working with laminates of various shades, Admira and Studio DAM joined hands to piece various artworks together into this installation. Each layer carries a different palette and texture, which made for an interesting play of colours. By inlaying them into the work one by one, portraits were formed through the laminates.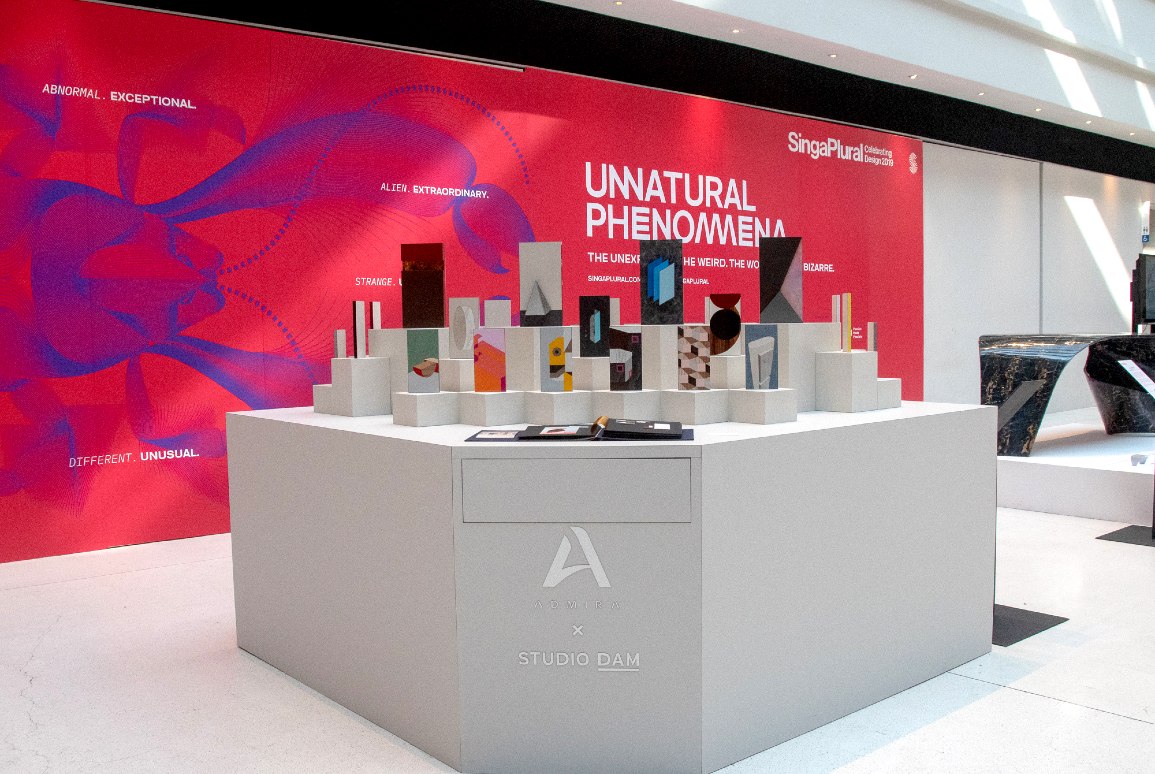 Anticad x Takahashilim A+D: Enjoy the Silence
Sight was not the only one of your five senses that experienced the displays. This acoustic exhibit employed complex geometry to create a soundless zone. Imitating the shape of one's ear to enhance the way sound is heard, the sculpture made for a quiet alcove away the hustle and bustle of the National Design Centre.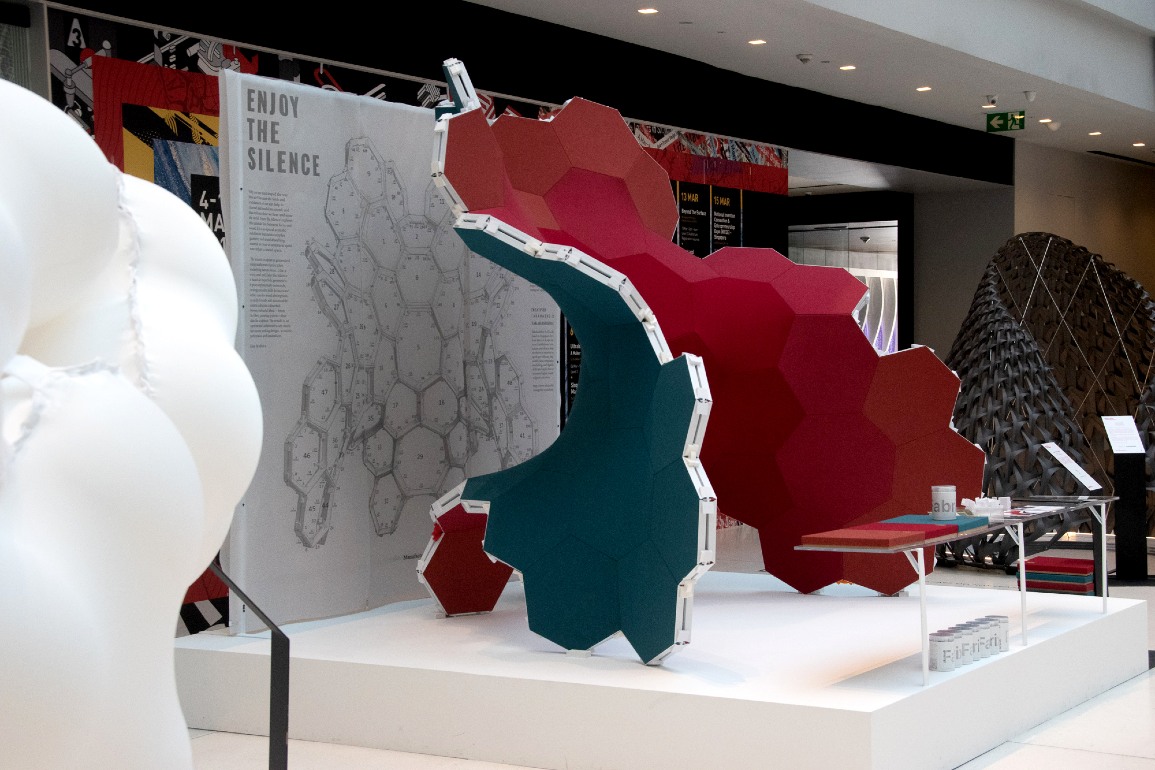 Cellini x etc. lab x Synergraphic: Senses
Aluminium casting and glass making may seem very straightforward, but they too, can form unconventional shapes. A three-way collaboration between Ngee Ann Polytechnic's interdisciplinary design centre etc. lab, furniture brand Cellini and glass artists Synergraphic, Senses blended the two crafts together and infused them into contemporary objects.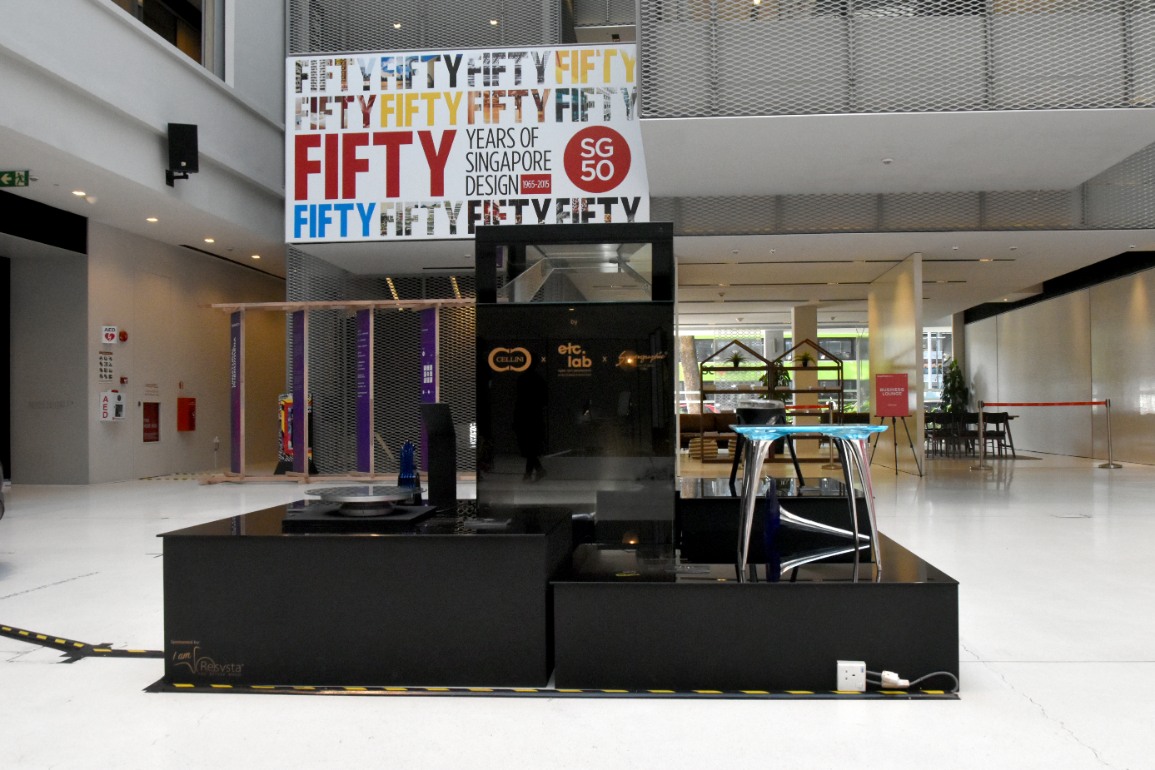 Décor Fan Singapore x Fraction: Autumn
We may not have the four seasons in Singapore, but guests were be able to experience the harvest of an autumn morning through this fan installation. Cool breeze in one's hair and the sound of falling brown leaves were enhanced through VR goggles – so realistic that they could have smelt maple in the air.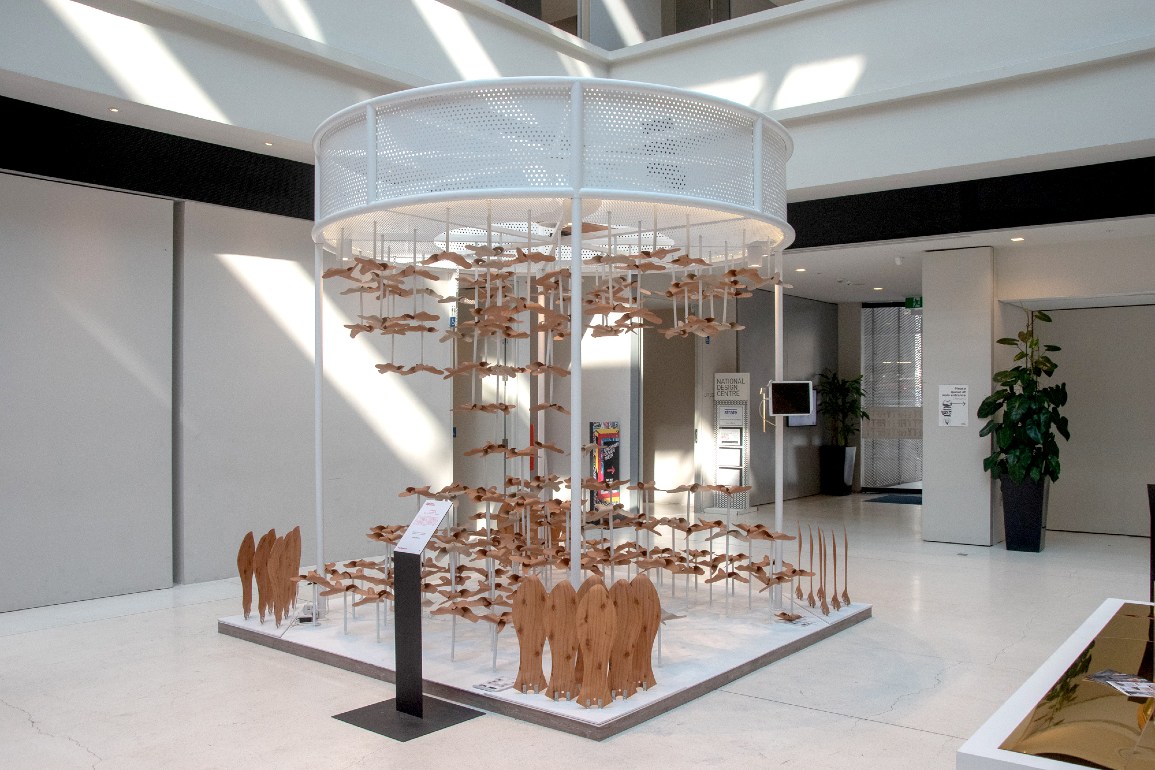 EDL x Formwerkz: Boulder
Laminates see yet another usage in Boulder, an installation that uses illusions to change its look to the viewer. The brainchild of laminates expert EDL and event curator Formwerkz, the display was made to look as close to natural stone as possible – at first glance. Upon closer inspection, however, it shifted from an imposing and hard appearance to a softer-looking lattice.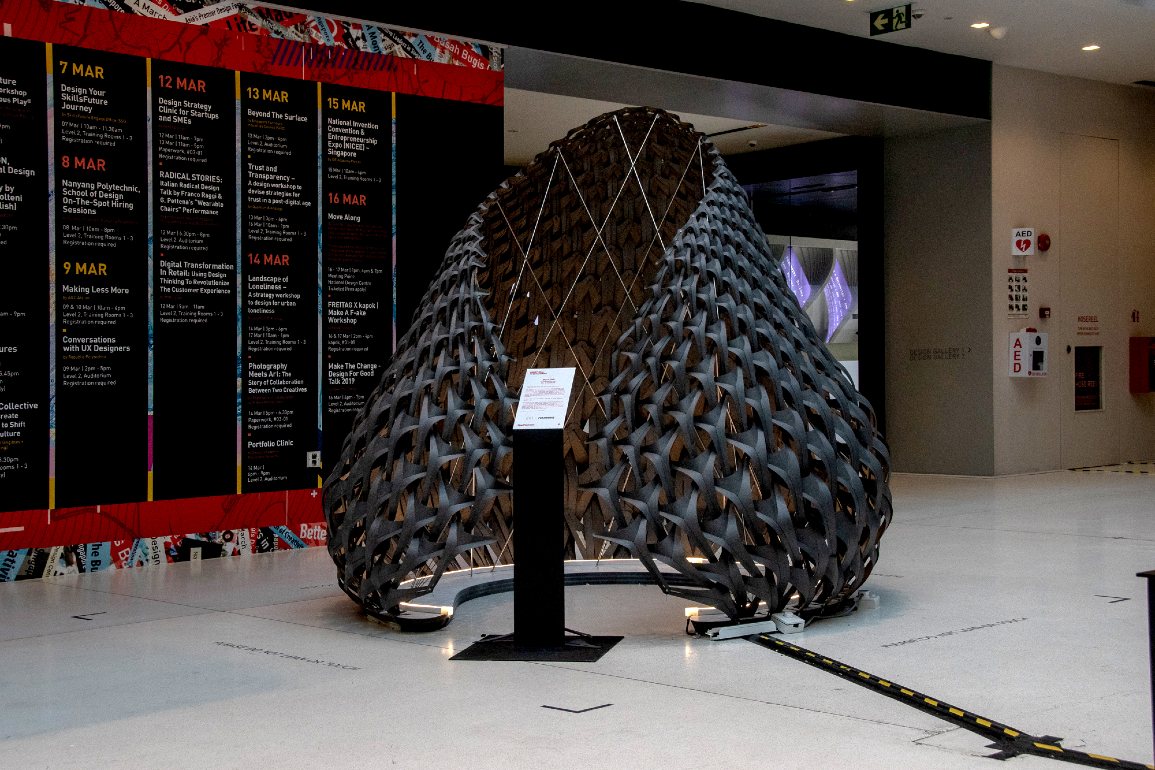 Ipse Ipsa Ipsum x Orcadesign x A M R Studio: Ipse Ipsa Ipsum
This display introduced two collaborations between furnishings company Ipse Ipsa Ipsum and local design consultancies. The first is the Straits Collection, where Orcadesign's Jeremy Sun worked with Ipse Ipsa Ipsum to pay tribute to 200 years of multicultural Singapore through a unique set of urban furniture. Meanwhile, THE MUSE is a collection of modern furniture and screen production property exploring a designer's muse, as envisioned by Ipse Ipsa Ipsum and A M R Studio.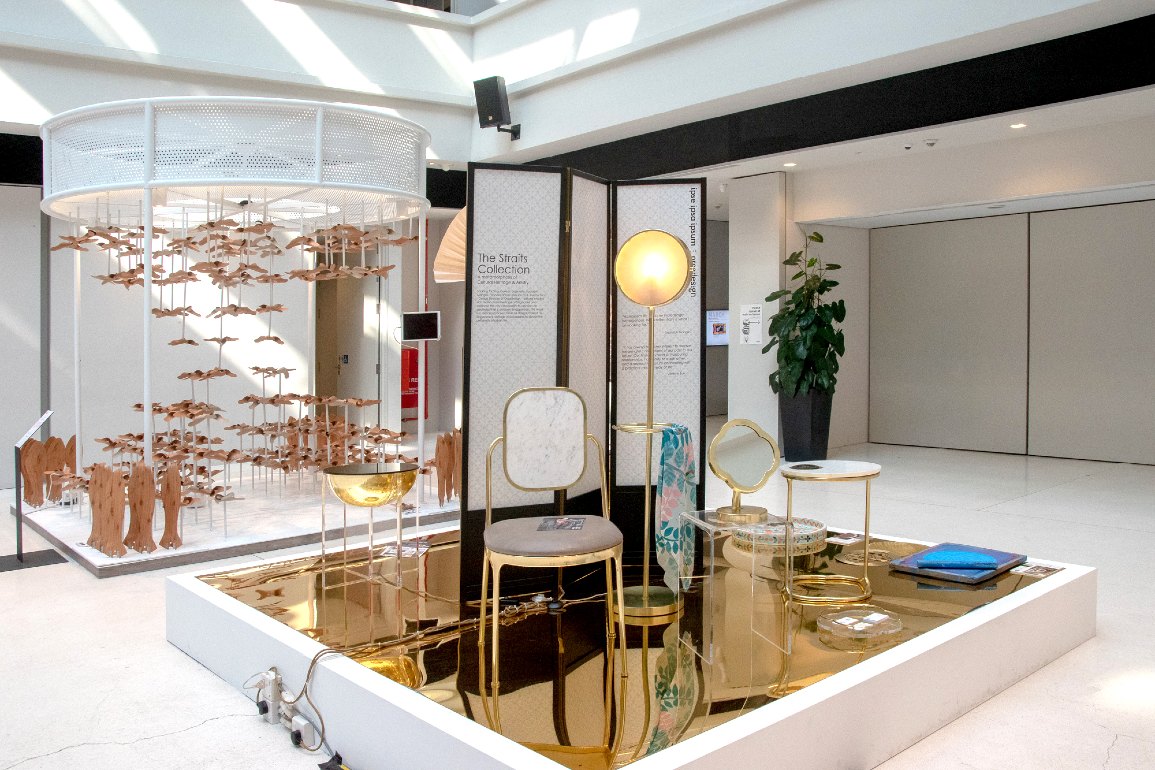 Stone Amperor x MM Galleri x Lian Architects: Graceful Fig
Based off the fig shells found along Singapore's coast, this exhibit featured a thin table surface similar to the formation of these marine gastropods. The table was made through a high-quality marble bending process, mimicking how the fig shell similarly works as a protective layer despite its thinness – interestingly so, as the real shell is related to the highly sought-after portoro gold marble.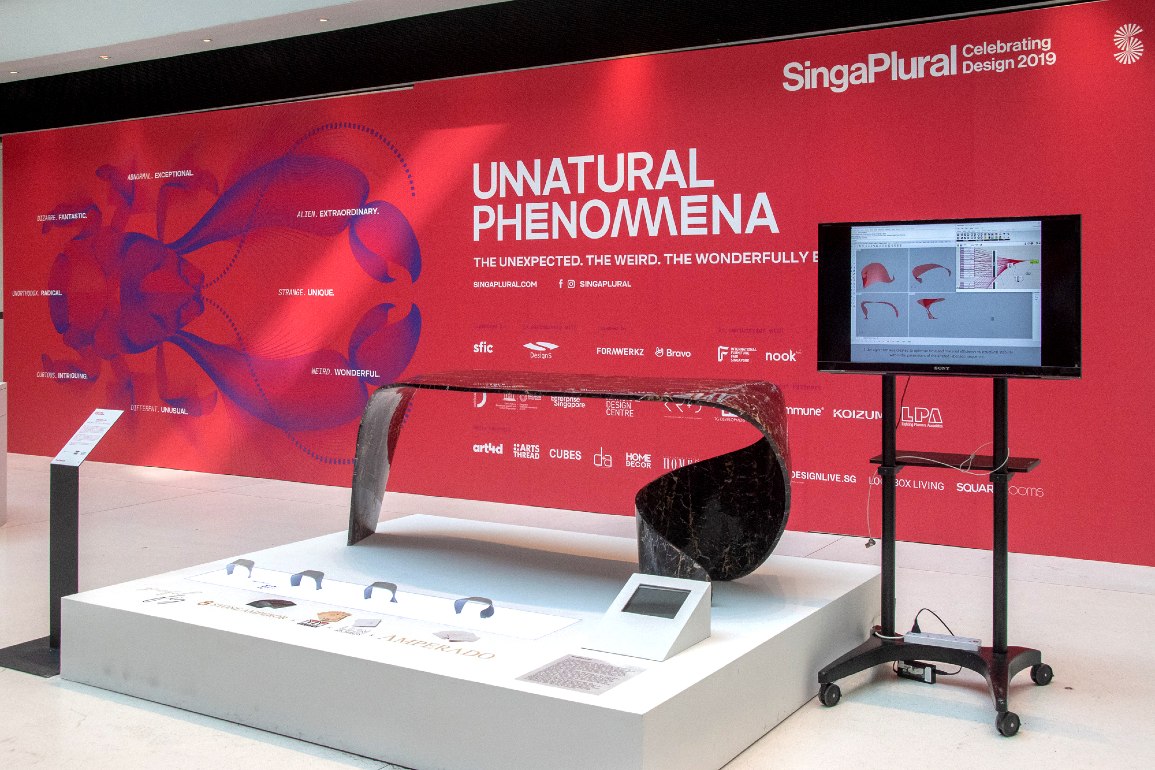 University of South Australia: Renaturation
Evolution is a constant process and one that can seldom be captured in an actual sculpture. However, it seems that the University of South Australia's Renaturation has done just so. Influenced by cytokinesis, the cell formation process, this dynamic exhibition changed over the course of SingaPlural 2019, with visitors participating in its evolution – comparable to what might happen in a crowdsourced laboratory.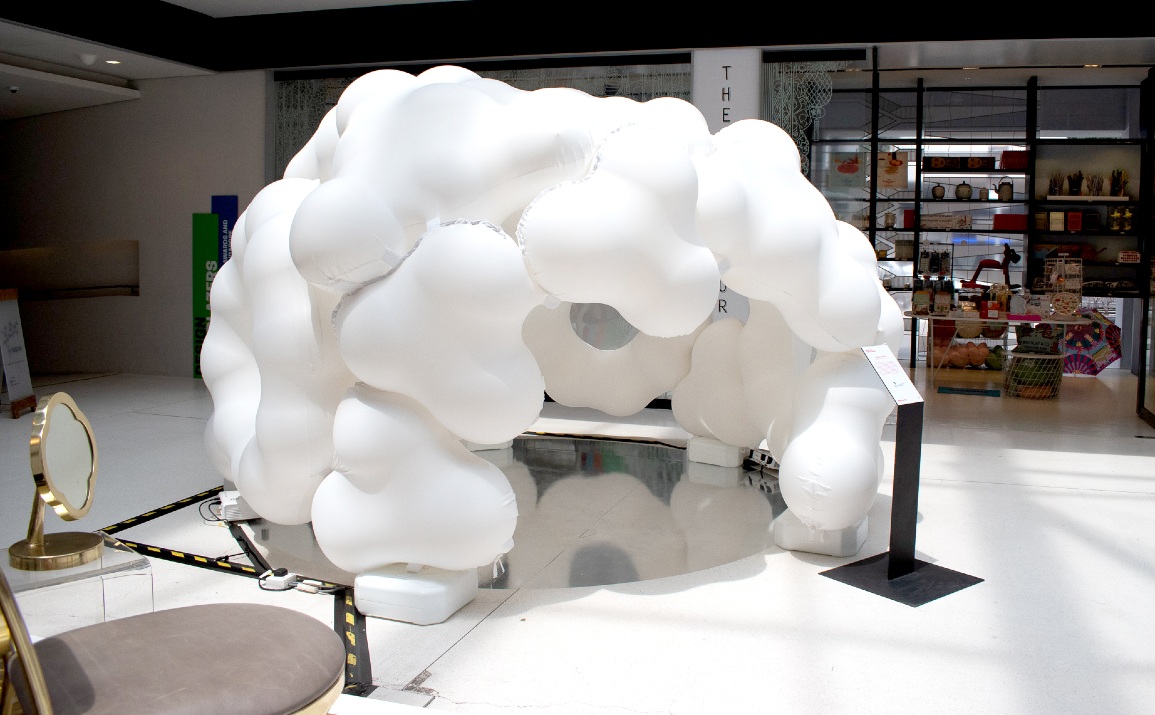 Formwerkz: Twisted Paths
To round out the entire exhibition, the curators created Twisted Paths, a hanging, curtain-like structure meant to encompass all the exhibits. The installation casted shadows over the space in the form of lines, using 480 white nylon strings hung in the void between the ground and ceiling of the National Design Centre. Falling in three layers and lit by natural light that changes throughout the day, they illustrated ethereal movement in a captivating, elegant manner.