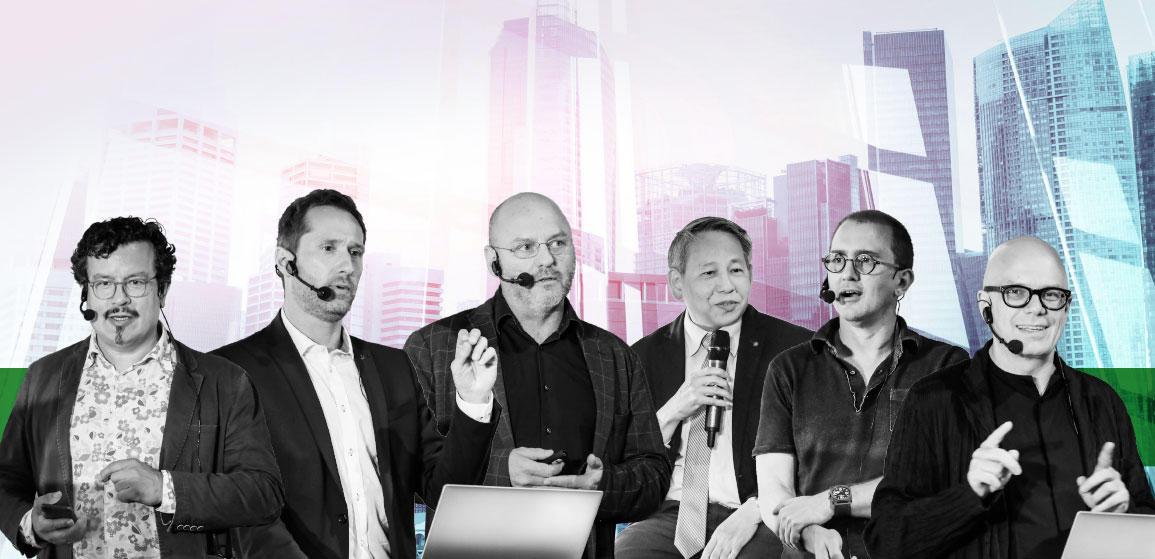 10 metres. That is the minimum height that a high-rise should be clad in green infrastructure to reduce noise and dust pollution.
This is a significant figure offered by Rudi Scheuermann, Global Head of Building Envelope Design from ARUP, when he delivered a presentation at the JUNG Architecture Talk in Singapore in June this year.
Centred on the theme of "Tropical High-Rises – Architectural advancements and challenges", it featured five speakers sharing their insights on the topic, moderated by Peter Cachola Schmal, director of the renowned DAM Frankfurt museum.
Scheuermann's statistic is the result of a study ARUP did when it wrapped an entire building in plants, versus just the lower 10m. The result was the same.
"Where we can, we put green infrastructure on the ground. Where we can't, we put it on the building envelope. We have to include it in the city because that is the driver of our health and [helps to reduce] energy consumption."
Scheuermann also led a study that includes another useful figure: 20/20. "If we put green on 20 percent of the buildings in the street – that is every fifth building – and on 20 percent of the total building area that we are building, we will equalise the footprint that we've built on."
Lending a more macro perspective was Tobias Schlitzer, International Key-Account Manager KNX / Smarthome at JUNG. He highlighted the megatrends sweeping the world – such as new ecology, connectivity and urbanisation – and their impact on modern building automation.
Of particular interest to him was simplicity, "The amount of information provided to us is exponential. We are overloaded, we desperately desire simple solutions."
This means that whatever increased requirements that society decides it needs, must not overwhelm the end-user. "We should use appropriate, well-known concepts and combine them with new functionalities," he emphasised.
Schlitzer draws the example of how at JUNG, it has created light switches now that not only control the brightness of a room, but also set the mood, such as by playing the respective music.
"There are many megatrends that will increase the demand of building technology but we shouldn't forget that users of these should be the centre of gravity. We must develop solutions according to their needs."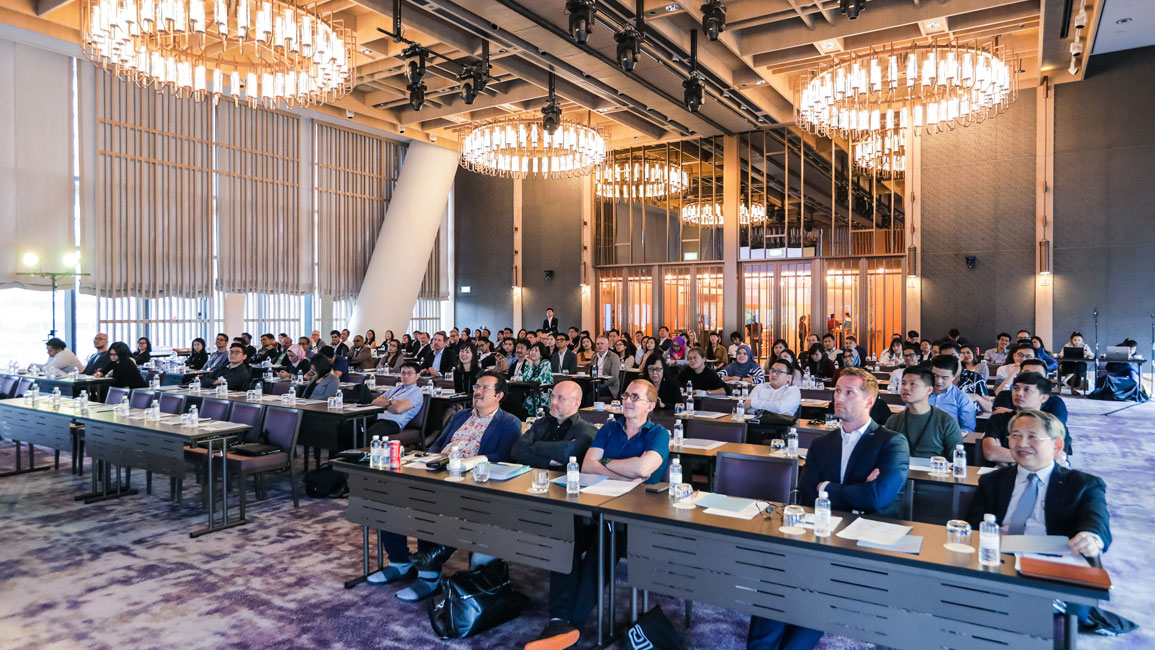 In Singapore, no organisation is more familiar with the concept of tropical high-rises than the Housing Development Board (HDB). Present to provide an update of its activities was its Deputy Chief Executive Officer (Building) Fong Chun Wah.
Fong revealed how HDB had undergone an aggressive building and construction period between 2011 and 2017, launching 150,000 units into the market.
He also highlighted the green features in the newer and soon-to-launch towns. For instance, Punggol is Singapore's first eco-town. "It has solar panels on the rooftop and water sensitive urban design since it is next to a waterway," he said.
Tengah is a "forest town" that will be launched in phases starting from the end of 2018. "It will be a living lab with biophilic elements. Its planning and design will have gardens, plantations, farm ways and lawns."
Industry players aside, two architects were also part of the speaker line-up, sharing their experiences in designing high-rises in Asia.
Peter Ippolito is the Managing Partner of the Germany-headquartered Ippolito Fleitz Group that has a substantial portfolio in Europe and China, while Richard Hassell is the Co-founder of WOHA Architects, which prides itself on being specialists in green architecture.
"We try to make projects relevant for our clients. It must be something that moves and touches them. This means the spaces become a series of experiences," said Ippolito, of the guiding force behind his designs.
He illustrated this through pair of showflats in the high-rise residential project CEG Schwarzwald in Shanghai. One is named "Shades of Grey" and the other is "Chromatic Spaces", contrasting starkly against each other.
But what unifies them is their location in a neighbourhood planted with 20,000 trees (Schwarzwald is the German name of the Black Forest). To leverage this, Ippolito retained the floor-to-ceiling windows that permit the connection to the views of nature just beyond the development's doorstep.
He also shared his opinion on where the future of residential interior design is headed for, "People want to replicate their experiences from the hotels they have travelled to. Increasingly, we find ourselves more than just designers but also stylists, creating a living atmosphere for our client though choosing the art, linens etc."
WOHA Architects is a well-known firm in this part of the world. Among the projects is it famous for include Parkroyal on Pickering hotel, public housing SkyVille@Dawson and Oasia Hotel Downtown.
"Mega cities need to make the leap into the 21st century from the 20th century. It's about merging the idea of the Metabolism movement with the garden city," said Hassell, referencing the need to introduce a more natural way of living into urban areas, particularly those with high population densities.
He dwelt specifically on Oasia, which has just been named the Best Tall Building Worldwide by the Council on Tall Buildings and Urban Habitat. Wrapping the 27-storey high-rise is a red mesh that allows plants to grow on it, helping it stand out from the surrounding skyscrapers.
"With Oasia, we were able to push the boundaries and have a green plot ratio of 1,100 percent – this is the highest we've ever had in any of our projects," pointed out Hassell.
Achieving milestones like this seem rare at the moment. However, if the community works together – and that is everyone from the architects to the developers, engineers and policymakers – it could be de rigueur.
As ARUP's Scheuermann said, we just need to start with greening the first 10m of any building we design. Surely that isn't too hard, is it?
***
About JUNG Architecture Talks
In 2006, switches and systems company JUNG hosted its first Architecture Talk. Centred around a theme, it comprises experts discussing and debating their viewpoint in a convivial setting. Twelve years later, the event has become a fixture on the German architectural calendar, expanding also to Luxembourg, Austria and Switzerland.
This year, JUNG decided to bring the Architecture Talks outside of Europe, making Singapore its first stop, in recognition of its office there being the first in Asia. It also plans to hold an unprecedented 10 sessions in 2018, including in Vienna, Zurich and Stuttgart.
More than just a lecture series, these Talks are also an opportunity for networking and building connections for participants and speakers alike – something that it feels is very important given the digital age we live in.