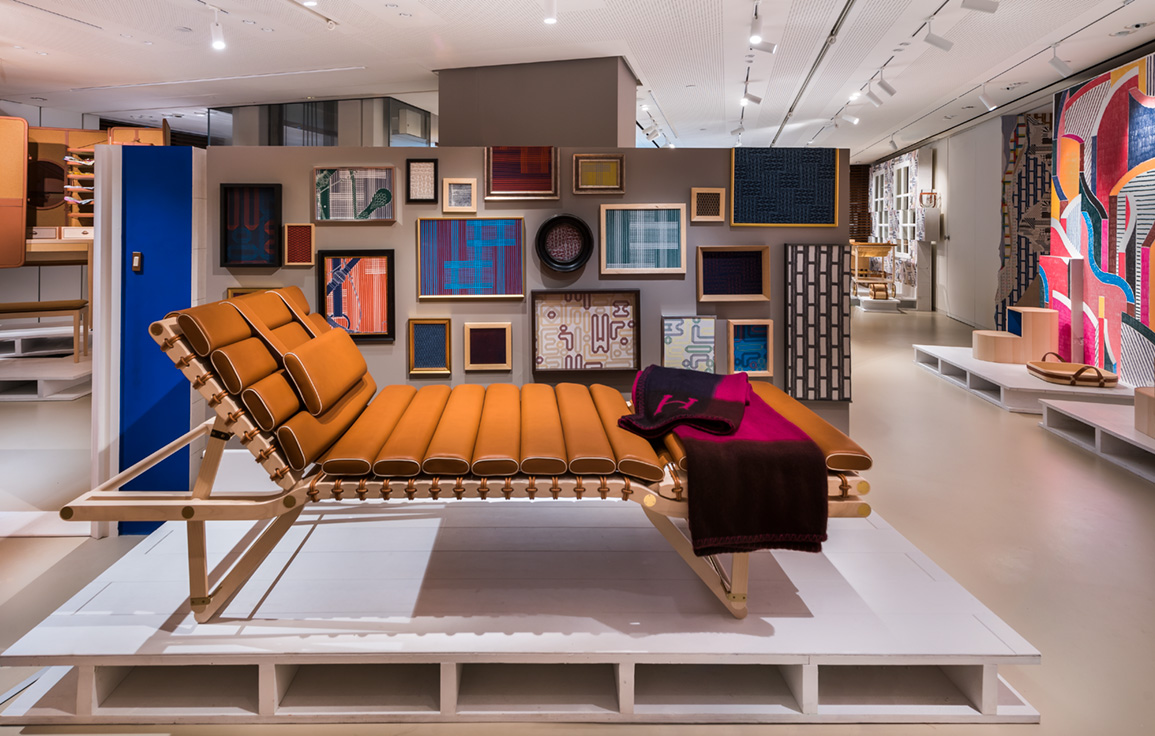 From 7 to 29 October 2017, Hermès will present its latest creations for the home universe at its Liat Towers store in Singapore. 'Through the Walls' is an installation that sees spaces metamorphose. Architecture within architecture. A home within a home. The store, now, is transformed into a place to live.
The scenography deconstructs and then reconstructs the space. The entire home has been reinvented to create a new setting featuring edgy angles and ingenious tectonics. Carried by the sounds of everyday life, the objects converse and allow us to listen in on their intimate conversations. Imagine yourself being surrounded by the finest porcelain and the most exquisitely fashioned leather accessories. The everyday objects are redefined and repurposed with greater functionality and artistry.
From lacquer to cashmere, paper to wicker, and to the fluid lines of leather, every material plays a part in this familiar exchange. Pieces of furniture in the collection embrace movement, acting out scenes from our lives. The porcelain seems unafraid of disorder, and the leather braving for another knot. Feel the emancipation of each object in the intimacy offered by the unique and immersive experience. It is all about precision of lines and profusion of narrative harmonising in a succession of universes.
Here's what you should be looking out for at the upcoming Hermès 'Through The Walls' exhibition.
LES CURIOSITÉS D'HERMÈS CARRÉ BOX
As an extension to the range of Curiosités, which was released in 2014, Hermès reintroduces a new exceptional piece – Écrin à carrés – inspired by the leather wallet. Reinvented as a gallery for silk scarves with customisable finishes and bespoke storage requirements, it offers a unique home for collections of colourful Hermès silk scarves.

ÉQUIPAGES D'HERMÈS
The collection comprises a serving trolley with a framework that evokes the diligence carriages of the past, a stool lined in luminous leather that doubles as a hiding place, and an oak writing desk and small work table can be adapted at will. Playing with the harmonics of leather and wood while bringing in wickerwork and brass, these valet pieces light-heartedly punctuate the living space and invite one to enjoy them in different ways.

FURNISHING FABRICS AND WALLPAPERS
Italian illustrator Gianpaolo Pagni creates a repetitive leitmotif that is translated through the Milleraies, Tresses and Quatre Chaînes and Rubans. Vibrant and vivid, some silhouettes are worked as double-sided fabrics, allowing one to choose between positive or negative side of the weave. There's a dialogue between sanguine and indigo, purple and brass, mint and slate; the exact harmonics intended for chairs, curtains and wallpapers.

OBJECTS OF ART DE VIVRE
Simple maple boxes dressed with sheets of leather illustrate a minimalist silhouette. The octagonal boxes in lacquered wood and brick bridle leather are chic and expressive while the change trays in lacquered wood and hunter cowhide feature a rich palette inspired by the nuances of leatherworks.
'Through the Walls' invites you to imagine the art of living in a fantasised world, fathomed by a playful spirit. The clitter clatter! The ding-dongs! Or a crescendo of sounds at a tea party. Welcome to the house of Hermès.
Experience the novel art of living in the world of Hermès exclusively at a specially curated 'Through The Walls exhibition' at its Liat Towers flagship store.
Through The Walls exhibition
Date: 7th to 29th October 2017
Venue: Hermès, Liat Towers, 541 Orchard Road Singapore
Featured Image:
Edward Hendricks