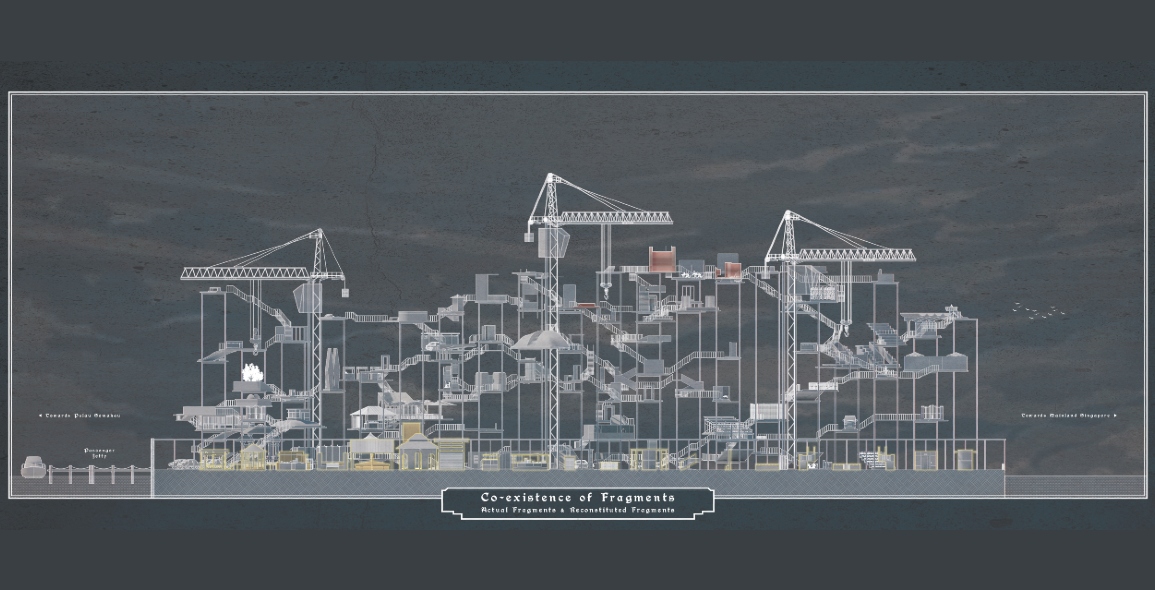 Some 122 students graduated this year from the National University of Singapore (NUS) with a Masters of Architecture degree.
Their thesis projects were featured in the virtual NUS M.Arch Show 2021 themed "Intersections".
This was divided into five themes: Critical Architecture, History & Heritage, Sociopolitics & Geopolitics, Technologies and Ecology & Urbanism.
Each helps to position a project within a specific framework that is relevant and contemporary, while offering a proposition for architecture to advance in a certain direction.
We highlight four projects here.
To Food, With Love: Architecture of an Intangible Culture
Theme: History & Heritage
Student: Sim Wen Wei
Supervisor: Assoc Prof Chang Jiat Hwee (Dr)
Questioning the role architecture plays in Singapore's hawker culture, Sim Wen Wei reminds us that its vessel, the hawker centre, needs a reboot. "Design ideas put forth in the 1970s are still largely replicated in recent years, albeit with a fresh coat of paint," he points out. "Our hawker culture cannot and should not be constrained within such an outdated concept with a single fixed program and typology." His proposal is to see it as part of a larger ecosystem of a variety of food sites and activities. Through a redesign of a precinct in the Teck Ghee Square HDB Neighbourhood, he demonstrates how the hawker centre can be modernised and updated for the 21st century.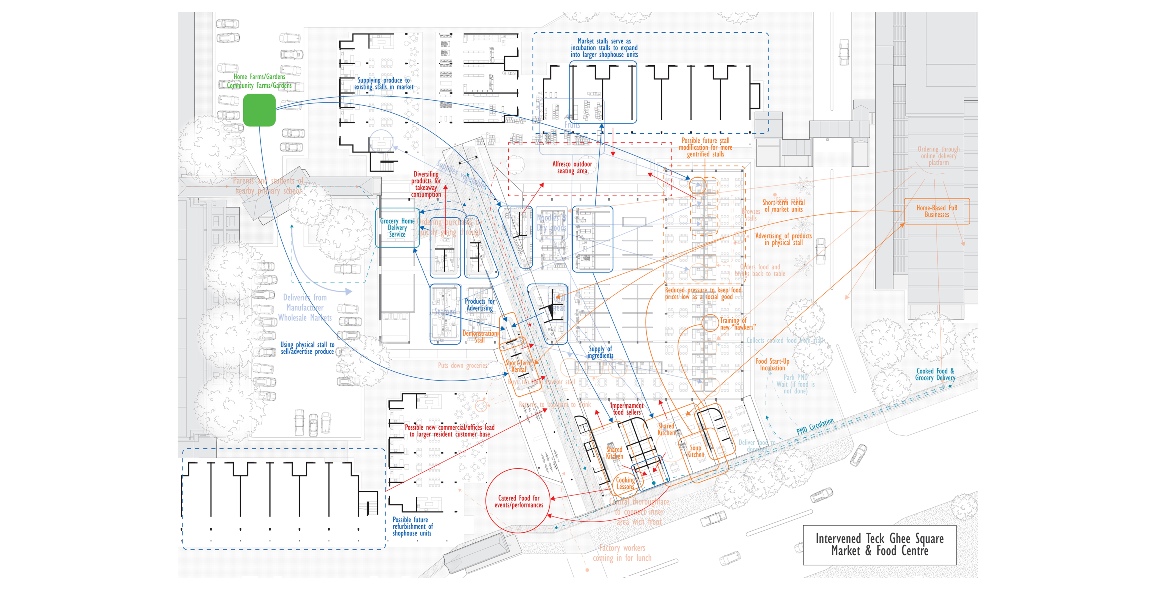 The Orchid Cooperative
Theme: Ecology & Urbanism
Student: Fong Shi Yuan
Supervisor: Senior Lecturer Zhang Ye (Dr)
Orchid farms in Singapore seem to be facing extinction as a result of competing land uses. This project by Fong Shi Yuan proposes a slew of interesting ideas to mitigate this challenge and ensure that growers of our national flower will have a place in the island. He hopes to embed them into community horticultural landscapes through four key nodes – Spooner Road Flats, Kampung Bahru Bus Terminal, Singapore General Hospital, and Outram MRT station – along a proposed green network corridor between Pearl's Hill and the rail corridor. To him, this will not only cultivate the blooms, but also synergize multi-stakeholder national interests, support the needs of an aging population, and advance high-value economic uses.
Resurrecting Architectural Ghosts
Theme: Critical Architecture
Student: Law Kai Xiang
Supervisor: Assoc Prof Thomas Kong
Gone, but never forgotten. If Law Kai Xiang had his way, he would resurrect Singapore's demolished buildings in an archive and preserve them for posterity. Far from being a static, one-dimension exhibition, he imagines it to be experiential and humanistic. "[It] involves the coming together of narrative mediators, re-animated and put into parallel conversations, as visitors wander through the archive," he says. In the end, he hopes to spur memories, produce new meaning, renew relationships and demonstrate Singapore's evolution as a community.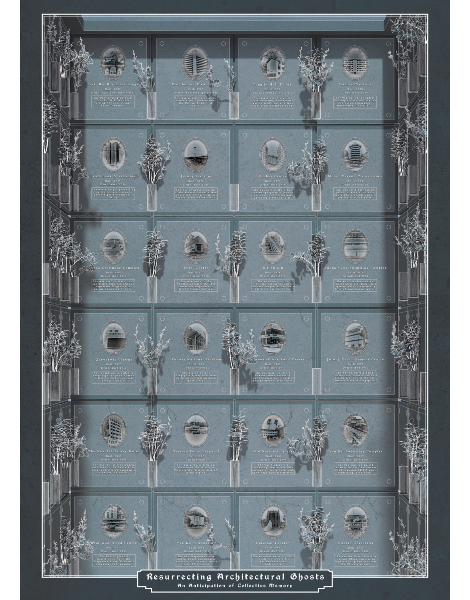 Deconstruction / Reconstruction : An analysis of architecture through the lens of Structural Optimisation
Theme: Technologies
Student: Lee Lip Jiang
Supervisor: Assoc Prof Rudi Stouffs (Dr)
What is the impact of structural optimisation on building design and aesthetics? Is it possible for an architect to adopt structural optimisation into the design process? These are the two questions that this project attempts to address. The end-goal is to explore new construction methods that are more minimalistic in nature, and therefore sustainable, without compromising on safety and efficiency.