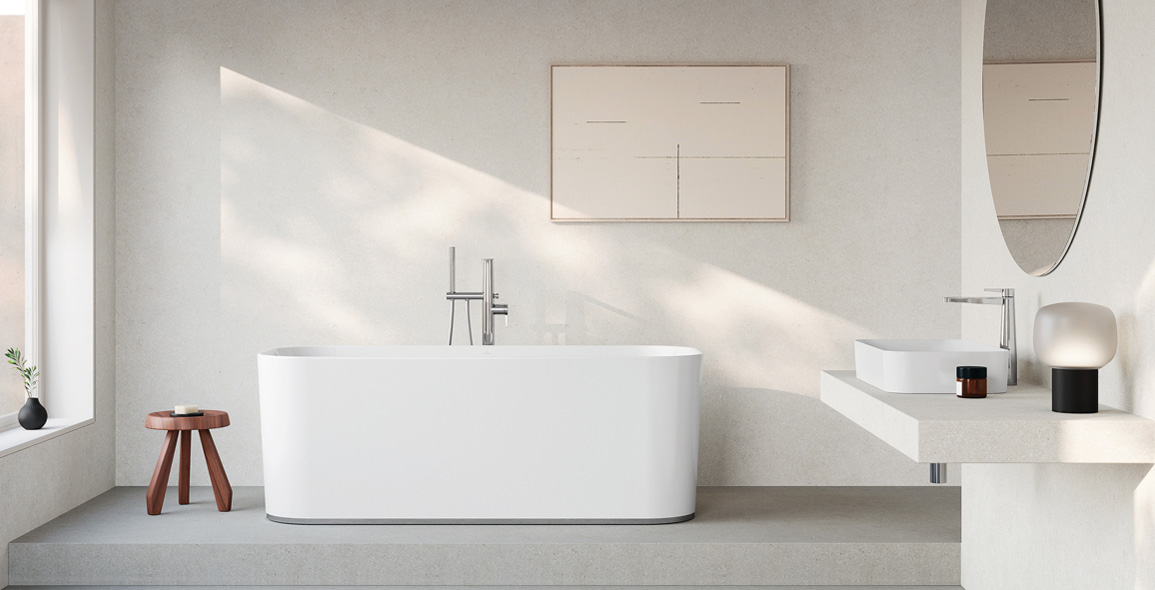 Conum, German luxury brand Villeroy & Boch's latest range of designer faucets, run the gamut from washbasin and bath taps to bidet taps. Dreamt into concept and brought to life by the originality, foresight, and persevering efforts of hardware creative Christian Haas, they've recently joined the house's diverse catalogue of premium bathroom products. These sleek fittings blend in seamlessly and unobstructively to any modern bathroom.
The eye wanders appreciatingly over major fixtures — like the gleaming perfection of an Antheus bath, the elegant simplicity of a Finion washbasin, or the striking modernist touch of a Memento 2.0 sink — and only truly notices the beauty of the Conum contribution via experience.
A Sensory Encounter
Reaching to rinse one's hands or start a bath, the smooth glide of the operating lever to the exact volume of water flow desired draws attention, upon which one notices the neatness of the metallic body's integration with the ceramic, and its closeness to both fixture and wall. The Conum fitting's slim, straight lines are part of its visually harmonious and space-saving design, which has eliminated the need for a recess while also opening up the room's central space.
The quiet, virtually splash-free water flow impresses too. Not only does this make for a dreamy yet sophisticated experience, it's also been specially designed through long and arduous technical innovation and testing to present a truly hygienic offering. Water pressure is artfully controlled to produce a laminar flow, which dramatically minimises the spray of minute water droplets. Coming out from the global pandemic, we can all appreciate how this drastically reduces the chances of any harmful microbes being spread around the area.
The position of the lever is also customisable: above the spout for added height, or on the side to accentuate Haas' original vision of geometric balance. These trendsetting, practical features alone undoubtedly make Conum an attractive option for your next bathroom redesign, since wellness is high on everyone's minds.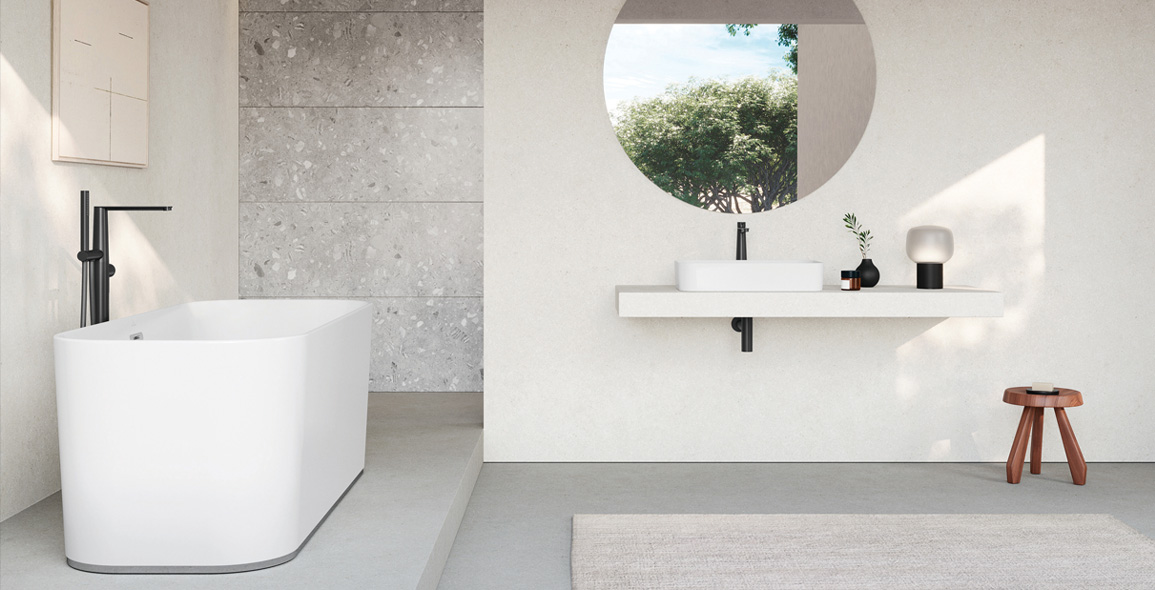 Artistic Geometry
Conum faucets have a distinctive structure that is impossible to miss once you recognise their unique composition. At once linear and curved, presenting slender cylinders arranged at precise 90-degree angles, they blend effortlessly into any space. Viewed objectively, they appear simultaneously delicate and sturdy, with workmanship to match. This understated dynamism is enhanced by the variety of options the collection offers: five distinct washbasin taps, one of which features a significantly higher base than the others; three subtly different bath taps; two concealed taps and two concealed thermostats for installation with showers; and a bidet tap.
A good range of stylish finishes also makes Conum fittings suitable for any bathroom ambience — there's something to match every conceivable colour theme. Make your choice between classic high-gloss chrome, a touch of baroque charm with brushed gold, understated chic with brushed nickel, or matte black for dramatic elegance.
Available in 2023, Conum offers uncompromising quality that improves your experience of daily life and enhances your sense of harmony and well-being in your personal space.
For more information, visit villeroy-boch.asia