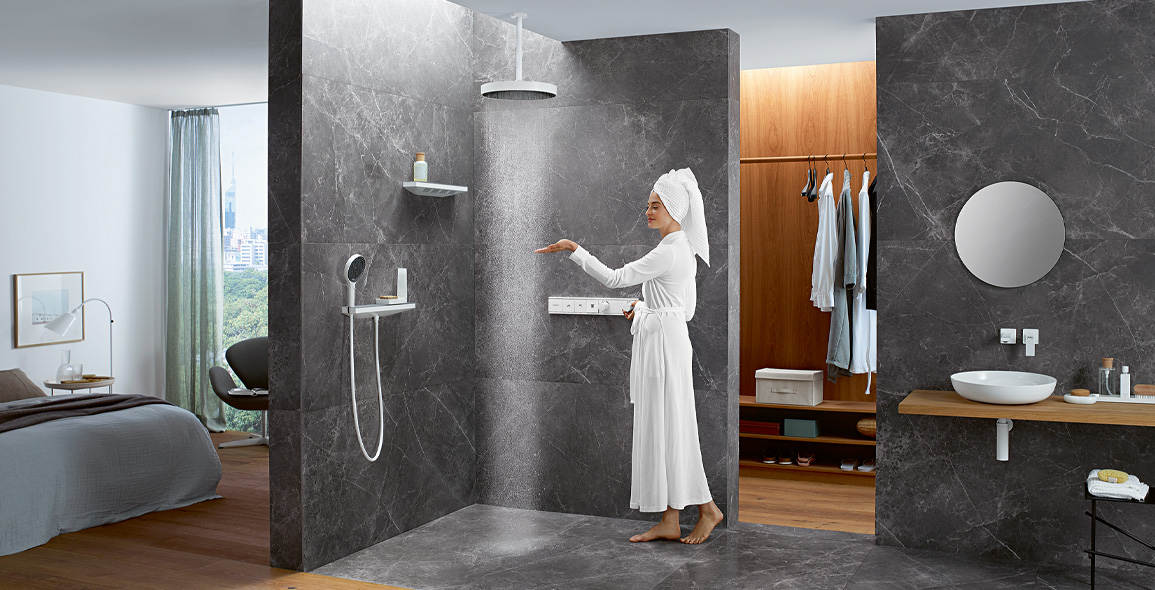 A Bespoke Bathroom: AXOR MyEdition
Conceptualised in collaboration with Stuttgart-based creatives Phoenix Design, the AXOR MyEdition collection was launched to mark the brand's 25th anniversary.
The tap is styled in a bold, clean, linear design, with the plate acting as the stage for individuality to be expressed.
This is done through customising the plate with exclusive AXOR Signature materials, such as cool white Lasa marble, a warm black walnut veneer, rich Nappa leather and radiant mirrored glass.
Each is made by master craftsmen in the Black Forest, where the Group is headquartered.
For instance, the marble is mined from the Jenn Ciff Massif in South Tyrol, before being cut to size in Oberkirch by specialists and then meticulously processed.
The plate and body of the tap can also be customised with a selection of 10 AXOR FinishPlus surfaces.
These include colours such as polished red gold, brushed gold optic and brushed black chrome that are finished in PVD vacuum chambers.
"Making a personal statement through customised interiors is the essence of luxury," says Andreas Diefenbach of Phoenix Design.
"With the AXOR MyEdition collection, we have set the stage for personal creativity – colours, materials and patterns create the point of departure for a unique and personalised tap."
A Wellness Shower: hansgrohe Rainfinity
Innovative technology, stylish design and superior quality are just some of the traits of the new Rainfinity showers from hansgrohe.
Available in an elegant matte white with the jet disc in a contemporary graphite, the pieces are immediately a visual highlight whether installed on the wall, ceiling or as a head or hand shower.
Opt for the wall connection model and be amazed by how it can tilt between 10 and 30 degrees to wash just the body or from head to toe.
The slightly concave spray surface and diffused arrangement of the jet disc holes further enhances the shower experience.
Additionally, the Rainfinity overhead shower comes with hansgrohe's revolutionary PowderRain spray mode, where the water moistens the skin than bounces off it, evoking the sensation of a fine mist gently enveloping the body.
Two other spray modes are also available: Intense PowderRain, which flows in a concentrated jet, and RainStream with a high spray intensity that massages the shoulders and back.