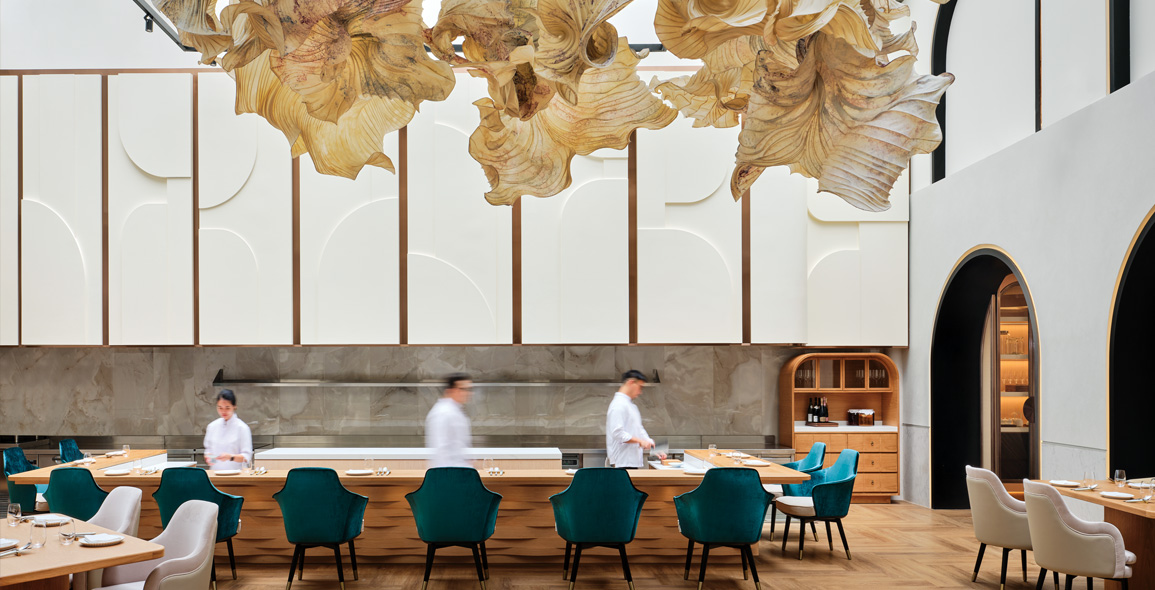 Design "the best restaurant in town". This was the challenge given to greymatters, when the firm was commissioned to design the interiors of BORN, located in the heritage building of Jinrikisha Station.
Helmed by Chef Zor Tan, the fine dining establishment opened in June 2022 and represents the culmination of the chef's life journey.
BORN is also symbolic of how Tan has come full circle with his experiences, having started his career in Singapore, then travelling the world to work in different kitchens under Chef Andre Chiang, before returning to the island state.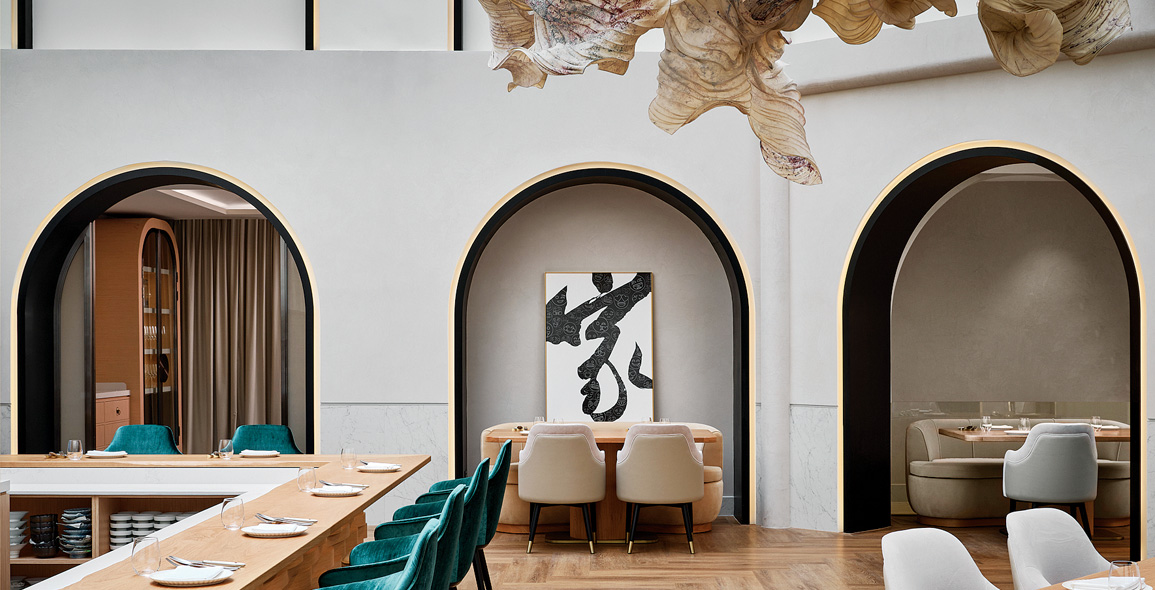 Wookie Park, Associate Design Director of greymatters, was responsible for translating the brief into the interiors. He had to work within the constraints posed by the site, including a triangular floor plan, a double-volume void and existing walls with arches cut into them, recalling the Palazzo della Civiltà Italiana in Rome, Italy.
"We have a unique space and a unique chef," says Park. "The approach was how to emphasise and blend both to make it an outstanding, outside-the-box project."
Opting for a neutral colour palette, he felt it was important to let the existing elements of the building shine. For instance, in the main dining room, a cloud-like sculpture by Dutch artist Peter Gentenaar made from plant and paper fibres hangs down to accentuate the high ceiling topped up by a skylight.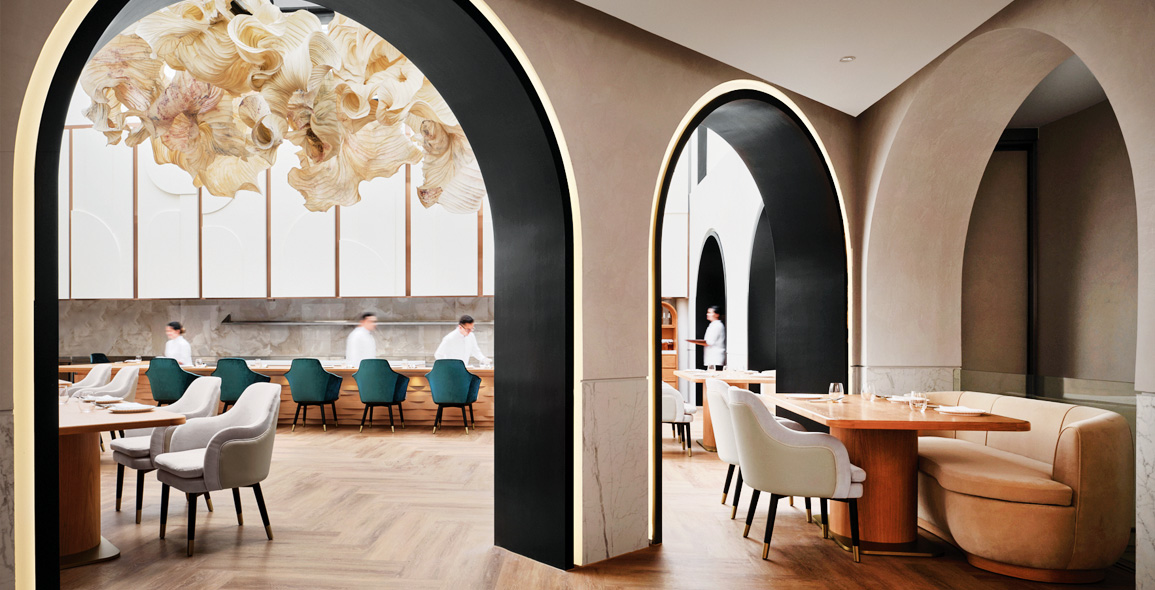 In the same area, the wall of arches is replicated on the second floor to give the effect of being in a theatre – appropriate since it hosts a show kitchen too.
The use of curved lines continues into other parts of the restaurant, such as the reception and bar, which both share an organically shaped, canopied structure made from metal and wood, painted in a stucco paint finish.
In reference to Tan's Chinese heritage, there are subtle references to it through the design elements on the door knobs and handles as well as artworks.
Other highlights include furniture customised and produced in Singapore as well as fabrics from Pierre Frey. "The concept is sublime and poetic; the idea is not to overwhelm the guest but awaken his senses."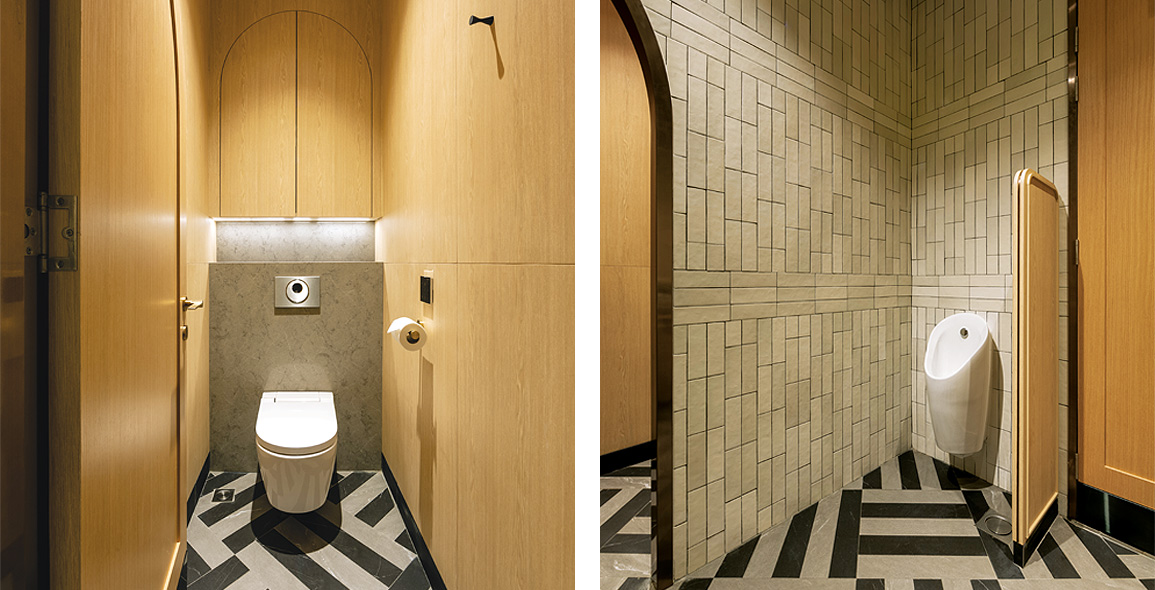 This continues on even in the bathrooms, fitted out with sanitaryware from Geberit. They encompass the Sigma Concealed Cistern and Duofix, Sigma10 Actuator Plate, Preda Urinal and AquaClean Sela shower toilet.
"We have worked closely with Geberit over the years and truly believe that it is one of the pioneers in sanitary appliances," explains Park.
"After visiting numerous showrooms with us, Chef Zor was pleased with Geberit's design and functionality and hence, we decided to use the products from them."
In sync with the ethos of BORN, clearly nothing but the finest is used for its interior design and it looks like it could very well be the best restaurant in town.
Geberit's distinctive products
Sigma Concealed Cistern and Duofix: Reliable, water-efficient, leak-tested and with a 25-year guaranteed spare parts availability, it also consistently scores high on the Water Efficiency Label.
Sigma10 Actuator Plate: Distinctive for its perfectly round shape, this collection has a water-saving, stop-and-go flush actuation that looks as good as it feels.
AquaClean Sela: This shower toilet has a purist form and rimless ceramic pan integrated with TurboFlush technology for a cleaner experience.
Preda Urinal: With its compact dimensions and frameless design, this ceramic appliance has direct access to the spray head, water seal and drainage system, making it easy to use and service.
For more information, visit: www.geberit.com.sg