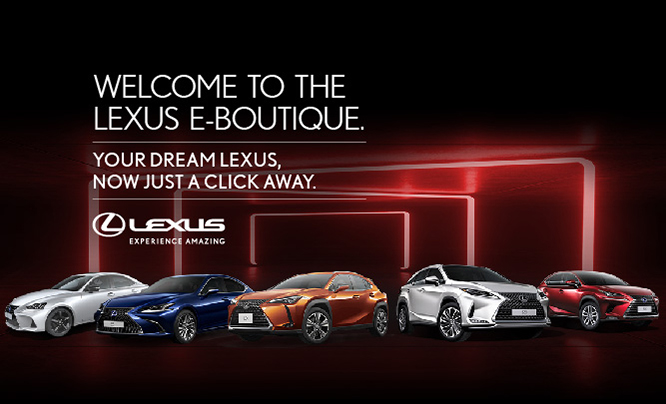 Thinking of buying a new car but prefer not to go to the physical showroom? Lexus Singapore has designed a one-stop e-boutique where you can drop in 24/7 to start the purchasing process.
Simply select the preferred model, choose the exterior and interior colours and click reserve from the comfort of home.
"Guided by one of our fundamental principles at Lexus, omotenashi, which is the Japanese art of exceptional hospitality for our guests, we launched the Lexus Virtual Interactive Showroom and Lexus e-Boutique," says Samuel Yong, Director of Marketing and Business Strategy, Borneo Motors Singapore, which distributes Lexus in Singapore.
"[It serves] as a comprehensive solution for our guests who still want to make their car purchases, but are concerned about leaving home [because of COVID-19]."
For instance, its compact SUV, the Lexus UX, is the perfect companion to zip around the city in.
There are four different versions, including a hybrid, and each has 11 exterior colours and five interior colours to pick from.
The rich, burnt-orange hue of Blazing Carnelian is one of the most popular, paired with the complementary Black Ocher on the inside.
There is even an online exclusive price, starting from $150,800 for a basic model. The reservation is secured with just a $500 refundable deposit.
Miss the actual showroom itself? There is a virtual interactive version on the website too, that easily walks you through its different sections, including the Lexus Gallery, Studio L and Crafted Coffee Bar.
"By unifying the offline and online experience, our mission is to deliver a seamless digital experience with the same high standards of quality, customer satisfaction and dependability, to meet the needs of all our guests," explains Yong.
"Several digital enhancements help deliver the best customer experience at every stage of the car purchase journey to guests, right at their fingertips.
"[For instance,] the Lexus Virtual Interactive Showroom provides easy access for visitors to download e-brochures, access the financial calculator and use the live chat for real-time enquiries."
Yong adds that since the launch of the e-boutique, they have seen a growing proportion of orders coming directly from it.
It has also helped to facilitate online-to-offline purchases and in-person car viewings and test drives.
With this move, Lexus not only demonstrates it is strong in design but design thinking too. Time to start clicking.