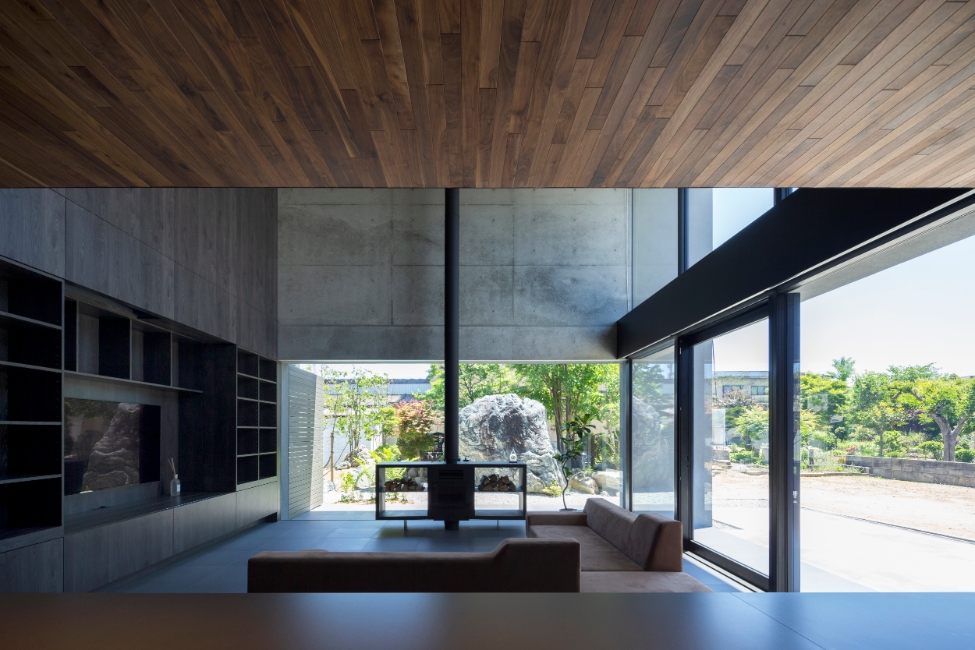 From the road, the SCAPE residence appears forbidding, with its solid, angular, concrete façade painted a dark grey. Walk to its opposite side though and the contrast is stark.
Lived in by a paediatrician and his family in Japan's Yamagata Prefecture, the house is designed by APOLLO Architects & Associates, and started off with the premise of borrowing views of a rock garden on the adjacent property belonging to the owner's parents.
To this end, Satoshi Kurosaki, APOLLO's founder and principle, ensured the facing of the living areas on the ground floor opened up to them.
"Large fixed windows offer views of the rock garden, bringing a sense of the shifting seasons and time into the living room and kitchen that gives them a resort-like mood," explains Kurosaki.
"The windows are intentionally positioned low to incorporate the lush borrowed scenery of the rock garden, while blocking lines of sight from adjacent houses."
A contributing factor to the architecture of the house was the heavy snowfall in winter – up to three metres at times.
This proved to be a challenge for Kurosaki, who had to work around the weather constraints without compromising on the "borrowed scenery".
As a result, he designed it to have deep eaves to ensure it was possible to have sliding doors along one length of the ground floor.
To further protect against the cold in winter, he adding a layer of polystyrene foam on the concrete façade, while insulating the wood-framed windows.
Within the rectangular building footprint, he acceded to the client's request for a "studio type of layout where they can feel each other's presence".
The living room sits in a double-volume space, looking out to the fireplace and rock garden. Behind it is an open kitchen and dining area.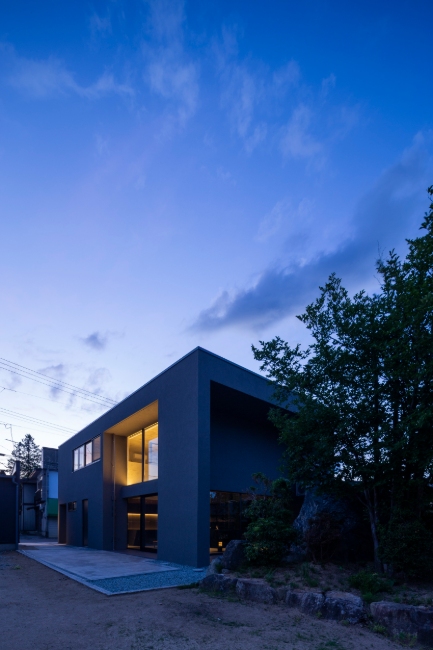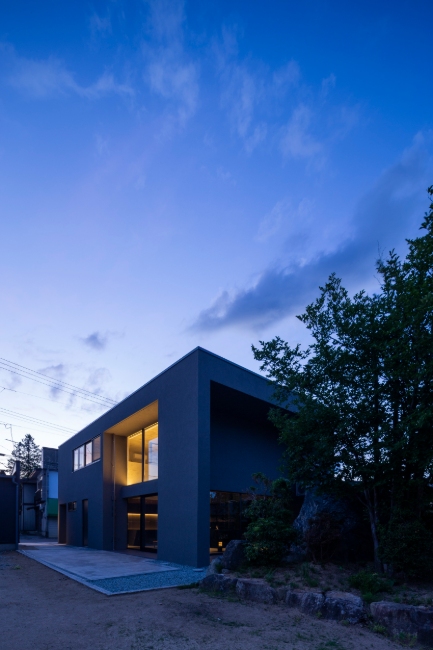 Built-in wall storage connect the three areas, enabling them to be clutter-free. The liberal use of off-form concrete on most of the floors, walls and ceilings is consistent with the façade.
Overlooking the void and down into the living room are the children's bedrooms. These sit alongside the master bedroom and private spaces up on the second floor.
"Floor heating, a wood-burning stove and insulated sash are used. Thus the interior stays comfortable even with huge void," says Kurosaki.
When the sun comes out though, everyone heads outside into the garden to interact with the client's parents, turning it into a communal space.
Since it was not build to the edge of the site boundary, the property still has space along its perimeter to add play and rest areas that can host visitors.
Describes Kurosaki, "In this sense, the residence reflects a traditional rural lifestyle that blends strong family ties with community connections, almost like a touch point between people in the city."
Enjoyed reading about this project? Read our latest issue 117 (August-October 2020), which focuses on residences from Singapore, Malaysia, China and Europe.
Photography:
Masao Nishikawa