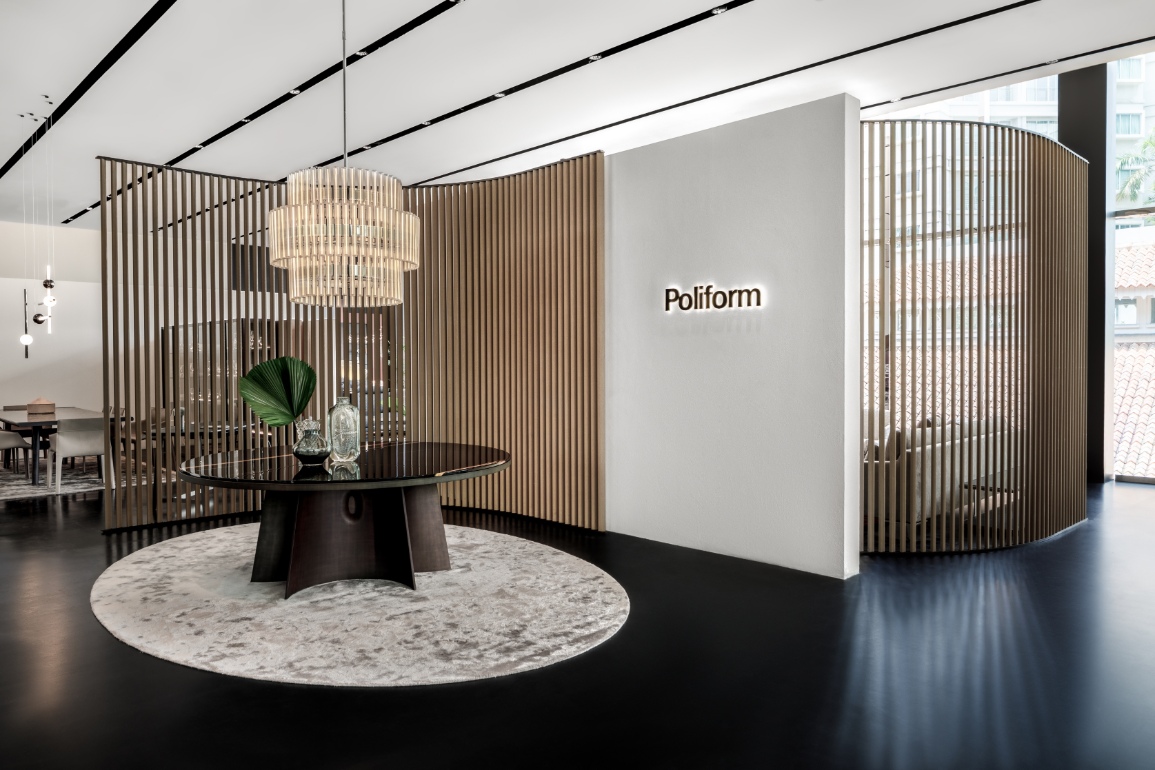 Space Furniture has unveiled a new look for the Poliform showroom in Singapore, completely transforming it in line with the shared vision of both teams.
Emerge from the lift on the fourth floor of Space and be greeted by a curvaceous screen made up of vertical timbre strips that offer a glimpse of the different sections that mimic a home.
The colour palette is light, with tones of taupe, sand and grey, accented by metals and oak, leading to a more feminine appearance.
There are separate areas for living, dining and wardrobes, united by threads of elegance and that contemporary style so sought after today.
A highlight has to be the Westside, designed by Jean Marie Massaud. While it looks like a sofa, a more accurate description would be system.
The multifunctional piece is sold in modules and can be configured as a two-face island to classic corner sofa.
A unique element is the movable backrest made with a thin, solid, toulipier wood base wrapped in leather.
Another piece is the Kay Lounge, also by Massaud. Elegant, lightweight and minimalistic, it sits well as a pair or individually, acting as an architectural accessory that comes in hide, leather or pony hair.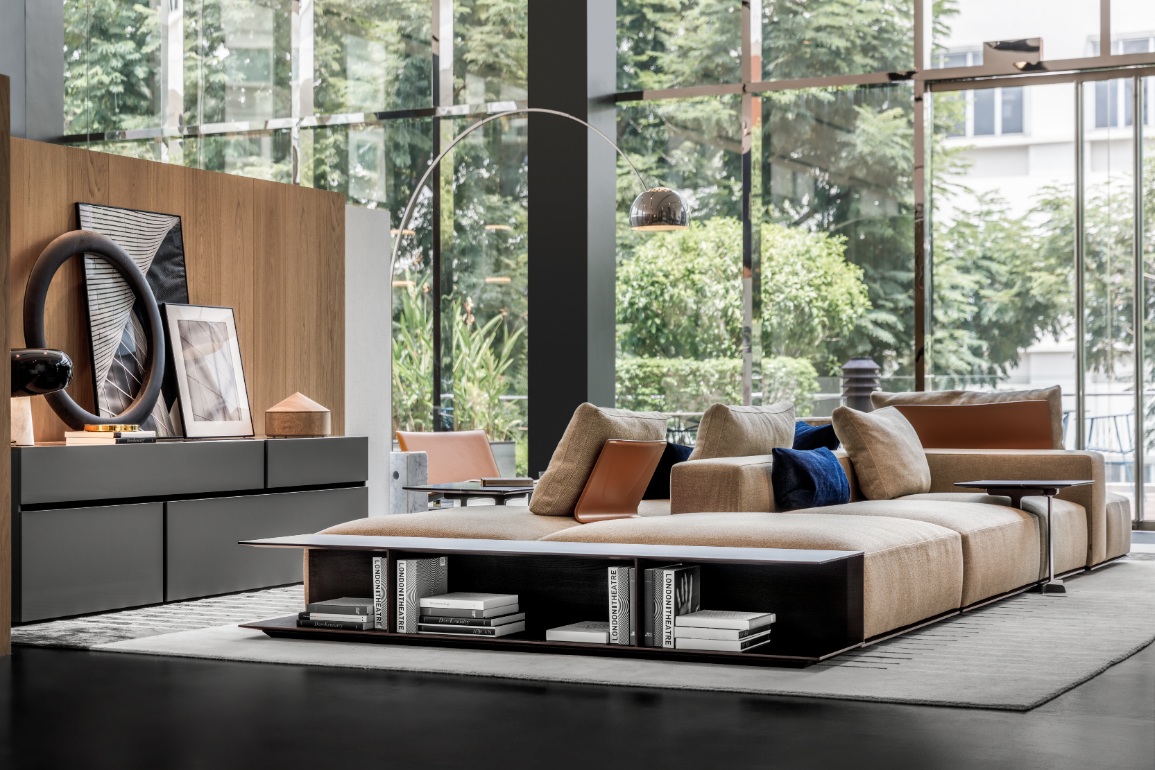 Westside sofa
On the wardrobe front, Space now displays three new models: Cover, Silk and Plus.
Cover has two door handle configurations to select from, with the option to wrap the 25mm door in techno-leather, developed by Poliform R&D in Italy from composite leather.
It offers a luxe, retail style thanks to the appearance of a natural leather grain, and is available in four colours of Elefante, Moro, Latte and Nocciola.
A more affordable option is Silk, which has a melamine door finish and when viewed up close, also has a leather grain to it.
Finally, Plus is a 25mm door with handles located side-by-side that can open in leaf or coplanar style. It comes in a high-end lacquer or timbre veneer finish.
Other updates from the brand's wardrobe collection include a lockable glass case and champagne-coloured metallic finishes.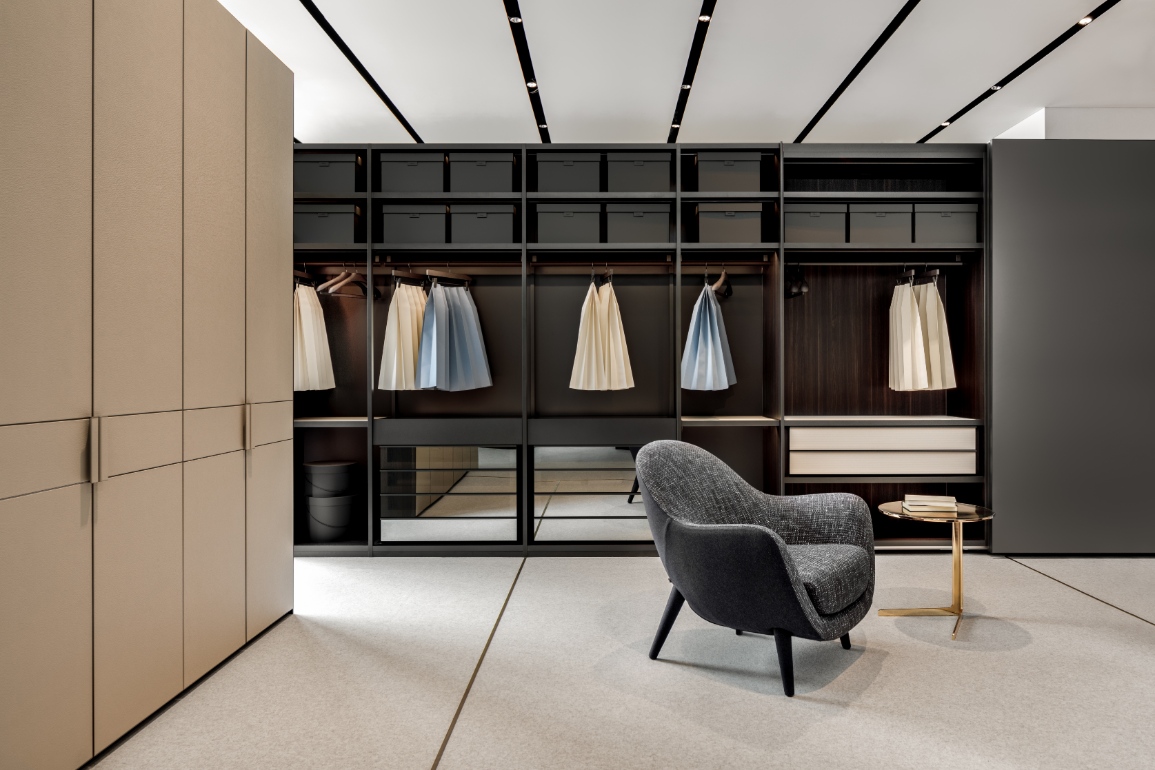 Cover wardrobe in beige
Whether for home or hotel, designers can be assured that these expanded offerings from Poliform will fit comfortably into any project they are working on.