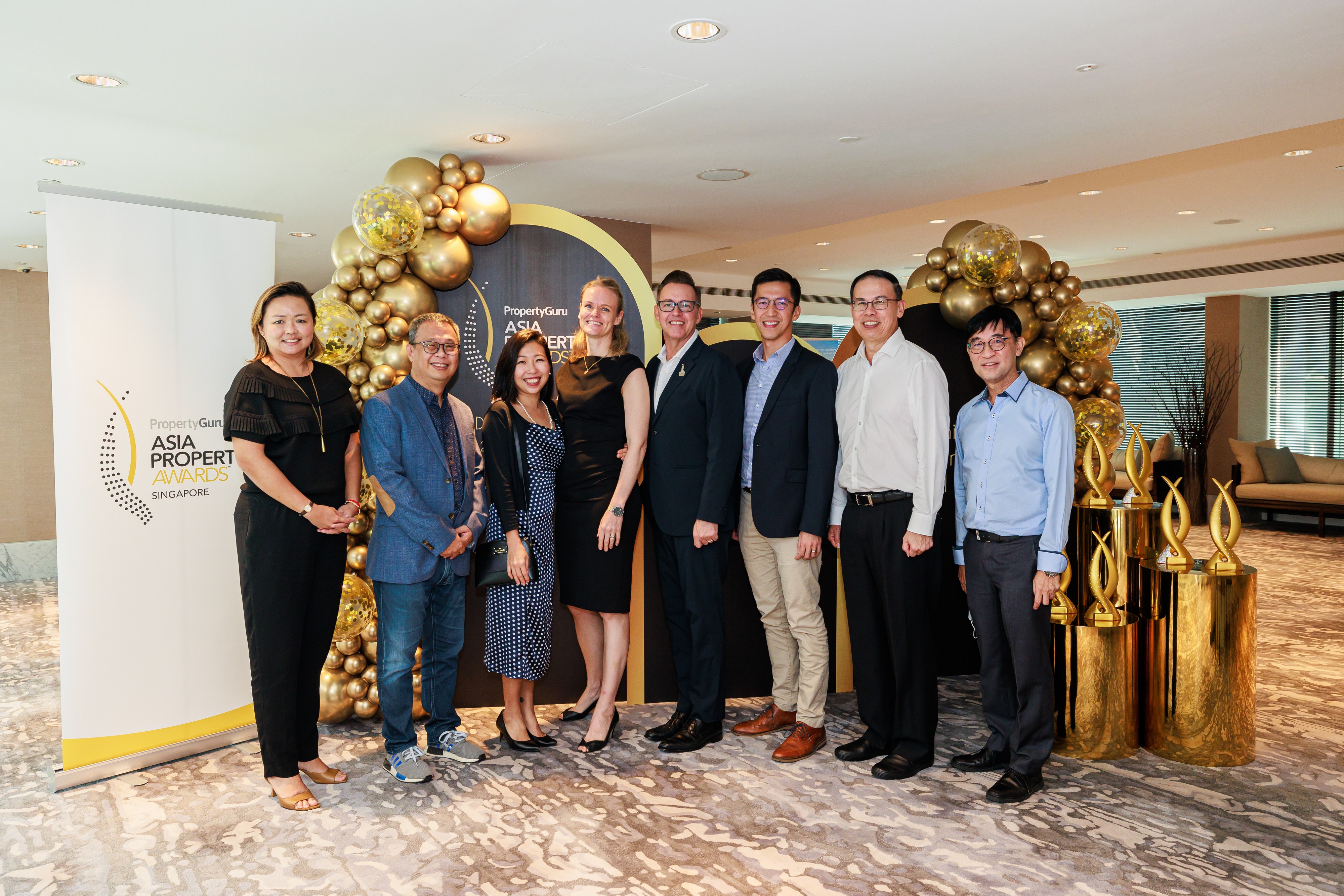 From left to right: Shyn Yee Ho-Strangas, Managing Director, Data Sense and Software Solutions, PropertyGuru; Dr. Tan Tee Khoon, Country Manager, PropertyGuru.com.sg; Joelle Chen, Sustainability Director, Singapore, Lendlease; Kristin Thorsteins, Awards Chairperson and Head of Partnerships – SEA, IWG PLC; Jules Kay, General Manager, PropertyGuru Asia Property Awards & Events; Henry Woon, Director, Atelier Ten; Teo Ho Pin, Senior Advisor, Managed Services, Surbana Jurong Private Limited; and Kah Poh Tay, Adjunct Associate Professor at NUS Dept of Real Estate
PropertyGuru is accepting nominations for outstanding property companies and real estate projects for the 12th PropertyGuru Asia Property Awards (Singapore). Eighty-one award categories are open for local and transnational developers.
Eligible companies can submit their entries and nominations at https://www.asiapropertyawards.com/ until the August 19 deadline.
New categories have been added to the awards this year, including Best Transnational Developer, open to companies with developments outside Singapore, as well as Best Luxury Developer.
Meanwhile, new titles will also be given to eligible residential projects in Singapore for Best Premium Condo Development, Best Waterfront Condo Development, Best Lifestyle Development, Best Wellness Condo Development, and Best Nature-Integrated Condo Development.
"Singaporean developers have kept the real estate industry dynamic even in these unprecedented times," says Dr. Tan Tee Khoon, Country Manager, PropertyGuru.com.sg.
"I hope that these companies will continue their innovations and push forward their projects with world-class concepts and design across all asset segments, and that they will remain committed to sustainability, green building and ESG (Environment, Social, Governance)," he adds.
Improving Sentiments
The Awards returns to Singapore at a time when property seekers in the city-state cope with shifts brought by the new normal and look to a better future, according to findings by the H1 2022 PropertyGuru Consumer Sentiment Study (CSS).
The study recorded an uptick in the overall Sentiment Index—a measure of current real estate satisfaction and overall climate, housing affordability, interest rates, perceived government efforts, and property prices by PropertyGuru.com.sg, Singapore's No. 1 property marketplace.
This uptick was driven by Singaporeans' positive outlook on future property prices, more reasonable perception of home loan interest rates, and better-perceived government efforts to make housing more affordable.
According to Jules Kay, General Manager, PropertyGuru Asia Property Awards & Events, "The number of quality developments, designs and development companies has grown every year and many of them have been instrumental in driving that growth.
"Singapore properties and developers always feature highly in the list of the Best in Asia. It's clear that as leaders in this field, they have set a standard in Singapore for others to follow. The PropertyGuru Asia Property Awards (Singapore) look forward to recognising their achievements this year and in the years to come."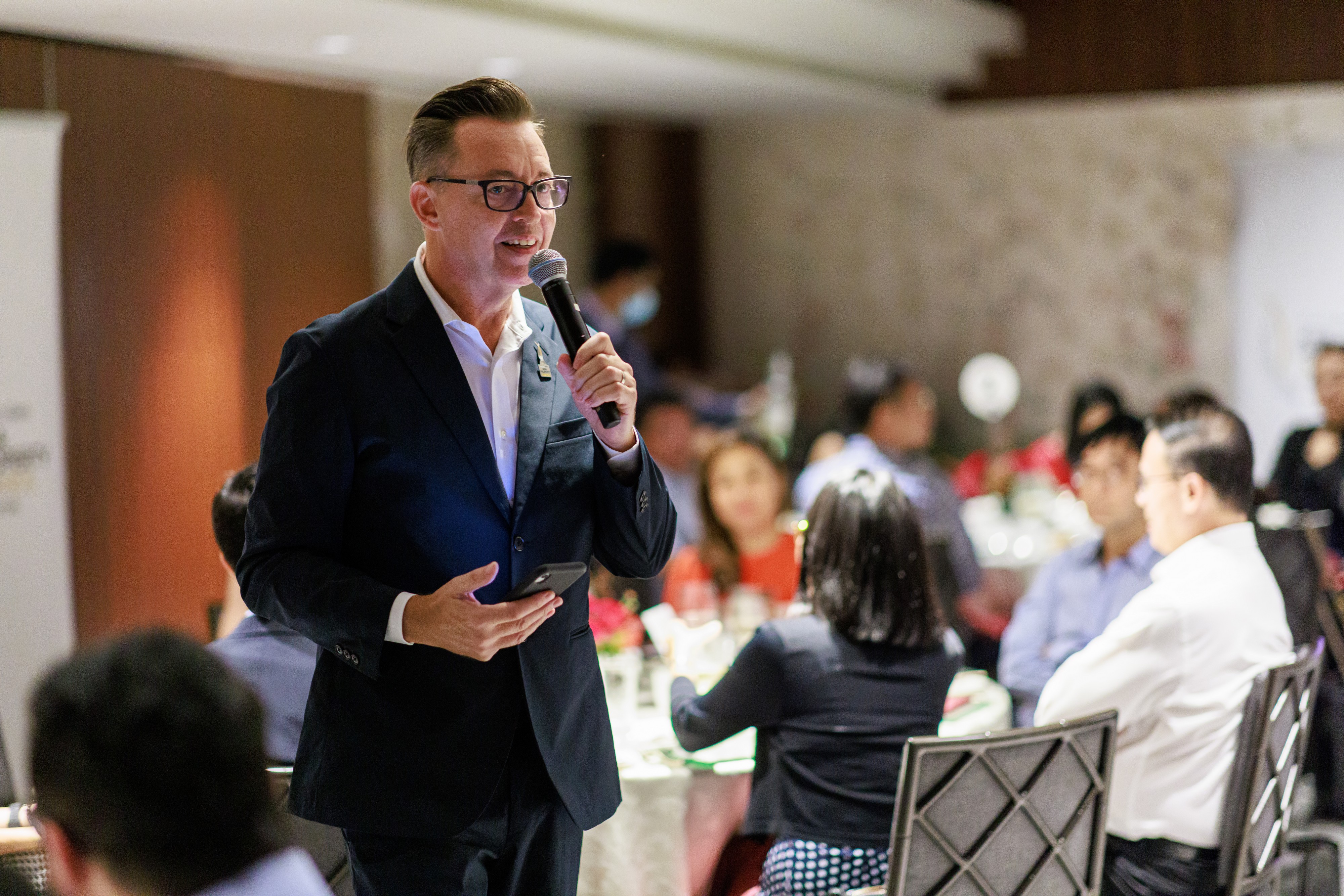 Jules Kay, General Manager of PropertyGuru Asia Property Awards & Events, delivers his opening remarks during the PropertyGuru Asia Property Awards (Singapore) Leaders' Luncheon on 12 May at The Capitol Kempinski Hotel Singapore
In Person, Live Stream
The in-person gala awards will be held on October 28 at Shangri-La Singapore. It will also be streamed live on AsiaPropertyAwards.com and other platforms.
The 2022 gala event in Singapore reaches consumers, investors and agents internationally by streaming live on AsiaPropertyAwards.com and digital platforms such as Facebook, YouTube, and LinkedIn. The PropertyGuru Asia Property Awards virtual gala series, which began streaming in 2020 and continued in 2021, has garnered around 1 million views to date across multiple channels.
From the Awards in Singapore, main country winners will proceed to the 17th edition of the PropertyGuru Asia Property Awards Grand Final in Bangkok, Thailand in December. They will compete with peers for Best in Asia honours.
At the 2021 edition of the Grand Final, companies from Singapore scored four regional wins, including the Best Hospitality Developer (Asia) title, which was presented to UOL Group Limited.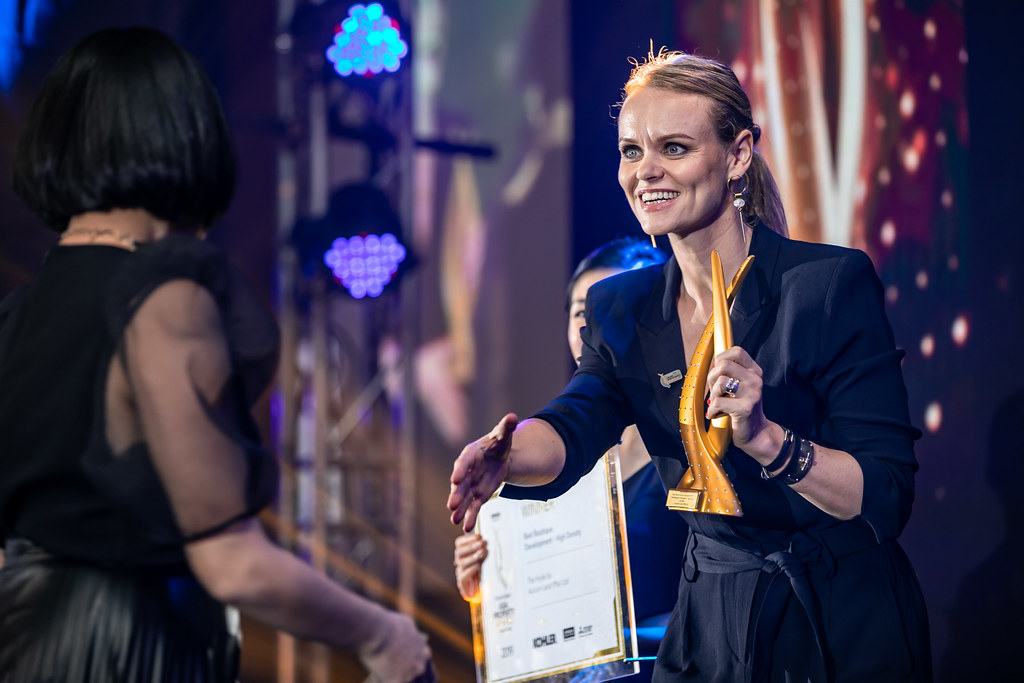 Kristin Thorsteins, head of partnerships for SEA at IWG PLC, presents an award at the most recent black-tie gala dinner of the PropertyGuru Asia Property Awards (Singapore) series. She serves as chairperson of the independent panel of judges for the awards programme
PropertyGuru Asia Property Awards - Key Dates
August 19 – Entries Close
September 5-28 – Site Inspections
September 29 – Final Judging
October 28 – Gala Event and Awards Ceremony in Singapore
December 9 – Regional Grand Final Gala Event in Bangkok, Thailand
Acknowledgements
The 12th Annual PropertyGuru Asia Property Awards (Singapore) programme is supported by gold sponsors Kohler and Mitsubishi Electric Asia Pte Ltd.; official portal partner PropertyGuru.com.sg; official magazine PropertyGuru Property Report; official channel partner History; media partner d+a Magazine; supporting associations Singapore Green Building Council and Singapore Estate Agents Association; official PR partner Artemis Associates; and official supervisor HLB.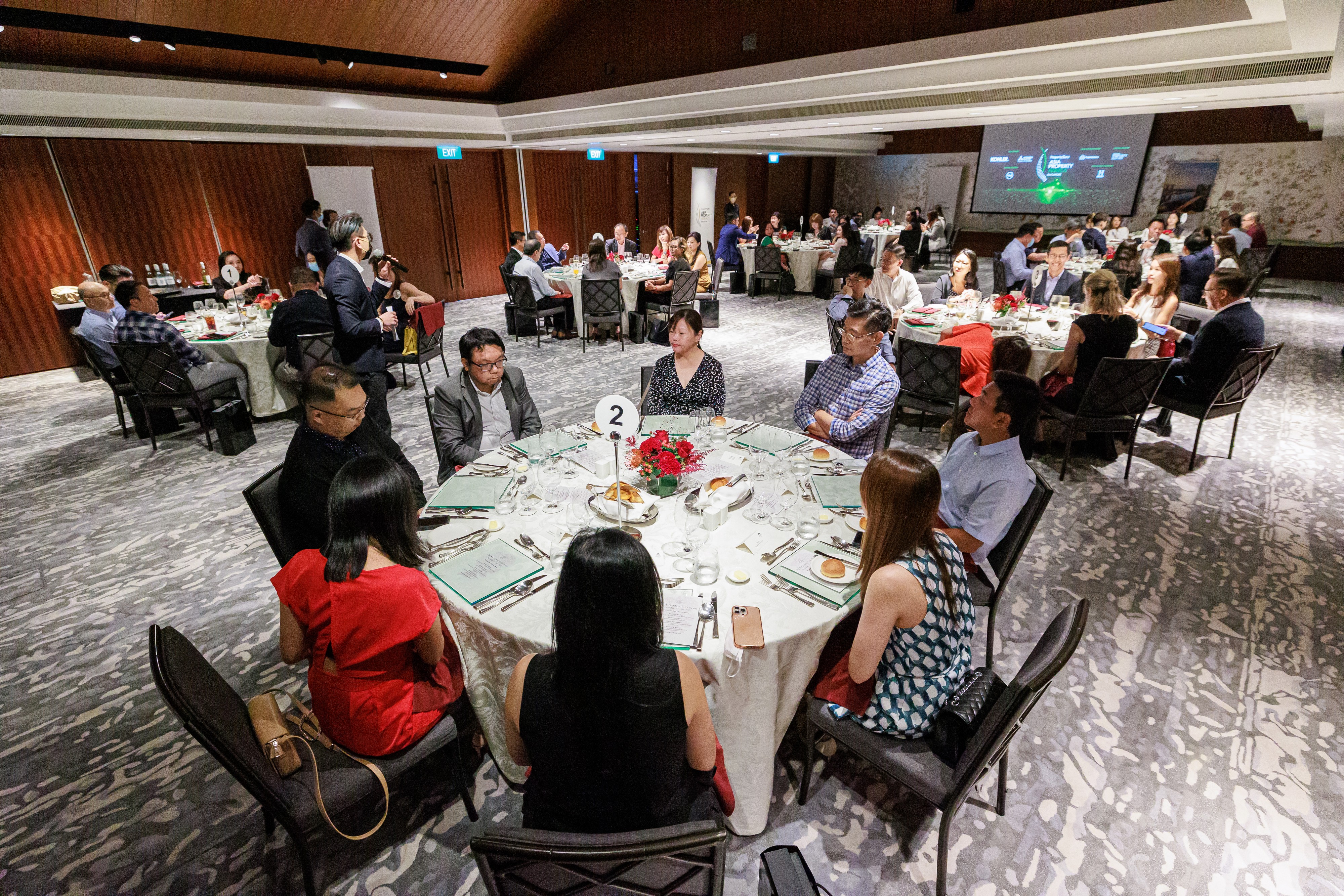 Prominent, senior real estate industry figures gather 12 May at The Capitol Kempinski Hotel Singapore for the leaders' luncheon celebrating the launch of the 2022 edition of the PropertyGuru Asia Property Awards (Singapore)