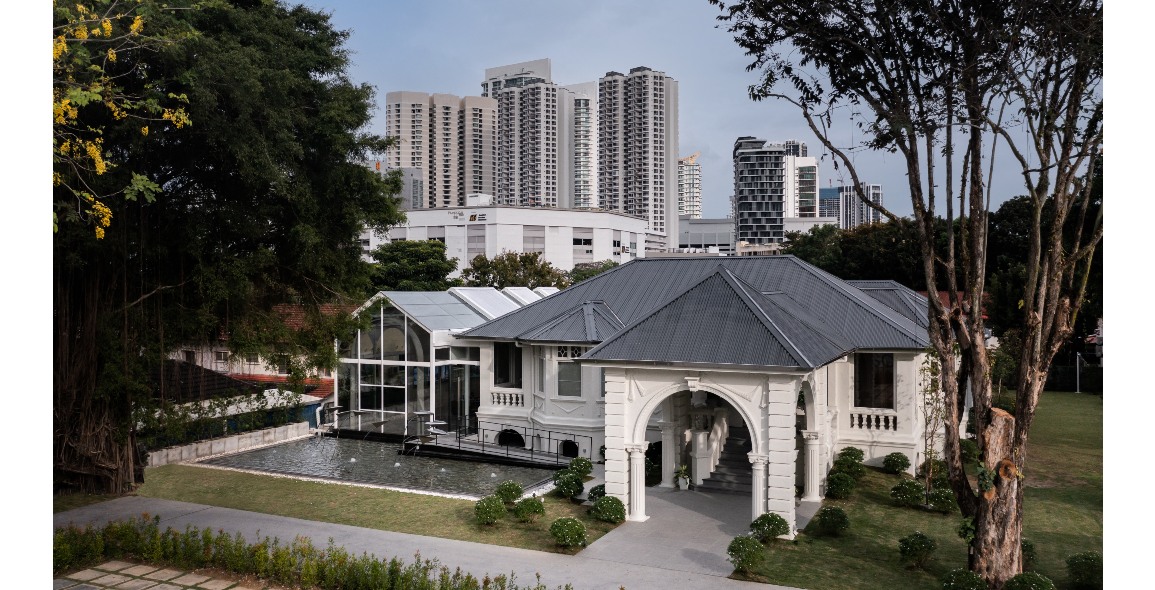 Heritage buildings dot Georgetown in Penang, Malaysia and lend immeasurable charm to the enclave, especially when they have been well restored.
The latest one is Rackson House, situated along Jalan Bagan Jermal, that has been transformed from dilapidated to delightful.
Responsible for the adaptive reuse is Mei Ee Architect, that turned it into Rackson Group's office as well as showroom for its latest mixed-use project, Penang Gateway.
In addition to the restoration works, the architect also added a multi-purpose annexe and saw to the landscaping of the grounds.
This has been sensitively done in a manner that maintains a sense of continuity with and respects the existing site.
Steel and glass are the extension's key materials, playfully contrasting against the embellished, white-plastered walls and columns of the original building.
A sense of unity is had through the similar use of a grey pitched roof.
The volume appears to merge into the surroundings thanks to its transparency; at the same time, the resulting texture exposes the narrative between the old and the new.
Another noteworthy point is how it has been inserted without touching the existing walls, seemingly possessing its own contemporary spirit, yet not distracting from the heritage building.
Skylights have been inserted and courtyard spaces formed, bathing the interiors in an abundance of natural light.
Horsetail grass stand soldier-straight in the pockets of outdoor areas but at the merest hint of a breeze, will start to sway gracefully, lending movement to what is otherwise a static scene.
Special attention has been paid to the garden that embraces three sides of the original building.
In place of a gate up front, a field of carefully grown grass has been planted to welcome visitors to enter.
A reflection pool sits right up against the base of the annexe, mirroring the building and Golden Shower Tree with its pretty yellow flowers that sits before it.
These details all point towards careful, considered thought given to the project, allowing not just the Rackson Group but Georgetown to add another heritage architecture jewel into its fold.
Photography:
Twjpto Studio