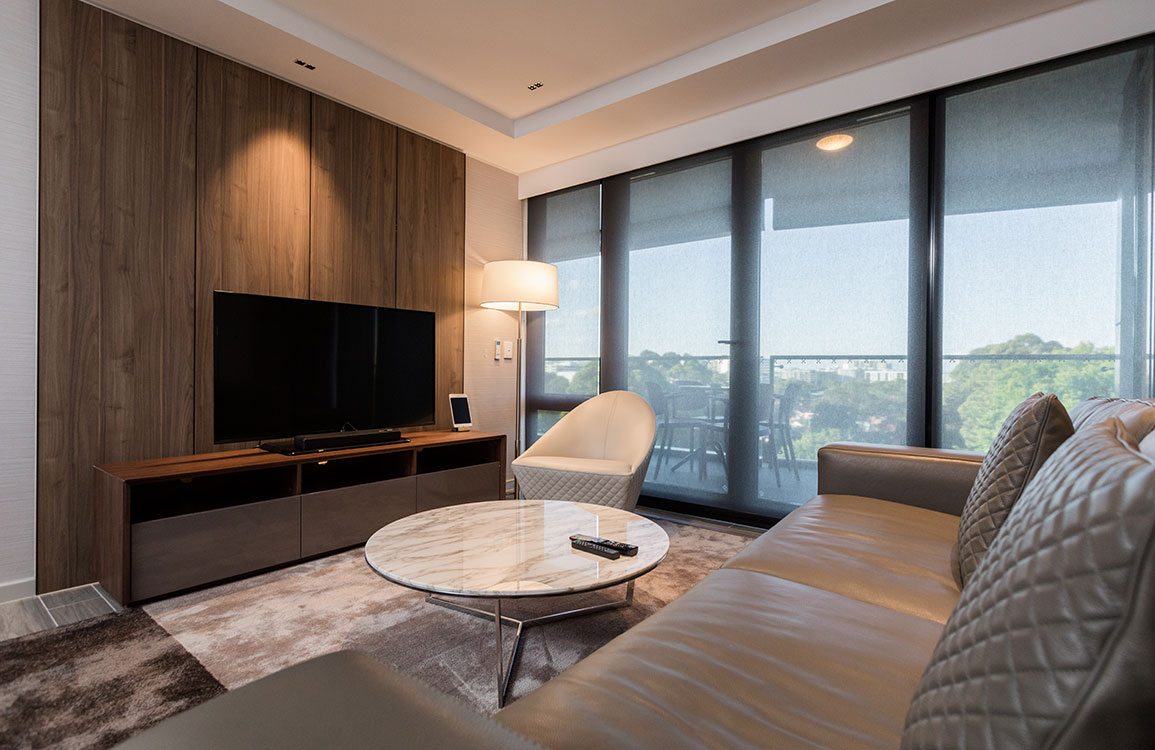 Designed by Index Design, a luxury hotel located in Sydney, Australia was unveiled to the public. Named The Branksome Hotel & Residences, the new property offers a total of 146 well-appointed apartments that combines a high level of functionality and sophistication in equal measure.
Consisting of one-, two-, three-bedroom as well as deluxe suites that are suitable for individuals, couples or families, the hotel contains accommodation designed to meet the specific needs of different hotel guests. With Marquis HQO at the helm of the furnishing process, the newly built hotel features a vast selection of high quality imported Italian furniture.
By working closely with the Index Design and owners of the hotel and understanding the design concept that drives the different suites, the resulting selection of furniture is a specially curated collection that not only adds a touch of sophistication, but also elevates the overall ambience of the hotel as well.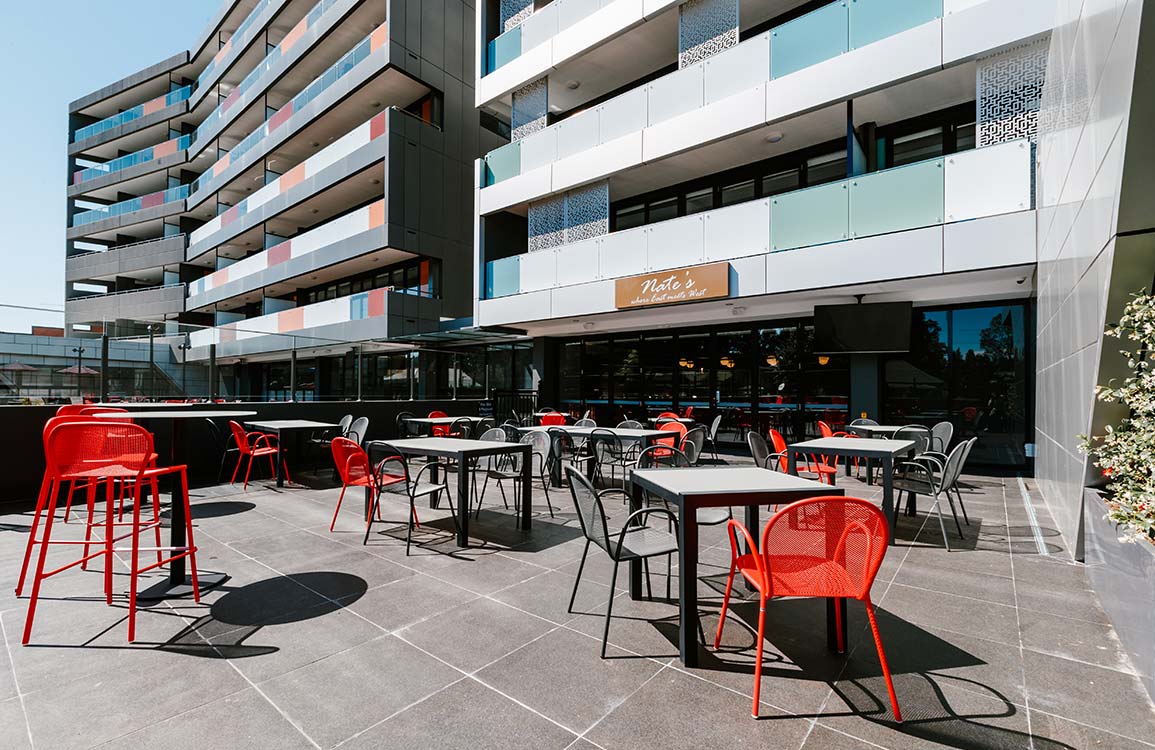 Ronda armchairs and barstools by Emu at Nate's
Located within the public spaces, Nate's – the hotel's restaurant and bar – allows visitors to sit back and relax in a series of armchairs and barstools by well-known outdoor furniture brand Emu. Made of a tubular steel frame, with a steel mesh seat and back, these comfortable yet robust chairs are highly stackable and portable, allowing it to be moved around easily. In addition, their grey and red shades add a dash of colour to the eatery, creating a lively atmosphere to accompany any dining experience.
At the poolside, guests can unwind on a selection of Emu's Yard lounge chairs and Cane-line's Diamond three-seater sofas. The former couples an ultra-lightweight and water-resistant aluminum frame with the collection's signature woven elastic straps, while the latter comprises materials that can withstand all types of weather. Together, these hardy and innovative pieces make up the perfect rest-stop for guests after a swim.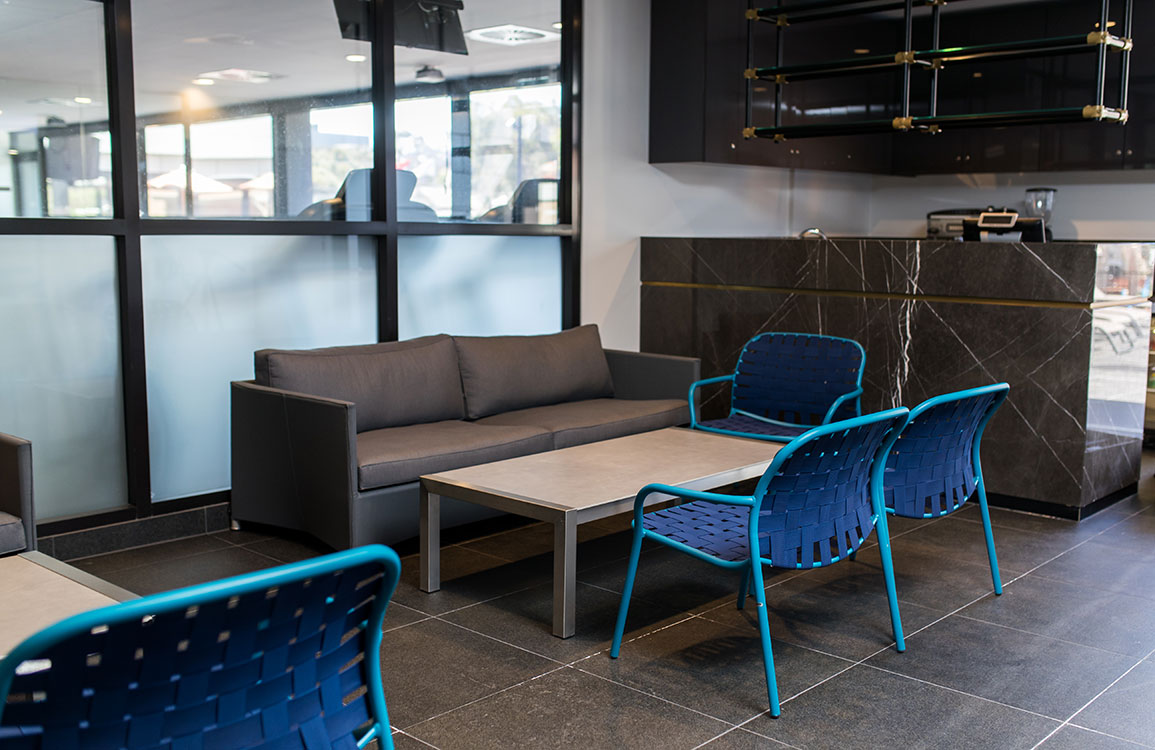 Lounge chairs from Emu and Cane-line's Diamond three-seater sofas adorn the poolside
Moving on, all the guest rooms feature earthy tones like brown, green, blue and grey, which imbues the space with a cosy ambience. But it is through the adornment of furnishings that truly transforms the rooms into a home-away-from-home.
For example, guests can look forward to a good night's sleep on the Cierre Thin bed. Although simple in design, the bed is beautiful and timeless with its delicate lines and finely crafted details that brings out the beauty of minimalism. Furthermore, the base and backrest of the bed is upholstered in soft leather, ensuring maximum comfort night after night.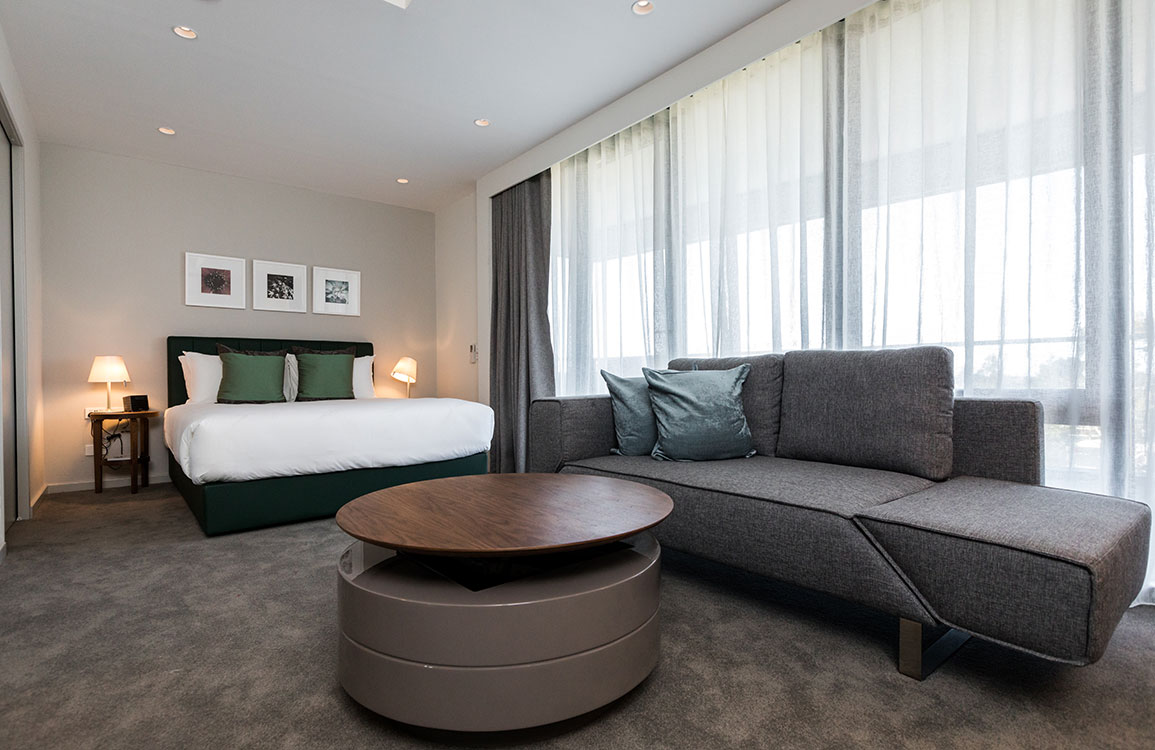 All guest rooms feature the Cierre Thin bed that offers maximum, luxurious comfort
Over at the Bournemouth Deluxe Suites, guests will be greeted by the elegant Alivar's Harpa coffee table. With a beautiful marble tabletop that's held up by a steel frame and chrome finish, the sophisticated table anchors the living room with its distinctive and refined look. Over in the bedroom, the space is accented by a Porada's Ziggy side table. Made from a canaletta walnut frame with a luxurious marble top, the stunning side table further elevates the classiness of the suite with its contemporary design.
However, it is the Lyndhurt Deluxe Suites where no expense has been spared. Flanking the Alivar's Harpa coffee table is the Lof's Interior Diamond Sofa and the Lof's Interior Swivel Armchair where guests can sink into. Both seating arrangements are fully upholstered in luxurious leather, which adds to the space an air of sophistication and gracefulness that is akin to royalty.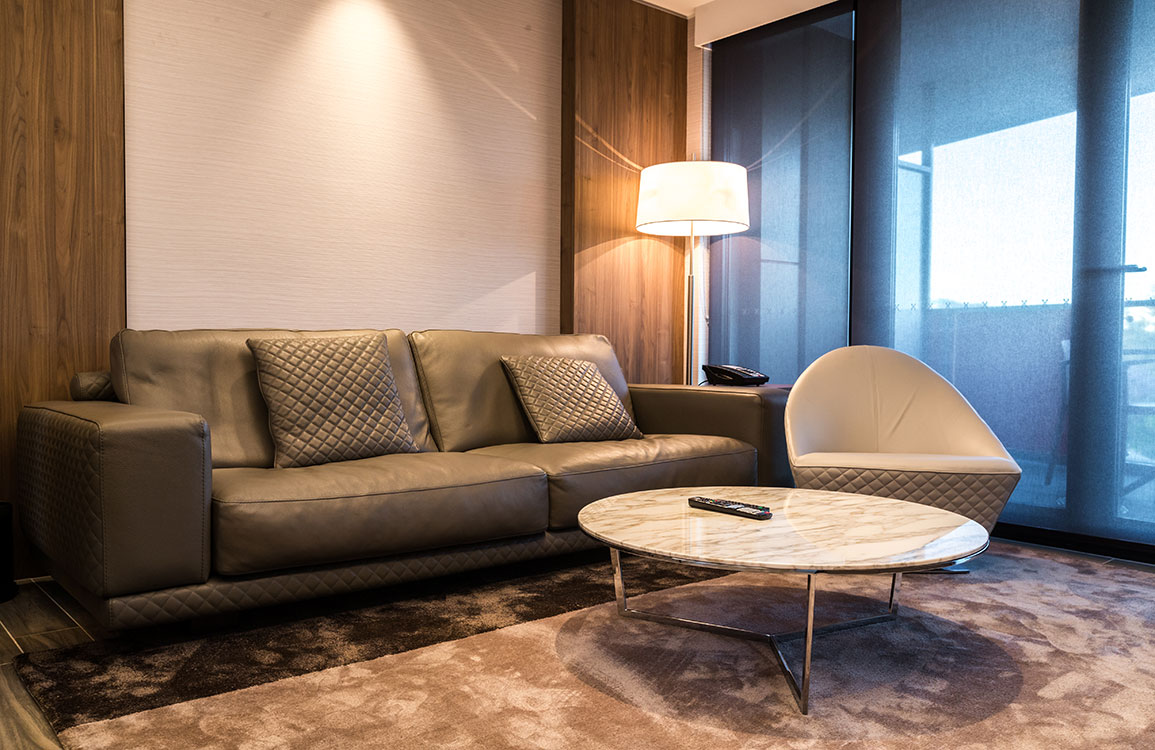 Lof's interior Diamond sofa and Coco swivel chair and the coffee table from Alivar Harpa
In the dining room, a handsome Porada's Jean dining table takes center stage. Uniquely-designed, this statement piece has a highly distinctive elliptical metal base with cut-out holes that are visible through the glass table top. Complementing the table are dining chairs from Airnova's Maryl collection. Boasting a beautiful softly curved silhouette that's fully upholstered in leather, the elegant chairs add a contemporary touch to the overall space.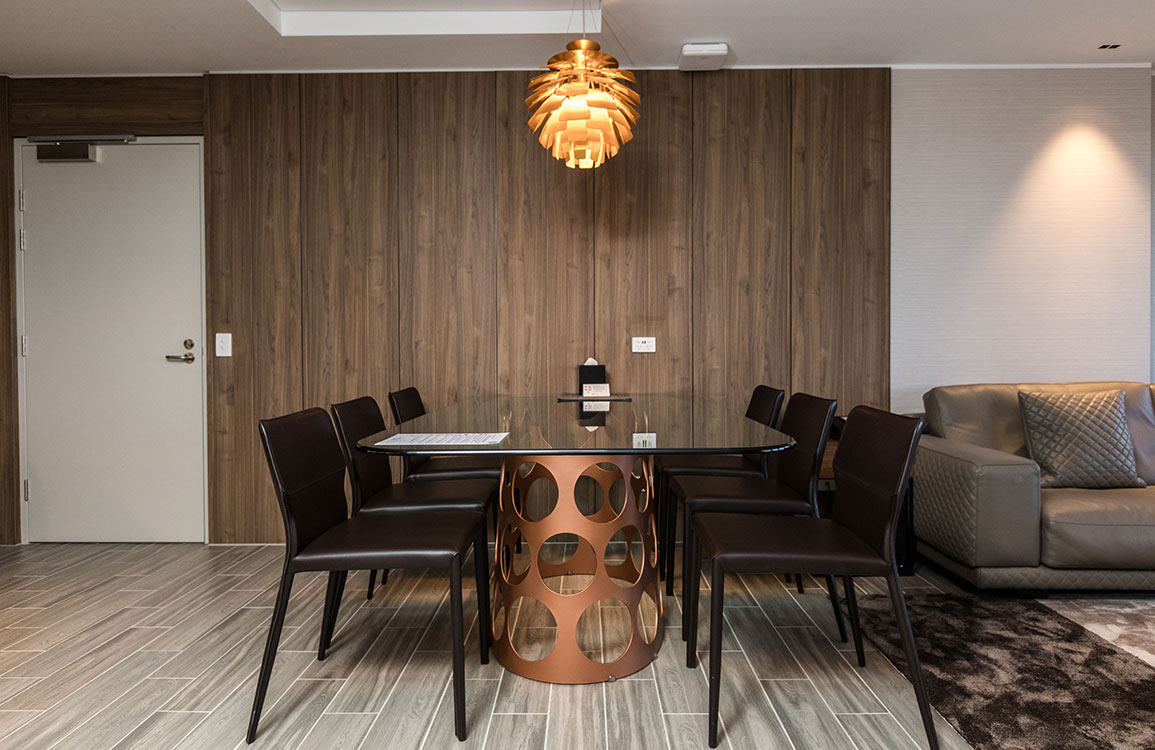 Jean dining table from Porada complement chairs from Airnova's Maryl collection
With so many stunning pieces supplied by Marquis HQO in both their indoor and outdoor zones that promises their guests an unrivalled experience of luxuriating in comfort, The Branksome Hotel & Residences is a must-visit for all locals and tourists in Sydney.
This story is brought to you by Marquis HQO.