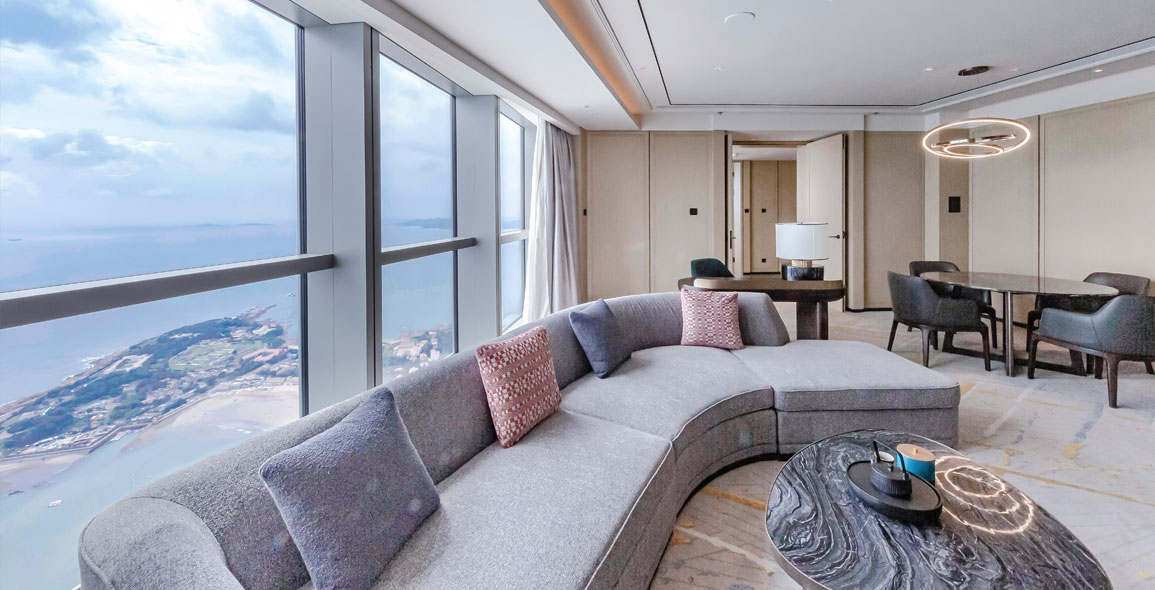 LTW Designworks has recently completed the design of The St. Regis Qingdao in China's north-eastern Shandong province.
The luxury hotel occupies the 58th to 78th floor of the tallest building in the city, the Haitian Center, affording it unrivalled views of the coastal city.
Naturally, LTW's founder Lim Honglian took cues from the location to design the property's interiors, melding them with the St. Regis brand's classic-contemporary style.
In the 233 guest rooms, which include 30 suites, the palate is soothing with hues of gold and grey punctuated with accents of turquoise that recall the sea.
Especially distinctive is a wood carving backplate above the bedside table in the pattern of the camellia flower, the official flower of Qingdao.
Sitting comfortably amid the luxurious elegance are switches and sockets from the LS 990 Dark collection from JUNG.
Clad in lacquered aluminium for a more radiant expression, they have their operating functions clearly engraved in English and Chinese for guests to easily navigate.
Another advantage: its pure form derived from straight lines, allowing this classic to fit harmoniously into a 21st century setting.
The LS 990 Dark can also be combined with frames and covers in other colours and materials, demonstrating a versatility that suits any design style.
Little wonder then that Lim would choose to collaborate with JUNG on this prestigious project.
This story is produced in collaboration with JUNG. It first appeared in Issue 123: March 2022.