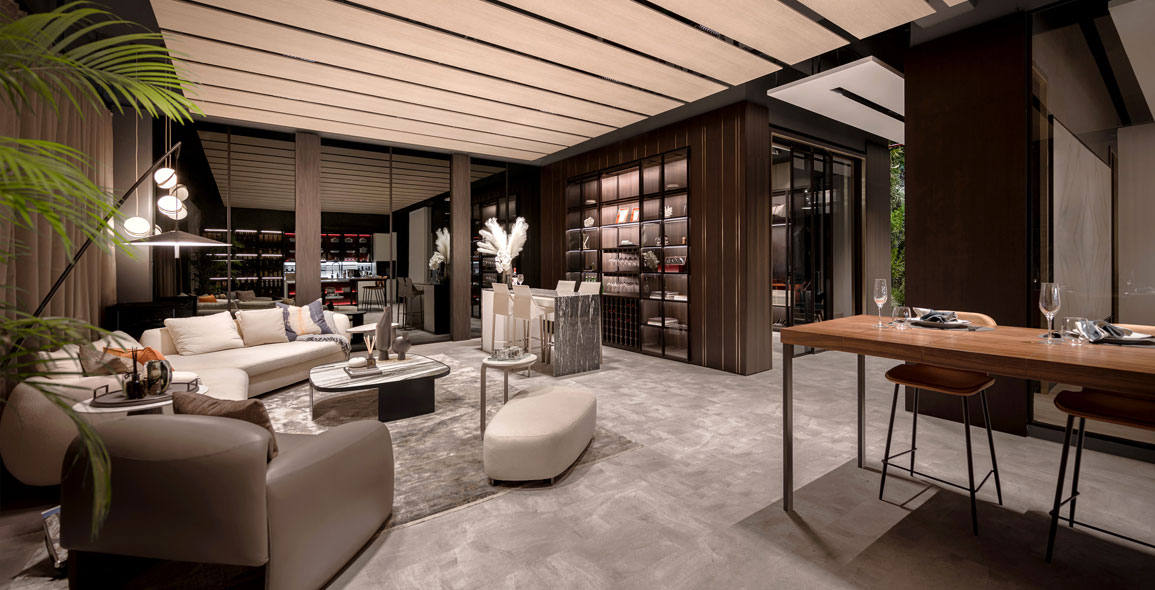 With its spray-lacquered feature walls, custom-patterned glass and wood veneers, an 800ft2 apartment on the 27th floor of the new Seaside Residences in Singapore's East Coast has been transformed into a luxurious abode.
Making it possible was Kuhlmann International, a nearly century-old German home interior solutions that has just launched its experience centre in Singapore.
Far from being just another service provider, it stands out for its modular, customisable offerings for the kitchen, wardrobe, storage systems, loose furnishings and architectural interior finishes.
Visit the 3,000ft2 experience centre at Kallang Place to understand how Kuhlmann is rooted in solutions using German technology merged with the artistry of Italian design.
Materials are carefully chosen to complement and withstand the design and weather conditions of a project, ensuring quality and durability for long-term use.
It also integrates seamlessly with top German brands like Blum, Hafele and Hansgrohe.
Apart from homes, Kuhlmann's solutions are also suited for hospitality and commercial projects.
Examples include the Empire Hotel (New York), Four Seasons Hotel (Shenzhen), Beijing Four Seasons Hotel and The Emerald Seattle.
Leading the team in Singapore are Creative Director Simon Chiang and Project Director Sonia Anya Tay, who work with developers, home owners and designers from conceptualisation to execution to design a space based on the extensive catalogue of designs.
Chiang is an award-winning, architecturally trained designer who has worked in firms such as SCDA, Surbana Jurong and Safdie Architects.
The Seaside Residences apartment is the perfect archetype of what Kuhlmann is capable of, where Chiang was guided by the brief, condominium's architecture and unparalleled views of the sea.
Despite its long and narrow layout, he was able to design a space that is contemporary, homely and comfortable.
Among the highlights include a display case in the living room of the owner's art collection and comics, the walk-in wardrobe and hotel style bedhead with an integrated back lit LED.
Says Chiang, "The breadth of Kuhlmann's catalogue has enabled me to design a home with strong coastal vibes that also optimises the lofty space, giving it a feeling of luxuriousness and airiness."
This story is brought to you by Kuhlmann International. It first appeared in Issue 122: Dec 2021.
Images:
Kuhlmann International