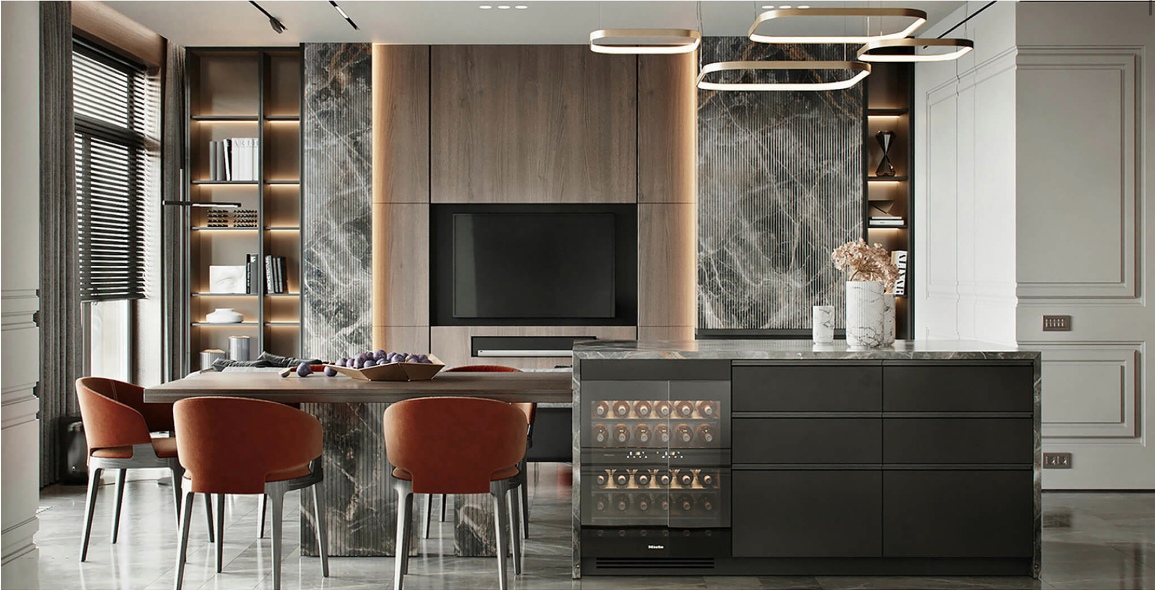 A home for entertaining but also doubling as a retreat.
This is what PI Architects was asked to conceptualise for a family of four, who had bought a newly constructed detached house off Hillview Avenue.
Since they were already part of Kuhlmann International's Affiliate Architects Program, the firm naturally decided to work with the interior carpentry and modular construction specialist.
The outcome was a slew of solutions spread across different parts of the house, such as a feature wall that doubles as storage in the family area and built-in furniture with luxurious stone and glass finishes in the living and dining rooms and kitchen.
"There's a comfortable synergy between the PI and Kuhlmann team," says Ivan Soh, Founding Partner at PI Architects.
"Bouncing off ideas is a breeze as both sides are very optimistic when it comes to designing quality spaces with quality products."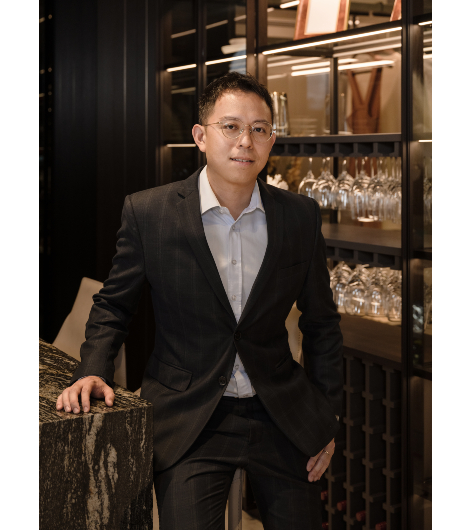 Ivan Soh, Founding Partner, PI Architects
Established in 1923, Kuhlmann prides itself on being a leader in home solutions, crafting kitchens, wardrobes, accessories and quality home interiors using German technology and Italian artistry.
Its recently launched Affiliate Architects Program builds upon this strength and functions as a project management arm for architects and interior designers.
Among the capabilities it offers include providing detailed layouts based on initial drawings, sourcing for the appropriate Kuhlmann products to fit into a design and overseeing cost management.
This it can do for landed residences, good class bungalows and condominium units of any size.
An experienced and competent group supports the Program, known as the Kuhlmann Interior Solutions Team.
Leading it is Project Director Sonia Anya Tay, who plays a key client relationship role from the initial contact.
Also working alongside Tay is Matthew Kek, a manager in charge of design and project management, who graduated with a Masters in Architecture from the University of Melbourne.
Kek professes to embrace a multi-disciplinary approach to enhance and design eco-systems with Kuhlmann's comprehensive and modular range.
Spatial design creatives keen on finding out more about the Program can start by visiting the Kuhlmann Experience Centre.
The showroom displays the breadth of the brand's offerings, mocked-up as spaces found in residential and hospitality settings.
It also collaborates and distributes fittings and soft furnishings such as those from Hansgrohe, Liebherr and Franke.
Also part of the Program are Samson Tan and Richie Wong, who are the Managing Director and Senior Associate Director of Staarch, respectively.
They share how thrilled they are to be partnering Kuhlmann as it understands their needs and clients' requirements very well.
"This has certainly enabled a smooth facilitation of our work. With the superior products from Kuhlmann, coupled with the efficient service of the team, we are confident that our clients will be more than satisfied with the quality of their homes," they say.
This story is brought to you by Kuhlmann International. Click here for more information on the Affiliate Architects Program.
Images:
Kuhlmann International