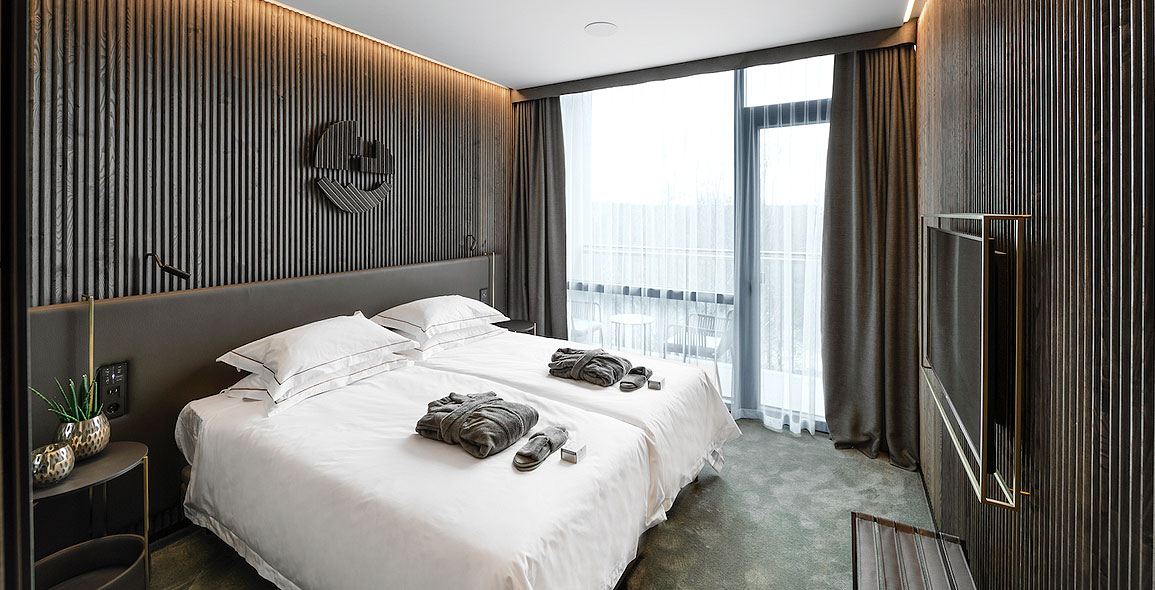 Approximately 130km away from Vilnius, the capital of Lithuania, is the spa town of Druskininkai.
Nestled in its heart is Amberton Green SPA, a new wellness resort with a strong focus on sleep-related therapies.
The property is conceptualised by Lithuanian designers Arches Architektūros Studija and adopts a contemporary style inspired by the silver pine tree.
To complement the architecture, the KNX Smart System from JUNG is installed in the rooms.
This helps to control the various electronic features, such as the lighting and multimedia, in a convenient and energy-saving manner.
The interface is made up of the F40 pushbuttons in the LS 990 design; the Dark version blends unobtrusively into the elegant and natural interior design language.
The KNX is part of JUNG's Hospitality Solutions, created in response to the industry's need to constantly and creatively reinvent itself to meet the changing demands of increasingly sophisticated guests.
At the same time, it is an intelligent solution for operators to increase efficiency and reduce energy costs by up to 30 percent.
The possibility of integrating it with a hotel management software means rooms can be pre-programmed to ensure the temperature is at an optimum level when the guest enters it.
Another attractive feature is the carbon dioxide sensors that monitor indoor air quality; windows can be opened or ventilation systems activated when levels rise.
Hotel operators who have multiple properties can synchronise the KNX System across their entire portfolio for a more consistent guest experience.
Far from looking cold and sterile, JUNG's products are in fact renowned for balancing form and function.
Intuitive symbols on switches, push-button sensors and room controllers make the functions easy to operate.
For instance, in addition to the selection of 63 original colours from the Les Couleurs® Le Corbusier series, the JUNG LS 990 classic switch also offers high-quality metal designs made of chrome, stainless steel or gold plating.
The LS ZERO system can also be flush mounted to flow harmoniously with walls or furniture.
With so many attractive features and benefits, it is really no surprise Arches Architektūros Studija chose to install JUNG's products in Amberton Green SPA Druskininkai, guaranteeing guests an unforgettable, good night's rest.
This story is produced in collaboration with JUNG. It first appeared in Issue 121: September 2021.