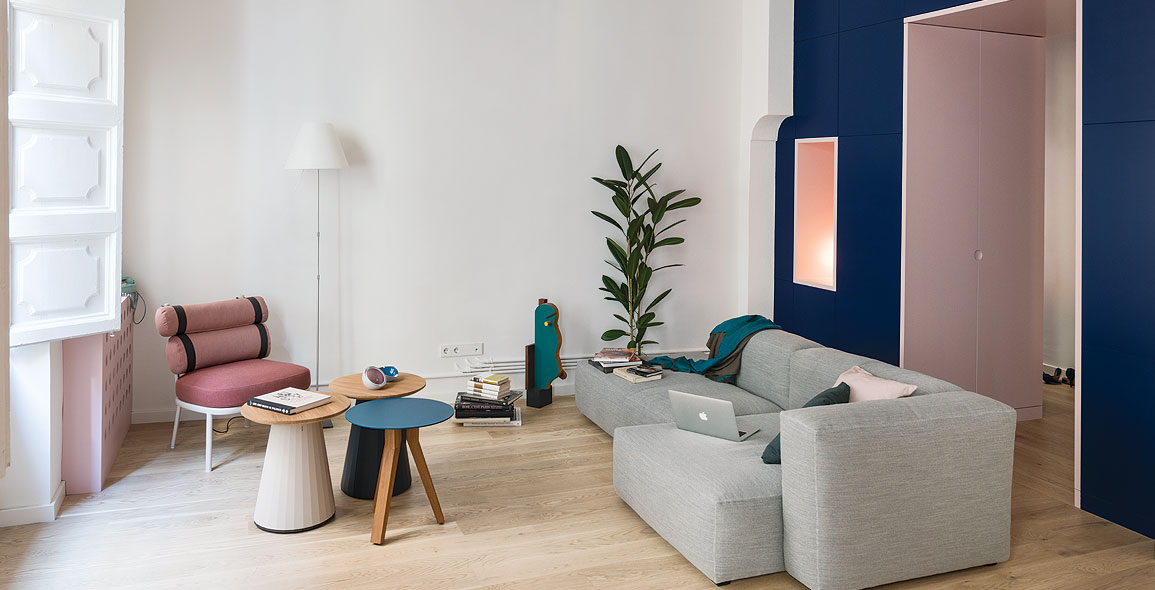 CASA 1302 A TERRASSA
ARCHITECT: HARQUITECTES
This apartment has undergone an extreme makeover. Only the outer walls and staircase bear witness to what it used to be. The rest of it has been restyled through inserting three wooden "boxes" into the ground and upper floors to segregate the spaces. An industrial charm permeates, with unplastered brickwork, exposed rafters and planks of wood in place of walls. Matching it all is the JUNG LS CUBE switch, wall-mounted so it stands out.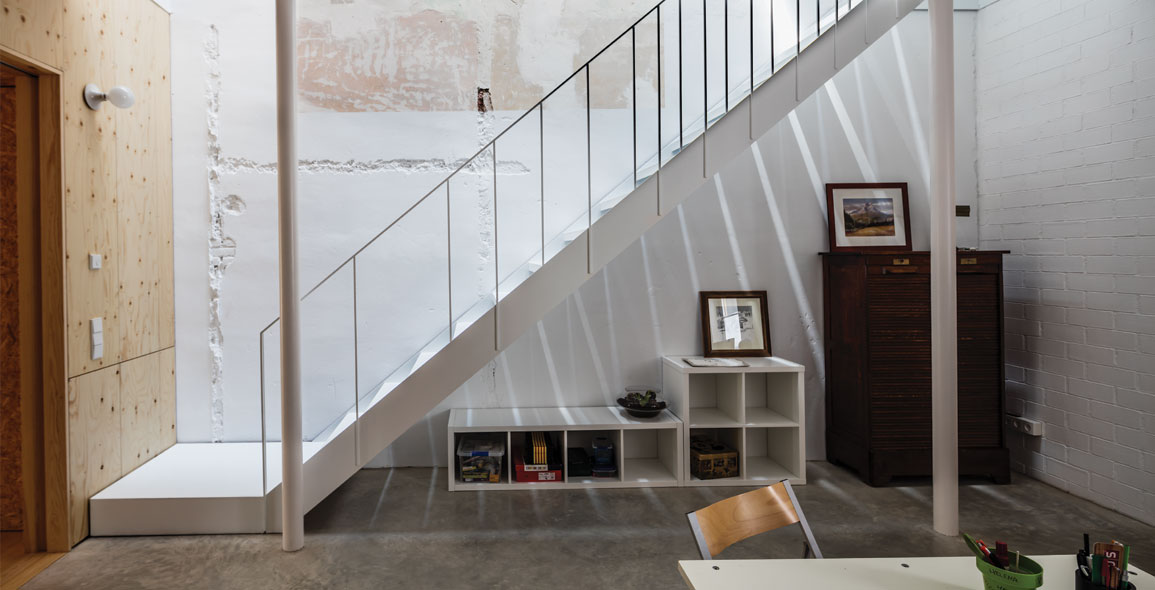 FONT 6
ARCHITECT: MARGHERITA SERBOLI ARQUITECTURA
The Catalan Art Nouveau style is transposed to present-day in this 75m2 apartment in the Eixample quarter, a stone's throw from the Sagrada Família. Overhead, the false ceiling was removed and the original Catalan vault exposed. Anchoring the space beneath it is an island with blue panels on the side. More colours like warm pink, coral, white and azure are found throughout, further accented by the JUNG design classic LS 990 switch in aluminium and anthracite.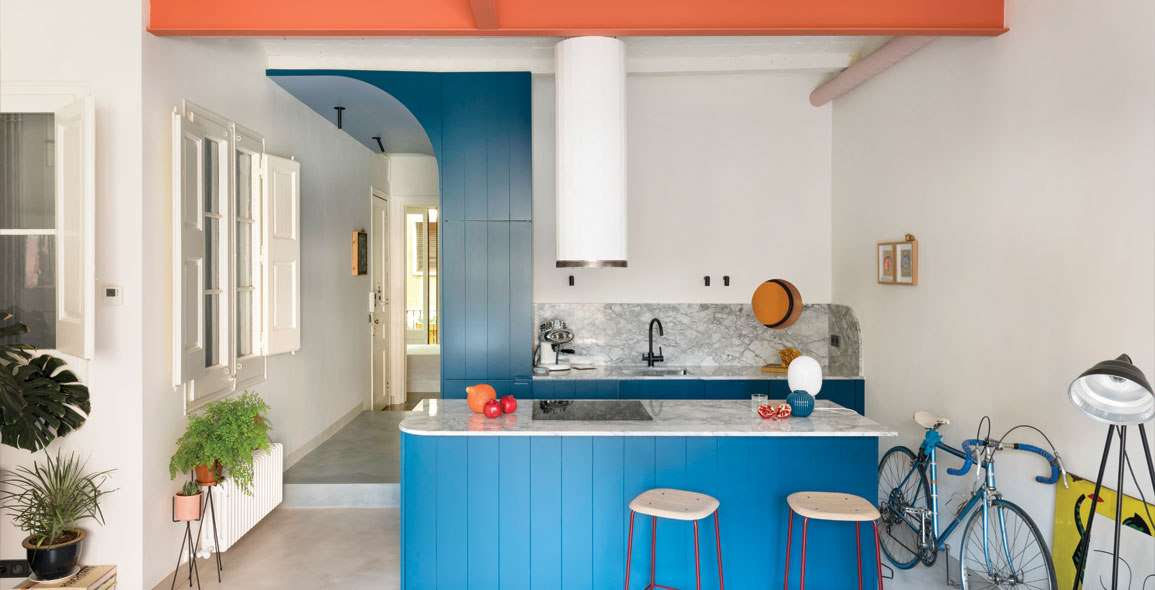 APARTMENT IN BORN
ARCHITECTS: COLOMBO AND SERBOLI (CaSA)
With 4m-high vaulted ceilings, large windows and thick brickwork, there is much to appreciate about this renovated apartment in Born, Barcelona's oldest district. Its design style is now light and airy, made possible through colours like warm pale pink, grey and deep blue. By the kitchen, a partition doubles up as a wardrobe, its bright orange giving it a cheerful lift. Amid it all, the JUNG design classic LS 990 switch in alpine white unobtrusively blends in with the interior design.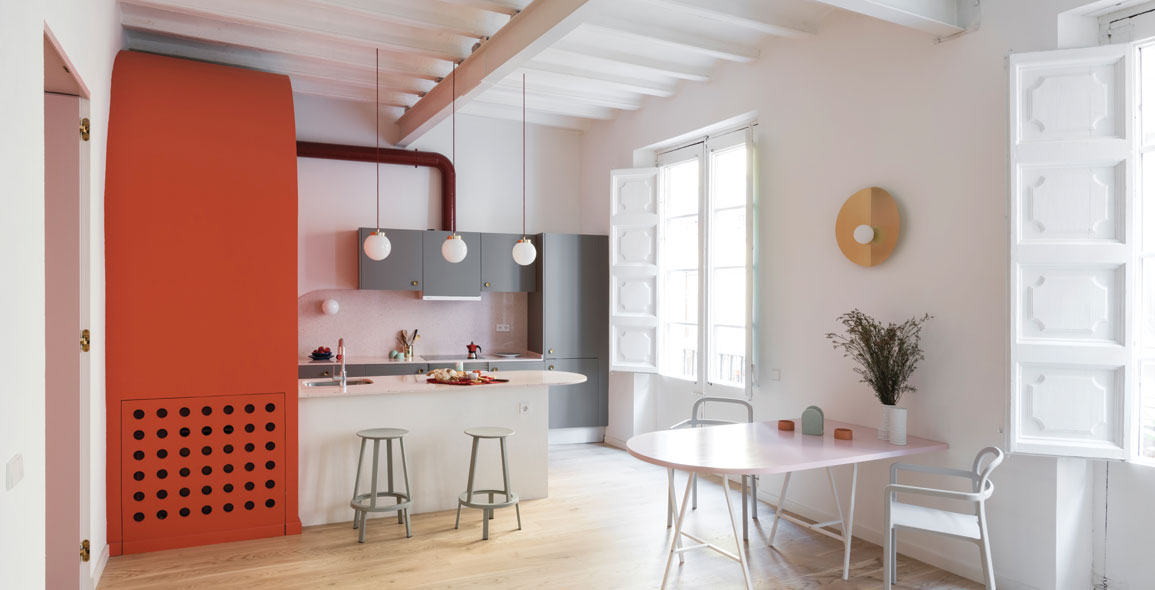 TYCHE APARTMENT
ARCHITECTS: COLOMBO AND SERBOLI (CaSA)
In an early-19th century building, an apartment has been carefully restored, reviving the essence of its original Art Nouveau style. The Catalan vaults in their authentic terracotta finish are revealed and fresh colours like pink, orange and green brighten the space. Subtle and functional is the JUNG design classic LS 990 switch in alpine white, its pure shape fitting in elegantly.