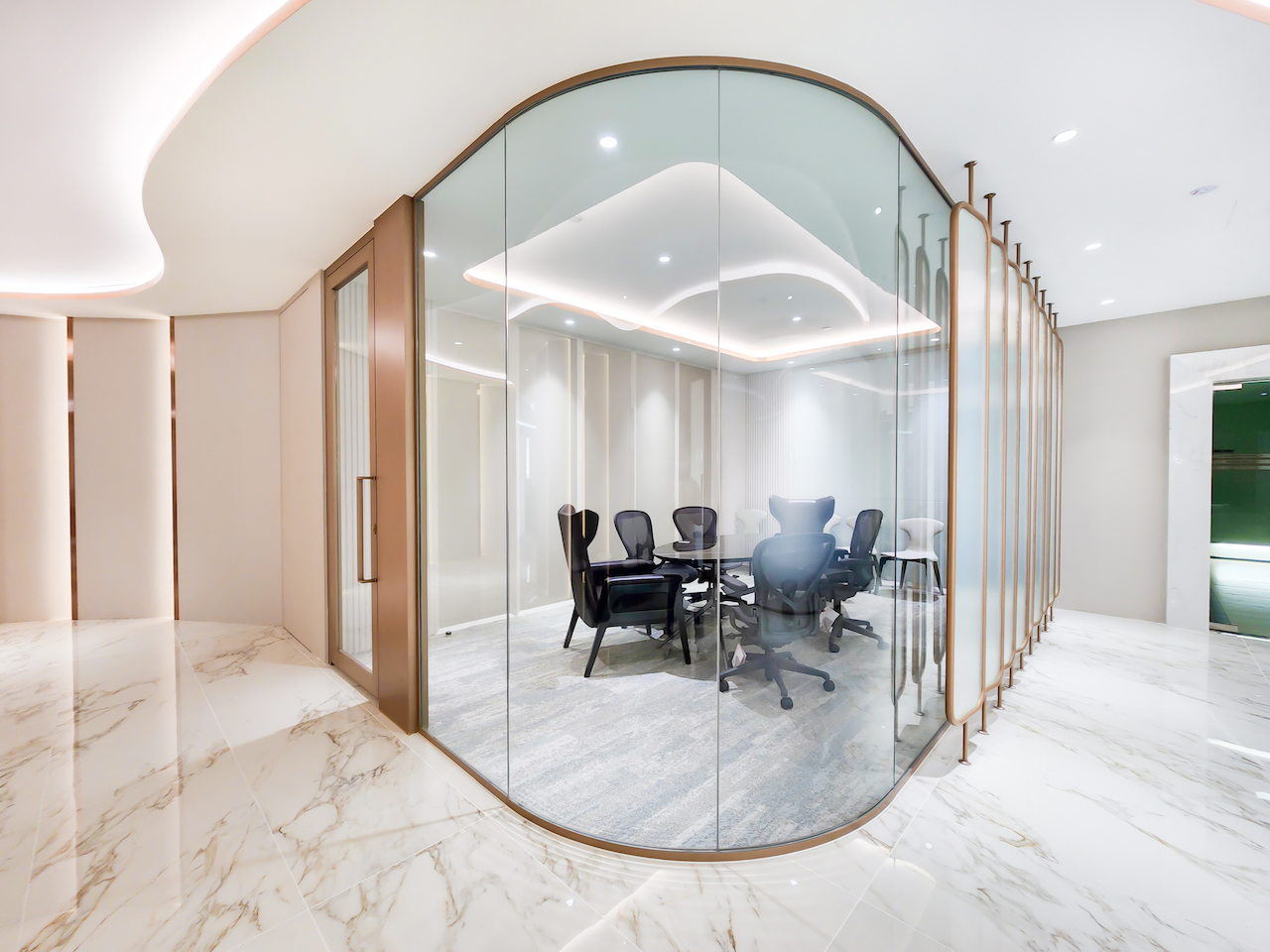 Integrate Systems Panel (ISP), a trusted homegrown company in Singapore, specialises in acoustic glass partitions and doors designed to elevate modern workspaces.
With a combined experience of over 20 years in the glazing industry, ISP is committed to delivering beautifully designed glazed systems and exceptional service.
ISP takes pride in its ability to offer acoustic glazed systems that are readily available thanks to their manufacturing facility in Singapore. This advantage enables the company to provide efficient and swift delivery to clients.
Trusted by renowned interior design firms, ISP is dedicated to assisting clients in specifying the perfect solution for creating an ideal acoustic environment. Their expertise in the industry and focus on design excellence make them a preferred partner for transforming workspaces into functional and aesthetically pleasing environments.
Product range
ISP's product range offers both single and double-glazed configurations, giving clients the flexibility to choose the level of sound insulation that best suits their specific needs.
The SOLO Glazed Partition represents the single-glazed option, which allows for the seamless flow of natural light throughout the space while providing a certain level of sound control. It is an excellent choice for areas where a balance between openness and acoustic privacy is desired, such as open offices, collaborative spaces, and common areas like phone booths.
For those seeking enhanced acoustic performance and optimal privacy, the COMO Glazed Partition is the ideal choice. This double-glazed configuration consists of two layers of glass with an air space in between. This effectively reduces noise transmission while maintaining transparency and an open atmosphere. The COMO Glazed Partition is well-suited for executive offices, boardrooms, meeting rooms, and any areas that require utmost acoustic privacy.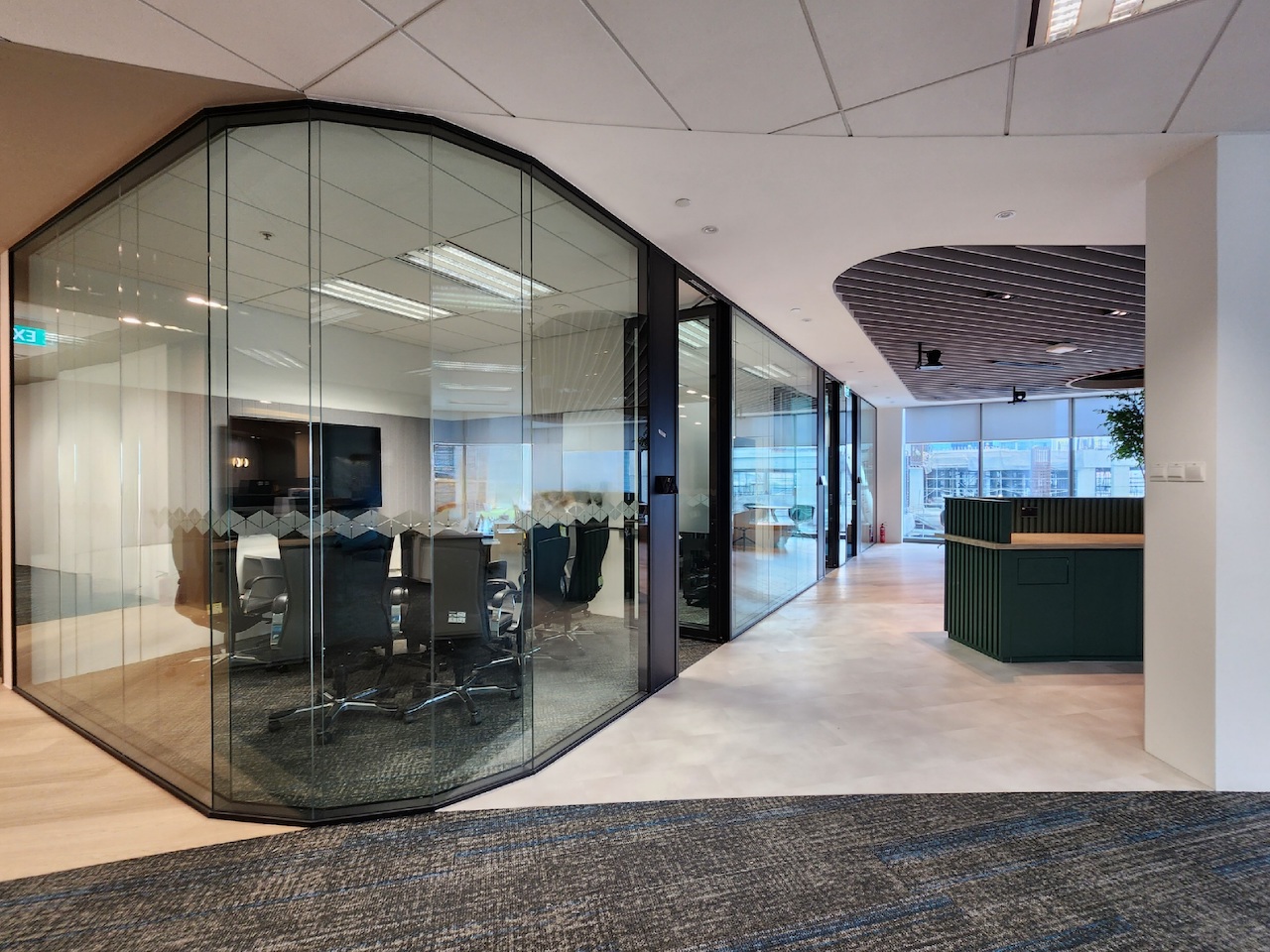 In addition to the innovative glazed partitioning options, ISP has a selection of contemporary glazed partitions that make a statement in any environment. The curved glazed partitions lend elegance and architectural interest, creating visually stunning focal points.
ISP's range also features magic switchable glass, which allows the glass to switch between transparent and opaque states with a simple switch, offering both privacy and flexibility. Transom glass and reeded glass options provide sophisticated design elements while maintaining the desired level of openness.
To complement the glass partitioning systems, ISP presents an array of glass doors that seamlessly integrate with the overall aesthetic. The doors are carefully designed to provide functional access to different areas within a workspace while maintaining durability and design coherence. Options include hinged doors and sliding doors to cater to various preferences and requirements.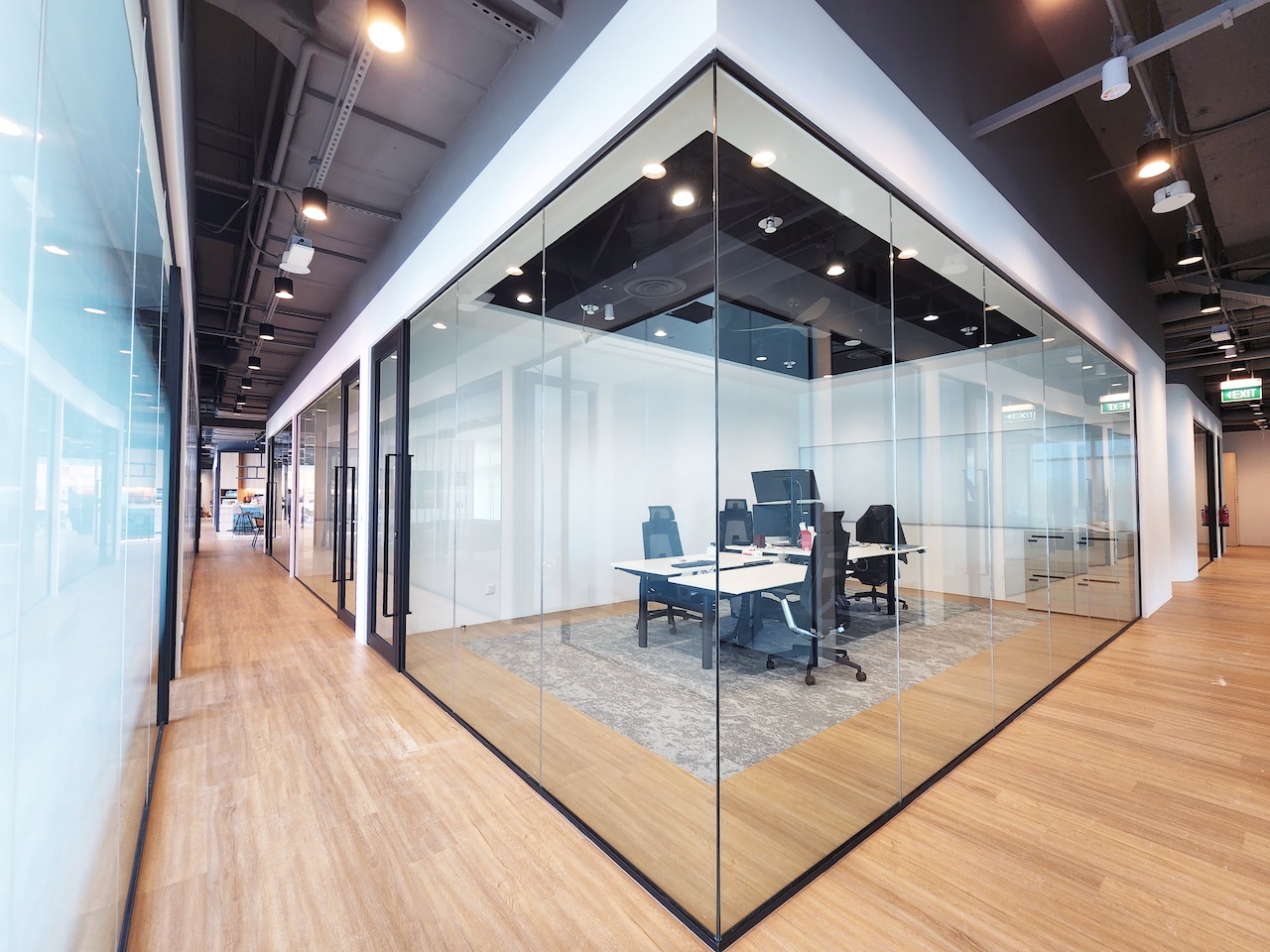 Top quality
ISP understands the importance of quality assurance and ensuring the acoustic capabilities of the partitions. That's why the glass partitions undergo rigorous testing by an accredited testing laboratory. This certification verifies the acoustic performance of the partitions, giving clients confidence in the sound insulation and privacy levels they can expect in their workspaces.
Furthermore, products can be customised to meet the unique requirements of each project. ISP can create bespoke solutions that align perfectly with their clients' design visions - whether it involves adjusting dimensions, finishes, or incorporating specific branding elements such as adding a decal of the client's logo on the glass or customising a company's brand colours for the aluminium frames.
ISP empowers architects, designers, and project managers to create inspiring workspaces that not only enhance productivity but also reflect their unique style and brand identity.
For more information, visit www.ispacoustics.com