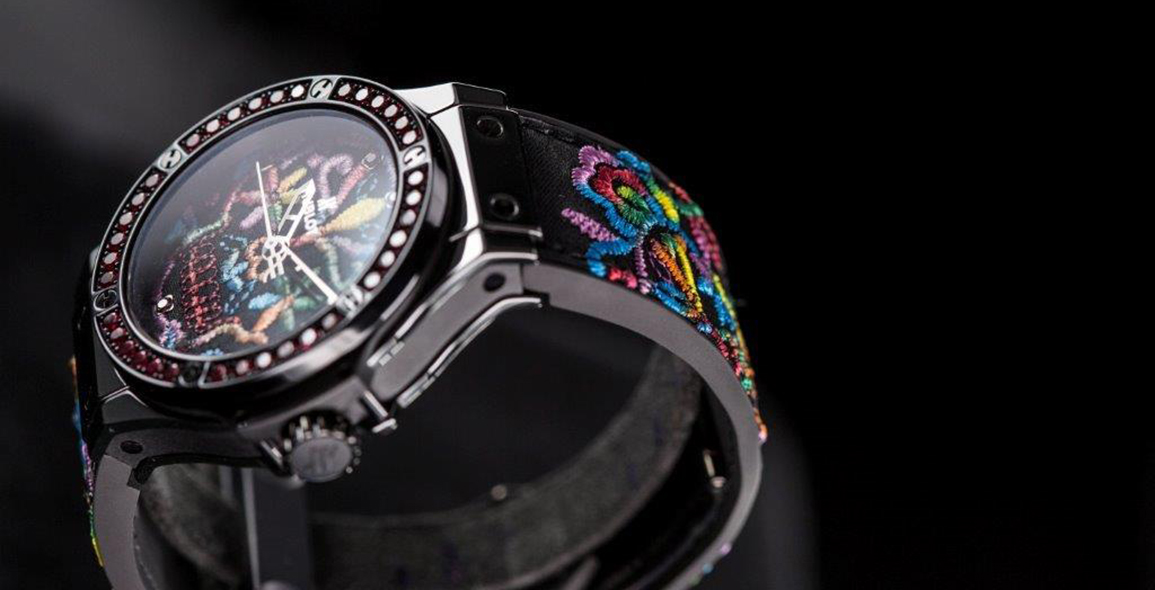 Hublot has done the unexpected. The beautiful art of embroidery is presented on one of the brand's latest products, celebrating the art of fusion with a feminine touch. An unrivalled icon of fusion serving as a showcase for the runaway creativity that is the essence of Hublot, the Big Bang was born to break established codes and has over time demonstrated its ability to create exclusivity. The Big Bang 41MM Broderie Sugar Skull bears witness to this. The piece blends confident femininity and innovation at the highest level, the artistry of its codes of aesthetics at its very peak.
Hublot has taken the craft away from haute couture, fashion and lingerie so as to free embroidery from the fixed notions and the traditional ideas that held it. The idea becomes newly afresh. The je ne sais quoi of these colourful threads, stitched in the finest blueprint, create an intricate silhouette – a silhouette that is said to charm not just watch lovers but also watch makers around the world.
As an inexhaustible source of inspiration, and interpreted in an unexpected manner, the embroidery of Saint-Gall is transposed into the art of fusion to reveal all of its modernity and creative potential for the Big Bang Broderie Sugar Skull, which is a limited edition of 200 pieces.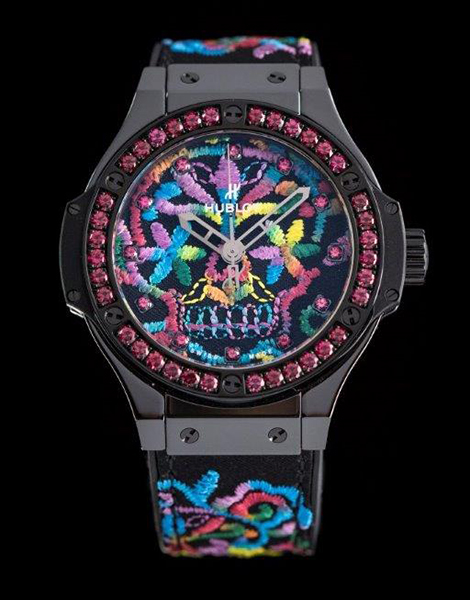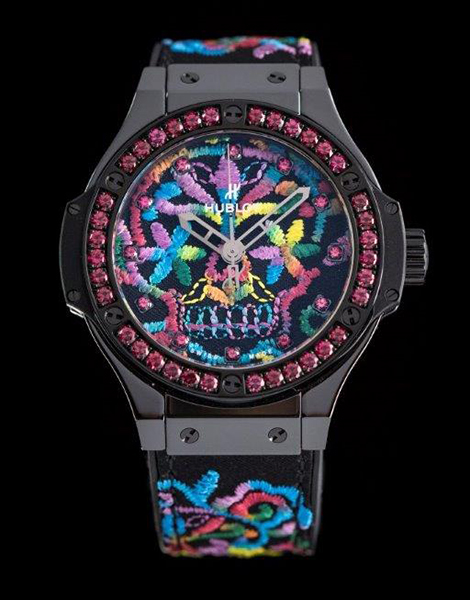 Vivid yet individual, tones of turquoise, navy blue, pale pink, fuchsia, yellow orange and violet lit with Lurex threads 'illuminate' the timepiece. The colours are inspired from the lines on the catwalks for the 2016 season. The skull motif on the dial, with eleven red spinels, and the arabesques on the strap create bold associations of colours. A remarkable exercise in style that is given its value by the power and the simplicity of the black ceramic that adorns the case (41MM) and its bezel set with 36 red spinels.
It is a new icon - one with confident femininity and glamour.
Images:
Hublot International