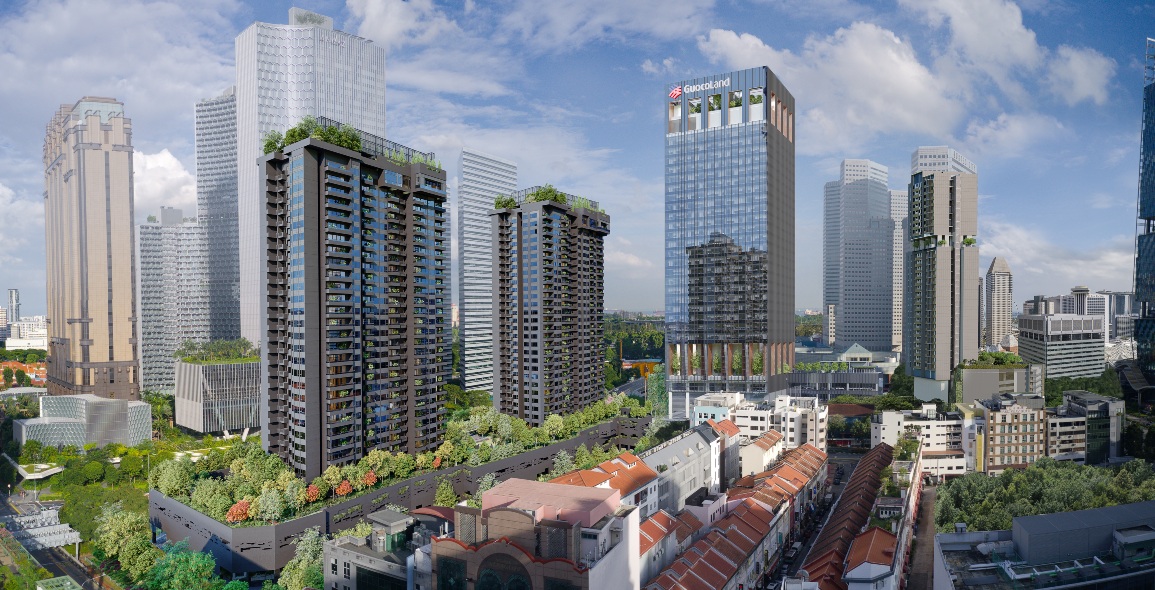 What will life be like in years to come?
For the team at GuocoLand, their answer lies in its latest project, the mega integrated mixed-use development Guoco Midtown.
Spanning two perpendicular sites along Beach Road and Tan Quee Lan Street, it covers a sizable area of 3.2 hectares and when fully completed in 2024, will probably be regarded as a mini-city on its own.
There are a quartet of towers, of which three are occupied by two different condominiums – Midtown Modern and Midtown Bay – and the fourth, a 30-storey Grade A office building.
Also integrated into it are three retail clusters and a five-storey building known as the Network Hub.
The project is designed by Denton Corker Marshall, with the exception of Midtown Modern.
"This is a demonstration of our vision for how life can be in the future," says Cheng Hsing Yao, Group Managing Director of GuocoLand Singapore, who will take over as CEO come 1 July 2021.
Redefining Liveability
The starting point of the design of Guoco Midtown was the office tower and among the trends that were identified was the inclination for employees to work from anywhere.
This included from home and in the office, especially for high-growth and technology companies.
Another trend was that people were working longer hours.
"That's why our residential products have to be very flexible to support work-from-home," reveals Cheng.
Apartments in the neighbouring Midtown Bay have marble flooring throughout the entire unit, while a wall can be replaced with glass to give it a home-office vibe.
"The broader package of the entire development and neighbourhood adopts a very strong theme related to greenery and public spaces," he adds.
The total landscaped area of Guoco Midtown amounts to 3.8 hectares – even more than the project footprint – spread across 30 gardens and spaces.
Expect to find more than 350 species of plants, including several rare and endangered native species, planted by themes, such as an epiphyte collection that forms a hanging garden.
These are conceptualised by Ortus Design and woven like a botanic tapestry from the road level, up to the podiums and rooftops.
"It will enhance the wellness and productivity of the community, and serve some ecological functions like mitigating heat island effect, collect and purify rainwater for use or as run-off into the city reservoir," explains Chia Jui Siang, Partner at Ortus Design.
"We designed the gardens with different themes, framing the views of experience so that there is more sense of exploration.
"The curation of a diverse range of plant species seeks to evoke curiosity and a sense of awe and mindfulness, while contributing to the natural capital and biodiversity of the place."
Tenants of the office tower also have something unusual: dedicated condominium-type facilities.
These include a swimming pool, outdoor workout spaces and private dining areas.
A bamboo grove is found on Level 7, amid the Mid Levels Garden, interwoven with a jogging track.
"When they are stressed and want to relax, they have the spaces to do this and in turn, it promotes innovation," says Cheng.
Championing Connectivity
Far from regarding Guoco Midtown as an oasis in Singapore's downtown, Cheng hopes to link and collaborate with the different projects surrounding it.
These include Bugis Junction, DUO, Suntec City and South Beach.
"Our philosophy is that there will always be a bit of healthy competition.
"If our neighbours do better, we also do better, because our district will be uplifted," explains Cheng.
This porosity also extends within the project.
For instance, all three retail clusters, Midtown Square, Midtown Market and Midtown Common, are designed around public spaces, which he feels is important.
"It is part of our strategy to transform the neighbourhood, because when we analysed it, while we feel it is very vibrant, there are no definitive public spaces.
"These are very critical for the city and any district because that's where you see people and where activities can be held."
Another section of Guoco Midtown that celebrates connectivity is the Network Hub.
It is a node in the ecosystem that supports meeting, collaborating and socialising.
Cheng envisions the multi-nationals in the office tower working with SMEs and freelancers who might occupy a smaller workspace or even work from their homes in Midtown Bay.
Depending on how the MICE sector evolves, the Network Hub could eventually facilitate the online-offline integration of events too.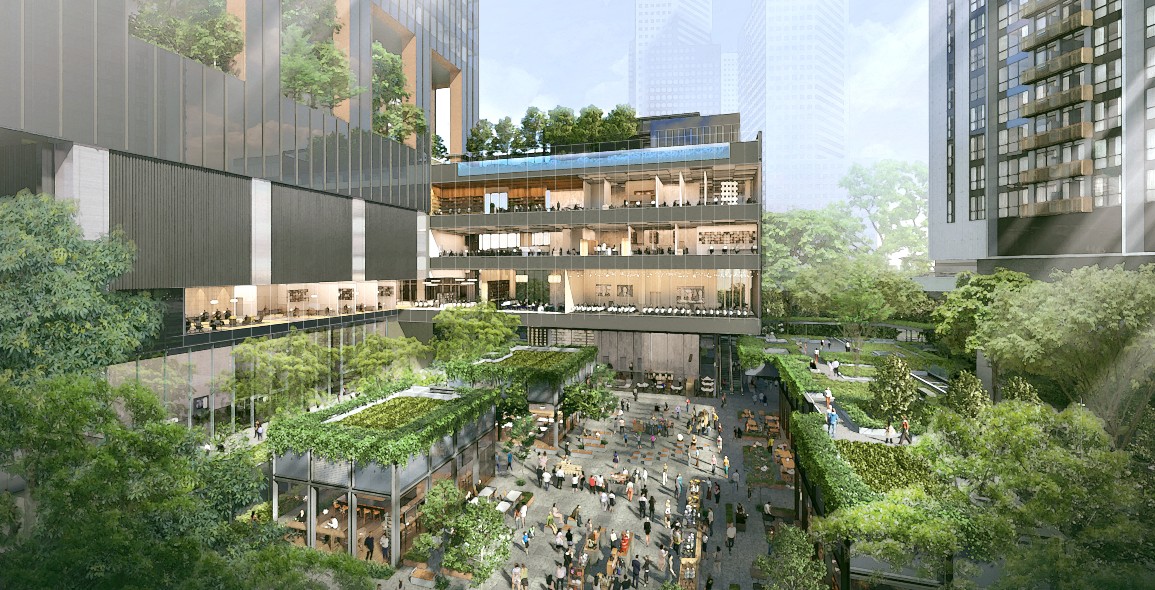 The five-storey Network Hub is adjacent to Midtown Market and in between the office tower and Midtown Bay
Enticing City Living
Across the road, the twin-towered, 30-storey Midtown Modern, designed by ip:li Architects, rises above the city and promises views from every window.
Its composition of approximately half of the 558 units having a three or four-bedroom configuration is a contrast against the usually shoebox-sized apartments found in city centres.
"We want to bring families and people who want to live in the city back there," explains Cheng.
"I don't need to explain how convenient it is, and while the pricing is definitely in the high-end category, what we are offering is the value in the lifestyle you get to have."
The project is themed upon a "nature in city" concept with more than one hectare of gardens and landscaped areas, featuring plants and trees selected to recreate the seasonal ambience of spring, summer and autumn.
Among the facilities are a 50m lap pool, tea pavilion, tennis court and over 10 thematic gardens.
Other highlights include a grand lobby lounge to entertain visitors or work at comfortably, a deluxe clubhouse large enough for a party of 50 and unique rooftop karstic gardens.
Directly below the condominium is Bugis MRT Interchange Station, separated by Midtown Common, one of the retail clusters with more than 20,000ft2 of commercial retail space.
It will perhaps come as no surprise that the project has also attracted members of the affluent silver generation, who are downsizing from their landed properties and want the convenience of a wide range of amenities and facilities at their doorstep.
So what will life be like in years to come?
One need only look at Guoco Midtown to have the answer.