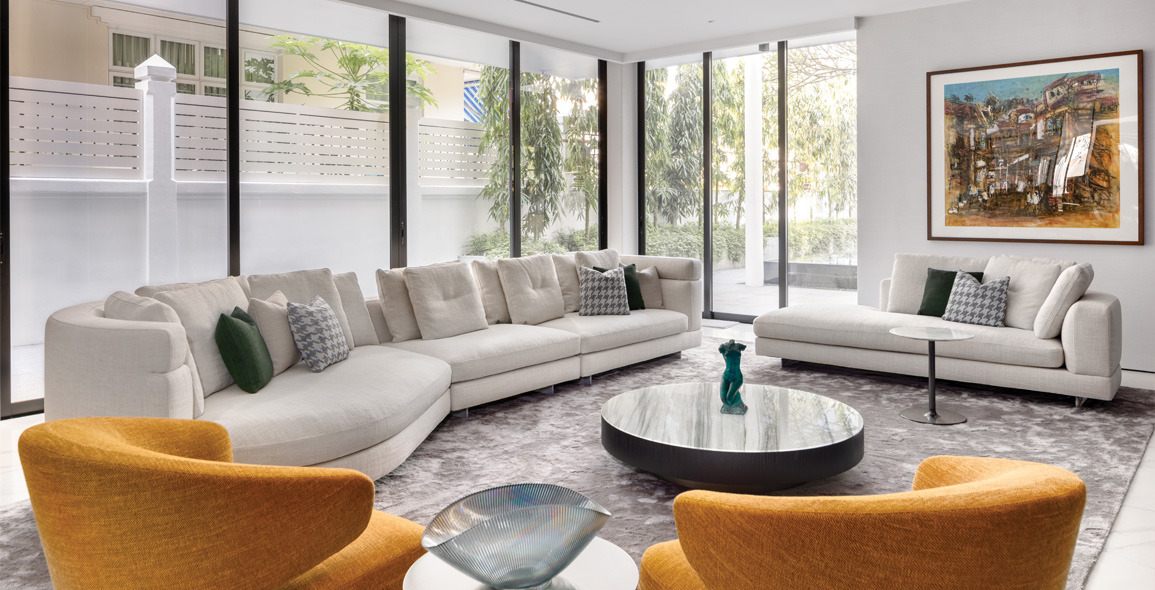 Timeless, elegant and sophisticated. These were the key characteristics that the owners wanted of their semi-detached house, completed in November last year.
In response, the architecture was designed to be a simple rectilinear box comprising four interlocking volumes with a wind shaft linking the volumes vertically.
To let light in, a skylight and side glazing were installed.
Together, these formed the canvas onto which the interior design was conceptualised, where visual vistas were extended and spatial linkages between the volumes were enhanced.
Materials went the way of timbre and muted colours tones to give the home simplicity and a sense of luxury.
Because comfort and warmth were equally important to achieve the vision of the owners, the furniture was purchased from Minotti as well as brands represented by Marquis HQO.
Enter the house and the foyer sets the tone with the Ziggy Console from Porada, where its calacatta marble top and canaletta walnut frame and slim legs is the embodiment of grace.
The Gaudì dining table from MisuraEmme is the next thing that catches the eye, its tapered semi-oval top entirely made from black marble.
From there, the space flows into the living room, where the beige coloured Minotti Alexandra Sofa Seating System takes centrestage.
Modular in nature, it was configured to fit the needs of the homeowner and his family, encompassing a daybed-style piece, and the main sofa that has a mix of straight and curved lines for variety.
In stark contrast is a pair of Minotti Aston Armchairs in mustard fabric, their soft padding in the seat cushion and back perfect to sink into for a tête-à-tête.
The Minotti Milton Coffee Table completes the living room styling, its white Zebrino Marble top adding to the luxe factor.
The dry kitchen is a picture of cosiness, where the island is matched by barstools from Ponza, also in a mustard colour, to pair with the timbre detailing on the walls.
In the bedrooms, in keeping with the clean compositions, bedframes were selected from Meridiani and complemented by its lounges and side tables from Porada.
Not only do these keep the feel fresh and neutral, but they also blend with the fittings and generous use of wood.
The house is capped with an entertainment area for the family, accessible via a spiral staircase.
Here, the Harold Sofa from Meridiani was selected, its linear, asymmetrical and curved elements adding counterpoints to the otherwise regular and angular space.
Beside it is the Alivvar EA Armchair and Footstool with a swivel base, its black leather accenting the room with a masculine vibe.
On the outside, the back garden is primarily occupied by a swimming pool and flanked by landscaping.
It is undeniable that the outcome has more than fulfilled the owners' brief, resulting in a home they can live in happily for a long time to come.
This story is brought to you by Marquis HQO. It first appeared in Issue 119: March 2021.