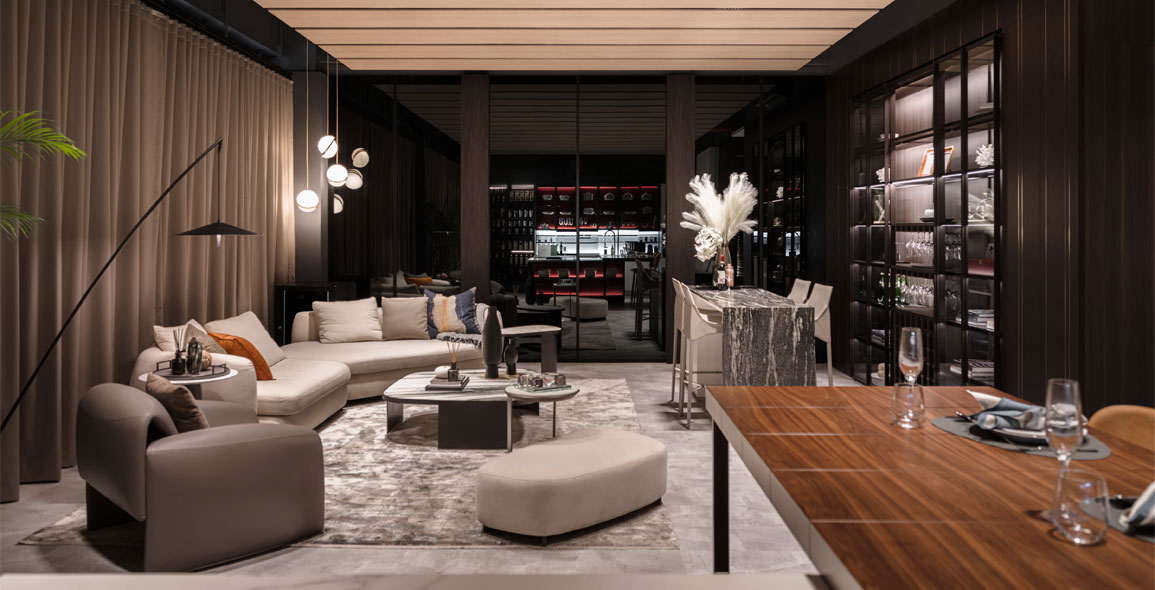 Need to design a walk-in wardrobe to accommodate a designer handbag collection?
How about a wine cellar that can display a range of Grand Cru bottles that would make a sommelier green with envy?
Pose these challenges to Kuhlmann International and it would be more than happy to rise to the challenge.
The established bespoke, modular solutions European brand has just opened a showroom, which presents itself as a one-stop shop supported by a team of professional designers.
Step through its doors and be instantly transported into a space mocked up as the interiors of a luxurious home.
Responsible for it is Creative Director Simon Chiang, who has carved out a kitchen, living, dining and wardrobe area within the unit.
Using it and Kuhlmann's extensive portfolio, he works with architects, developers, contractors and homeowners to demonstrate the breadth of their creativity in coming up with ideas for every lifestyle need.
"Kuhlmann has the heritage of modular carpentry for almost a 100 years," says Chiang.
"In that time, it has evolved to represent careful R&D and factory-finished quality for every component, ensuring that its products stand the test of time."
Those in a rush would be heartened to hear that with factories in Asia, Kuhlmann's products only require a lead time of 90 days to produce, in spite of the current logistical challenges.
These are done with strict compliance to the European Standard E1 level of formaldehyde emission.
Most importantly, the high degree of customisation and personalisation is what sets it apart from its competitors.
"All clients are very much involved in this process and everyone can rest assure that their wardrobes or kitchens will not look like what they see in the showroom or another customer's furniture, unless that is what they want," explains Chiang.
"None of our past client's projects have ever had identical finishes and designs."
But there is more – the Kuhlmann Experience Centre is also home to a wide range of ancillary products.
One such example is lighting solutions from Sol Luminaire.
It stands out for its in-house brand, AEON, that offers equally creative solutions to introduce into residential and commercial spaces.
For instance, there is the Gypsum Series that stands out for its concave façade, allowing it to be a point of interest in the interior design while also adding warmth to it.
The Isa V3 range is sleek and unobtrusive with adjustable beam angles to help better illuminate an expensive artwork.
All the pieces from AEON have a colour temperature consistency of 3000K and a high Colour Rendering Index (minimum 90 or 95) to evoke a cosy atmosphere while maintaining a sharp visual crispness for daily task related activities.
Whether switched on for work or play, they make the space compelling and uplift the mood.
"We enjoy Sol Luminaire's attention to detail and in-house R&D that constantly improves their products," says Chiang.
"Like Kuhlmann, they are a customer-focused brand that is committed to providing every customer with a unique lighting scheme, and design and lighting modes per their requirement.
"There is much synergy between the Kuhlmann philosophy and Sol Luminaire's ethos."
Given the extensive offerings, there is really no reason not to make an appointment to visit the Kuhlmann Experience Centre.
This story is brought to you by Kuhlmann International.
Images:
Kuhlmann International