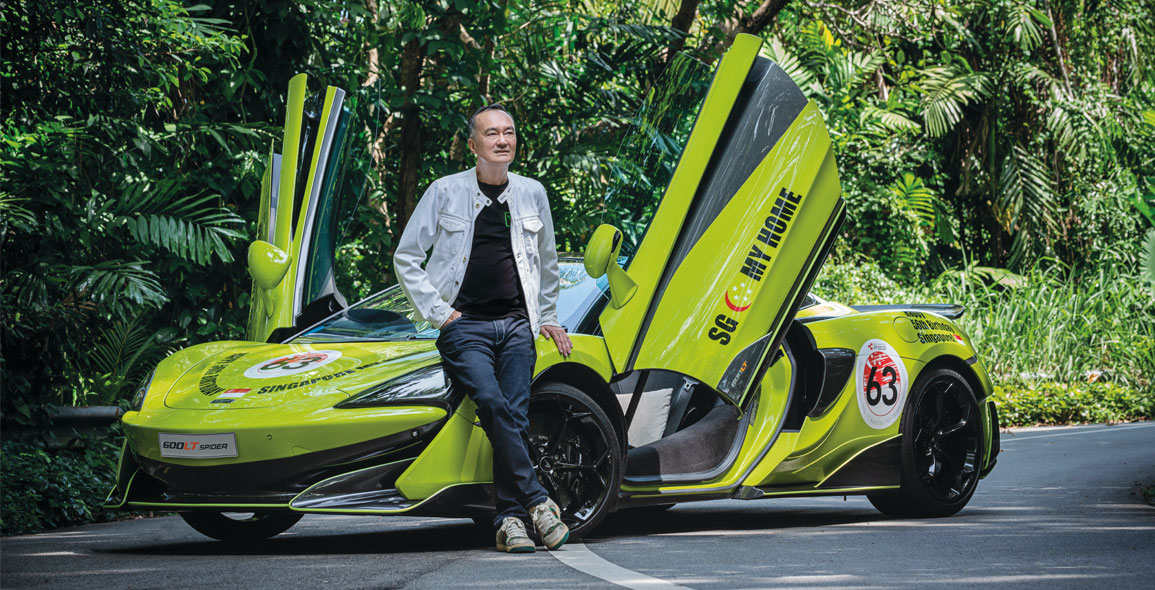 He might be retired now but Dennis Wee is definitely not in the slow lane.
Best known for running his eponymous company till it merged with PropNex Realty in 2017 to form the largest real estate agency in Singapore, he can often be found these days behind the wheel of his McLaren 600LT Spider.
To the magnate, there are similarities between steering a business and driving a car.
"You get to feel different emotions and experiences when you go through different kinds of roads and it teaches you more about yourself," says Wee.
"Keep at it long enough and your confidence grows."
The two are also complementary; his love for being on the road allowed him to meet and connect with many people from all walks of life, helping him turn the Dennis Wee Group into a successful business.
But Wee will not settle for just any car – it has to be well-designed, unique and outstanding, much like the way he has chosen to live his life.
"I love to drive and it's one of my simple pleasures; I feel free whenever I am behind the wheel.
"What's even better is a car that not only looks good on the outside but makes driving more exhilarating."
All these reasons and more are why he has become a fan of the McLaren brand.
Recently, Wee upgraded from the 570S Spider to one of only two 600LT Spiders in Singapore, drawn by the design of the twin top-mounted exhaust that bellows the sound of the engine rumble when the top is down.
"I love having the wind in my hair and listening to the beautiful exhaust note as I fly down the expressway. What better feeling can you get from a car?"
Just as compelling was the 100kg weight reduction and longer tail to make the driving experience "more engaging and raw".
Wee also reveals that he made the upgrade through the McLaren Qualified Programme, which allows buyers to purchase pre-owned cars, albeit in nothing short of first-class condition.
Among its benefits are one-year manufacturer-backed warranty, roadside assistance and an obsession with quality and maintenance to ensure the next owner experiences the car as if it was brand new.
"Being a customer of McLaren's has been a great journey as the team is small, so I know everyone from the technicians to the general manager," he shares.
"Whenever I forget how certain things work, I simply drive down to the showroom and they will explain it to me in detail.
"Sometimes, they feel more like friends, which is what I truly like about the experience."
When he's done at the showroom, he usually takes the chance to go for a long spin, easing his McLaren 600LT Spider smoothly into the fast lane with the top down.
"It's relaxing and after working hard my whole life, I love nothing more than just enjoying the simple pleasure of driving."
This story is produced in collaboration with McLaren. It first appeared in Issue 121: September 2021.