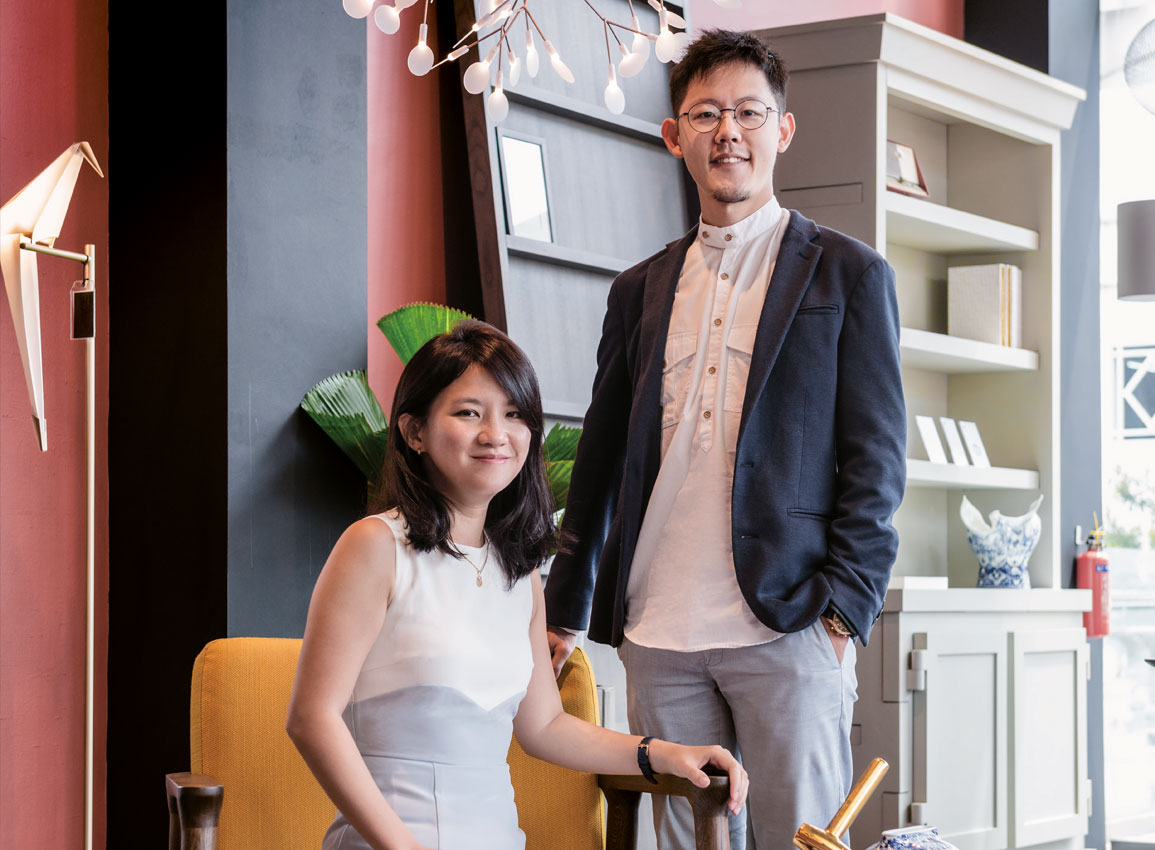 What is your design philosophy?
We don't believe in taking what the client wants/says at face value. Rather, we try to extract and distil what is truly important to them based on conversations and observations we have had, then think of how design can help to bring out a positive change in their lifestyle. For example, a client might request for their children's rooms to be located on different floors, functioning as self-containing suites with an independent circulation for privacy reasons. However, if we can tell that their family is very close knit, isolating them from each other may not be the best solution. It becomes a design challenge to address their concerns while still retaining a sense of interconnectivity.
What is your design style?
If we should choose a word, it would be "emotive". The emphasis in our design is always about the spatial rather than the visual. We care about how the space makes you feel. Is it comfortable to be in? Is it bright and airy? Are the spaces ergonomic? It is easy to be visually-driven, especially in today's digital world, where design is heavily valued through pretty pictures. We try our best not to have a pre-determined "look" in mind so it would give us more freedom to experiment and go with the flow.
How does your work differ from other designers?
The priority, when we conceptualise, a design is never about establishing a certain aesthetic or look right from the beginning. Instead, our work seeks to first change how people use a space and live their everyday lives. Whenever we work on a design, we sit down and consider a few key questions that we hold very close to our hearts – how will the layout and configuration of spaces affect how the users use the space? How will it affect the way they interact with each other? And most importantly, how does it help to tell their life story? More often than not, the final outlook of the house reveals itself as a result of first answering these questions. Our work thus tends to be stylistically varied. We do not strive to achieve a consistent look and this is what keeps it interesting!
Why did you decide to branch out and set up ZIVY Architects?
We met while we were both working at Aamer Architects. Working in established firms has given us a good start in identifying our stand as designers. Having our own practice was the next step in challenging ourselves to experiment with greater creative freedom. We were also encouraged by fellow practicing architects to do this when we are still young and not be afraid to make mistakes.
What is the most important lesson you've learnt from working for other designers?
Zixu: Never give up on your design immediately, just because it was not well received at first. Not everyone can visualise the design without being inside the space itself or understand the considerations behind each proposal, especially if the idea is a little bit more radical. If we were to take the extra time and effort to share the ideas behind the design, others might be more receptive and develop an appreciation for it. Sometimes we might need more drawings and images to work towards a better design outcome.
Evy: To always ask questions and never stop learning. Design is always evolving and so should we.
What is the top challenge you face right now and how do you overcome it?
To convince clients to look beyond our relatively young age and prove that we are more than capable of taking on their projects. When clients are looking for an architect/designer for their house, they are entrusting somebody with hundreds of thousands, or possibly even millions of dollars, and we understand it is not a simple decision to make. While it is human nature to associate age with experience, we believe that the right mix of passion, drive and capability is more valuable than the clocked number of years. When we meet new clients, we focus on the design thinking and considerations that help inform the final design.
Why do you enjoy purchasing pieces from Space Furniture?
The comprehensive range of selection, careful curation and endless possibilities to mix and match across brands. Their furniture is never only about aesthetics, but also about the ergonomics and function, something that we value greatly in our own designs/architecture. One of the brands we favour is MOOOI. We like how their designs are intricate, unconventional and conversation-starters, making them refreshing. Also, each time we visit, we leave SPACE with new musings, as their team is always ready to share about the pieces - from brand history to the ideation behind the design.
This story is produced in collaboration with Space Furniture. It first appeared in Issue 112: October/November 2019 of d+a.
Photography:
Chino Sardea