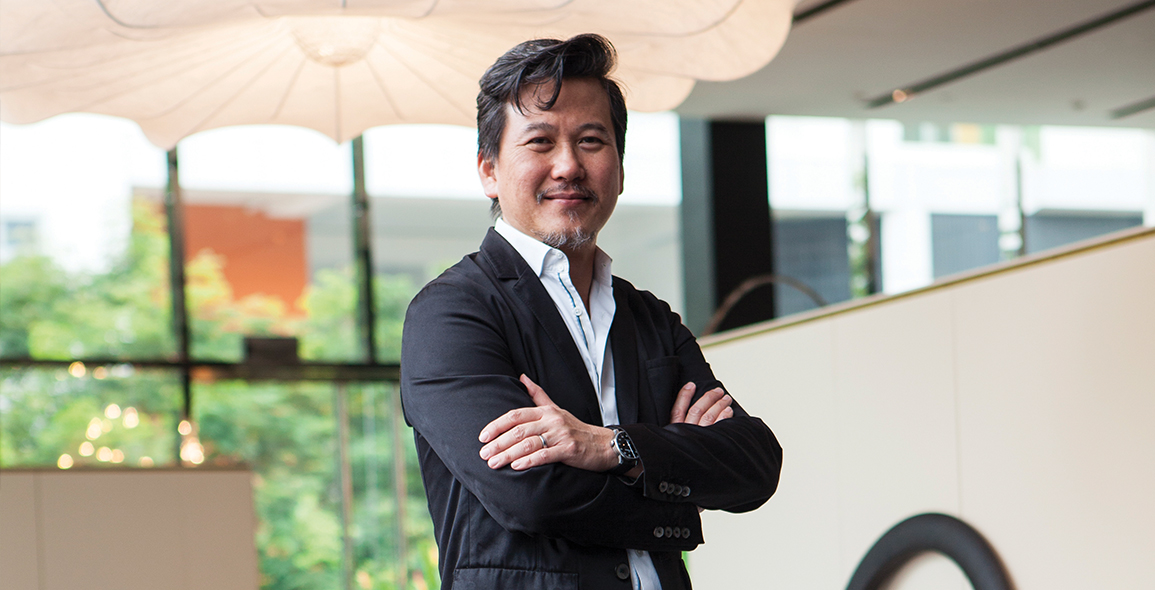 Can you summarise what A D Lab does?
Our name is short for "Architecture and Design Lab". We started as an interior design firm in 2000, and became an architecture practice in 2006 when I joined it. We have since grown to a team of 15 with an office in Singapore, and one in Ho Chi Minh City, Vietnam that just opened in March 2018. On the project front, we do a wide range from hospitality, to residential, commercial and lately, institutional.
Please share about the institutional projects.
We are currently designing extensions for the Holy Family Church and Church of Saints Peter and Paul. Both are in Singapore. It has been very gratifying because we are doing something for the community. Each of these extensions has interesting facades that are subdued but rich in texture. For instance, that of the Church of Saints Peter and Paul has a reflective surface that will help to frame the main building. With Holy Family, it will be a continuation, almost like a sister building, of the main church, with a courtyard filled with a water feature and plants.
What is your approach to architecture?
We are driven by process, rather than style. This means we have no preconceived ideas of a project when we are first briefed by the client. Rather, we prefer to have a collaborative approach. Our team is made up of domain specialists so apart from architects, we also have people knowledgeable in universal design and biophilia, for instance. When we get a new project, we first understand the brief and the context, then come together to brainstorm to find the most appropriate solution.
What are the guiding principles behind the work you do?
A D Lab has five core values that it holds close to its heart. Firstly, we believe in being lean. This means optimising resources, and being conscious of form-making to evoke and affect people. We are strong advocates of environmental sustainability. Well-being is important to us – we try to promote healthy-living in our projects, for instance through introducing natural light, greenery and water wherever we can. We are also evocative in what we do, which has led us to do research around the physical environment and its impact on mental well-being. Our last core value is novelty: we never repeat our designs and always offer original solutions.
How do these core values manifest in the projects you do?
One example is 8 Hullet, a condominium project on Emerald Hill. At only 997m2, the plot area is very small, which means the units are not big either – they range from 55 to 70m2. Our challenge was to make them feel spacious, so we came up with the unique solution of blurring the inside and out by having the private lift open into the balcony of the apartment. You enter the living room through sliding glass doors.
Another project is Tamba Villas in Galle, Sri Lanka. We put a twist on the condominium typology by designing them as double-storey villas in clusters of seven. Given the tropical resort-like location, we did not feel it was right to impose our metropolitan ideas into the locality. These condo-villas, as we now call them, have lush landscaping and a retention/eco pond in front of them. They are also built with low-impact construction methods.
In fitting out your projects, you enjoy bringing clients to Space Furniture to shop. Why?
The showroom displays many brands, which makes it a convenient one-stop location. It is also a lovely space to visit with my clients, who can spend a whole day going from one section to another to crystallise their ideas for their projects. Some clients know what they want. For those who don't, Space is a great way for them to be educated on the latest products in the market, learn about the brands and what they stand for. It's a perfect place.
Is there a brand that you are a fan of?
Poliform. I like its modular nature, which makes it very flexible. For instance, you can configure parts of the seating to create interesting social situations. The Mondrian allows for many combinations from the L-shape, to chaise lounge. You can integrate it with a side table, side board or shelving. Its broad arm rest can double up as a bench.
This story is produced in collaboration with Space Furniture. It first appeared in the December/January 2018/9 issue of d+a.