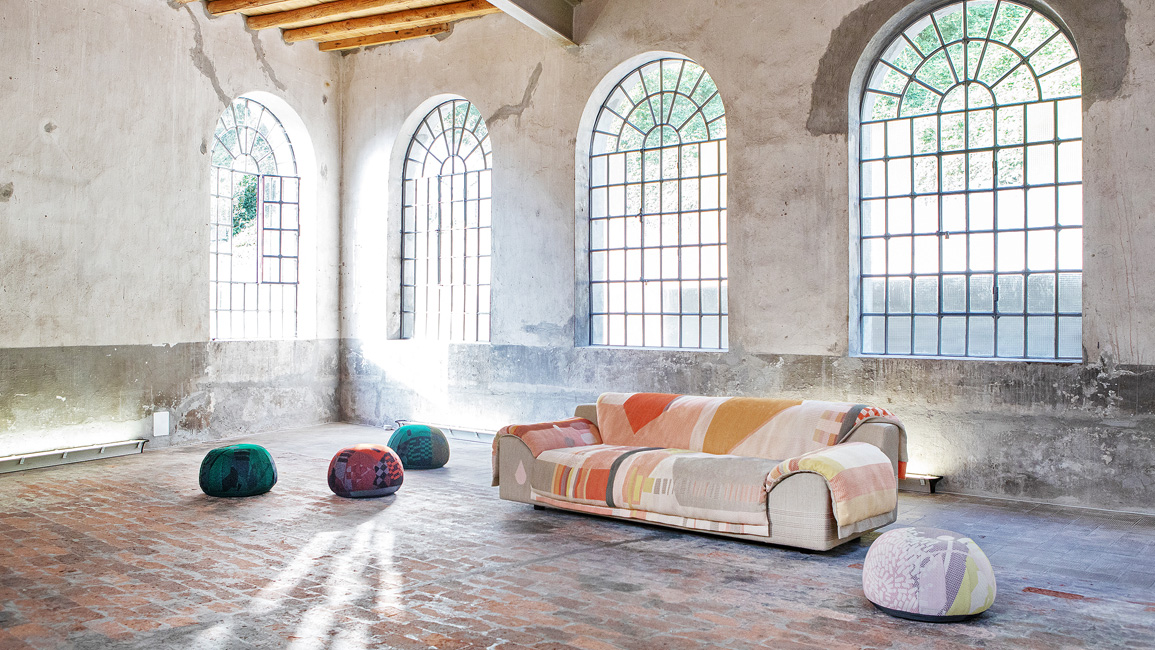 It was a 22-hour journey involving two aeroplanes, two trains and a taxi, but we finally made it and were standing in front of the Vlinder sofa, designed by Hella Jongerius.
Never mind that it had already been launched by Vitra at the Milan Design Week in 2018. What was special was we were admiring it in the very textile mill in northern Italy where its cover fabric had been made.
Artfully presented in an empty outhouse, the Vlinder sat inside, its colourful and contemporary appearance a counterpoint to the concrete walls, brick flooring and wooden rafters of the space that looked like it had been untouched for several decades.
Closer inspection reveals it is made of two parts: the sofa itself, with a cushy, 70cm seat depth, and a duvet-like cover fabric filled with a special mix of stripped-quill goose feathers and down.
The latter is one of the reasons why we were invited on this press trip – to understand how the textile of the precisely-tailored overlay was made, why it is so special and, by extension, showcase the capabilities of Vitra.
Haute Couture Sofa
To say creating the Vlinder has been an adventure would be an understatement. It took more than three years to develop and saw seven different versions made before the final was selected.
In addition to the team at the textile mill, Jongerius, who is also Vitra's Art Director for colours and materials, worked closely with Till Weber from the Swiss furniture company, who manages the Colours & Fabrics department.
"Vlinder is a master study in weaving. A team of textile engineers and hand weavers joined forces to make this unique design possible," says Jongerius.
"It shows a new way of producing a tailored 'one-off' pattern and creating an haute couture sofa that combines the human touch of crafts with the possibilities of digital technology."
Seven different jacquard weaves, from a combination of primarily wool and cotton, make up the cover fabric. These include basketweave, waffle weave, herringbone and quilted structures.
Then there are eight colours of yarns with two different thicknesses to give the tableau depth and texture.
Each section is woven separately, cut by hand and sewn together to form a geometric quilt, reminiscent of a colourful butterfly with outspread wings.
These are deliberately positioned relative to their place on the sofa encompassing the seat, back and armrests.
More than 65 million pixels are required to do the design, which come in four colour schemes: light and dark reds, and light and dark greens.
"The Vlinder is not a sofa manufactured from a drawing. Jongerius came up with the design, but it took time to develop not just the fabric, but also the sofa," says Weber.
"The colouring was so complex we spent several afternoons in front of the loom at the mill crossing combinations to get it right. It looks like a graphical painting."
Storied Supplier
Everything about the textile mill Vitra collaborates with is testimony to its promise of offering high quality designs.
Founded in 1885, it has a storied history of producing fabrics – especially wool – for ladies wear, blankets for luxury fashion brands and, during the World Wars, uniforms for the Italian army.
In 1980, it shifted its focus into producing upholstery for some of the top furniture companies in the world.
Today, the mill is owned by three Italians who have been friends for almost 40 years.
One of their major projects is making sense of the company's physical archives – a painstaking process that involves cataloguing rooms full of fabric and hard copy documents (which we toured).
This treasure trove offers important snapshots of the mill's history, but also serves as points of inspiration for the future.
On the production front, its stands out from others because it produces its own yarns.
At its heart is the weaving mill, a space that thunders with the sounds of 20 Jacquard and five Ratier looms working to create fabrics for its clients.
It is in there that fabric collections like Aura, Reed and Dumet, that can upholster Vitra's furniture for the home, are woven (including the new fabric to make the Vlinder).
To meet its exacting standards, up to one year of testing is required for each fabric, checking for elements like abrasion on the skin, light fastness and chemical safety.
It is this very process that Jongerius and Weber play an important role in.
Architecture Museum
We met the Vlinder again the next day, this time in Palazzo Terzi, in the heart of the old town of Bergamo.
Amid the elaborated interiors of the beautiful mansion dating back to the 1600s, the sofa fitted in just as comfortably.
Then it was off to part two of the press trip: the Vitra Campus.
A five-and-a-half-hour coach ride across the Swiss Alps brought us to the small German town of Weil Am Rhein.
Its relative obscurity belies the fact that it is home to a life-sized architecture museum that is the Campus.
The 250,000km2 plot of land houses an impressive collection of buildings designed by award-winning architects, including seven Pritzker Prize laureates.
Its construction started in 1981, after a fire destroyed 60 percent of the factory buildings.
Determined to rebuild it, Vitra's second-generation owner Rolf Fehlbaum commissioned British architect Nicholas Grimshaw to design two factories.
He later commissioned Alvaro Siza and Frank Gehry to create another two for the Campus.
There is also a unique logistics and production hall by SANAA with an elliptical footprint and a façade made up of 6mm-thick, undulating acrylic glass panels measuring 1.8m by 11.3m.
These comprise the manufacturing core of the Campus.
On the southern edge is Vitra Schaudepot by Herzog & de Meuron, a window-less brick building housing a deli, shop, the Vitra Design Museum and offices.
It has a basement, where we were taken to upon arrival at the Campus for a special treat.
Found there is the Archive of the Vitra Design Museum, filled with 20,000 pieces of lamps and furniture that according to our guide, tells the international story of industrial design.
The collection dates back to the early 1800s, but the bulk of it is made up of pieces from the mid-20th century.
We spot the original mould for the La Chaise lounge chair by Charles and Ray Eames; there are Panton Chairs in every imaginable colour; and even a small section by Asian designers like Nendo and Isamu Noguchi.
The Archive is rarely opened up to visitors, its visibility limited to two glass panels that offer a tantalising peek inside.
Beside the Vitra Schaudepot is the Fire Station, by Zaha Hadid – her first project ever to be built and completed in 1993.
Initially intended to house a fire brigade in case of a fire on the campus, it is today adapted to become an exhibition space that is distinctive for its concrete finish and lack of right angles and perpendicular walls.
On the western edge of the Campus is the Diogene, a 6m2 pitched-roof temporary dwelling by Renzo Piano that is Vitra's largest product and smallest building on the site.
Towering beside it is the Vitra Slide Tower at 30.7m high, designed by German artist Carsten Höller as a viewing tower, corkscrew tube slide and art installation.
Tucked on the north-eastern end of the Campus is the Conference Pavilion, Tadao Ando's first project outside of Japan.
A long path leads towards it, intended to be a meditative space before entering the building, with its exposed concrete as the primary material and big windows that look out to the landscape of vineyard-covered hills.
Occupying the opposite end of the north-western edge is VitraHaus, again by Herzog & de Meuron, but with a completely different design concept from the Vitra Schaudepot.
Circle it and it appears like 12 residences. In reality, the building is assembled by stacking several structural volumes – with a cross-sectional form of the archetypical gabled-roof house – to make up five storeys.
Its main purpose is as the showroom of the Vitra Home Collection, but there is also the Lounge Chair Atelier, café and shop.
A wonderful hub of interior design inspiration spanning different design styles, the spaces have Vitra's classics and contemporary furniture designs beautifully arranged in settings like living rooms and home offices to demonstrate their possibilities.
Then suddenly, set against a wall by a window, was the Vlinder again.
Tired out from the tour of the big Campus, meeting the sofa was almost like encountering a bosom buddy. The temptation to sink into it was simply too strong to fight.
Inevitably, Weber's description of it from the day before came to mind, "If you need a hug, just go on the Vlinder. It is such a strong, cosy friend for the home."
Nevermind that we were actually far, far away from home. In that moment, we finally understood what he meant.
Vlinder is available in Singapore at the Vitra Store by W. Atelier.
This story first appeared in Issue 113: December/January 20191/20 of d+a. Read more about Till Weber and his collaboration with Hella Jongerius in the same issue, available for purchase and download on Magzter.
Photography:
Roel van Tour, Dejan Jovanovic, Vitra