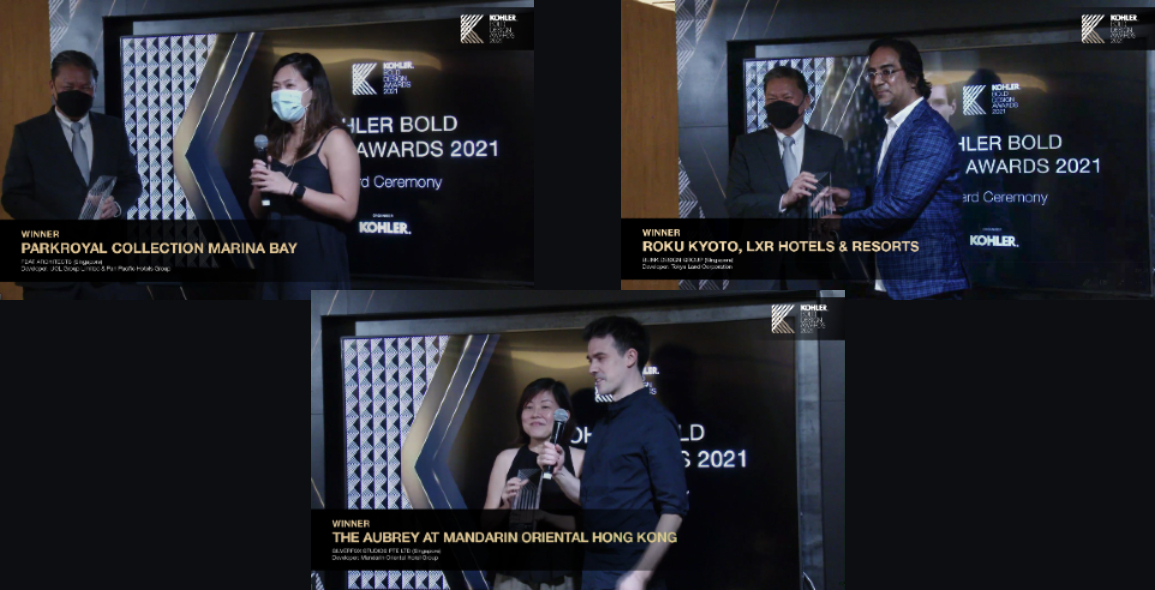 Following the announcement of the winners of the KOHLER Bold Design Awards 2021 (KBDA) at the end of March, we caught up with the Singapore winners to ask what they think about their latest triumph.
"Of course, we feel honoured to win the award," says FDAT Architects, who took the Urban Hotel – Interior Design Award for its design of Parkroyal Collection Marina Bay. "It is nice to know that our hard work has paid off."
Developed by UOL Group Limited and Pan Pacific Hotels Group, the property is a study in biophilia and styled as a garden in a hotel, complete with a 13m-tall vertical green wall.
Clinching the interior design prize for a resort was Blink Design Group for its work done on Roku Kyoto Lxr Hotels & Resorts, developed by Tokyu Land Corporation.
The designers were compelled to submit this project since KOHLER has been a big supporter and partner of its design process.
"Having the opportunity to participate and submit an entry for this award was an honour. We are delighted that we've won an award. Thank you," says the spokesperson from Blink.
A third local winner was Silverfox Studios, who took the Restaurant & Bar – Interior Design Award for The Aubrey at Mandarin Oriental Hong Kong, developed by the Mandarin Oriental Group.
"With this project, we explored an extra level of detailing and new materials that we might not have for other projects," explains Silverfox, when asked how it thought its entry stood out from others.
"That complexity came together to produce a very dynamic and detailed project, which stood us apart from the others."
More than 400 entries were submitted from over 10 regions, vying for 17 award categories covering interior design and architecture.
Organised for the first time as a regional competition, the KBDA celebrates talent and innovation within the hospitality, residential and commercial property industries.
It spanned the locales of Vietnam, the Philippines, Indonesia, Hong Kong, Singapore, Thailand, Taiwan, Malaysia, Japan, Korea and Australia.
Each winner was presented with a trophy and had their work showcased on KOHLER's social media platforms, as well as exposure in leading interior design magazines.
This story is produced in collaboration with the KOHLER Bold Design Awards 2021. Click here to watch a video of the event. Find out more about KOHLER's products here.