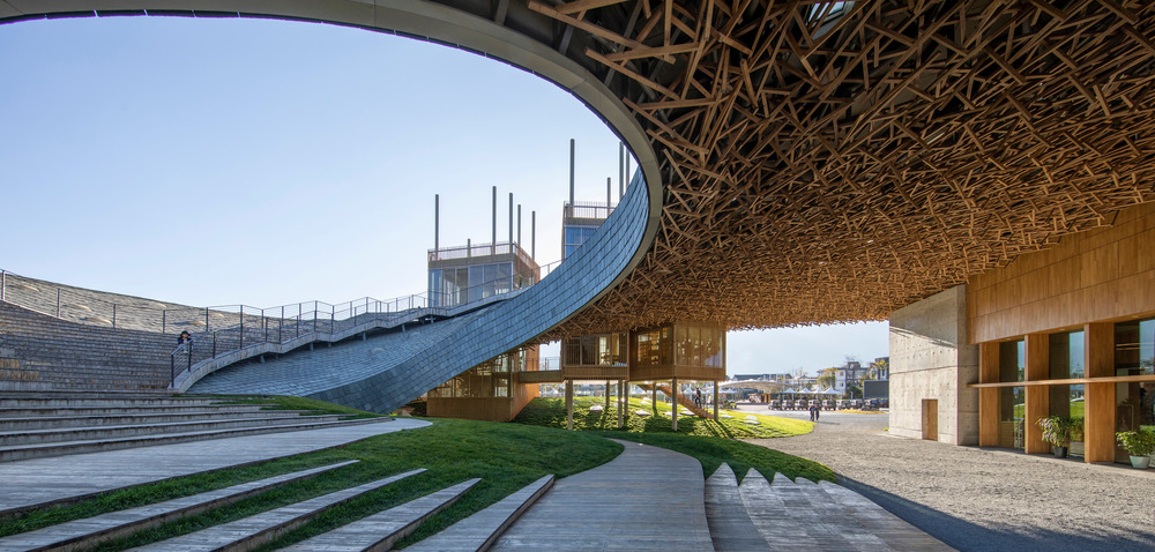 Located in Dali in China's Yunnan Province, the Yang Liping Performing Arts Center by Studio Zhu-Pei is an interesting architectural addition to the city.
The Cang mountain range acts as a dramatic backdrop, rising up to 4,000m in height – this naturally became a starting point for the Studio, which prides itself on having a philosophy focused on nature.
Its widely cantilevered tiled roof has a rectangular footprint but far from behind flat, it undulates, giving it a sculptural form.
On one end, it rises to mimic the form of the mountains with a skylight crowning it; on the opposite end, it slopes to the ground in a grand spiral, evoking the idea of a sinkhole, albeit an elegant one.
Viewed from the side, the extrusion and intrusion of the roof perfectly balances itself out.
There is more.
The roof obscures an organic landscape of free-flowing indoor and outdoor spaces, described by the Studio as a reflection of the Chinese principle of yin and yang.
Its fluid topography, traversable by a flight of stairs, invites visitors to an open plaza where shows can be staged.
From here, they can look up and admire the intricate trellis that makes up the underside of the roof, befitting a performing arts centre.
The open plaza flows into the indoor performance centre and if need be, a huge sliding door can be opened to connect the two seamlessly.
On the western end, a teahouse stands, its angular form the only anomaly to what is otherwise organic architecture of the Center.
Regardless, it does not detract from the fact that even as it is a space for performing arts, it is a work of art in itself.
Photography:
Jin Weiqi, Zhang Yao